Different Approaches to Produce Transgenic Virus B Resistant Chrysanthemum
1
Nikita Botanical Garden, Yalta 298648, Russia
2
Branch of Shemyakin and Ovchinnikov Institute of Bioorganic Chemistry, The Russian Academy of Sciences, Pushchino, Moscow 142290, Russia
3
All-Russian Research Institute of Agriculture Biotechnology, The Russian Academy of Sciences, TimirazevskajaStr.42, Moscow 127550, Russia
*
Author to whom correspondence should be addressed.
Received: 6 February 2018 / Revised: 25 February 2018 / Accepted: 2 March 2018 / Published: 8 March 2018
Abstract
Chrysanthemum is a vegetative propagated culture in which viral transmission with planting material is important for its production. Chrysanthemum virus B (CVB) belongs to the viruses that strike this plant culture. Chrysanthemum virus B is found everywhere where chrysanthemum is cultivated. Damage to plants by CVB often leads to a complete loss of floral yield. Chrysanthemum (
Chrysanthemum morifolium
Ramat cv. White Snowdon) was transformed via Agrobacterium-mediated DNA delivery with the aim of improving resistance to CVB infection. Transformation vectors contain the nucleotide sequence of CVB coat proteins (CP) in sense, antisense, and double sense orientation. The transformative vectors also invert repeats of CVB coat protein gene fragments for the induction of RNA-interference. The transgenic chrysanthemum plants were successfully obtained. The integration of the target sequences in plant genomes was confirmed by polymerase chain reaction (PCR) and Southern blot analyses. Chrysanthemum lines were transformed with antisense, sense, and double sense CVB CP sequences, as well as with hairpin RNA-interference constructs that were assayed for resistance to CVB. Infection of transgenic plants by CVB through the grafting of infected scions shows resistance only among plants with carried double sense (16.7%) and hairpin (12.5%) constructs. The plants transformed by sense and double sense sequences were observed and classified as tolerant.
View Full-Text
►

▼

Figures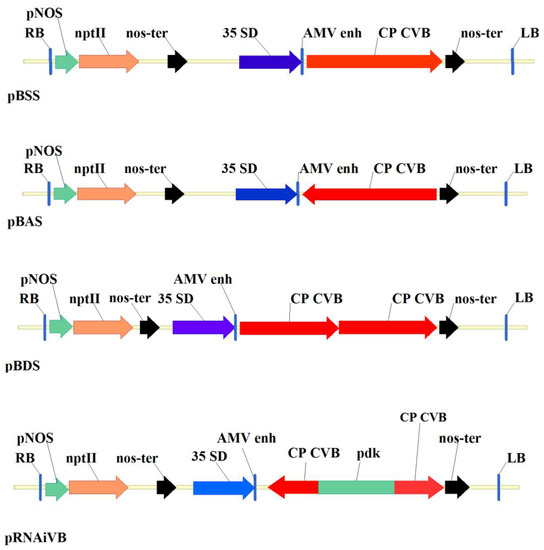 Figure 1
This is an open access article distributed under the
Creative Commons Attribution License
which permits unrestricted use, distribution, and reproduction in any medium, provided the original work is properly cited (CC BY 4.0).

Share & Cite This Article
MDPI and ACS Style
Mitiouchkina, T.Y.; Firsov, A.P.; Titova, S.M.; Pushin, A.S.; Shulga, O.A.; Dolgov, S.V. Different Approaches to Produce Transgenic Virus B Resistant Chrysanthemum. Agronomy 2018, 8, 28.
Note that from the first issue of 2016, MDPI journals use article numbers instead of page numbers. See further details here.
Related Articles
Comments
[Return to top]