Open Access This article is
freely available
re-usable
Article
Towards Remote Estimation of Radiation Use Efficiency in Maize Using UAV-Based Low-Cost Camera Imagery
1
Crop Science Research Group, Institute of Crop Science and Resource Conservation, University of Bonn, Katzenburgweg 5, 53113 Bonn, Germany
2
Center for Remote Sensing of Land Surfaces, University of Bonn, Genscherallee 3, 53115 Bonn, Germany
3
Agro- and Production Ecology, Institute of Crop Science and Resource Conservation, University of Bonn, Auf dem Hügel 6, 53121 Bonn, Germany
*
Author to whom correspondence should be addressed.
Received: 24 November 2017 / Accepted: 30 January 2018 / Published: 6 February 2018
Abstract
:
Radiation Use Efficiency (RUE) defines the productivity with which absorbed photosynthetically active radiation (APAR) is converted to plant biomass. Readily used in crop growth models to predict dry matter accumulation, RUE is commonly determined by elaborate static sensor measurements in the field. Different definitions are used, based on total absorbed PAR (RUEtotal) or PAR absorbed by the photosynthetically active leaf tissue only (RUEgreen). Previous studies have shown that the fraction of PAR absorbed (fAPAR), which supports the assessment of RUE, can be reliably estimated via remote sensing (RS), but unfortunately at spatial resolutions too coarse for experimental agriculture. UAV-based RS offers the possibility to cover plant reflectance at very high spatial and temporal resolution, possibly covering several experimental plots in little time. We investigated if (a) UAV-based low-cost camera imagery allowed estimating RUEs in different experimental plots where maize was cultivated in the growing season of 2016, (b) those values were different from the ones previously reported in literature and (c) there was a difference between RUEtotal and RUEgreen. We determined fractional cover and canopy reflectance based on the RS imagery. Our study found that RUEtotal ranges between 4.05 and 4.59, and RUEgreen between 4.11 and 4.65. These values are higher than those published in other research articles, but not outside the range of plausibility. The difference between RUEtotal and RUEgreen was minimal, possibly due to prolonged canopy greenness induced by the stay-green trait of the cultivar grown. The procedure presented here makes time-consuming APAR measurements for determining RUE especially in large experiments superfluous.
Keywords:
light use efficiency; UAV; modified consumer camera; fAPAR; extinction coefficient; reflectance
Acknowledgments
This work was funded by the Federal German Ministry of Education and Research within the SPACES project "Limpopo Living Landscapes" (01LLL1304C). The help of Hannah Feldmann, Stefanie Gastrow, Christoph Ovelhey, Martin Althoff, Samira Bauerfeind and Vera Klebert in field data collection is gratefully acknowledged.
Author Contributions
Jürgen Schellberg conceived and designed the experiment, Andreas Tewes performed the experiment and analyzed the data, Jürgen Schellberg contributed materials, Andreas Tewes wrote the paper.
Conflicts of Interest
The authors declare no conflict of interest. The founding sponsors had no role in the design of the study; in the collection, analyses, or interpretation of data; in the writing of the manuscript, and in the decision to publish the results.
Figure 1. Example of an original image (left), the classification (center) with green representing plant tissue, brown representing illuminated soil, and black representing shaded soil. The third image (right) shows original image after removal of soil pixels. Black rectangles delineate spots where plants were later sampled destructively for LAI and biomass measurements.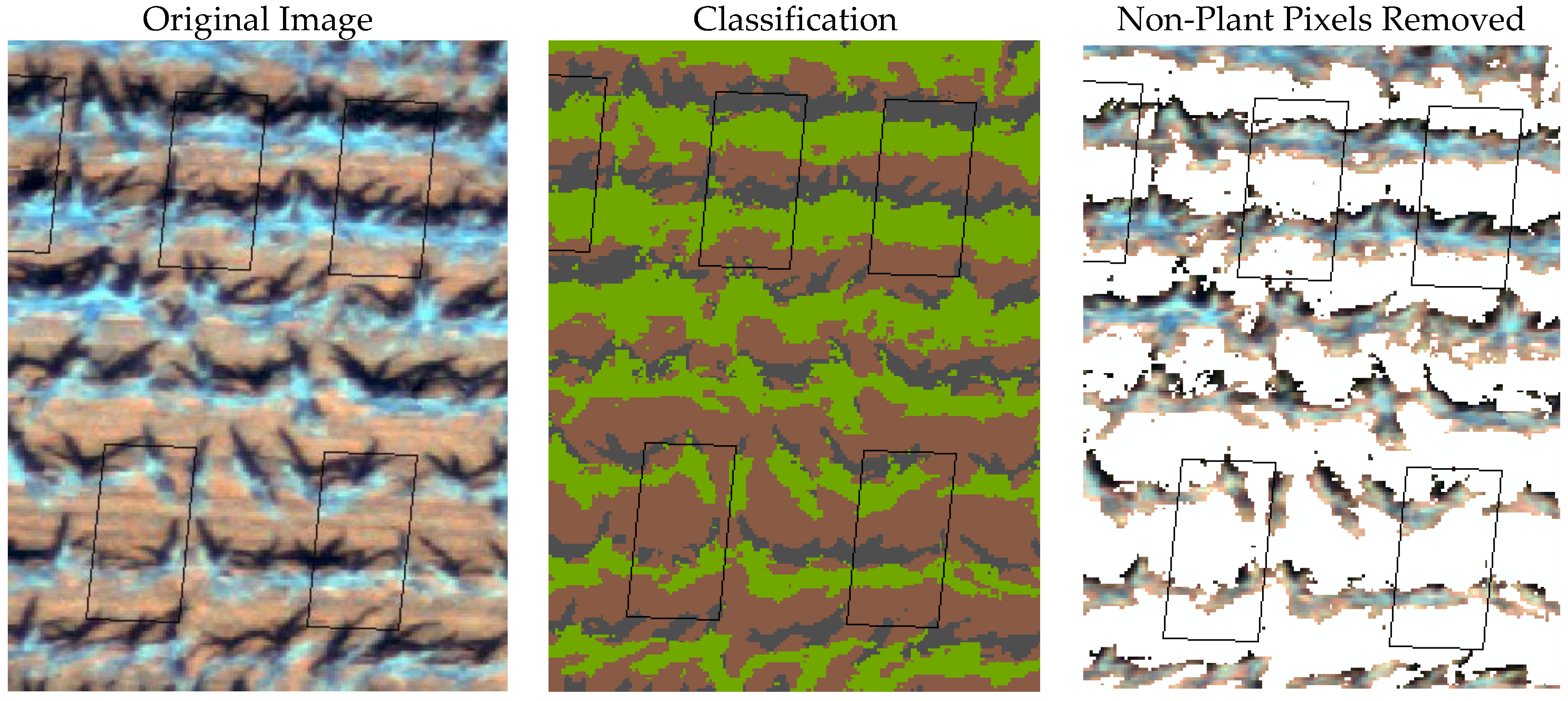 Figure 3. Green and Brown LAI development over the course of the growing season 2016. Error bars show standard deviation.
Figure 4. Fractional cover development over the course of the growing season 2016. Error bars show standard deviation. The horizontal position was adjusted to avoid overlap.
Figure 6. fAPARtotal (left) and fAPARgreen (right) vs. Sum of Incoming PAR. Each line represents one treatment.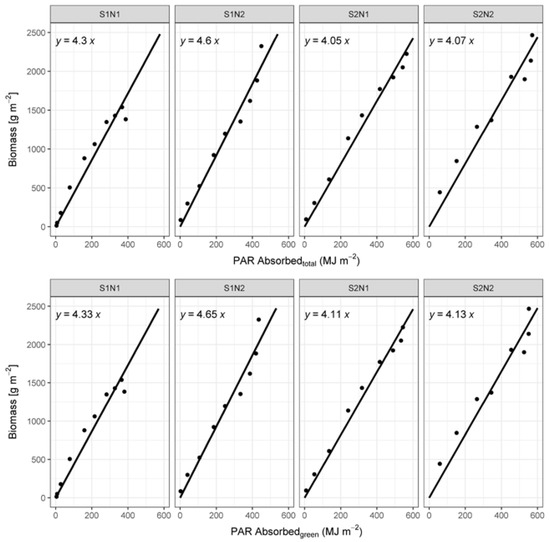 Figure 7. Cumulative maize aboveground biomass as a function of cumulative absorbed photosynthetically active radiation. The top row shows relationship per treatment based on APARtotal, the bottom row based on APARgreen. The slope of the estimated regression equation is the RUE. The intercept was suppressed.
| Source | Average RUE | Based on | Location | Comments |
| --- | --- | --- | --- | --- |
| [7] | 3.8 g MJ−1 | APAR | Sterling, NE, and Lincoln NE, USA | Near-optimal growth conditions, five growing seasons, irrigated |
| [6] | 2.24 gC MJ−1 | APARgreen | Mead, NE, USA | Multiyear observations, irrigated and rainfed, high variability within maize cultivars |
| [12] | 3.35 g MJ−1 | IPAR | Ames, IA, USA | One growing season, rainfed |
| [4] | 1.6 g MJ−1 during vegetative growth, 1.7 g MJ−1 during reproductive growth | Solar radiation | Various | Review of publications from different locations with different measurement techniques |
| [13] | 3.3 g MJ−1 | APAR | Toulouse, France | Three growing seasons, irrigated |
| [14] | 3.41 g MJ−1 | APAR | Southern Ontario, Canada | One growing season, rainfed, nitrogen/no nitrogen treatment |
Factors for conversion to total solar radiation basis: 0.5 for IPAR, 0.425 for APAR [4].
| BBCH Stage | Date | Temperature Sum [°Cd] |
| --- | --- | --- |
| Planting Date | 4 May 2016 | - |
| Emergence | 10 May 2016 | 44.45 |
| Begin Flowering | 15 July 2016 | 585.72 |
| Fruit Development: Milk-ripe stage | 15 August 2016 | 918.41 |
| Full ripening | 23 September 2016 | 1346.67 |
| Harvest | 29 October 2016 | 1454.2 |

© 2018 by the authors. Licensee MDPI, Basel, Switzerland. This article is an open access article distributed under the terms and conditions of the Creative Commons Attribution (CC BY) license (http://creativecommons.org/licenses/by/4.0/).