Effect of Long-Term Continuous Fumigation on Soil Microbial Communities
1
United States Department of Agriculture (USDA), Agricultural Research Service, San Joaquin Valley Agricultural Sciences Center, 9611 S. Riverbend Ave., Parlier, CA 93648, USA
2
Department of Plant Sciences, University of California, Davis, One Shields Ave., Davis, CA 95616, USA
3
Agro-Environmental Sciences Department, University of Puerto Rico-Mayagüez, Box 9000, Mayagüez, PR 00681, USA
*
Author to whom correspondence should be addressed.
Academic Editors: Robert J. Kremer and Peter Langridge
Received: 14 March 2017 / Revised: 11 May 2017 / Accepted: 11 May 2017 / Published: 24 May 2017
Abstract
High value crop producers in California rely heavily on soil fumigation to control a wide array of soil borne pests including nematodes, pathogens and weeds. Fumigants with broad biocidal activity can affect soil microbial communities that contribute to nutrient cycling and plant nutrient uptake which can impact soil health. It is often thought that soil microbial communities make a relatively rapid recovery following fumigation. However, recently it has been found that repeated application of fumigants over time can have greater and longer lasting impacts on soil microorganisms than single fumigation events. Therefore, the main objective of this study was to determine the effect of long-term repeated application of fumigants on soil microbial communities and compare them with non-fumigated and organic sites. Soil samples were collected from fields in Watsonville, CA. Chronosequence sites were defined by number of years of annual fumigation (yaf) with methyl bromide (15, 26, 33, 39 yaf) at the time of sampling, and representative non-fumigated sites were also included for comparison. Phospholipid fatty acid (PLFA) analysis was used to analyze the samples. The canonical variate analysis showed that microbial communities in sites with a longer history of fumigation (33 and 39 yaf) were similar to one another; however, they differed significantly from 15 yaf site and further analysis concluded that non-fumigated sites were significantly different than fumigated sites. This study showed that the proportion of arbuscular mycorrhizal fungi (AMF) was lower in all fumigated (15, 33 and 39 yaf) sites as compared to their non-fumigated counterparts, which could be a threat to sustainability since AMF plays a major role in soil health and quality.
View Full-Text
►

▼

Figures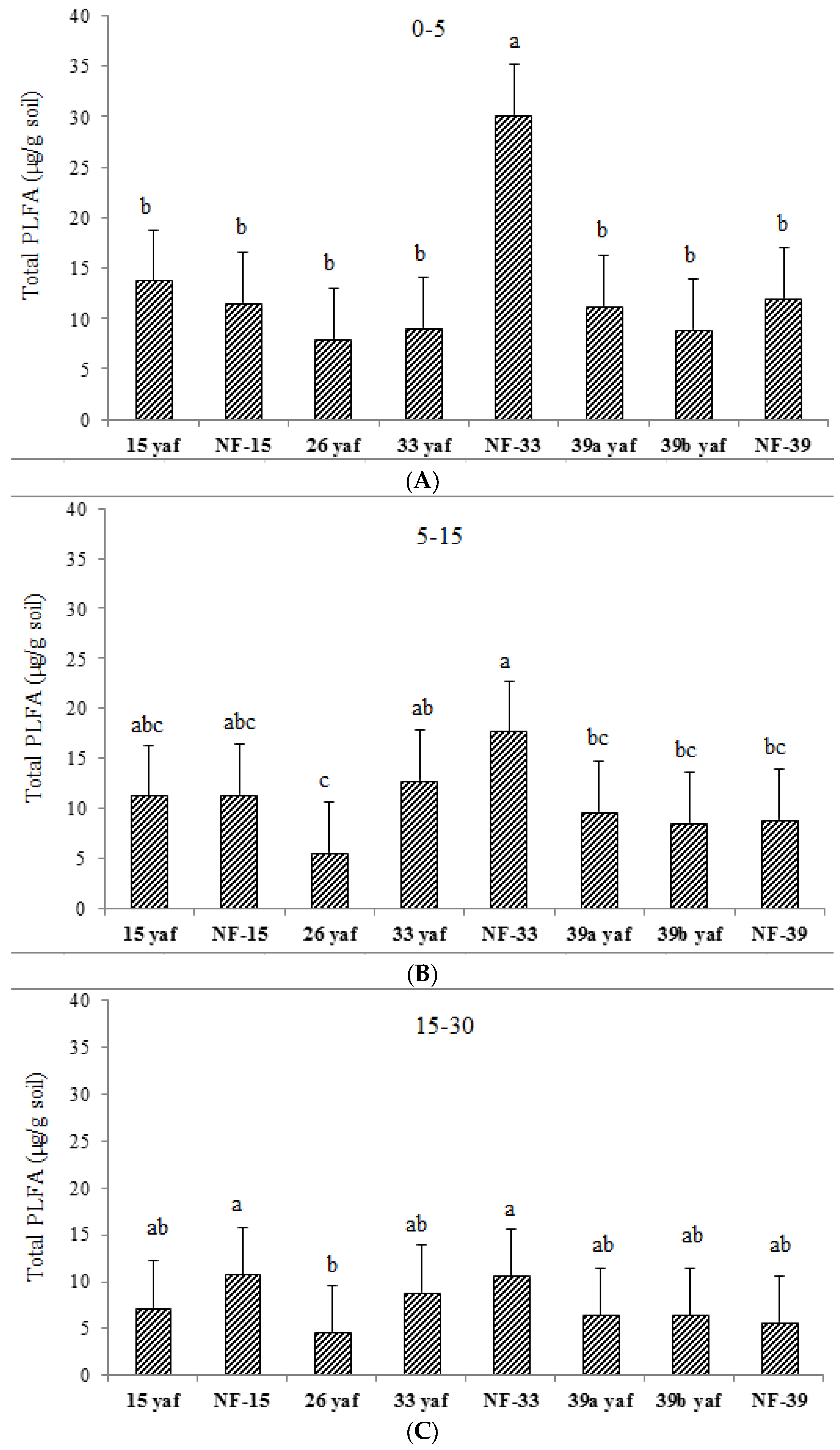 Figure 1
This is an open access article distributed under the
Creative Commons Attribution License
which permits unrestricted use, distribution, and reproduction in any medium, provided the original work is properly cited (CC BY 4.0).

Share & Cite This Article
MDPI and ACS Style
Dangi, S.R.; Tirado-Corbalá, R.; Gerik, J.; Hanson, B.D. Effect of Long-Term Continuous Fumigation on Soil Microbial Communities. Agronomy 2017, 7, 37.
Note that from the first issue of 2016, MDPI journals use article numbers instead of page numbers. See further details here.
Related Articles
Comments
[Return to top]