Open Access This article is
freely available
re-usable
Article
Enhanced Anti-Ultraviolet and Thermal Stability of a Pesticide via Modification of a Volatile Organic Compound (VOC)-Free Vinyl-Silsesquioxane in Desert Areas
1
College of Food Science, Sichuan Agricultural University, Ya'an 625014, China
2
State Key Laboratory of Urban Water Resource and Environment, Harbin Institute of Technology, Harbin 150090, China
*
Correspondence: Tel.: +86-835-288-2187
Received: 13 June 2016 / Accepted: 28 July 2016 / Published: 4 August 2016
Abstract
:
Due to the effect of severe environmental conditions, such as intense heat, blowing sand, and ultraviolet light, conventional pesticide applications have repeatedly failed to adequately control mosquito and sandfly populations in desert areas. In this study, a vinyl silsesquioxane (VS) was added to a pesticide (citral) to enhance residual, thermal and anti-ultraviolet properties via three double-bond reactions in the presence of an initiator: (1) the connection of VS and citral, (2) a radical self-polymerization of VS and (3) a radical self-polymerization of citral. VS-citral, the expected and main product of the copolymerization of VS and citral, was characterized using standard spectrum techniques. The molecular consequences of the free radical polymerization were analyzed by MALDITOF spectrometry. Anti-ultraviolet and thermal stability properties of the VS-citral system were tested using scanning spectrophotometry (SSP) and thermogravimetric analysis (TGA). The repellency of VS-citral decreased over time, from 97.63% at 0 h to 72.98% at 1 h and 60.0% at 2 h, as did the repellency of citral, from 89.56% at 0 h to 62.73% at 1 h and 50.95% at 2 h.
Keywords:
silsesquioxane (SSO); pesticide (citral); polymerization; polymer delivery system; repellency
2. Experimental Section
2.1. Materials
Commercial vinyltrimethoxysilane (VMS, Sigmas Aldrich, St. Louis, MO, USA, at a purity of 96.0%–97.0%) was used as a precursor in the study of hydrolytic condensation to prepare vinyl-SSO, ethanoland tetrahydrofuran (THF) were used as solvents (99.7% purity) and formic acid was employed as a catalyst (88% purity); citral (Alfa Aesar, Ward Hill, MA, USA, 95%) can be selected as a main component of the modified pesticide; sodium dodecyl sulfate (SDS) as a surfactant; and potassium persulfate (PP) as an initiator were supported by Tianjin BoDi Chemicals and Tianjin Fine Chemicals (Tianjin, China), respectively. All of the above reagents are of analytical purity, used without further treatment.
2.2. Synthesis of Vinyl-SSO
For the hydrolytic condensation reaction, VMS was placed in beakers. Ethanol was added to give a 3:1 molar ratio with respect to Si. The polycondensation was carried out in the presence of formic acid, added in a 0.5:1 molar ratio with respect to Si. The corresponding molar ratio of water to Si was 1:1. The beaker was sealed with a plastic film and left for a day at 35 °C. Then needle-sized holes were made in the plastic film and the reaction was continued for another day at the same temperature. Finally, the plastic film was removed and the reaction continued for one more day at 65 °C. The reaction products were homogeneous viscous liquids that could be completely dissolved in different solvents such as tetrahydrofuran (THF), chloroform and ethanol. The SSO based on VMS will be denoted as VS (VMS-SSO).
2.3. Free Radical Polymerization of VS in Citral Oil in Water Emulsion
The emulsion polymerization was employed to prepare the compound of the pesticide modified with VS as shown in
Scheme 1
. Firstly, VS (1 g) and citral (8 g) were added into a 250 mL two-neck round bottom flask with 140 mL of distilled water and stirred continuously for 4 h, and then (1) 4.00 g SDS and 0.05 g SSP were added into the flask at 80 °C for 1 h; (2) 0.08 g PP and 5% NaOH solution were added dropwise into the solution and stirred at 80 °C. After that (1) the solution was stirred continuously for additional 12 h under 40 °C; (2) a filtration of reaction residues had to be performed; (3) THF solution was dropped into a beaker of methanol and rapidly stirred. Finally, the resulting product was collected and dried in a vacuum oven for 24 h. The pesticide modified with VS is denoted to VS-citral.
2.4. Characterization and Measurements
The structures of the VS, citral and VS-citral were characterized using Fourier transform infrared spectroscopy (FTIR, Avatar 360 device, Nicolet, Thermo Fisher Scientific, Waltham, MA, USA) and Biflex III matrix-assisted ultraviolet laser desorption/ionization time-of-flight mass spectrometry (UV-MALDI-TOF MS, Bruker, Billerica, MA, USA), and the equipment measuring conditions of UV-MALDI-TOF MS for characterization of the VP-pesticides in detail were similar to that in the previous work [
28
,
29
].
For the properties, a UV-3101PC Scanning Spectrophotometer (SSP, Shimadzu Corporation, Kyoto, Japan) device was used to measure the film transparency in a range of wavelengths between 280 and 400 nm (UV-A and UV-B region). TGA was performed on TA Instruments ZRY-2P equipment (Shanghai Balance Automotive Equipment Co., Shanghai, China) under nitrogen atmosphere at a heating rate of 20 °C·min−1 from 0 to 800 °C.
2.5. Mosquito Repellent Bioassays
Aedes albopictus
(Skuse, Beijing, China) mosquitoes were used for repellent testing. Mosquito larvae were obtained from the Department of Entomology of Chinese Center for Disease Control and Prevention (China CDC, Beijing, China). The larvae were reared at 28 °C and 60% relative humidity. Adult mosquitoes were fed and maintained on a 10% sucrose solution. Two kinds of mosquito repellents, 5% citral (Alfa Aesar, Ward Hill, MA, USA, 95%), and 5% VS-citral, were purchased and prepared. Aliquots of 1.5 mL were applied to volunteers' forearms to test repellent efficacy [
30
]. A test cage (50 × 60 × 50 cm
3
) was constructed with a metal frame to make decontamination easier. A fabric sleeve was added to the front side of the test cage to allow access by a human forearm. A patch containing repellent agent was applied to clean skin on the volunteer's forearm and allowed to remain on the skin for 36 h. Volunteers were not permitted to remove or wet the patch during this time [
31
]. After 36 h, the patch was removed, and initial results were determined. The patch was marked region of the forearm and results were determined 72 h after initial patch placement. A modified version of the World Health Organization Pesticide Evaluation Scheme (WHOPES) arm-in-cage assay was used [
32
]. Three hundred female mosquitoes (age 6 days), which had never received a blood meal, were placed into each test cage and starved of their sugar diet for 12  h before the test. A 1.5 mL aliquot of each repellent solution was applied evenly on the right forearm between the wrist and elbow using a pipette and allowed to dry for approximately 5 min. The untreated left arm was placed into a test cage for 3 min and the number of mosquitoes landing on that arm was counted. Repellent-treated right arms were placed into the test cage for 3  min at 1  h intervals, VS-citral-treated arms for 2  h, and arms treated with citral for 2  h. The number of mosquitoes that landed on or bit that arm was recorded every hour.
Repellency (
R
) was calculated using the formula [
33
].
where
C
is the number of mosquito bites on the control arm and
T
the number of bites on the treated arm.
2.6. Statistical Analysis
All experiments were performed in triplicates. The repellency of the control and treated arms was compared using
F
-tests, with a
P
value 0.05 considered statistically significant. A commercial software program (SPSS 18.0, SPSS Inc., Chicago, IL, USA) was used for statistical analysis.
3. Results and Discussion
4. Conclusions
A pesticide (citral) can be modified with VS to enhance anti-ultraviolet and thermal stability in desert areas. During the modification, there were three double-bond reactions in the blend of citral and VS in the presence of an initiator. The product of the main reaction (VS-citral) was characterized by FTIR and MS spectra. From the MS spectrum, there were two
T
n
sub-clusters in the main
T
n
cluster: one
T
n
sub-cluster indicated a normal
T
n
cluster with three citrals and the other sub-cluster indicated that one citral among three in the normal
T
n
cluster deleted an enolic fragment (mass: 44) after the McLafferty Rearrangement.
The measured anti-ultraviolet and thermal stability of the VS-citral oligomer gives it great potential as a modifier to improve the properties of pesticides due to the SSO peculiar nanometer structure.
We have successfully prepared a silsesquioxane-based delivery system for citral that contains more than 15% citral for slow release to provide long-term protection against insect pests. The material is easy to prepare from commercially available VMS, a common coupling agent, and citral, a common terpene, essential oil. This insect repellent/pesticide should provide a cost-effective alternative to synthetic chemical-based systems.
No work had been conducted in search of insecticidal activity of citral and VS-citral. Citral and VS-citral were for the first time evaluated as mosquito repellent and could make excellent acting insecticide, but perhaps their greatest strength would be their use as an insect repellent.
Acknowledgments
The authors thank the National Science Foundation of China (No. 31340032), "211 Engineering Double Support Plan", Sichuan Agricultural University, and the education department of Sichuan Province major project for financial support.
Author Contributions
Derong Lin initiated the writing of this manuscript and designed the experiments of this manuscript, interpreted results, and drafted the manuscript. Maozhu Kong, Liangyu Li, and Xindan Li collected and sorted out the references. Xingwen Zhang gave some valuable advices about the structure of the manuscript.
Conflicts of Interest
The authors declare no conflict of interest.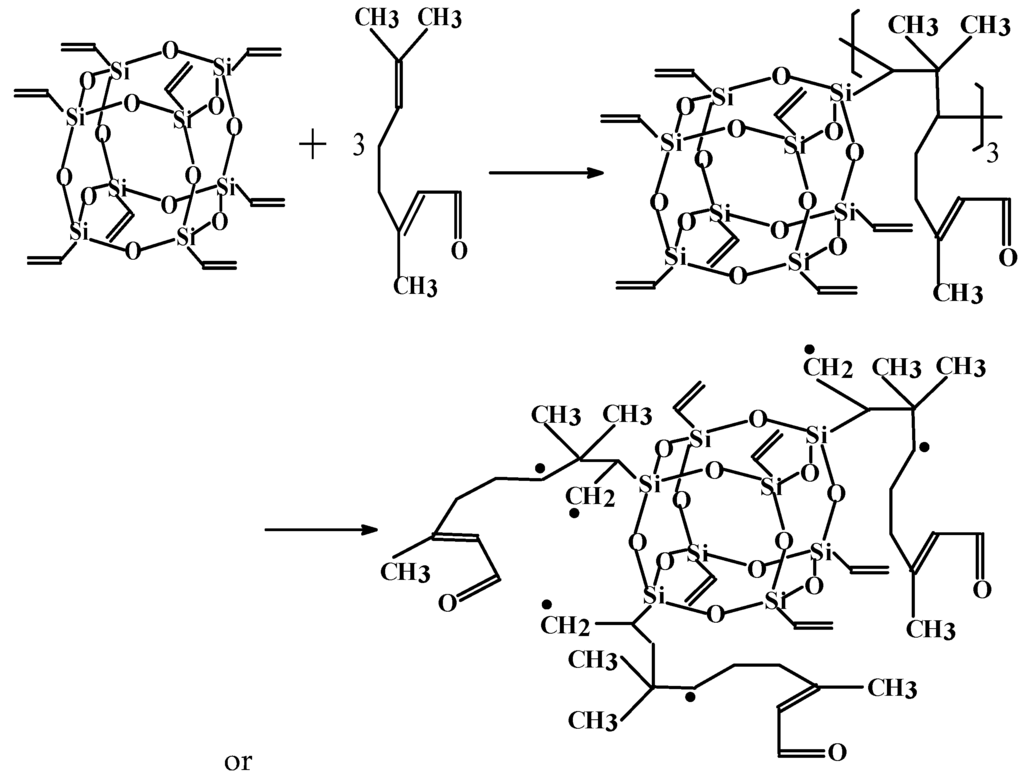 Scheme 1. The copolymerization (1) for the connection of VS and 3 citrals, indicating that the reaction of the VS and citral favors their connection in the blend of VS, citral and a suitable initiator.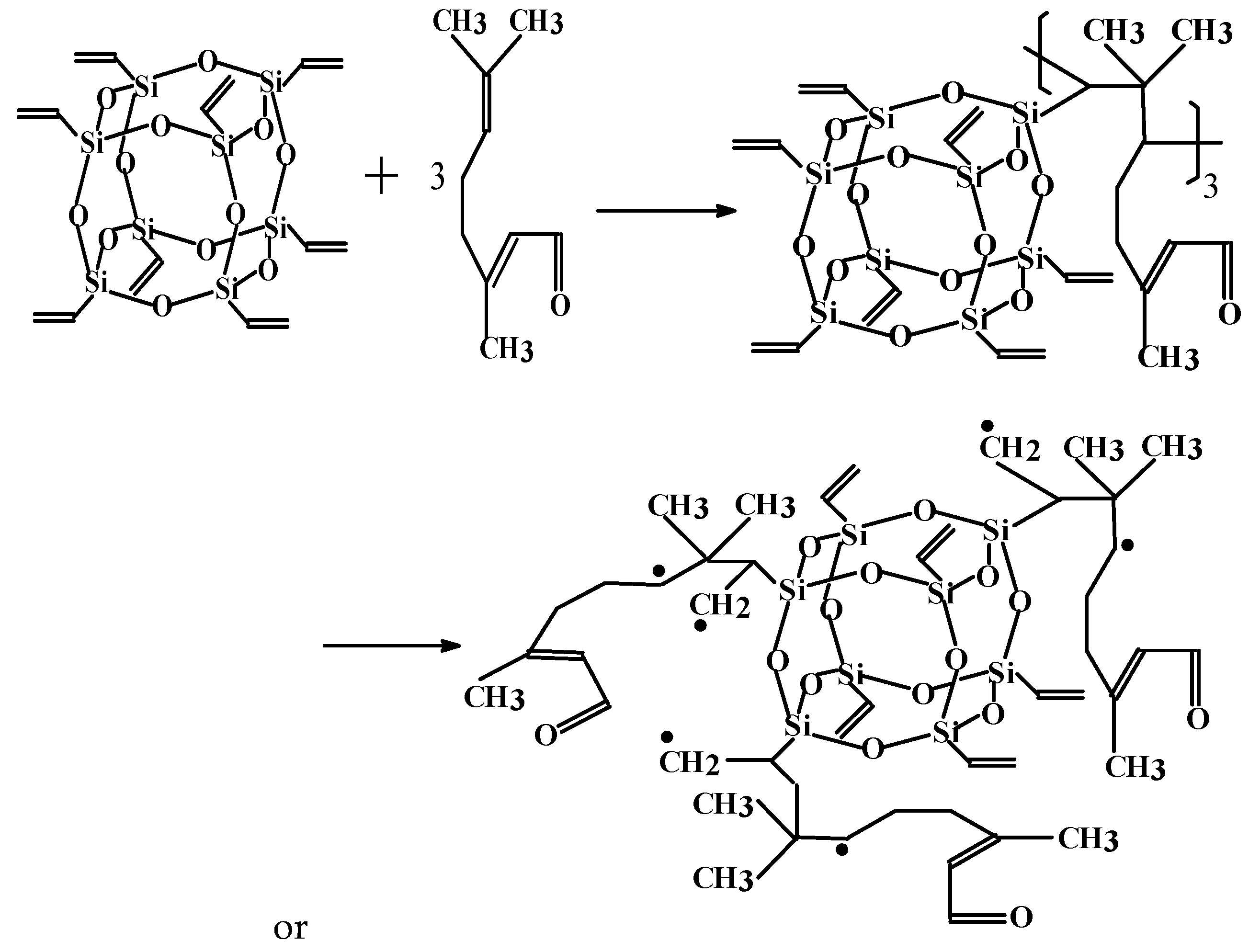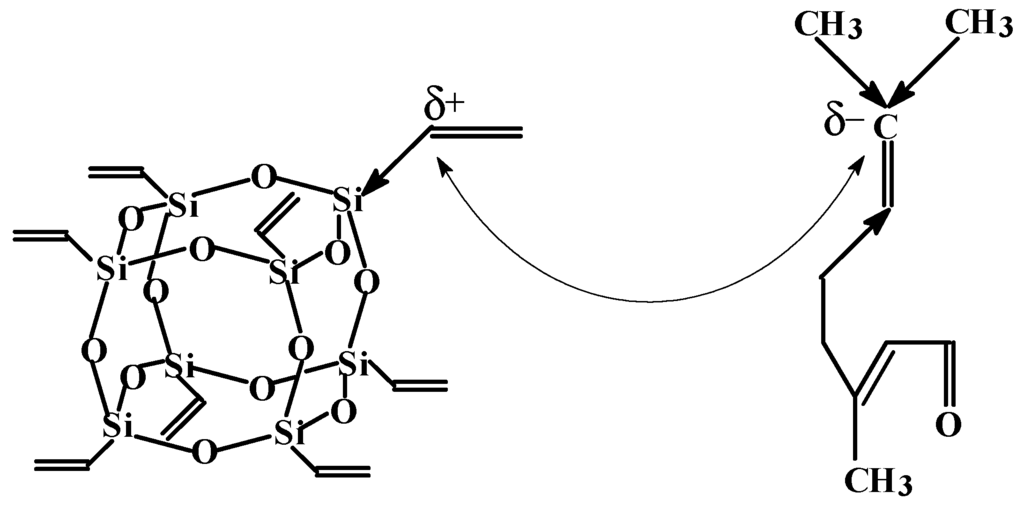 Scheme 2. The polarity effects on the double bonds of both VS and citral for the connection: Si is an electron-attracting atom and C is an electro-donating atom, which two C atoms in the VS and citral possess positive and negative charges, respectively.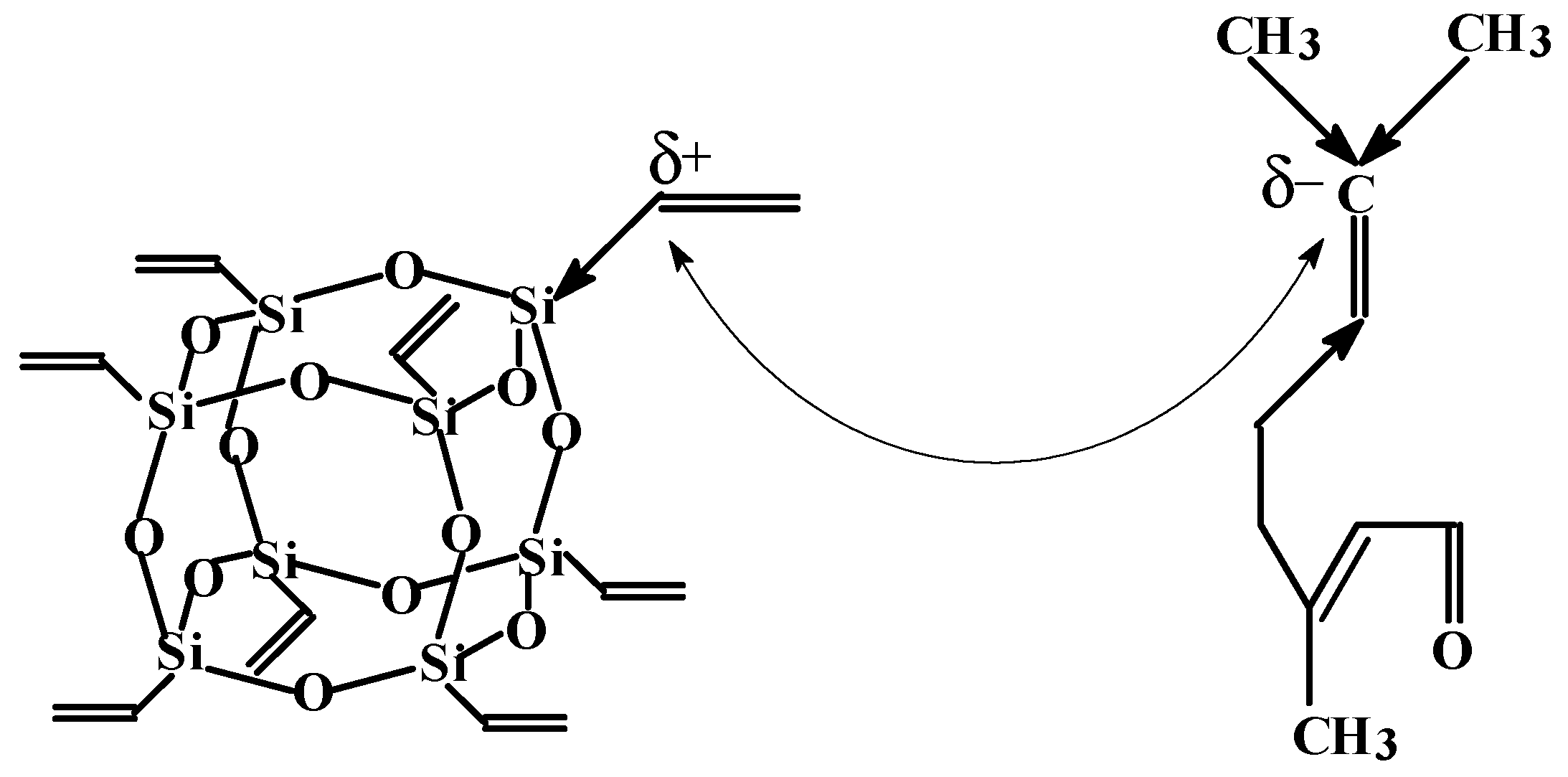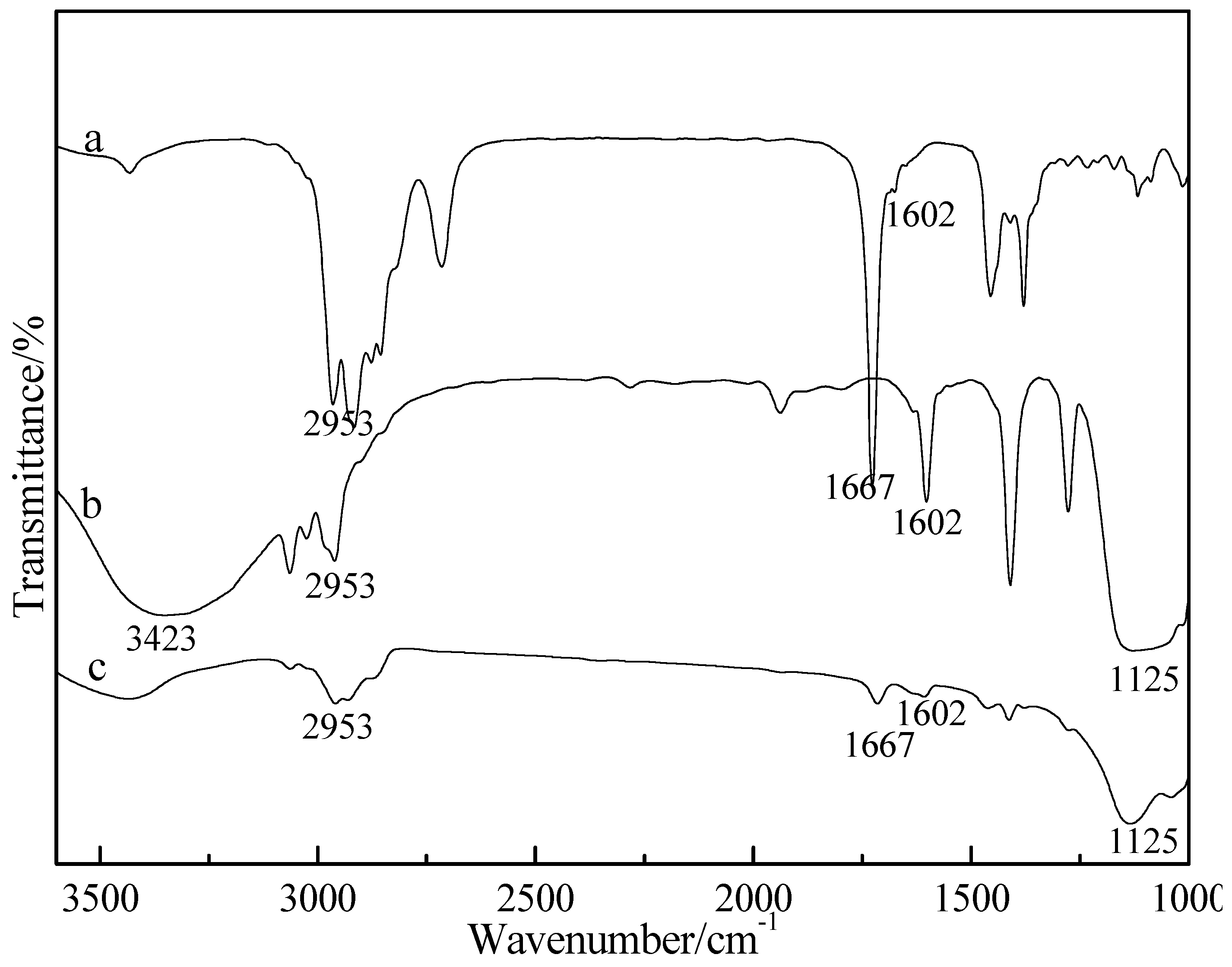 Figure 2.
MALDI-TOF mass spectra in the
m
/
z
= 925.2–1590.3 Da range correspond to the VS-citral oligomers.

Scheme 3. One supposed sample of McLafferty Rearrangement (mass spectrometry), deleting an enolic fragment (mass: 44) and leaving the rest of the parts in the VS-citral.

Figure 3. The transparency of citral (a) and VS-citral (b) measured in the range of the UV-A and UV-B region (280–400 nm).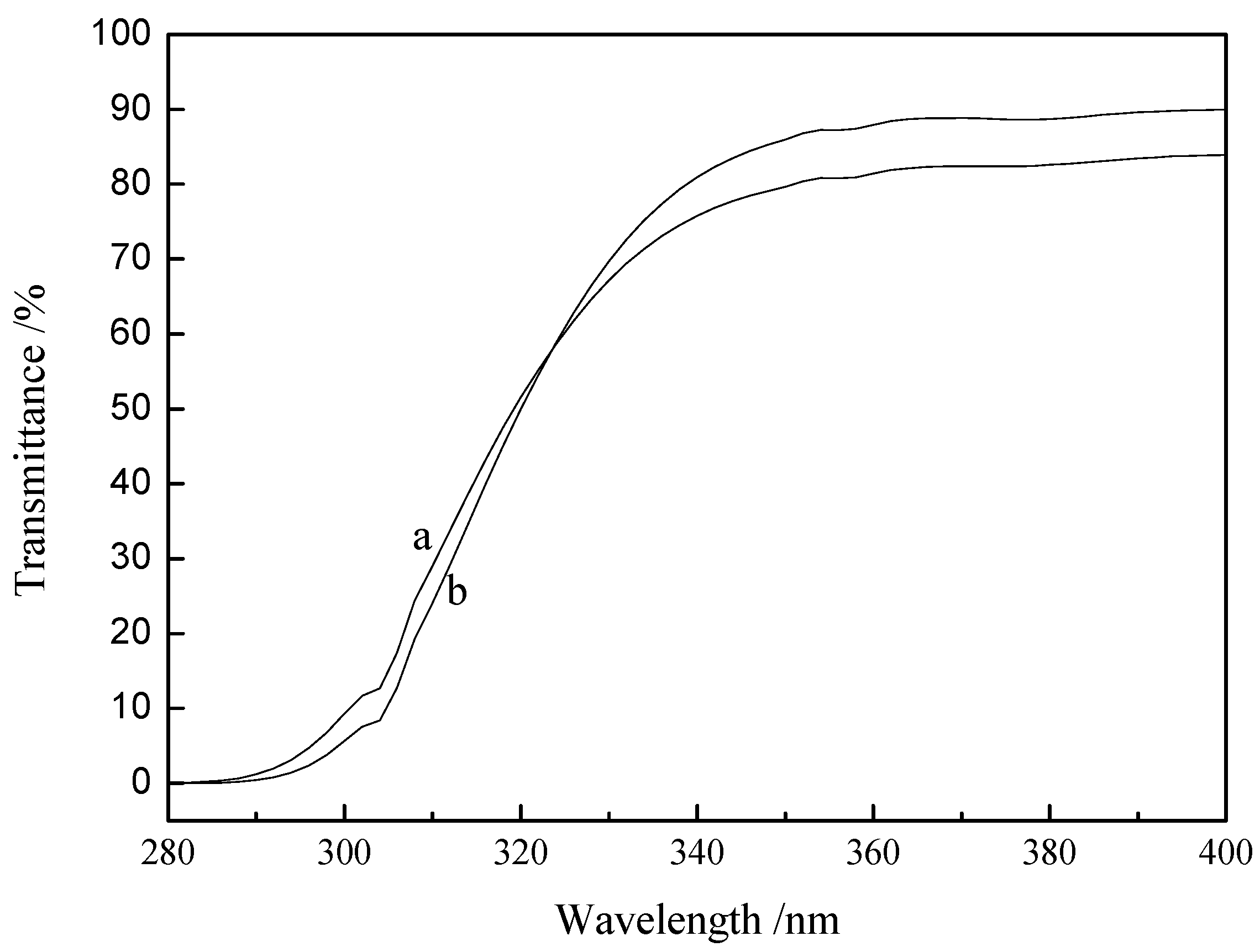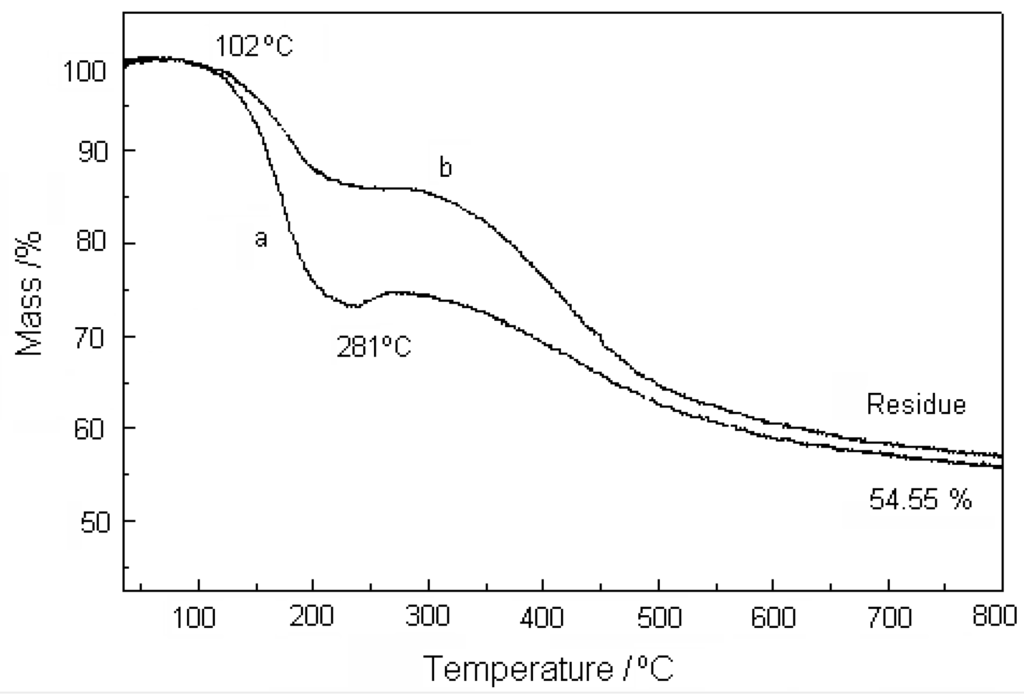 Figure 4. The thermal gravimetric (TG) curves of citral (a) and VS-citral (b) under the conditions of an increased speed of 20 °C/min and a temperature range of 0–800 °C.
Table 1. VS-citral oligomers assigned by MS in the

m

/

z

= 925.2–1590.3 Da.

m

/

z

(exp.)
Assigned structure (+Na+、H+、K+)

m

/

z

(pre.)
925.2
T5(OH)3(OCH3)2(C10H16O)3H+
926.4
941.2
T5(OH)2(OCH3)3(C10H16O)3H+
940.5
969.2
T6(C10H16O)3K+
970.5
T6(OH)2(C10H16O)3Na+
972.5
T6(OH)4(C10H16O)3H+
968.5
985.2
T6(OH)4(C10H16O)3Na+
990.5
T6(OH)6(C10H16O)3H+
986.5
1,013.2
[1057.2-C2H4O]
1,014.7
1,029.2
[1073.2-C2H4O]
1,032.7
1,057.2
T7(OH)(C10H16O)3K+
1,058.7
T7(OH)3(C10H16O)3Na+
1,060.6
T7(OH)5(C10H16O)3H+
1,056.7
1,073.2
T7(OH)3(C10H16O)3K+
1,076.7
1,101.2
[1145.2-C2H4O]
1,102.8
1,117.2
[1161.2-C2H4O]
1,120.9
1,145.2
T8(OH)2(C10H16O)3K+
1,146.8
T8(OH)4(C10H16O)3Na+
1,148.8
T8(OH)6(C10H16O)3H+
1,144.8
1,161.2
T8(OH)4(C10H16O)3K+
1164.9
1,189.2
[1233.2-C2H4O]
1,191.0
1,205.2
[1249.2-C2H4O]
1,209.0
1,233.2
T9(OH)3(C10H16O)3K+
1,235.0
T9(OH)5(C10H16O)3Na+
1,236.9
T9(OH)7(C10H16O)3H+
1,232.9
1,249.2
T9(OH)5(C10H16O)3K+
1,253.0
1,277.2
[1321.2-C2H4O]
1,279.1
1,321.3
T10(OH)4(C10H16O)3K+
1,323.1
1,365.3
[1409.2-C2H4O]
1,367.2
1,409.3
T11(OH)5(C10H16O)3K+
1,411.2
1,453.3
[1497.2-C2H4O]
1,455.4
1,497.3
T12(OH)6(C10H16O)3K+
1,499.4
1,541.3
[1583.2-C2H4O]
1,543.5
1,590.3
T13(OH)7(C10H16O)3K+
1,587.5
Table 2. Repellency of 5% VS-citral against

Aedes albopictus

in laboratory test.
Volunteers
Untreated
Repellency (%) (±SE) at hours after treatment

N

0 h
1 h
2 h

N

R

(%)

N

R

(%)

N

R

(%)
V1
43
0
100
7
83.7
13
69.8
V2
27
0
100
5
81.5
14
48.1
V3
23
1
95.7
11
52.2
14
39.1
V4
68
0
100
13
80.9
16
76.5
V5
38
2
94.7
7
81.6
11
71.1
V6
42
0
100
11
73.8
14
66.7
V7
34
0
100
11
67.6
13
61.8
V8
32
3
90.6
12
62.5
17
46.9
AVG
38.38 ± 2.96
0.75 ± 0.21
97.63 ± 0.72
9.63 ± 0.77
72.98 ± 3.11
12.75 ± 0.71
60 ± 4.23
The number (

N

) of mosquitoes landing on arm of each volunteer was counted per hour for 2 h. Repellency (

R

) was calculated each hour.
Table 3. Repellency of 5% citral against

Aedes albopictus

in laboratory test.
Volunteers
Untreated
Repellency (%) (±SE) at hours after treatment

N

0 h
1 h
2 h

N

R

(%)

N

R

(%)

N

R

(%)
V1
23
5
78.3
11
52.2
12
47.8
V2
25
4
84
10
60.0
6
76.0
V3
23
3
87.0
8
65.2
10
56.5
V4
24
0
100
7
70.8
12
50
V5
26
4
84.6
11
57.7
19
26.9
V6
21
0
100
7
66.7
10
52.4
V7
22
0
100
6
72.7
10
54.5
V8
23
4
82.6
10
56.5
13
43.5
AVG
23.38 ± 0.66
2.50 ± 0.71
89.56 ± 3.02
8.75 ± 0.83
62.73 ± 5.31
11.5 ± 1.19
50.95 ± 6.10
The number (

N

) of mosquitoes landing on arm of each volunteer was counted per hour for 2 h. Repellency (

R

) was calculated each hour.
© 2016 by the authors. Licensee MDPI, Basel, Switzerland. This article is an open access article distributed under the terms and conditions of the Creative Commons Attribution (CC-BY) license ( http://creativecommons.org/licenses/by/4.0/).