Robust Superhydrophobic Cellulose Nanofiber Aerogel for Multifunctional Environmental Applications
1
Chemical Education Department, Universitas Syiah Kuala, Jln. Tgk. Daud Beureueh Darussalam Banda Aceh, Banda Aceh 23311, Indonesia
2
School of Industrial Technology, Universiti Sains Malaysia, Penang 11800, Malaysia
3
Univ. Bretagne Sud, UMR CNRS 6027, IRDL, F-56100 Lorient, France
4
Department of Chemistry and Chemical Engineering, Chalmers University of Technology, Kemigården 4, 412 96 Göteborg, Sweden
5
International and Inter University Centre for Nanoscience and Nanotechnology, Mahatma Gandhi University, Kottayam, Kerala 686560, India
6
Chemistry Institute, Federal University of Uberlandia-UFU, Campus Santa Monica-Bloco1D-CP 593, 38400902 Uberlandia, Brazil
7
Institute of Engineering Materials and Design, University of Maribor, 2000 Maribor, Slovenia
8
Université de Toulouse, IMT Mines Albi, RAPSODEE CNRS UMR-5302, Campus Jarlard, F-81013 Albi CEDEX 09, France
9
Department of Mechanical Engineering, Universitas Syiah Kuala, Banda Aceh 23111, Indonesia
*
Authors to whom correspondence should be addressed.
Received: 14 February 2019 / Revised: 27 February 2019 / Accepted: 5 March 2019 / Published: 14 March 2019
Abstract
The fabrication of superadsorbent for dye adsorption is a hot research area at present. However, the development of low-cost and highly efficient superadsorbents against toxic textile dyes is still a big challenge. Here, we fabricated hydrophobic cellulose nanofiber aerogels from cellulose nanofibers through an eco-friendly silanization reaction in liquid phase, which is an extremely efficient, rapid, cheap, and environmentally friendly procedure. Moreover, the demonstrated eco-friendly silanization technique is easy to commercialize at the industrial level. Most of the works that have reported on the hydrophobic cellulose nanofiber aerogels explored their use for the elimination of oil from water. The key novelty of the present work is that the demonstrated hydrophobic cellulose nanofibers aerogels could serve as superadsorbents against toxic textile dyes such as crystal violet dye from water and insulating materials for building applications. Here, we make use of the possible hydrophobic interactions between silane-modified cellulose nanofiber aerogel and crystal violet dye for the removal of the crystal violet dye from water. With a 10 mg/L of crystal violet (CV) aqueous solution, the silane-modified cellulose nanofiber aerogel showed a high adsorption capacity value of 150 mg/g of the aerogel. The reason for this adsorption value was due to the short-range hydrophobic interaction between the silane-modified cellulose nanofiber aerogel and the hydrophobic domains in crystal violet dye molecules. Additionally, the fabricated silane-modified cellulose nanofiber hydrophobic aerogels exhibited a lower thermal conductivity value of 0.037 W·m
−1
K
−1
, which was comparable to and lower than the commercial insulators such as mineral wools (0.040 W·m
−1
K
−1
) and polystyrene foams (0.035 W·m
−1
K
−1
). We firmly believe that the demonstrated silane-modified cellulose nanofiber aerogel could yield an eco-friendly adsorbent that is agreeable to adsorbing toxic crystal violet dyes from water as well as active building thermal insulators.
View Full-Text
►

▼

Figures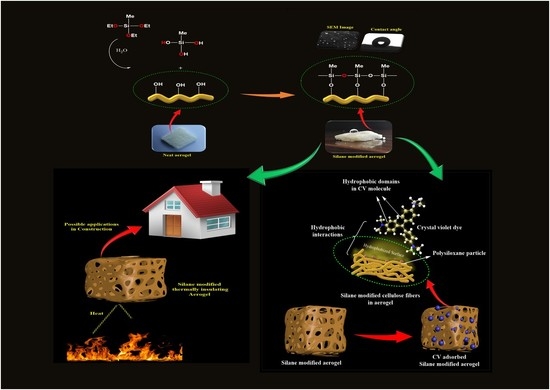 Graphical abstract
This is an open access article distributed under the
Creative Commons Attribution License
which permits unrestricted use, distribution, and reproduction in any medium, provided the original work is properly cited (CC BY 4.0).

Share & Cite This Article
MDPI and ACS Style
M., H.; Gopakumar, D.A.; Arumughan, V.; Pottathara, Y.B.; K. S., S.; Pasquini, D.; Bračič, M.; Seantier, B.; Nzihou, A.; Thomas, S.; Rizal, S.; H. P. S., A.K. Robust Superhydrophobic Cellulose Nanofiber Aerogel for Multifunctional Environmental Applications. Polymers 2019, 11, 495.
Note that from the first issue of 2016, MDPI journals use article numbers instead of page numbers. See further details here.
Related Articles
Comments
[Return to top]