Open Access This article is
freely available
re-usable
Article
Dual Crosslinked Collagen/Chitosan Film for Potential Biomedical Applications
1
Centre of Polymer Systems, University Institute, Tomas Bata University in Zlin, Tř. T. Bati 5678, 760 01 Zlín, Czech Republic
2
Gemini Eye Clinic, U Gemini 360, 760 01 Zlín, Czech Republic
*
Author to whom correspondence should be addressed.
Received: 20 October 2019 / Accepted: 12 December 2019 / Published: 14 December 2019
Abstract
:
The application of polymeric biomaterial scaffolds utilizing crosslinking strategy has become an effective approach in these days. In the present study, the development and characterization of collagen–chitosan hydrogel film has been reported on using dual crosslinking agent's, i.e., tannic acid and genipin simultaneously. Incorporation of genipin imparts a greenish-blue color to the polymeric film. The effect of dual crosslinking and their successful interaction within the matrix was evaluated by infrared analysis spectroscopy. The porosity of the film was examined using scanning electron microscopy (SEM). Results of TGA determine the intermediate thermal degradation. Further, the crosslinking phenomenon has found primary impact on the strength of the films. Enzymatic degradation for the films was performed with lysozyme and lipase. The cell adhesion and proliferation was also accomplished using mouse embryonic cell lines wherein the cells cultured on the dual crosslinked film. The thriving utilization of such dual crosslinked polymeric film finds their applications in ophthalmology especially as an implant for temporary injured cornea and skin tissue regeneration.
Keywords:
chitosan; collagen; dual crosslinking; polymeric biomaterial
1. Introduction
The present research portrayed for the first time preparation of collagen–chitosan hydrogel film utilizing two different natural crosslinkers, i.e., tannic acid and genipin simultaneously. At the moment, there is also no such information reported hence, emphasis is put on fabrication of collagen/chitosan-based biomaterial that should persist an inert effect on the human body, moreover it is user friendly. The properties of the newly formed film were thoroughly studied in the form of its physical appearance, physico-chemical structure, swelling behavior, thermal analysis, mechanical properties, biodegradation and cell (mouse embryonic cell lines) adhesion studies. This kind of film will find potential application in ophthalmology especially wherein corneal epithelium is injured externally, skin tissue engineering, wound dressing and/or cartilage/tissue regeneration.
2. Materials and Methods
2.1. Materials
Chitosan (from crab shell, highly viscous, viscosity >400 mPa·s, catalog number-9012-76-4), collagen (from bovine, catalog number-48165), phosphate buffer saline (sterile liquid, D8662), tannic acid (catalog number-403040) and genipin (catalog number-G4796) were obtained from Sigma-Aldrich, Prague, Czech Republic. Whereas acetic acid (99.8%, catalog number 19990-11000), sodium hydroxide (catalog number-15740-31000) and dimethyl sulfoxide (DMSO, catalog number 12630-11000) from Penta, Prague, Czech Republic.
2.2. Preparation of Dual Crosslinked Collagen–Chitosan Film
Dual crosslinked collagen/chitosan (Col/Chi) film was prepared through a casting technique, utilizing tannic acid and genipin as natural origin crosslinkers. To the chitosan solution (dissolved in 1% acetic acid), collagen was added in the ratio of 75:25 respectively. Then the primary cross linker, i.e., tannic acid (concentration range: 0.5%–3%, solvent: demineralized water) was slowly added portion wise into the mixture of Col/Chi. The entire mixture was stirred for 30 min at room temperature under magnetic stirring with the rotation speed of 500 rpm to ensure complete homogeneity. Thereafter, the solution is casted onto the polystyrene plates and allowed us to dry at room temperature. A smooth, transparent and flexible tannic acid crosslinked Col/Chi (Col/Chi-Ta) film was obtained. For achieving dual crosslinking in the system, the solution of genipin (concentration: 0.25%, solvent: DMSO and phosphate buffer solution) was prepared. The Col/Chi-Ta film was incubated for 48–72 h in the genipin solution for the crosslinking reaction to be achieved. Finally, the resulted genipin crosslinked Col/Chi-Ta (GpCol/Chi-Ta) film obtained had a thin, smooth texture with a greenish-blue color appearance and is termed as DC-Col/Chi (dual crosslinked collagen/chitosan) film. The entire preparation is represented in
Figure 1
. The blank sample was also prepared, which is devoid of any cross-linkers and comprises only of Col/Chi.
2.3. Characterization of Films
2.3.1. Fourier Transform Infrared Spectroscopy
FTIR spectra of the films Col/Chi, Col/Chi-Ta and DC-Col/Chi were obtained at wave number of 2000–600 cm−1 at room temperature with uniform resolution of 4 cm−1 and 64 scans. For this, single beam Fourier transform infrared spectroscopy (FTIR) equipped with iD5 attenuated reflectance (ATR) was used. This ATR-FTIR was equipped with the "Omnic" software package. The crystal utilized for detecting the spectra was germanium (iD5-Ge-ATR).
2.3.2. Scanning Electron Microscopy
The morphology and porous structure of films Col/Chi, Col/Chi-Ta and DC-Col/Chi were determined by scanning electron microscopy on VEGA II LMU (TESCAN) operating at high-vacuum with an accelerating voltage 5–20 kV. The images were taken at a magnification of 100–10,000×. All the samples were sputter coated with a thin layer of palladium/gold alloy to improve the surface conductivity and tilted 30° for better observation.
2.3.3. Thermogravimetric Analysis
The TA Q500 apparatus (TA Instruments, New Castle, DE, USA) was used for thermogravimetric analysis (TGA). This analysis was performed at the constant heating rate of 10°C/min from temperature range of 25–700 °C under nitrogen atmosphere. The amount of each selected sample was approximately 10 mg.
2.3.4. Swelling and Invitro Degradation Studies
Water uptake or swelling studies of the films Col/Chi, Col/Chi-Ta and DC-Col/Chi (diameter: 10 mm × 10 mm and thickness: 10 µm) were performed in phosphate buffered saline (pH 7.4; control) and in enzymatic solutions, i.e., lysozyme from chicken white (13 mg/L) and lipase from
Aspergillus oryzae
(110 U/L) at 37 °C for 2 weeks. Thereafter, time to time the swollen samples were removed from the medium and the excess water from the sample surface was removed by the filter paper. The water uptake was determined with respect to swollen samples in the control solution, i.e., PBS as well as eventual or partial degradation in the enzymatic solutions by the following equation, [
34
,
35
,
36
].
where, W
s
and W
f
are the weight of the swollen and final dry weight of test samples, respectively.
The weight loss was calculated using the equation below:
where, W
i
and W
f
are the initial and final dry weight of test samples respectively.
2.3.5. Cell Adhesion and Proliferation Studies
The cell compatibility was detected according to previously described procedures [
37
]. The test samples (films Col/Chi, Col/Chi-Ta and DC-Col/Chi) were sterilized by UV radiation prior to testing. Mouse embryonic fibroblast cell line (ATCC CRL-1658 NIH/3T3; Marlboro, MA, USA) was used to test the adhesion and proliferation of cells on the surfaces. ATCC-formulated Dulbecco's modified Eagle's medium (Biosera, Nuaille, France) containing 10% calf serum (Biosera) and 100 U·mL
−1
penicillin/streptomycin (PAA, Trasadingen, Switzerland) was used as the culture medium.
In the case of adhesion, the cells were seeded on the samples in the concentration of 1.106 cells mL−1. After one hour, the cells were stained with Hoechst 33258 (Molecular Probes, Carlsbad, CA, USA). To determine the ability of cells to proliferate on the surfaces, the cells were seeded at an initial concentration of 1.105 cells mL−1 and cultivated for 48 h. After 48 h the cells were fixed and stained with Hoechst 33258 and ActinRed 555 (Thermo Fisher Scientific, Waltham, MA, USA). Micrographs were taken using the fluorescence microscope Olympus IX 81 (Olympus, Tokyo, Japan).
3. Results and Discussion
4. Conclusions
The objective of this research work was to develop a novel dual crosslinked film that depicts a promising future in ophthalmology, skin tissue engineering and wound dressing. Firstly, Col/Chi film was prepared by a solvent casting technique and utilizing two crosslinking agents together, i.e., tannic acid and genipin. The obtained final dual crosslinked film was a translucent, thin and greenish-blue in color. The distinguishable differences among their physico-chemical properties were recorded through IR spectroscopy. The difference in the internal morphology (porosity) of the crosslinked films was visualized through SEM analysis. The thermal property was also studied using TGA analysis. Further, it was noticed that genipin crosslinked Col/Chi-Ta film exhibited lower swelling capacity. However, the degradation studies show more than 80% of the initial film weight that was retained even after 2 weeks of the incubation within the enzymatic solutions (i.e., lysozyme and lipase). Finally, the mouse fibroblasts cell adhesion and proliferation was performed indicating success in the adhesion of cells onto the genipin crosslinked matrix. However, this study definitely shows that the polymeric film constructed after the crosslinking could serve as a temporary graft in the field of ophthalmology especially for embedding over the cornea of the eyes.
Author Contributions
Conceptualization, R.S. and P.S. (Pavel Stodulka); methodology, R.S.; validation, R.S.; formal analysis, R.S. and K.S.; investigation, R.S.; resources, R.S. and P.S. (Petr Saha); writing-original draft preparation, R.S.; writing-review and editing, R.S. and P.S. (Petr Saha); visualization, R.S. and P.S. (Petr Saha); supervision, P.S. (Petr Saha)
Funding
This work is supported by the Ministry of Education, Youth and Sports of the Czech Republic-Program NPUI (LO1504).
Conflicts of Interest
The authors declare no conflict of interest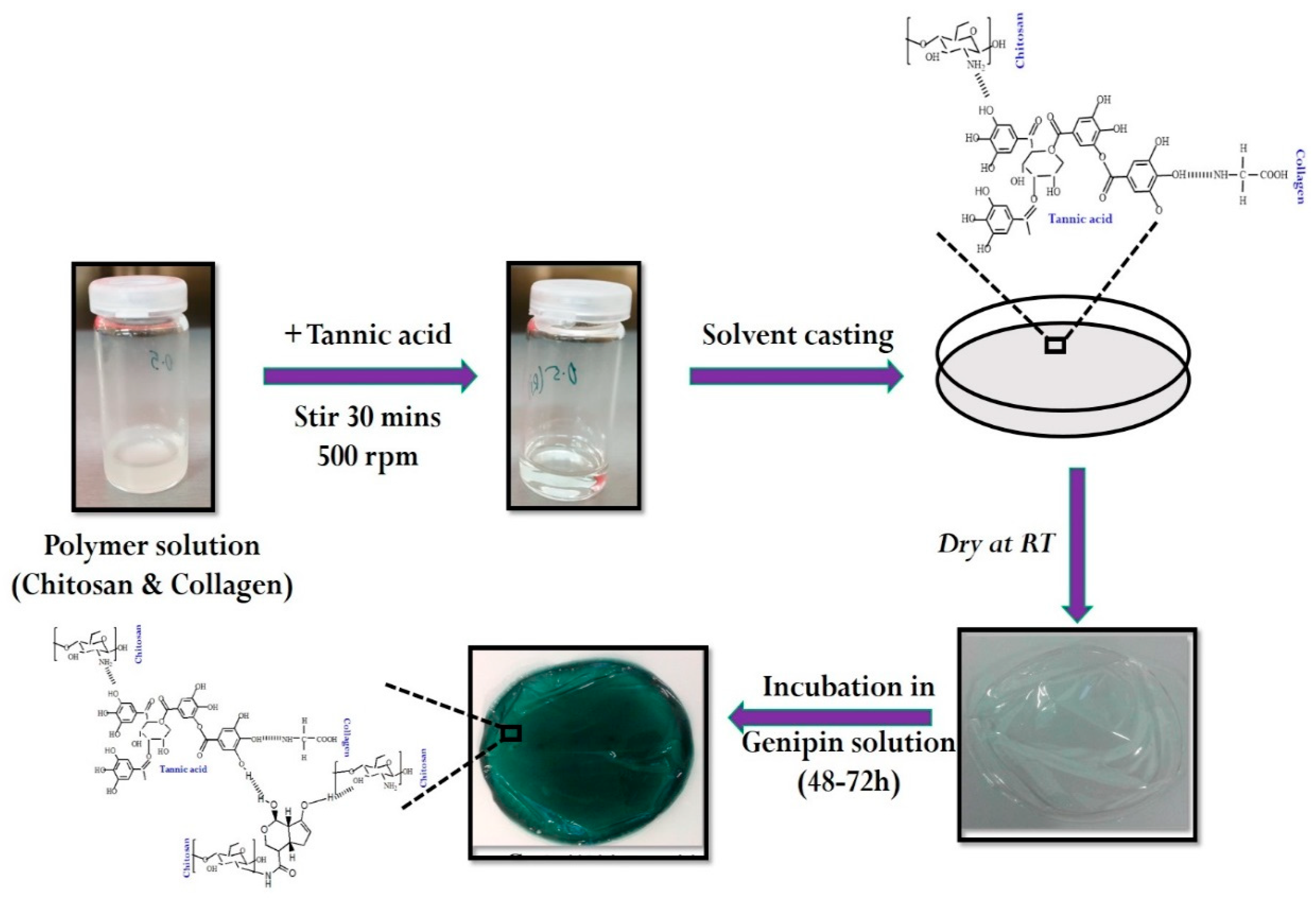 Figure 2. FTIR spectra of collagen/chitosan (Col/Chi), tannic acid crosslinked Col/Chi (Col/Chi-Ta) and dual crosslinked Col/Chi (DC-Col/Chi) films.

Figure 6. Microphotographs of cell adhesion visualized as number of cell nucleus (DNA dyed by Hoechst 33258) on reference (A) and DC-Col/Chi (B). No cell adhesion was observed on the Col/Chi and Col/Chi-Ta.
Figure 7. Microphotographs of cell proliferation on reference (A) Col/Chi-Ta No cells were observed on Col/Chi. No actin was present within the cells on (B) DC-Col/Chi (DNA dyed by Hoechst 33258, actin dyed by ActinRed 555).
Sample Index
Degradation of Film (%)
Lysozyme
Lipase
Col/Chi-Ta
14
15
DC-Col/Chi
11
12

© 2019 by the authors. Licensee MDPI, Basel, Switzerland. This article is an open access article distributed under the terms and conditions of the Creative Commons Attribution (CC BY) license (http://creativecommons.org/licenses/by/4.0/).