Open Access This article is
freely available
re-usable
Article
Methoxy-Group Control of Helical Pitch in Stereoregular Poly(2-ethynylmethoxynaphthalene) Prepared by Rhodium Complex Catalyst
1
Graduate School of Engineering, Muroran Institute of Technology, 27-1 Mizumoto-cho, Muroran 050-8585, Hokkaido, Japan
2
Research Center for Environmentally Friendly Materials Muroran Institute of Technology, 27-1 Mizumoto-cho, Muroran 050-8585, Hokkaido, Japan
3
Graphene New Materials Technology, JunFeng Business BuildingA-4F, Chongqing Road, Baoan District, Shenzhen 518101, China
4
Center of Environmental Science and Disaster Mitigation for Advanced Research, Muroran Institute of Technology, 27-1 Mizumoto-cho, Muroran 050-8585, Hokkaido, Japan
5
Faculty of Science and Technology, Department of Applied Chemistry and Bioscience, Chitose Institute of Science and Technology, Bibi 65-758, Chitose 066-8655, Hokkaido, Japan
†
Current address: Molecular Engineering Institute, Kindai University, 11-6, Kayanomori, Iizuka, Fukuoka 820-8555, Japan.

Received: 2 December 2018 / Accepted: 4 January 2019 / Published: 8 January 2019
Abstract
:
The position of the methoxy group in a poly(
n
-methoxy-2-ethynylnaphthalene) (PnMeO2EN) was found to control the helical pitch of the π-conjugated polymer in the solid state. These PnMeO2ENs were stereoregularly synthesized using an Rh-complex catalyst in ethanol or toluene as the solvent. The helical structure in the solid phase was confirmed by conventional analytical methods, namely diffuse reflective ultraviolet–visible light (UV–Vis) and Raman spectroscopies, X-ray diffraction, and
13
C cross-polarization magic angle spinning NMR spectroscopy, together with molecular mechanics calculations, because the as obtained polymers were insoluble in common solvents. The color of poly(6-methoxy-2-ethynylnaphthalene) (P6MeO2EN) (yellow or red) depended on the polymerization solvent, whereas no such dependency was observed for the yellow-colored P7MeO2EN and P8MeO2EN. The helical structures energetically optimized by molecular mechanics indicate that the red- and yellow-colored P6MeO2ENs form contracted and stretched helices, respectively. Due to the relatively unconstrained rotations of the 6-methoxynaphthyl moieties, the methoxy groups in P6MeO2EN are less sterically hindered along the helical axis. On the contrary, P7MeO2EN and P8MeO2EN have stretched helices due to the considerable steric hindrance imparted by their methoxy groups. The thermal
cis
-to-
trans
isomerization of P6MeO2EN in the contracted-helix form required a somewhat higher temperature than that of the stretched helix.
Keywords:
conjugated polymer; polyacetylene; Rh-complex catalyst; helix; helical pitch; color
Supplementary Materials
The following are available online at
https://www.mdpi.com/2073-4360/11/1/94/s1
: Scheme S1: Synthesis of 7-methoxy-2-ethynylnaphthalene (7MeO2EN) and 8-methoxy-2-ethynylnaphthalene (8MeO2EN); Figure S1:
13
C NMR spectra of nMeO2EN monomers (
n
= 6, 7, and 8); Figure S2: Room temperature
13
C CPMAS NMR spectra of poly(
1
), poly(
3
), and poly(
5
); Figure S3: Resonance Raman spectrum of poly(
3
)~poly(
6
) in the solid state.
Author Contributions
Conceptualization, Y.M. and M.T.; Investigation, Y.M.; Data Curation, Y.M.; Writing–Original Draft Preparation, Y.M.; Writing–Review & Editing, Y.Y., K.H. and M.T; Funding Acquisition, Y.M. and M.T.
Acknowledgments
This work was supported in part by JSPS KAKENHI (Grants-in-Aid for Young Scientist (B), No. 16K20885 (Y.M.) and the Nanotechnology Platform Program (Synthesis of Molecules and Materials, Chitose Institute of Science and Technology) of the Ministry of Education, Culture, Sports, Science, and Technology (MEXT), Japan.
Conflicts of Interest
The authors declare no conflict of interest.
Scheme 1.
[Rh(norbornadiene)Cl]
2
–NEt
3
-catalyzed polymerization of
n
-methoxy-2-ethynylnaphthalenes (nMeO2ENs;
n
= 6, 7, 8).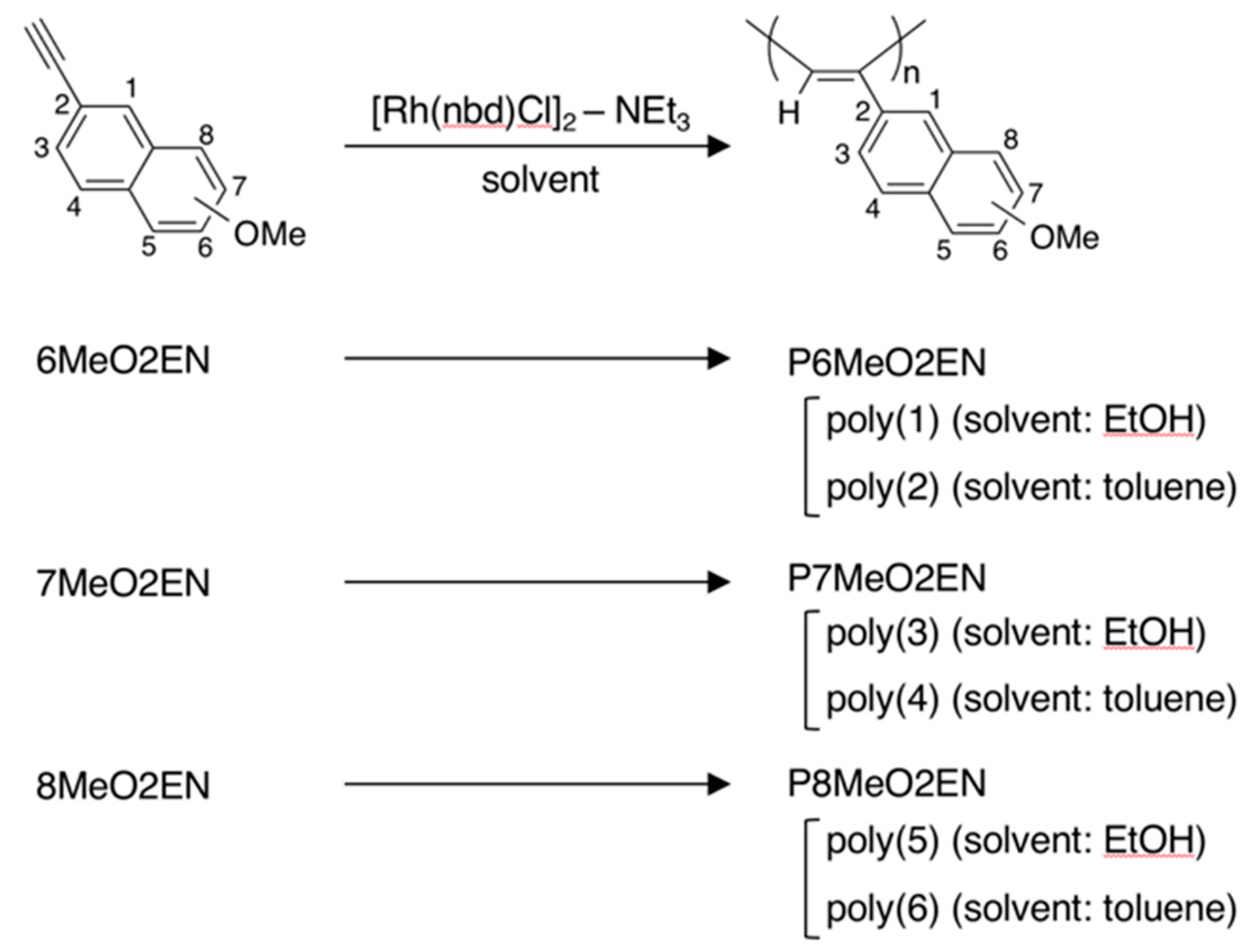 Figure 1. Room temperature 13C cross-polarization/magic angle spinning (CPMAS) NMR spectra of poly(2), poly(4), and poly(6). SSB represents a spinning side band.
Figure 2. Photographs of poly(1–6) (a), diffuse reflectance ultraviolet–visible light (UV–Vis) spectra of poly(6-methoxy-2-ethynylnaphthalene)s (P6MeO2ENs) (b), P7MeO2ENs (c), and P8MeO2ENs (d).
Figure 5. Dependencies of strain energies on the dihedral angle between two C=C bonds of C=C–C=C units for 20-mer models of 6MeO2EN, 7MeO2EN, and 8MeO2EN.
Figure 6. Side views of 6MeO2EN 20-mer models, showing the stretched helix of poly(1) (a) and the contracted helix of poly(2) (b).
Figure 7. Schematic model of steric hindrances along the helical axis caused by the presence of rotatable methoxynaphthyl rings.
| Monomer | Polymer | Polymerization Solvent | Yield (%) b | λmax(nm) c |
| --- | --- | --- | --- | --- |
| 6MeO2EN | Poly(1) | Ethanol (EtOH) | 60 | 440 |
| 6MeO2EN | Poly(2) | Toluene | 74 | 500 |
| 7MeO2EN | Poly(3) | EtOH | 54 | 440 |
| 7MeO2EN | Poly(4) | Toluene | 91 | 480 |
| 8MeO2EN | Poly(5) | EtOH | 70 | 450 |
| 8MeO2EN | Poly(6) | Toluene | 98 | 460 |
a Conditions: 25 °C, 0.5 h, [M]0 = 0.20 M, [M]0/[Rh cat.] = 200, [NEt3]/[Rh cat.] = 100. b EtOH-insoluble part. c Measured by diffuse reflectance ultraviolet–visible light (UV–Vis) spectroscopy.

© 2019 by the authors. Licensee MDPI, Basel, Switzerland. This article is an open access article distributed under the terms and conditions of the Creative Commons Attribution (CC BY) license (http://creativecommons.org/licenses/by/4.0/).