Open Access This article is
freely available
re-usable
Article
Preparation and Characterization of Antibacterial Polypropylene Meshes with Covalently Incorporated β-Cyclodextrins and Captured Antimicrobial Agent for Hernia Repair
1
Key Laboratory of Textile Science and Technology of Ministry of Education, Room 4023, College of Textiles, Donghua University, 2999 North Renmin Road, Songjiang, Shanghai 201620, China
2
Department of Textile Engineering, Mehran University of Engineering and Technology, Jamshoro 76062, Sindh, Pakistan
3
Division of Textiles and Clothing, University of California, Davis, CA 95616, USA
*
Authors to whom correspondence should be addressed.
Received: 28 November 2017 / Accepted: 5 January 2018 / Published: 11 January 2018
Abstract
:
Polypropylene (PP) light weight meshes are commonly used as hernioplasty implants. Nevertheless, the growth of bacteria within textile knitted mesh intersections can occur after surgical mesh implantation, causing infections. Thus, bacterial reproduction has to be stopped in the very early stage of mesh implantation. Herein, novel antimicrobial PP meshes grafted with β-CD and complexes with triclosan were prepared for mesh infection prevention. Initially, PP mesh surfaces were functionalized with suitable cold oxygen plasma. Then, hexamethylene diisocyanate (HDI) was successfully grafted on the plasma-activated PP surfaces. Afterwards, β-CD was connected with the already HDI reacted PP meshes and triclosan, serving as a model antimicrobial agent, was loaded into the cyclodextrin (CD) cavity for desired antibacterial functions. The hydrophobic interior and hydrophilic exterior of β-CD are well suited to form complexes with hydrophobic host guest molecules. Thus, the prepared PP mesh samples, CD-TCL-2 and CD-TCL-6 demonstrated excellent antibacterial properties against
Staphylococcus aureus
and
Escherichia coli
that were sustained up to 11 and 13 days, respectively. The surfaces of chemically modified PP meshes showed dramatically reduced water contact angles. Moreover, X-ray diffractometer (XRD), differential scanning calorimeter (DSC), and Thermogravimetric (TGA) evidenced that there was no significant effect of grafted hexamethylene diisocyanate (HDI) and CD on the structural and thermal properties of the PP meshes.
Keywords:
antibacterial meshes; guest molecule; cyclodextrin grafting; polypropylene; oxygen plasma
2. Materials and Methods
2.1. Materials
Polypropylene (PP) warp-knitted mesh, made of fine diameter (0.1 mm) monofilament with a large pore size (3.5 mm × 2.5 mm) and light weight (27 g/m
2
), was received from Nantong Newtec Textile and Chemical Fiber Co. Ltd., Nantong, China. For water contact angle measurement, a PP nonwoven melt-blown fabric of 23 g/m
2
wasn selected. Hexamethylene diisocyanate (HDI) (≥98%) CAS: 822-06-0 and β-Cyclodextrin (CD) (≥97%) CAS: 7585-39-9 was purchased from Sigma Aldrich, Shanghai, China. Triclosan CAS: 3380-34-5 was purchased from Aladdin Company Shanghai, China, while
N
-
N
dimethylformamide (DMF) Case No. 68-12-12 was received from Shanghai Ling feng Company. Ethanol (≥99.7%) was purchased from Yangyuan Chemical Engineering, Changshu, Jiangsu, China.
2.2. Methods
2.2.1. Cold Plasma Surface Functionalization
A cold plasma machine (HD-300) at low pressure was used for the surface functionalization of PP mesh samples. The machine is consisted of Power (500 W), radio frequency (13.56 MHz) of plasma and a vacuum reaction chamber (300 cm × 300 cm) for the treatment of samples. All PP mesh samples (10 cm × 10 cm) were surface activated at constant powered (40 W) and pressure (10 pa) of oxygen gas. Moreover, optimized treatment time (300 s) was selected for all samples.
2.2.2. Two Grafting Steps and PP-HDI-CD Incorporation
Plasma treated PP meshes was grafted with β-cyclodextrins by simple two grafting step method. First HDI (2–6%) was reacted with the plasma treated samples. Afterwards, the surface modified PP-HDI samples were further reacted with CD (2–8%). For both processes the liquor ratio was (mesh:solution) 1:100. The time and temperature were 30–90 min and 65–85 °C, respectively. Afterward, the PP surface modified meshes (HDI-CD) were washed several times with warm distilled (50 °C) water to eliminate residues of unconnected chemical before drying. HDI grafted PP samples were named PP-HDI-2 (2%), PP-HDI-4 (4%), PP-HDI-6 (6%) and CD-HDI modified polypropylene mesh samples were respectively named as HDI-CD-2 (2%), HDI-CD-4 (4%), HDI-CD-6 (6%), and HDI-CD-8 (8%) according to the CDs concentrations in the solutions.
2.2.3. Loading of Triclosan
Cyclodextrin (HDI-CD)-modified samples (0.5 g) were immersed in the 50 mL mixture (70% ethanol and 30% water) containing 0.6% (0.3 g) triclosan as a guest molecule. All samples were soaked for 24 h before drying. The modified polypropylene samples after triclosan loading were named as CD-TCL-2, CD-TCL-4, and CD-TCL-6, and CD-TCL-8, respectively.
2.3. Characterization Techniques
2.3.1. SEM and EDX
A coating machine (E-1045, Hitachi, Tokyo, Japan) was first used to coat untreated and modified samples with platinum (pt.) ion. Subsequently, all coated samples were tested by a scanning electron microscope (JEOL JSM 6330, Tokyo, Japan) and Energy Despersive X-ray spectroscopy (EDX) (Oxford Instrument ISIS 300, Oxfordshire, UK) connected with SEM.
2.3.2. FTIR
Chemical compositions of untreated and modified samples were measured by a Fourier Transform Infrared Spectroscopy (FTIR) Attenuated Total Reflection mode (ATR) (Nicolet 6700, Downers Grove, IL, USA). All samples were characterized with resolution of 4.0 cm−1 and wave number ranging from 500 to 4000 cm−1.
2.3.3. Contact Angle
Due to the fine filament diameter (0.1 mm) and larger pore size of the PP meshes, a nonwoven PP was preferred as a model fabric to reflect the differences between the contact angles of the PP control and the modified meshes. Two methods, captive bubble (static contact angle) and sessile drop (dynamic contact angle), were used to measure the water contact angle, using WCA 20 software to estimate the hydrophilic/hydrophobic behavior of samples. A Teli CCD camera (Data physics instrument, San Jose, CA, USA) was used to capture images of water contact angle and at least five drops of 5 µL for each sample were added to get an average contact angle.
2.3.4. XRD
Powders of PP control and modified samples were prepared for X-ray diffractometer (XRD) examination. An XRD machine (Rigaku D/MAX 2550/PC, Tokyo, Japan) was used for scanning rate of 0.02/min at 40 kV, 200 mA and a range of 0°–60° (2ϴ) to characterize all samples.
2.3.5. Thermal Analysis
PP control and modified mesh samples were scanned on a differential scanning calorimeter (DSC) (Perkin Elmer 4000, Downers Grove, IL, USA) at a rate of 20 °C /min over the range of 20–250 °C; the cooling rate was set to 20 °C/min.
Thermogravimetric analysis was conducted to evaluate the percentage residual weight loss of PP control and modified samples. A Perkin Elmer thermogravimetric analyzer (TGA) 4000 (Downers Grove, IL, USA) device was used to scan all samples over a temperature range of 250–550 °C at 30 °C/min. Thus, nitrogen gas was used at a flow rate of 20 mL/min with a pressure of 2 bars during characterization.
2.3.6. Antibacterial Activity Assessment
Agar Diffusion Test Method (Qualitative Analysis)
Antibacterial activity was conducted using the agar diffusion test method described in a previously published research paper [
16
]. First, 400 µL of bacterial suspension (1 × 10
8
CFU/mL) (
Staphylococcus aureus
ATCC 25923 and
Escherichia coli
ATCC25922) was evenly spread on to the agar plate with the help of pre-sterilized disposable swabs. Then, PP control and modified samples of size 1 cm × 1 cm were placed on an agar plate and incubated for 24 h at 37 °C. The zone of inhibition of incubated samples was measured with a digital vernier caliper in four directions and reported as the mean value. The zone of inhibition diameter was measured by the following formula:
where
L
= zone of inhibition,
T
= diameter of original sample, and
D
= inhibition zone diameter after 24 h incubation.
Sustained Efficacy Test (Serial Plate Transfer Test)
The objective of this test was to evaluate the antibacterial activity of CD-grafted samples with reference to the antibacterial release time in days. After each 24 h, the agar plate was changed and mesh samples (1 cm × 1 cm) were transferred to a new agar plate containing similar colony forming units (1 × 10
8
CFU/mL) of bacteria (
Staphylococcus aureus ATCC 25923
and
Escherichia coli ATCC25922
) after contact with the previous one. The test was continued until modified meshes sustained their antibacterial activity.
2.3.7. Statistical Analysis
The data in the figures are described as mean and standard deviations. However, the error bars in the figures indicate standard deviations. ANOVA one-way analysis (single-factor) was used to determine the differences between each sample and the data in the figures are labeled, such as
p
< 0.001 (***),
p
< 0.01 (**), and
p
< 0.05 (*). Although a
p
value of (*) < 0.05 was considered as the confidence interval, variances were first confirmed to be significant.
3. Results and Discussion
4. Conclusions
This study proven that β-CD was covalently bonded onto PP mesh devices without affecting the original properties of the PP fibers. The products captured triclosan and provided excellent sustained released antibacterial properties. The low-pressure, cold oxygen plasma was able to activate the surfaces of PP meshes effectively, and created hydroxyl and carboxyl groups on PP surfaces for hexamethylene diisocyanate (DHI) grafting. HDI was successfully grafted on the oxygen plasma activated PP fibers' surfaces. Moreover, β-CD was connected to the HDI-grafted PP meshes, and the modified PP meshes were successfully loaded with triclosan as a model antimicrobial agent. All samples were characterized using SEM, FTIR, EDX, XRD, TGA, DSC, and water contact angle.
Acknowledgments
This work was supported by the National Key Research and Development Program of China (Grant No. 2016YFB 0303300-03), the 111 project "Biomedical Textile Material Science and Technology" (grant No. B07024), and the Fundamental Research Funds for the Central Universities (Grant No. 17D110111).
Author Contributions
Noor Sanbhal and Yan Li conceived and designed the experiments. Noor Sanbhal and Mao Ying conducted all experiments. Lu Wang guided the experiments and discussed the results with Noor Sanbhal. Gang Sun and Mazhar Peerzada made some valuable comments. Noor Sanbhal and Lu Wang wrote the article and Gang Sun edited the manuscript.
Conflicts of Interest
The authors declare no conflict of interest.
Figure 1. (a) Illustrations of experimental design for β-CD grafted antibacterial surgical PP meshes; Schemes (b) step-1, PP-HDI grafting; (c) step-2, PP-HDI-CD grafting; and (d) triclosan loaded meshes.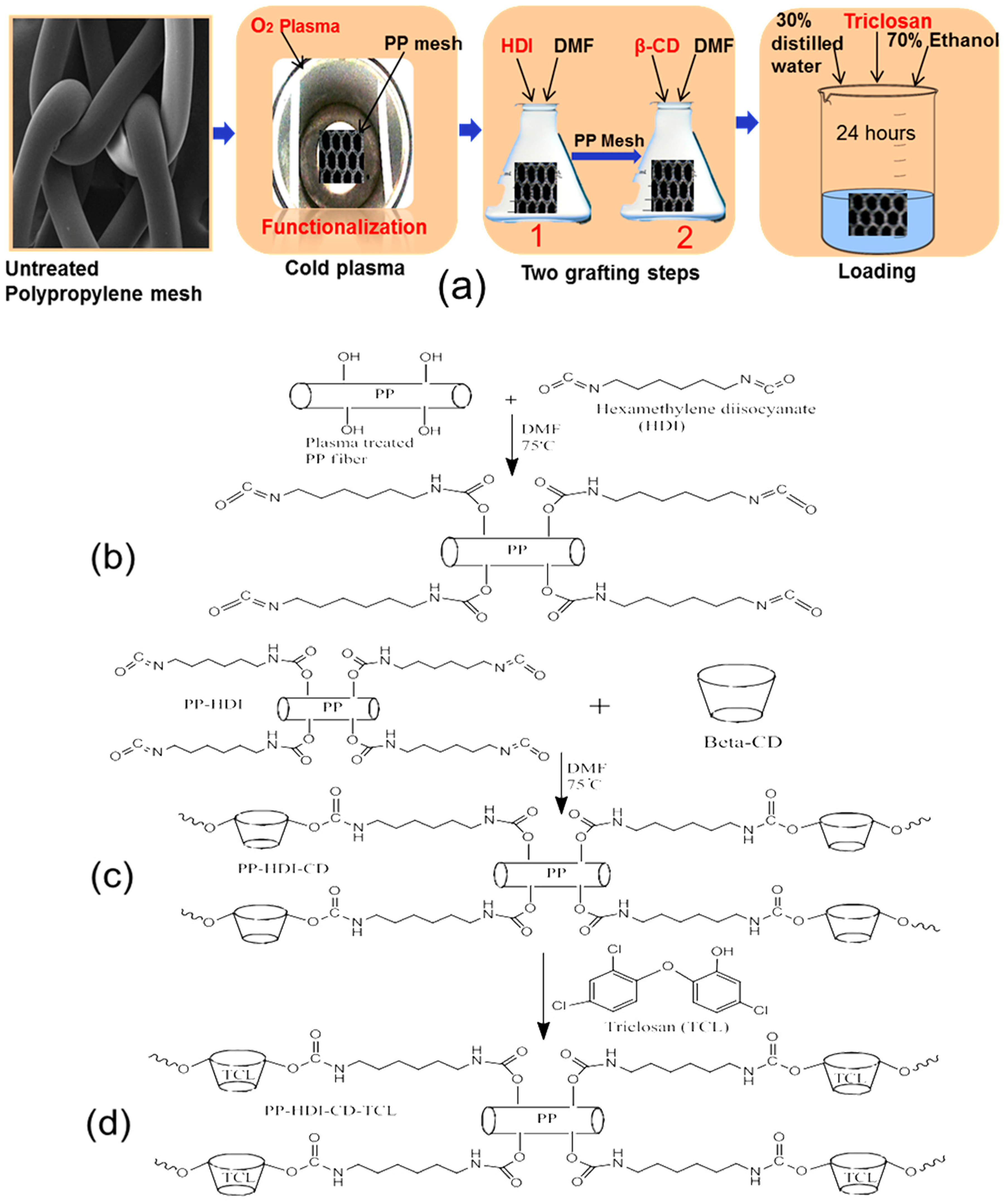 Figure 2.
Optimization of two-step grafted PP meshes; (
a
) Temperature for grafting; (
b
) reaction time; (
c
) weight increase % of HDI-CD-TCL samples. Data of each sample expressed as averages (
n
= 3).
Figure 3. SEM micrographs; (a1,a2) PP control; (b1,b2) oxygen plasma treated; (c1,c2) HDI grafted PP-HDI-6; (d1,d2) HDI-CD-6; and (e1,e2) CD-TCL-6 (top row 200×, bottom row 1000×).
Figure 4. EDX spectra and atomic percent of PP control and modified meshes (a) PP control; (b) HDI grafted, PP-HDI-6; (c) HDI-CD-6; (d) CD-TCL-6.
Figure 5. FTIR (ATR) spectra; (a) PP-HDI grafted samples (PP-HDI-2), (PP-HDI-4) and PP-HDI-6; and (b) PP control, PP-HDI-6-grafted, and triclosan-loaded (CD-TCL-2 and CD-TCL-6) samples.
Figure 6.
(
a
) Contact angles measured by sessile drop method and captive bubble (
b
) average contact angle drops, PP control (sessile drop), triclosan-loaded CD-TCL-2, triclosan-loaded CD-TCL-6 and CD-grafted HDI-CD-6. Data for each sample are expressed as an average of five measurements (
n
= 5). Statistical differences are indicated with (***) for
p
< 0.001 and (**) for
p
< 0.01.
Figure 7. Structural and thermal properties: (a) XRD pattern of treated and untreated PP meshes; (b) DSC of PP control and modified samples; (c) TGA: percentage residual weight changes of PP control and modified samples.
Figure 8.
Inhibition zone diameter of (
a1
,
a2
) PP control, (
b1
,
b2
) CD-TCL-2, (
c1
,
c2
) CD-TCL-6, (top row)
S. aureus
and (bottom row)
E. coli
.
Figure 9.
Sustained efficacy test (
a
) CD-TCL-2, (
b
) CD-TCL-6. Data for antimicrobial test samples are expressed as an average of three samples (
n
= 3).

© 2018 by the authors. Licensee MDPI, Basel, Switzerland. This article is an open access article distributed under the terms and conditions of the Creative Commons Attribution (CC BY) license (http://creativecommons.org/licenses/by/4.0/).