Open Access This article is
freely available
re-usable
Article
All-Inorganic Red-Light Emitting Diodes Based on Silicon Quantum Dots
1
Department of Physics, Triveni Devi Bhalotia College, Raniganj, West Bengal 713383, India
2
International Center for Materials Nanoarchitectonics (MANA), National Institute for Materials Science (NIMS), 1-1 Namiki, Tsukuba 305-0044, Japan
3
Graduate School of Chemical Sciences and Engineering, Hokkaido University, Sapporo 060-0814, Japan
4
Department of Physics, Chuo University, 1-13-27 Kasuga, Bunkyo, Tokyo 112-8551, Japan
*
Authors to whom correspondence should be addressed.
Received: 25 June 2019 / Accepted: 25 July 2019 / Published: 26 July 2019
Abstract
:
We report herein an all-inorganic quantum dot light emitting diode (QLED) where an optically active layer of crystalline silicon (Si) is mounted. The prototype Si-QLED has an inverted device architecture of ITO/ZnO/QD/WO3/Al multilayer, which was prepared by a facile solution process. The QLED shows a red electroluminescence, an external quantum efficiency (EQE) of 0.25%, and luminance of 1400 cd/m2. The device performance stability has been investigated when the device faces different humidity conditions without any encapsulation. The advantage of using all inorganic layers is reflected in stable EQE even after prolonged exposure to harsh conditions.
Keywords:
light emitting diode; quantum dots; silicon; solution-process; all-inorganic device
1. Introduction
Silicon quantum dots (Si QDs), promising for applications in fluorescence biomarkers because of their low cytotoxicity [
1
,
2
,
3
], have recently shown improved device performance for prototype light emitting diodes (QLEDs) [
4
,
5
,
6
,
7
,
8
]. Being an indirect band gap semiconductor, silicon has poor optical properties (absorbance and emission), so an optically-excited type of LED is not a good option for use. However, we expect a dramatically improved device performance for a current-driven LED with Si QDs because external quantum efficiency (EQE) should be dominated by recombination rate between electrons and holes injected from electrodes. In fact, the best value of EQE for Si-QLEDs is as high as 8.6%, which is still a record value in cadmium-free QLEDs [
4
,
9
,
10
]. The next important step is the development of an advanced Si-QLED, in addition to achieving an optimized optical performance in terms of low turn-on voltage, high EQE, strong brightness, Gaussian-shaped electroluminescence (EL) spectra, narrow emission band tunable over a wide range from visible to near-infrared (NIR) wavelengths, a long device lifetime, resistance characteristics against humidity and oxidation, no parasitic emission, and spectral stability over a broad range of operation voltages.
In typical QLEDs, a conventional device architecture is used. Indium tin oxide (ITO) is adopted for the anode, while aluminum (Al) is used for the cathode [
11
]. QLEDs have a multilayer structure that consists of an electron injection layer (EIL), an electron transportation layer (ETL), an active layer, a hole transportation layer (HTL), and a hole injection layer (HIL). For Si-QLEDs, polyethylene dioxythiophene:polystyrene sulfonate (PEDOT:PSS) and poly TPD serve as the HTL/HIL, while 1,3,5-tris(N-phenylbenzimidazol-2-yl)benzene (TPBi) is usually used as the EIL/ETL. However, there are papers reporting that an organic/inorganic hybrid multilayered structure might exhibit a poor stability against oxygen and moisture in ambient air [
12
]. It is also reported that the performance of the hybrid devices degrades over time. The degradation is induced by PEDOT:PSS, leading to the acid corrosion of ITO [
13
,
14
]. Maier-Flaig et al. studied morphological and compositional changes of Si-QLEDs during device operation [
15
]. For this purpose, they employed a combined analysis of cross-sectional transmission electron microscopy (TEM), energy filtered TEM, and energy dispersive X-ray spectroscopic mapping. Their TEM observation revealed that operation of a QLED with a conventional device structure at high applied voltage accelerated the significant morphological changes. Specifically, a strong electro-migration of QDs into the neighboring compositional organic EIL/ETL caused the formation of a large amount of macroscopic defects, leading to the collapse of multilayered structure. As predicted, such an intermixing effect spoiled the hole-blocking performance of the EIL/ETL, leading to the degradation of optical performance. To overcome these shortcomings, scientists have tried replacing the organic layers with inorganic layers to develop QLEDs that work even in a high operation voltage range [
16
,
17
,
18
]. A variety of metal oxides including zinc oxide (ZnO), nickel oxide (NiO), tungsten oxide (WO
3
), and molybdenum oxide (MoO
3
) have been used till now for carrier injection and transportation layers, resulting in the fabrication of a device that survives for a long operation time even in harsh environments [
19
]. More recently, we reported that inverted device structure allows the Si-QLED to demonstrate a stable optical performance even in high electronic fields, in addition to the long-life device stability [
20
]. We concluded that the device degradation originating from the intermixing effect could be evitable when the inverted structure is adopted, although the multilayer still contains organic HTL/HIL of 4,4′-bis(carbazole-9-yl)biphenyl (CBP) molecules.
In this study, we report an all-inorganic Si-QLED for the first time. Except for the electrode, the multilayer demonstrated here was fabricated by spin-coating of colloidal inks of nanocrystals including Si QDs.
2. Materials and Methods
2.1. Materials
Triethoxysilane (TES) was purchased from TCI Chemicals (Tokyo, Japan). Electronic grade hydrofluoric acid (49% aqueous solution) was purchased from Kanto Chemical (Tokyo, Japan). HPLC-grade toluene, isopropanol (IPA), ethanol, methanol acetone, ammonia solution (NH4OH, 28-30%), and hydrogen peroxide (H2O2), were purchased from Wako Chemicals (Tokyo, Japan). 1-decene, zinc acetate dehydrate, and WO3 nanoparticle ink (2.5 wt. % in IPA) were purchased from Sigma-Aldrich (St. Louis, MI, USA), and used as received.
2.2. Preparation of Decane-terminated Si QDs
In accordance with our previous protocol [
21
], hydrogen-terminated Si QDs were prepared by thermal disproportionation of hydrogen silsesquioxane derived from triethoxysilane, followed by hydrofluoric etching. The hydrogen–silicon surface bonds were replaced by carbon–silicon bonds through thermal hydrosilylation of 1-decene. We observed the enhanced photoluminescence quantum yields (PL QYs) from 0.2% (for hydrogen-termination) to 18% (for decane-termination) as a result of preventing the formation of nonradiative recombination channels in the surface of the QDs [
22
]. We call this role of the alkyl monolayer on enhanced PL QY the "anchor effect" [
23
]. XRD spectra of the as-prepared Si QDs are shown in
Figure 1
a. The peaks at 28°, 47°, and 56° were assigned as the (111), (220), and (311) planes of diamond cubic silicon.
2.3. Fabrication of the Si-QLED
The Si-QLED was prepared on an ITO-coated glass substrate (sheet resistivity ~15 Ω/sq). The substrate was etched in a thin strip and then cleaned by the standard RCA cleaning method which is widely used in the semiconductor industry. Then, 5 parts of Milli-Q water (18.2 MΩ·cm, 50 mL) were mixed with 1 part of NH
4
OH (28%, 10 mL) and 1 part of H
2
O
2
(30%, 10 mL) and then heated to 70 °C. During heating at a constant temp of 70 °C, the ITO substrate was dipped for 15 min and then rinsed twice in the water. Lastly, to remove the water, the substrate was rinsed with IPA and dried in a heating chamber. After the ozone-cleaning with a deep-UV light, the substrate was transferred to the spin-cast chamber for spin-coating. Colloidal inks of ZnO (20 mg/mL), Si QDs (10 mg/mL), and WO
3
(5 mg/mL) nanocrystals were spin-casted sequentially with rotation speeds of 2000, 1000, and 1000 rpm, respectively. The colloidal ink of ZnO nanocrystals was prepared by following the procedure reported previously [
24
]. We used ethanol, toluene, and IPA to prepare colloidal inks of ZnO, Si QD, and WO
3
, respectively. The use of the orthogonal solvents enabled the underlying layer to avoid any damage caused by spin-coating over layers. In each step of coating, the films were dried for 1 h at 120 °C in a vacuum chamber. The film thicknesses of ZnO and WO
3
were approximately 22 and 13 nm respectively. The top electrode Al of 150 nm was deposited using a mask by the thermal evaporation technique.
2.4. Characterization
To avoid the solvent effect on PL QYs, optical properties were measured using the QD films deposited onto quartz glass substrates. The PL spectrum was measured by a modular double grating Czerny–Turner monochromator and iHR 320 monochromator (1200 lines/mm of gratings) coupled with a photomultiplier tube (PMT-955) mounted on fluorescence spectrometer (NanoLog Horiba JovinYvon, Kyoto, Japan). A 450 W xenon lamp was used for photoexcitation. The spectral resolution of the spectrofluorometer was ~0.3 nm. The absolute PL QYs were measured at room temperature using the QY measurement system (C11347-11, Hamamatsu Photonics Co. Ltd., Shizuoka, Japan). A 150 W xenon lamp for excitation was mounted on the system. A monochromator for wavelength discrimination, an integrating sphere for a sample chamber, and a multichannel analyzer for signal detection were coupled to the system.
I–V characterization of the device was investigated by a computer programmable Keithley 2400 and 2425. To measure the Si-QLED characteristics, the prototype QLED was kept just above a silicon photodiode to sense the emitted light from the QLED. Photodiode current was measured by the Keithley 2425. EL spectra were measured by collecting the light by an objective lens equipped with a SMA905 connector and sent by optical fiber (ϕ = 1000 μm) to a Si CCD array multichannel monochromator with 2048 pixels (OP-FLAME-S-OW, Ocean Photonic, Ltd., Tokyo, Japan). EQE was calculated as a ratio of the number of forward-emitted photons to the number of injected electrons, expressed as:
EQE [%] =
N
phot*
|
e
|
I
d
×
g
× 100
where
N
phot
is the number of forward-emitted photons which is counted by the photodiode,
I
d
is the current passing through the device under operation voltage, and |
e
| is the magnitude of charge of an electron.
The geometric factor,
g
, is expressed as:
where
a
is the length and breadth of a square photodiode and
L
is the distance between the emitting QLED pixel and the photodiode.
The photodiode current, divided by the responsivity value of the photodiode at the peak energy of the EL spectrum, gives the output photon for light from the device. The number of the photon is calculated by simply dividing with hc/λ. The formula for the EQE calculation is simplified as expressed:
where
I
(
photodiode
) is the photo current, in which dark current is subtracted, detected by a photodiode (Hamamatsu S1336-8BQ, Shizuoka, Japan) placed just below the EL device.
I
(
device
) is the device current, when the device is not operative. R is the responsivity of the photodiode and g is the configuration factor of our measurement set-up, which we estimated was 4.
Luminance (Cd/m
2
) was estimated using the value of EQE and the area of the EL spectrum, as expressed:
3. Results and Discussion
4. Conclusions
We demonstrated an inverted device structure of a Si-QLED which exhibited a high stability against humidity in ambient air. The device consisted of inorganic multilayers where ZnO EIL/ETL and WO3 HIL/HTL sandwiched an optically-active layer of red-emitting Si QDs. The multilayered structure was prepared by a spin-coating technique, except for the Al electrode. Based on the carrier transition in the inverted device structure, electrons were injected from an ITO electrode while holes were injected from an Al electrode. The J–V characteristic indicated the carrier recombination in the QD layer. We observed a good EL performance for the Si-QLEDs, which were exposed to 80%-humidity for 45 days in ambient air. The results obtained in this work encourage us to push forward the development and practical use of all-inorganic QLEDs.
Author Contributions
B.G. and N.S. designed research, B.G. performed research, and B.G and N.S. wrote the paper.
Funding
A-step (JPMJTS1619) from Japan Science and Technology Agency and the Izumi Science and Technology Foundation (2018-J-053). Kakenhi (19K22176), B.G. thanks to the JSPS international fellowship program for research in Japan (L18530).
Conflicts of Interest
The authors declare no conflict of interest.

Figure 1. (a) X-ray powder diffraction pattern of Si QD, (b) a schematic representation of the red-light emitting Si QLED with an inverted device structure, and (c) the corresponding flat band diagram.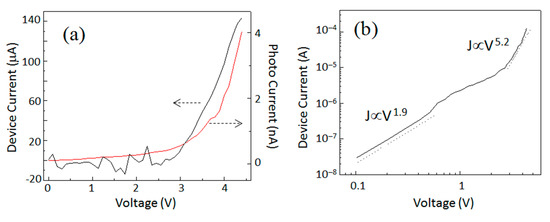 Figure 2. (a) Device I–V characteristics (black-curve) and photodiode I–V characteristics (red-curve) and (b) I–V in double log scale to fit linearly with a different slope (as guided by the dotted line).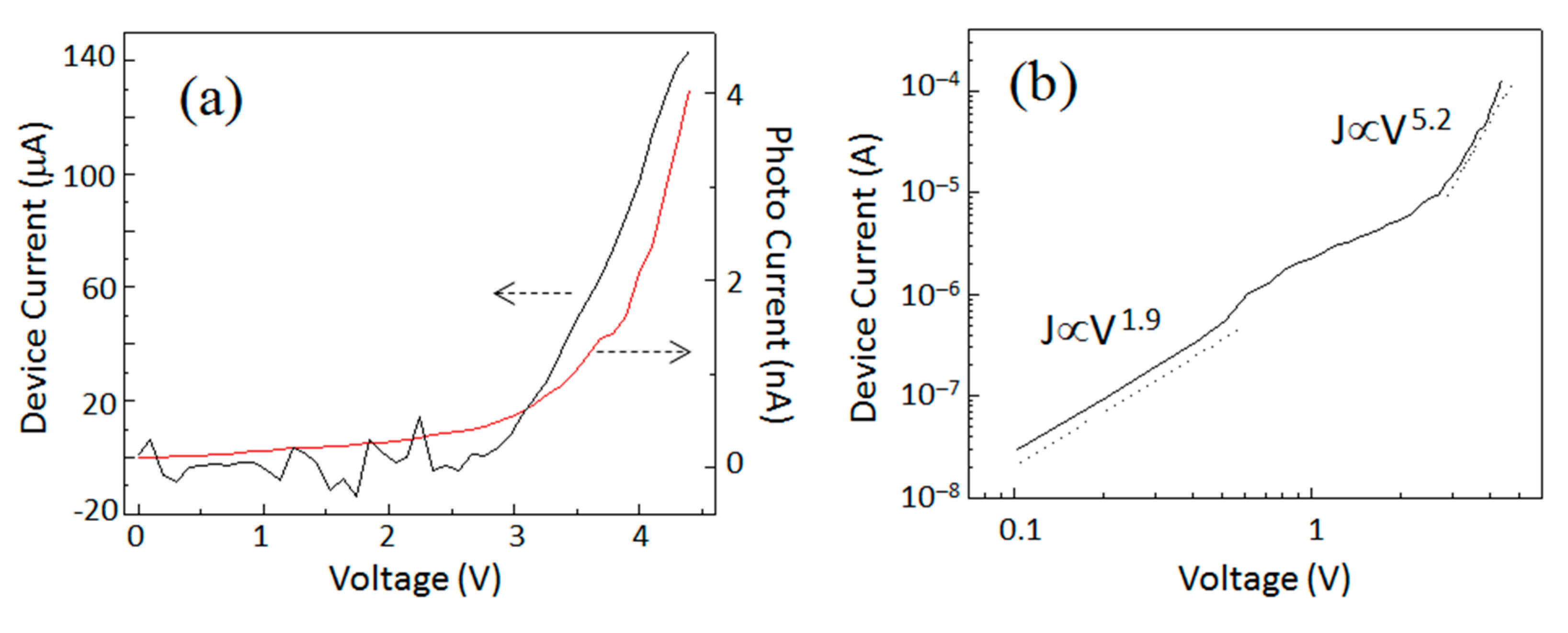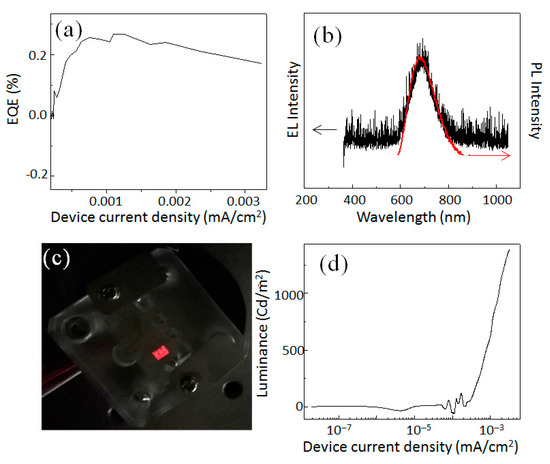 Figure 3. (a) EQE–current density, (b) a typical EL spectrum (PL spectrum of the corresponding decane-terminated Si QD), (c) a typical digital photograph demonstrating a representative red-light emitting Si-QLED, and (d) luminescence versus device current density.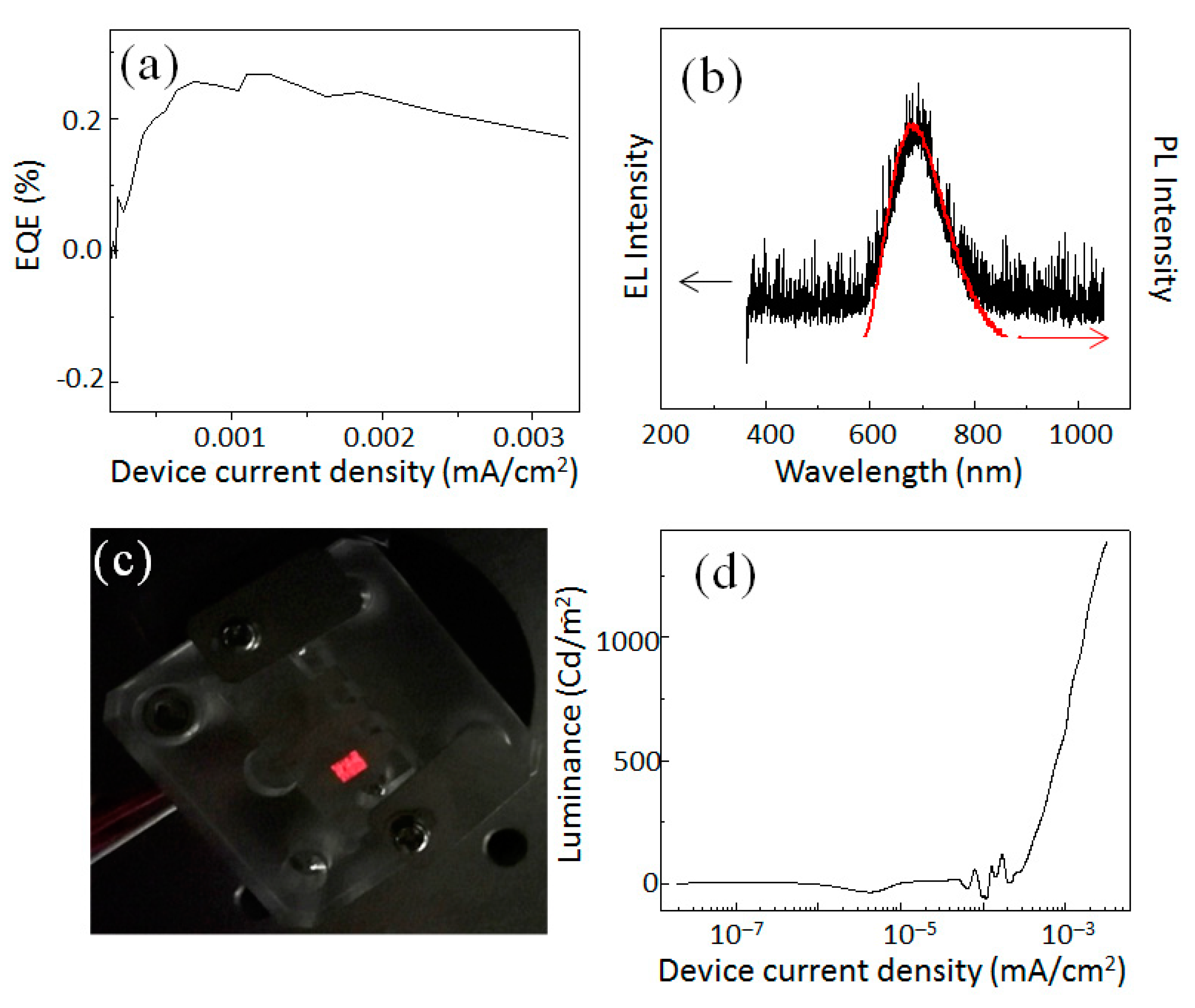 Figure 4. (a) Voltage variance of the EL spectra at different applied bias and (b) EQE value with device current density for three Si-QLEDs stored at 80% humidity in ambient air.


© 2019 by the authors. Licensee MDPI, Basel, Switzerland. This article is an open access article distributed under the terms and conditions of the Creative Commons Attribution (CC BY) license (http://creativecommons.org/licenses/by/4.0/).