Open Access This article is
freely available
re-usable
Article
Bi2Te3 Topological Insulator for Domain-Wall Dark Pulse Generation from Thulium-Doped Fiber Laser
1
Advanced Photonics Research Institute, Gwangju Institute of Science and Technology, 123 Cheomdangwagi-ro, Buk-gu, Gwangju 61005, Korea
2
Defence R&D Center, Hanwha Corporation, 305 Pangyo-ro, Bundang-gu, Seongnam-si, Gyeonggi-do 13488, Korea
*
Author to whom correspondence should be addressed.
Received: 31 May 2019 / Accepted: 28 June 2019 / Published: 29 June 2019
Abstract
:
We have experimentally demonstrated domain-wall (DW) dark pulses from a thulium-doped fiber laser incorporating a topological insulator saturable absorber (SA). The bulk-structured Bi2Te3 was used as the SA, which was constructed on a fiber ferrule platform through the deposition of the Bi2Te3 mixed with distilled water. The DW dark pulses were generated from the thulium-doped fiber laser cavity with a dual wavelength at 1956 nm and 1958 nm. The dark pulse width and the repetition rate were measured as ~10.3 ns and ~20.7 MHz over the pump power of ~80 mW, respectively. To the best of our knowledge, this work is the first demonstrated generation of the DW dark pulse from a thulium-doped fiber laser using nanomaterial-based SA.
Keywords:
Bi
2
Te
3
; topological insulator; domain-wall dark pulses; fiber lasers
3. Results and Discussion
4. Conclusions
In conclusion, we have experimentally demonstrated DW dark pulses in the 1956-nm wavelength region from a thulium-doped fiber laser using the bulk-structured Bi2Te3 SA. The pulse width and repetition rate of dark pulses were measured as 10.3 ns and 20.7 MHz, respectively. To the best of our knowledge, the experimental results are the first demonstrated results for the generation of DW dark pulses from a thulium-doped fiber laser using nanomaterial-based saturable absorbers, such as TIs, carbon nanomaterials and TMDs.
We believe that our experimental results could further improve the understanding of DW dark pulse generation in the 1950-nm region.
Author Contributions
Formal analysis, J.K.; Methodology, J.K.; Writing—Original Draft, J.K. and N.A.; Writing—Review and Editing, D.H.K. and W.S.
Funding
This work was supported by Optical Fiber Laser Innovation Research and Development Project, funded by Hanwha Corporation.
Acknowledgments
The authors would like to thank K. Jeong for his experimental assistance at APRI.
Conflicts of Interest
The authors declare no conflict of interest.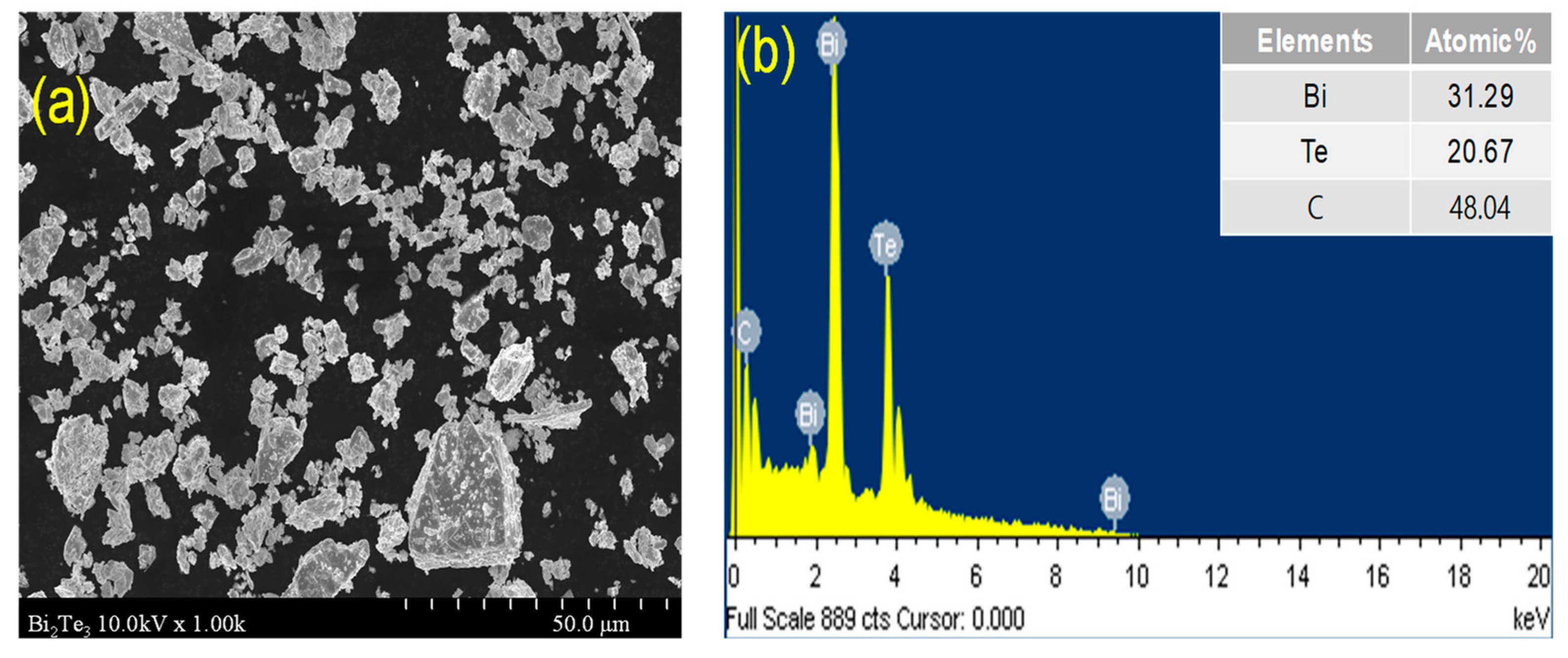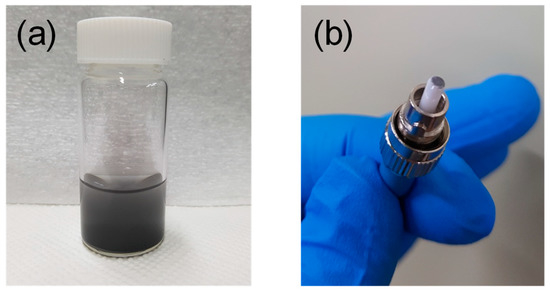 Figure 2. Real photograph of (a) the Bi2Te3 solution and (b) the Bi2Te3 film onto the fiber ferrule.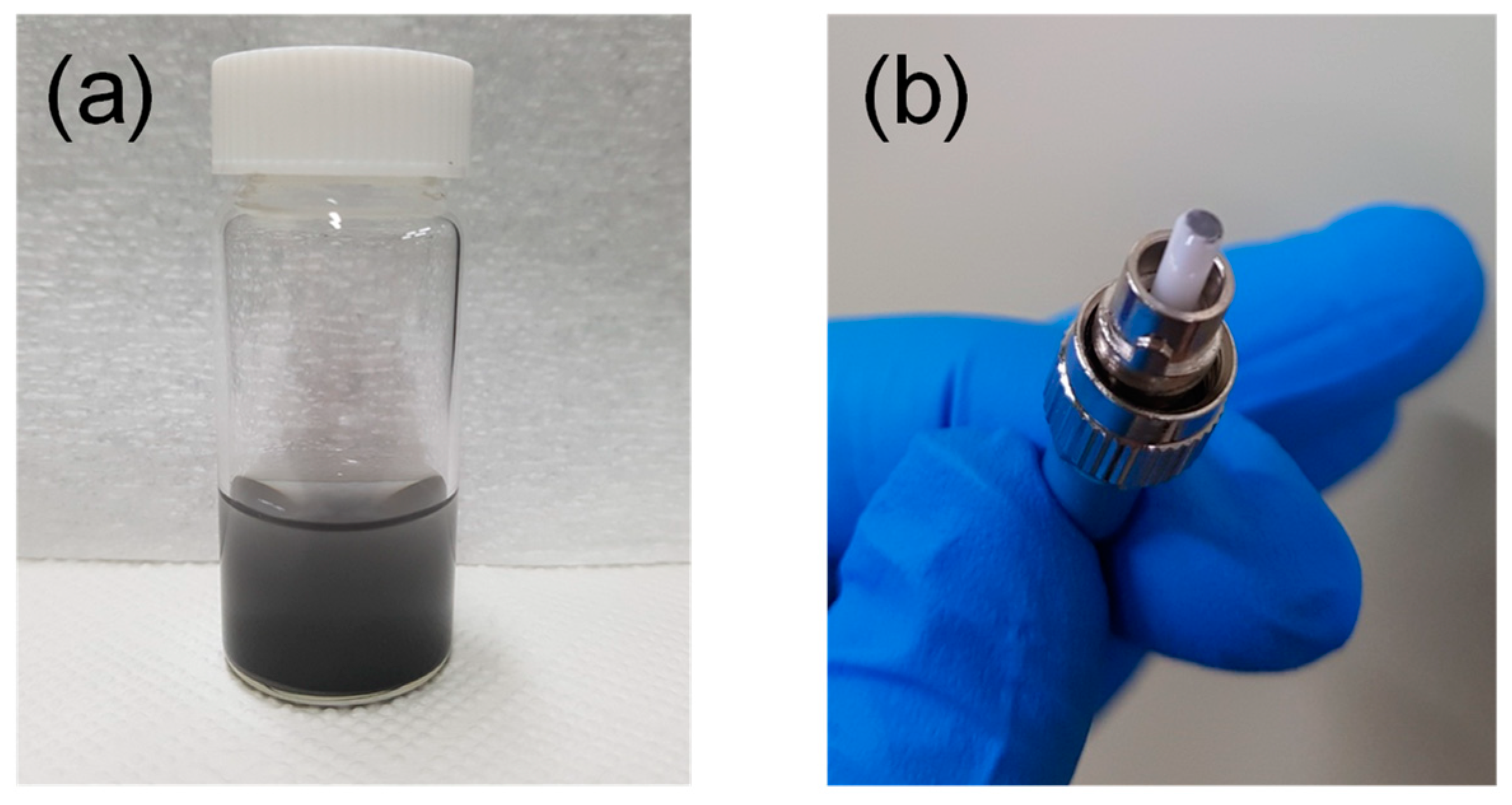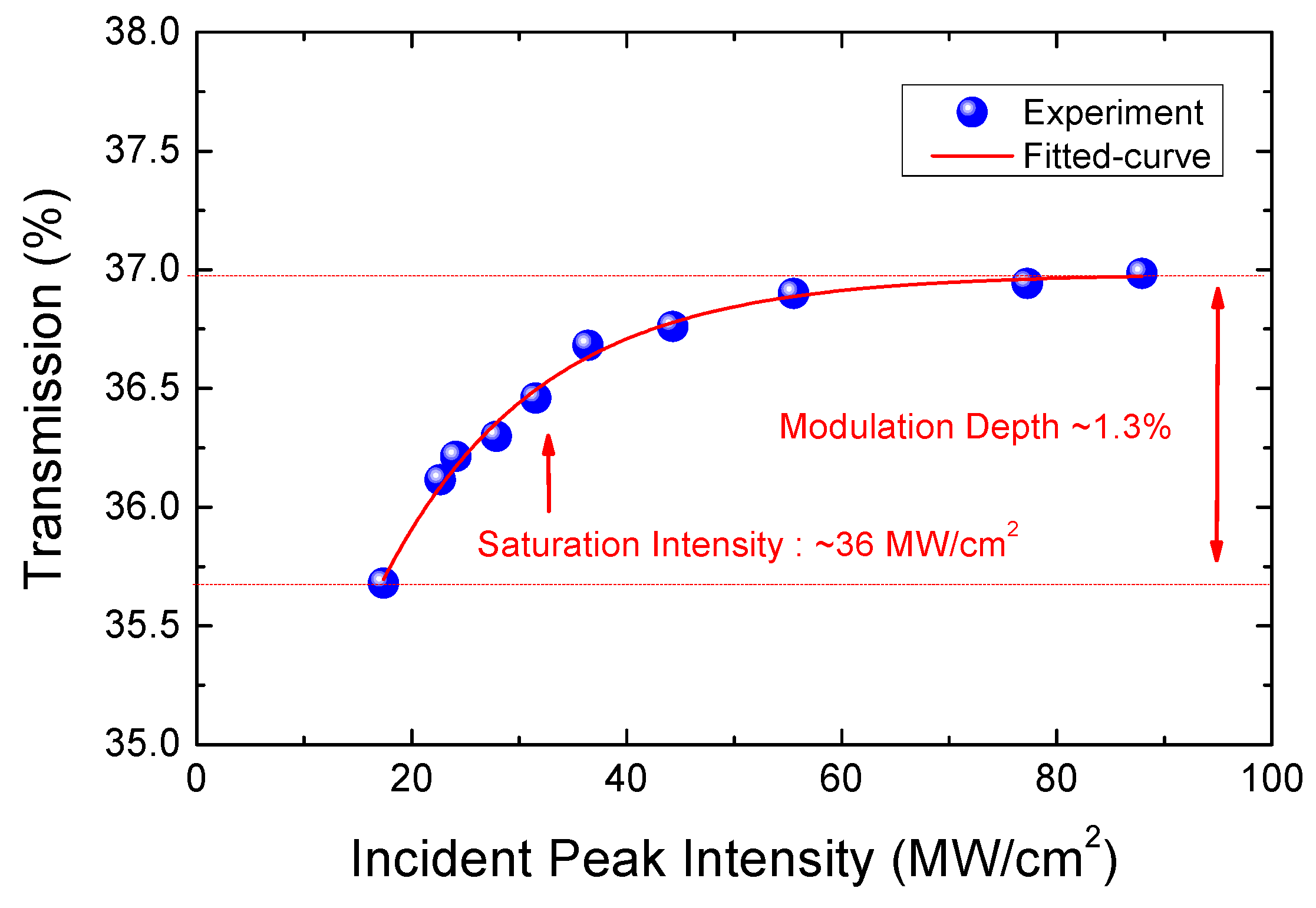 © 2019 by the authors. Licensee MDPI, Basel, Switzerland. This article is an open access article distributed under the terms and conditions of the Creative Commons Attribution (CC BY) license (http://creativecommons.org/licenses/by/4.0/).