Open Access This article is
freely available
re-usable
Article
Ice Crystal Coarsening in Ice Cream during Cooling: A Comparison of Theory and Experiment
1
Department of Mechanical Engineering, University College London, London WC1E 7JE, UK
2
Research Complex at Harwell, RAL, Didcot OX11 0FA, UK
3
Unilever Research & Development, Olivier van Noortlaan, 3133AT Vlaardingen, The Netherlands
4
School of Materials Science and Engineering, Dalian University of Technology, Dalian 116024, China
5
Unilever R&D, Colworth MK44 1LQ, UK
*
Authors to whom correspondence should be addressed.
Received: 19 April 2019 / Accepted: 21 June 2019 / Published: 25 June 2019
Abstract
:
Ice cream is a complex multi-phase structure and its perceived quality is closely related to the small size of ice crystals in the product. Understanding the quantitative coarsening behaviour of ice crystals will help manufacturers optimise ice cream formulations and processing. Using synchrotron X-ray tomography, we measured the time-dependent coarsening (Ostwald ripening) of ice crystals in ice cream during cooling at 0.05 °C/min. The results show ice crystal coarsening is highly temperature dependent, being rapid from ca. −6 to −12 °C but significantly slower at lower temperatures. We developed a numerical model, based on established coarsening theory, to calculate the relationship between crystal diameter, cooling rate and the weight fraction of sucrose in solution. The ice crystal diameters predicted by the model are found to agree well with the measured values if matrix diffusion is assumed to be slowed by a factor of 1.2 due to the presence of stabilizers or high molecular weight sugars in the ice cream formulation.
Keywords:
ice cream; microstructure; ice crystals; tomography; modelling; coarsening kinetics
Author Contributions
Conception and design of the study: P.D.L., J.B., E.G., J.M., G.v.D., P.S. Design of equipment: P.R., E.G., J.M., P.D.L. Acquisition of data: E.G., J.M., G.v.D., P.S. Model development: R.D.G. Interpretation of data, revising the manuscript and final approval, and agreement to be accountable for all aspects of the work: all authors. Drafting the manuscript: J.M., R.D.G., G.M., P.S., P.D.L.
Funding
This research was funded by Unilever R&D (Colworth, U.K.), financially supported in part by the EPSRC (EP/I02249X/1, EP/J010456/1 and EP/M009688/1).
Acknowledgments
The authors acknowledge the use of the facility access in Diamond Light Source (MT12195, MT12616 and MT17609) and Research Complex at Harwell. The authors also thank I13 staff of Diamond Light Source (especially Silvia Cipiccia) and group members for technical support, including David Eastwood, Sam Clark, Yunhui Chen, Sebastian Marussi, and Lorna Sinclair.
Conflicts of Interest
The authors declare no conflict of interest.
List of Symbols
a

Particle radius

a

*
Critical particle radius
Mean particle radius
Mean particle radius at time

t

= 0
Mean value of the cube of the particle radius
bi
Fitting constant in the equation for

B

Cooling rate
Cs
Concentration of solute in the matrix phase at the interface
Cs,eq
Thermodynamic equilibrium concentration of solute in the matrix phase

D

Fick diffusion coefficient

D

3,0
Mean cubed particle diameter =

d

0
Capillary length of the Gibbs Thomson equation

f

Ice phase mass fraction
fp
Polymer mass fraction
fs
Sucrose mass fraction

g

(

ϕ

)
Non-dimensional geometric factor accounting for diffusion distance

h(ϕ)

Non-dimensional geometric factor relating radius and volume coarsening

K

Rate constant for isothermal coarsening

T

Temperature, °C
TH
Initial temperature, °C
TF
Final temperature, °C

t

Time
Δ
Supersaturation far away from the particle surface

ϕ

Particle or ice phase volume fraction

ξ(T)

Dimensional factor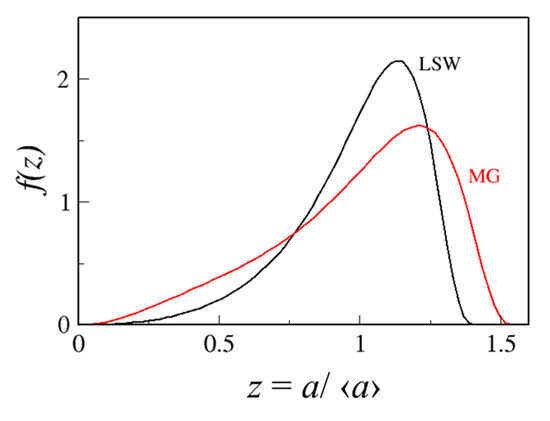 Figure 1.
Stationary crystal size distribution for volume fraction
ϕ
= 0 (LSW) and for
ϕ
= 0.6 (MG).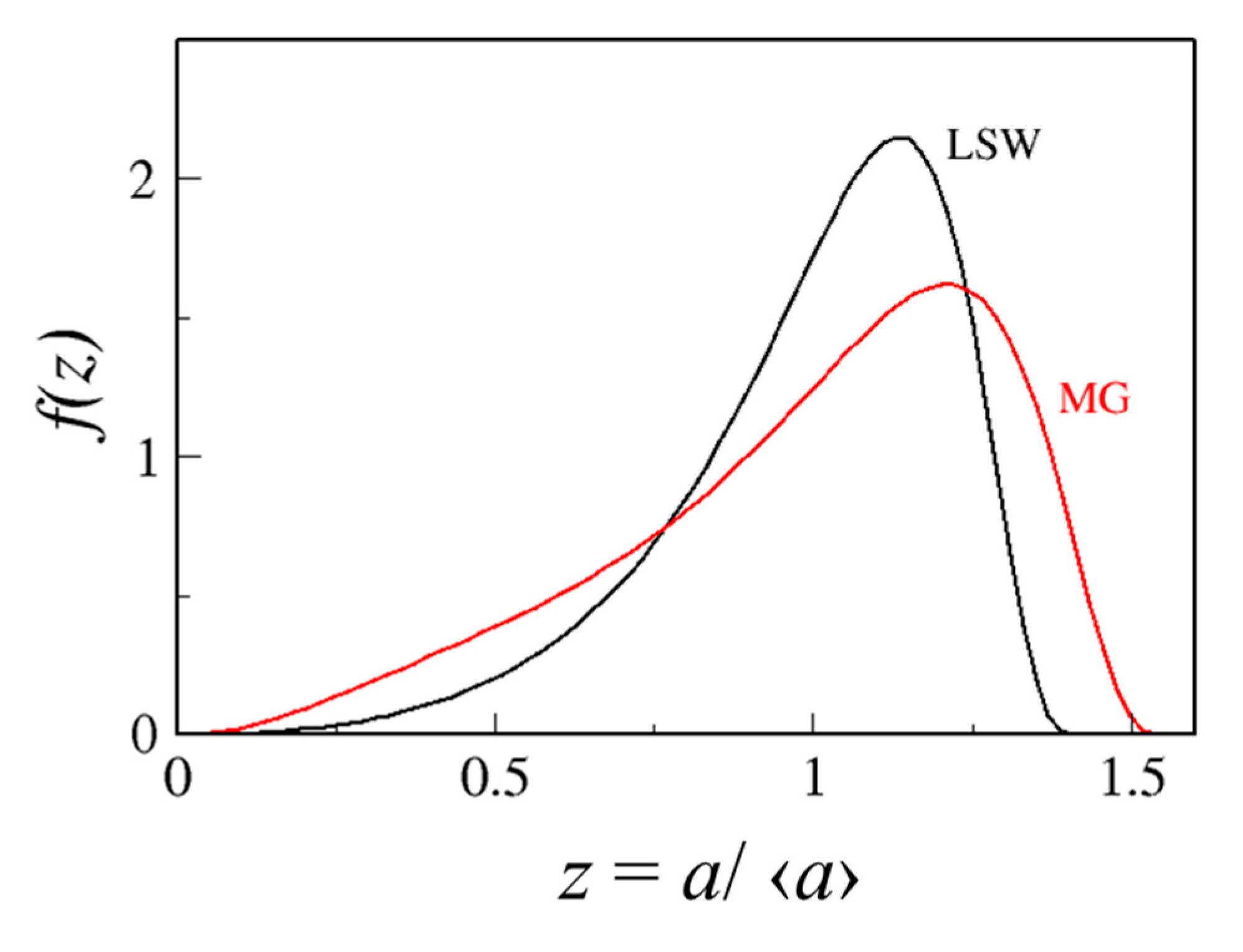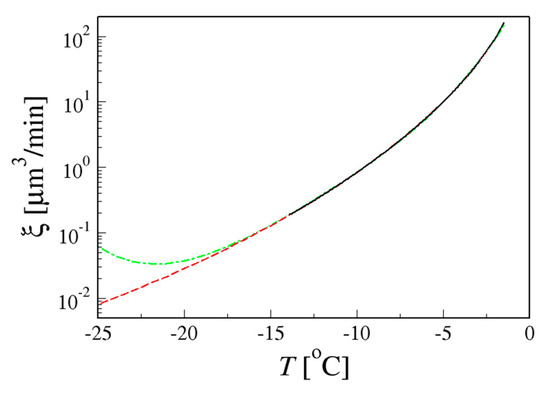 Figure 2.
Dimensional factor
ξ
(
T
) appearing in the coarsening rate (black curve). The green dash-dot curve is the polynomial fit by Van Westen and Groot [
23
] and the red dashed curve is the present Padé fit.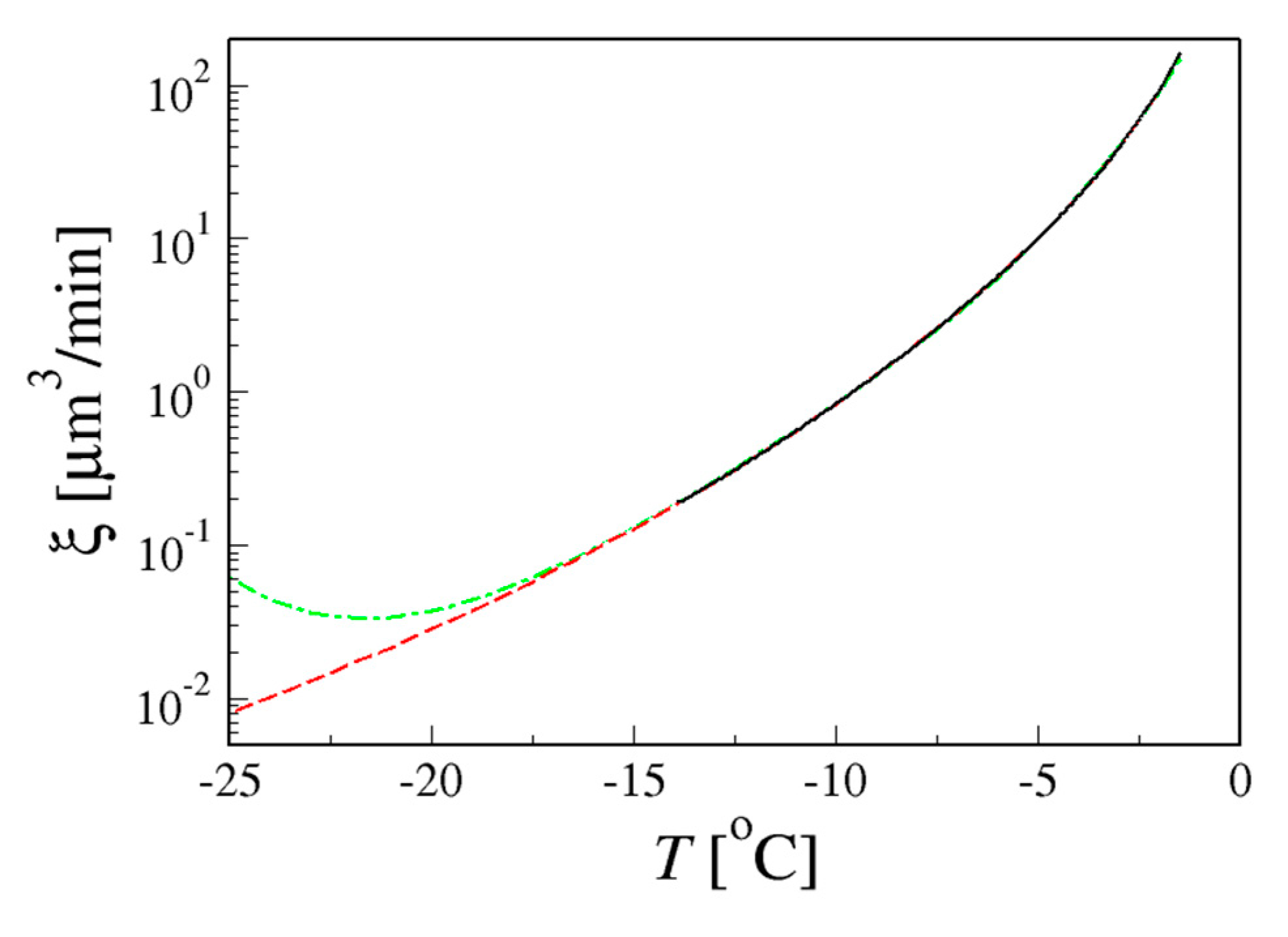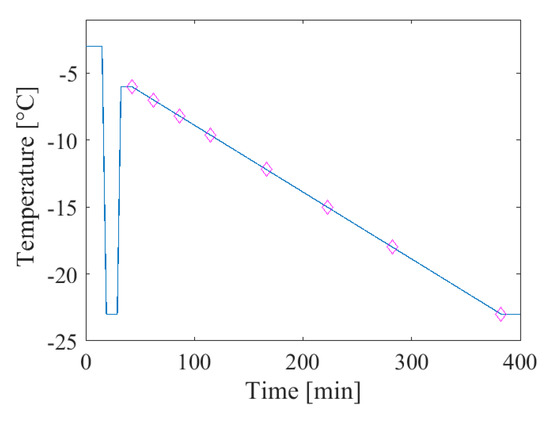 Figure 3. The thermal history of the ice cream mixture specimen during the in situ coarsening experiments. The temperature points where the tomographic scans were reconstructed are indicated as pink diamond markers.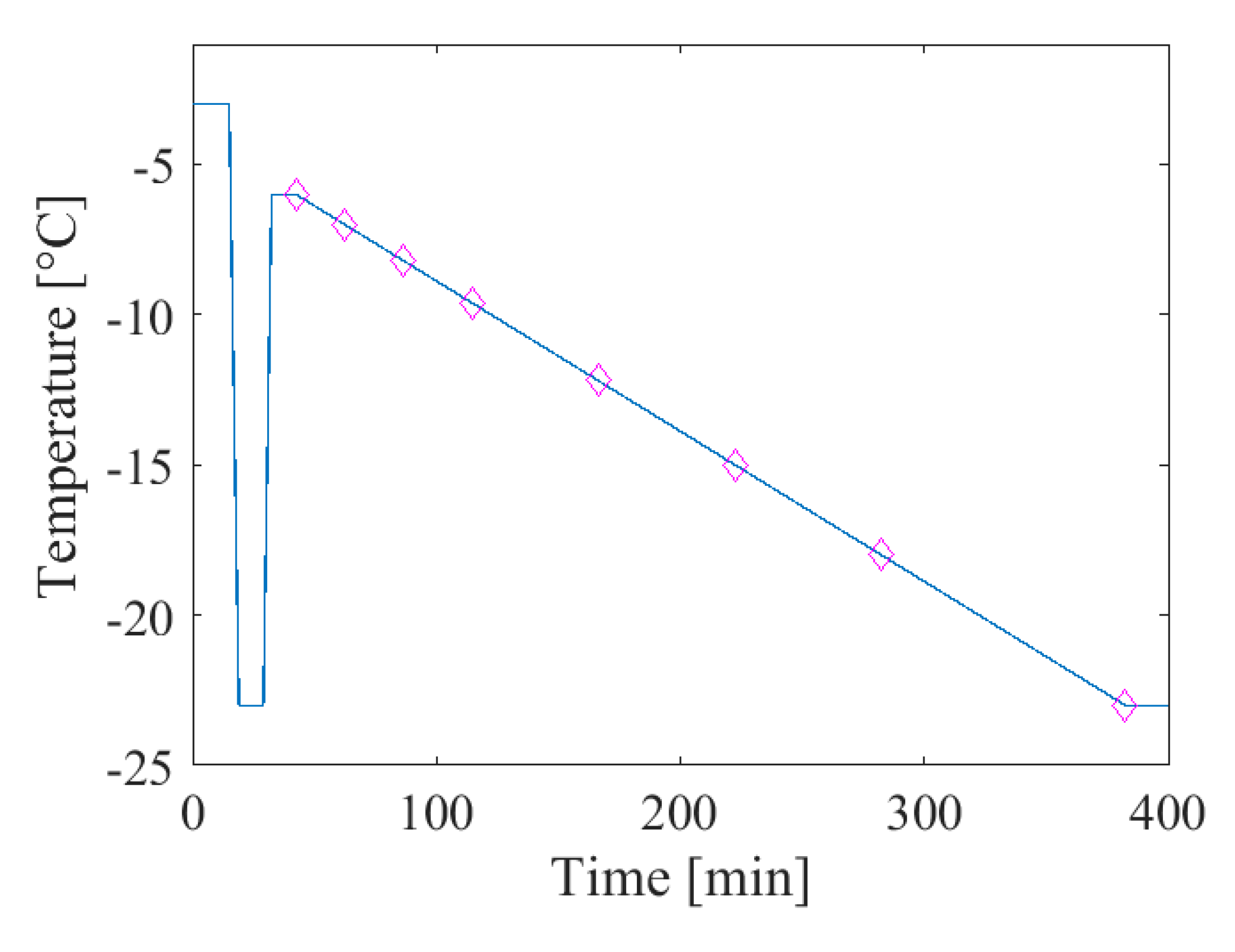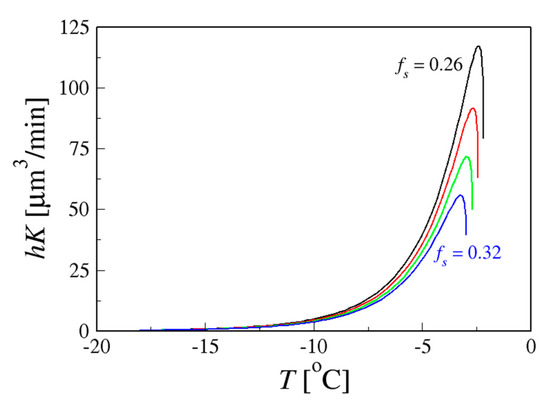 Figure 4. Coarsening rate constant for sucrose weight fractions of 26%, 28%, 30% and 32%. The curves end at the respective melting points.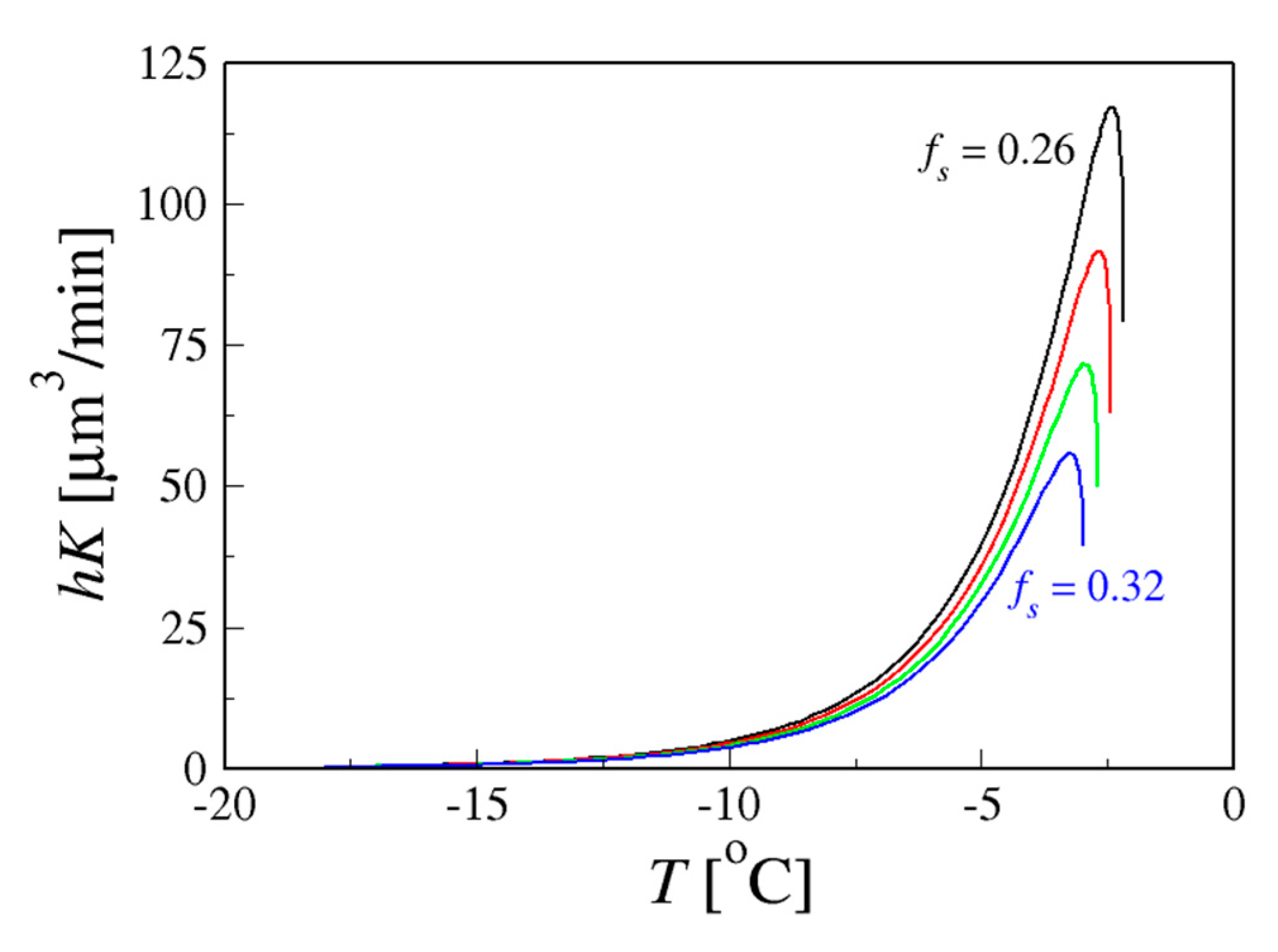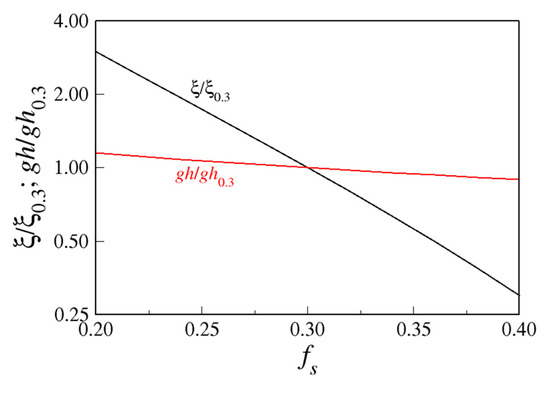 Figure 5.
Contributions to the volumetric Ostwald ripening rate (at the temperature where
hK
(T) has its maximum) plotted against sucrose mass fraction,
fs
. Values are normalised relative to their value at
fs
= 0.3.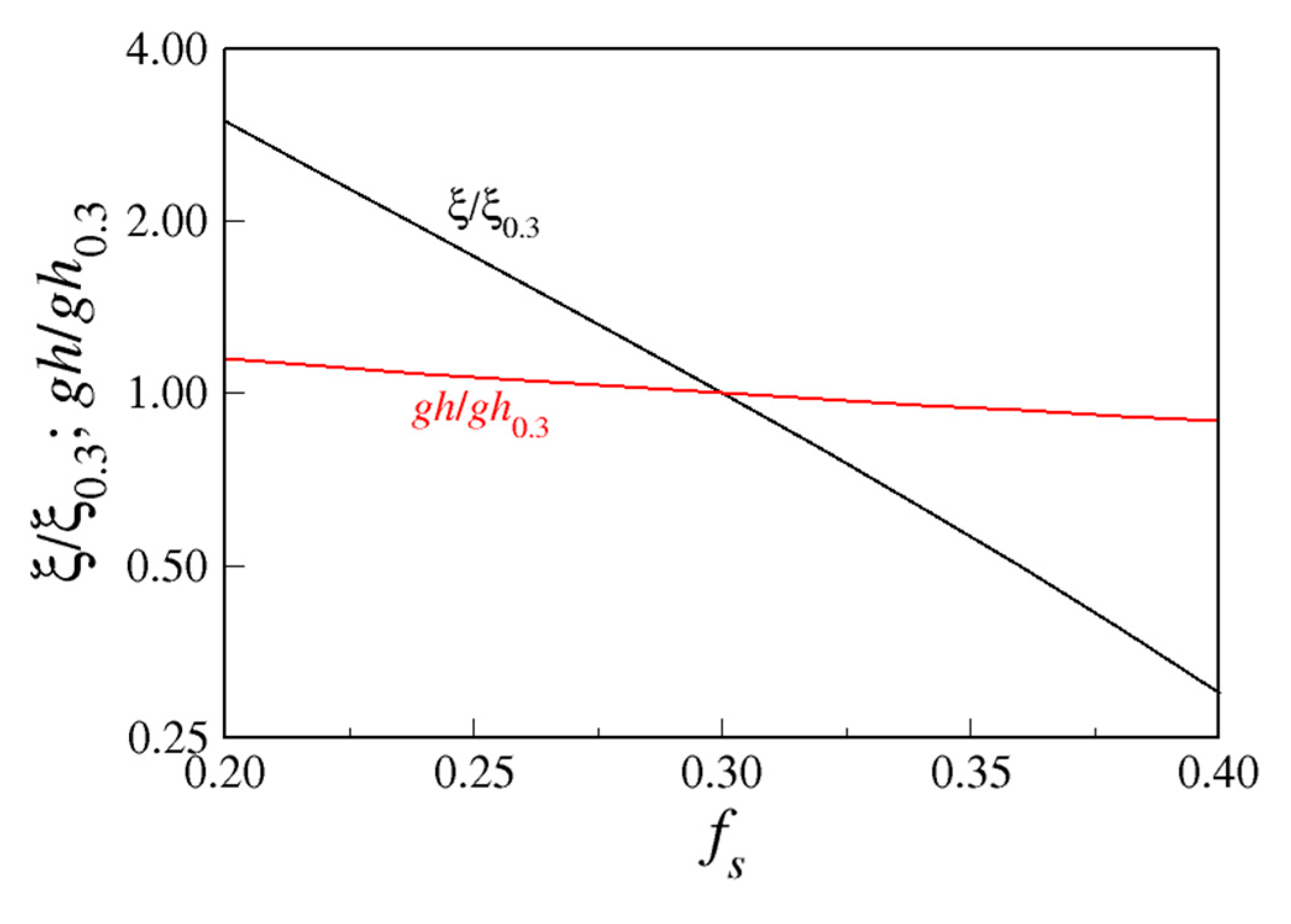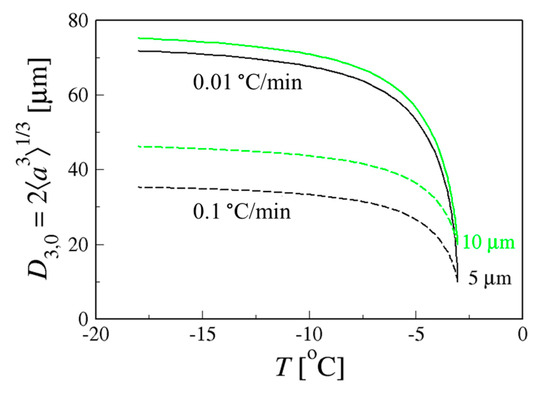 Figure 6.
Volumetric mean diameter
D
3,0
calculated for ice crystals in 30 wt% sucrose solution, cooled at a rate of 0.01 °C/min (full curves) and for 0.1 °C/min (dashed curves), starting at 5 (black) and 10 (green) μm radius.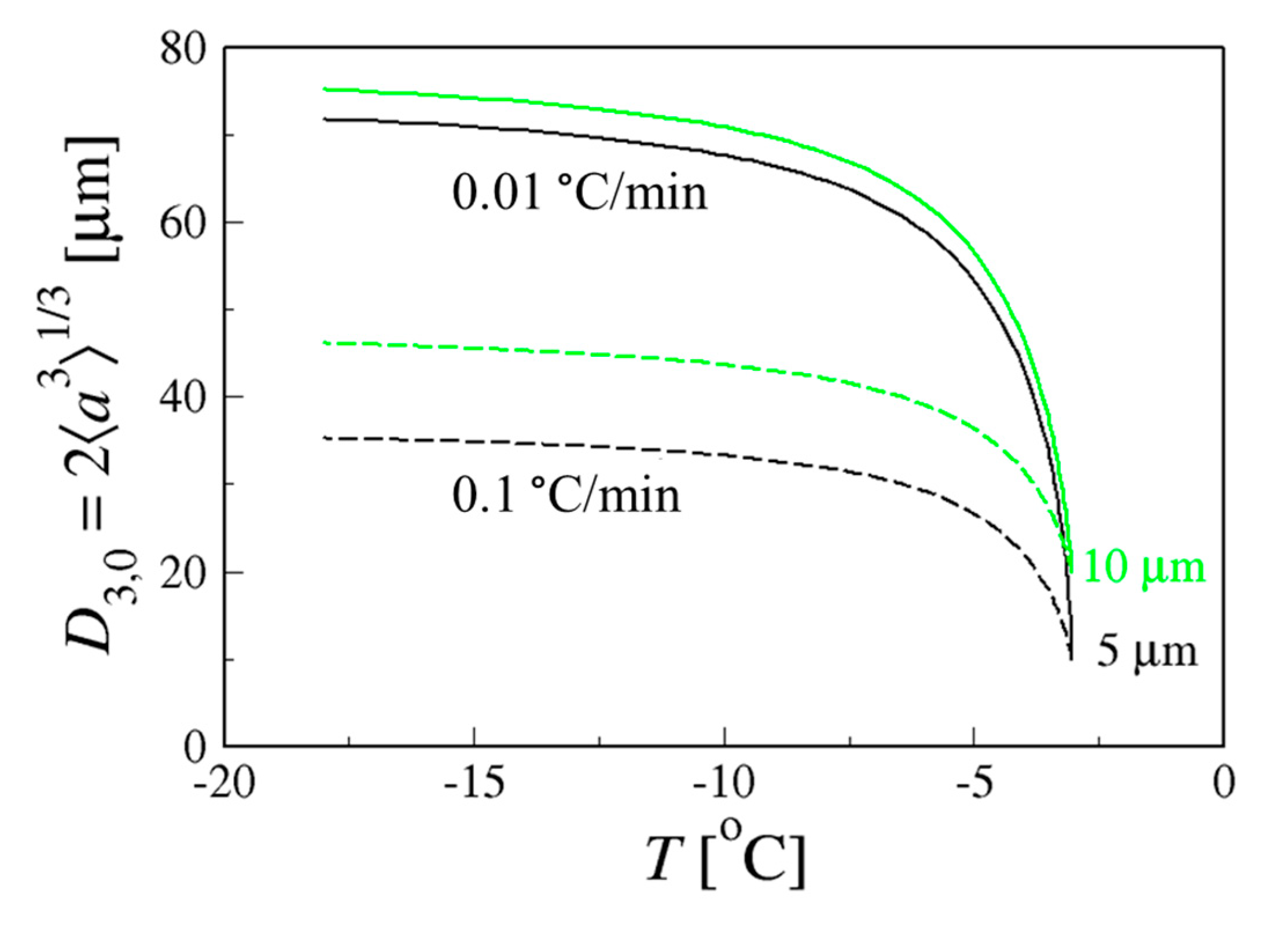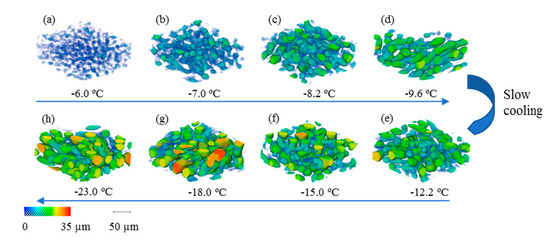 Figure 7. 3D visualisation of ice crystal morphological evolution during the slow cooling experiment: (a) −6 °C, (b) −7.0 °C, (c) −8.2 °C, (d) −9.6 °C, (e) −12.2 °C, (f) 15 °C, (g) −18.0 °C and (h) −23.0 °C. Ice crystals are colour–rendered using local thickness. Scale bar is 50 µm.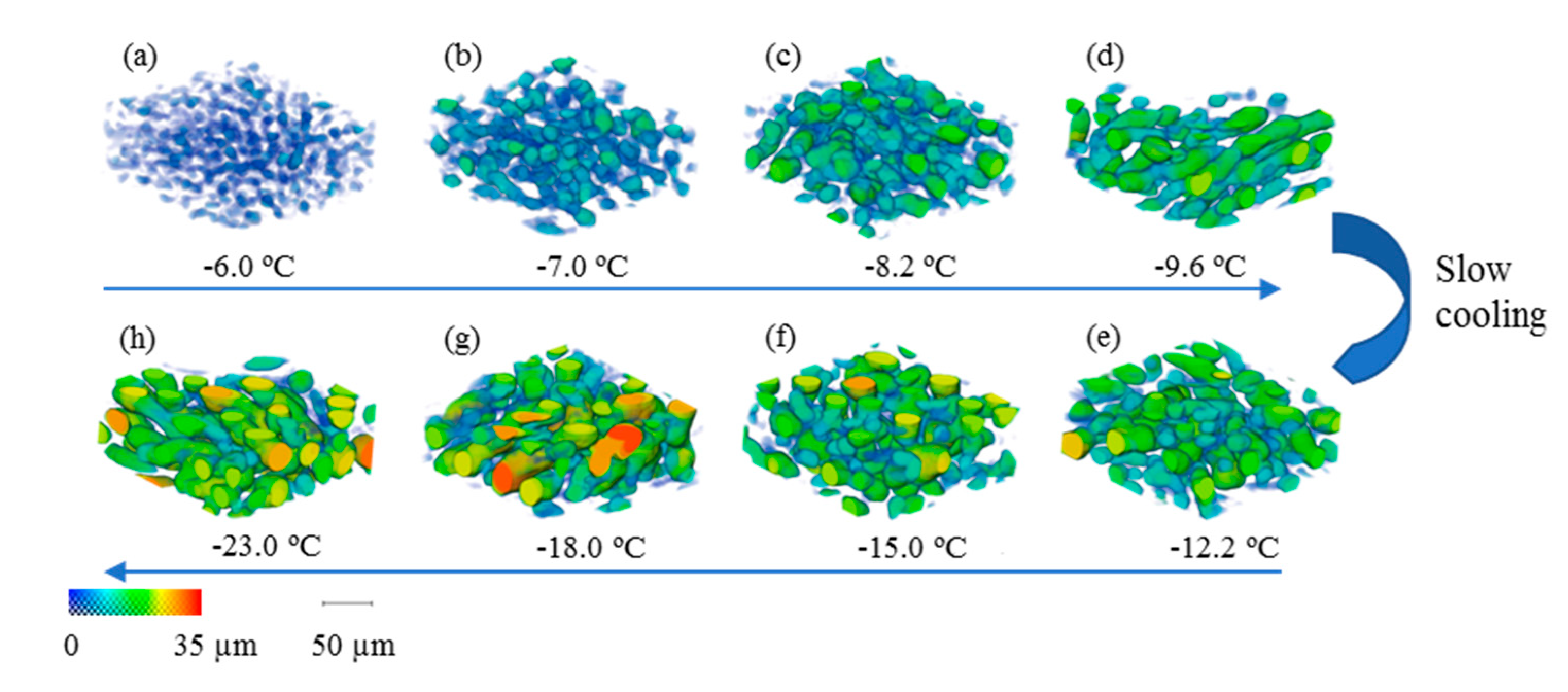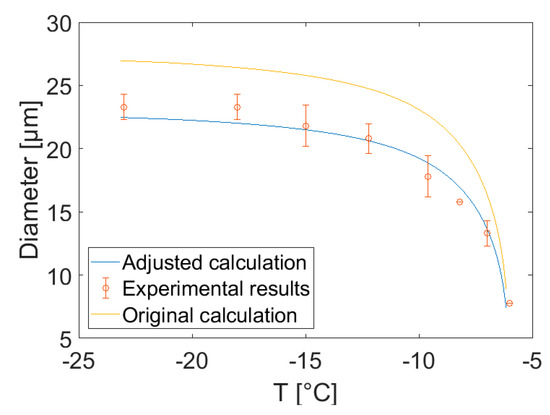 Figure 8.
The diameter of ice crystals (modal values obtained from the 3D accessible volume method) measured from in situ sCT data (orange circles), compared with the diameter predicted by the present numerical model (solid blue line, the adjusted calculation; solid yellow line, the original calculation). Model diameter is calculated as
D
3,0
For the calculations, we used the water and sucrose fractions
fw
0
= 0.55 and
fs
= 0.29 respectively. Error bars correspond to the range of the modal values.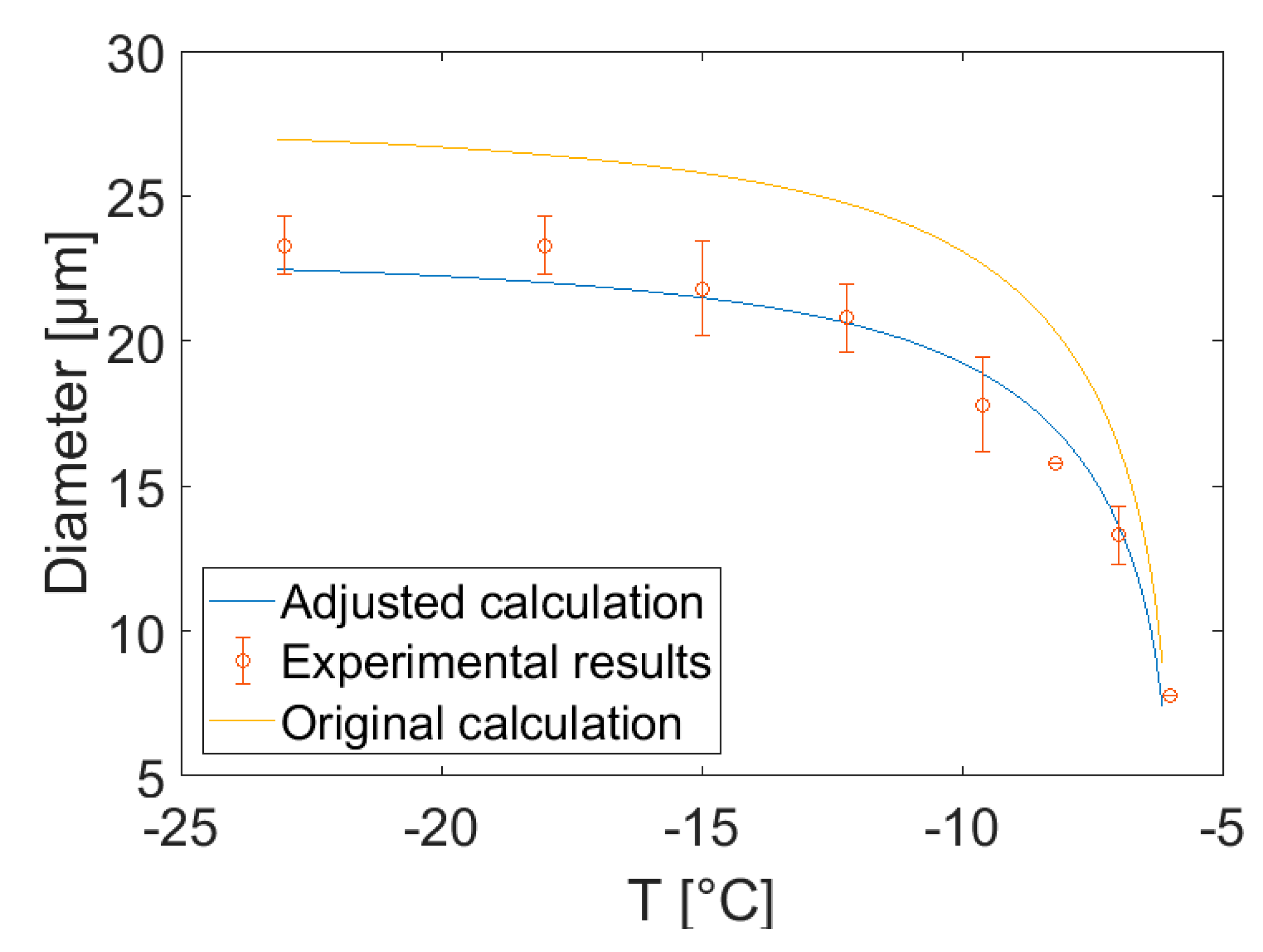 © 2019 by the authors. Licensee MDPI, Basel, Switzerland. This article is an open access article distributed under the terms and conditions of the Creative Commons Attribution (CC BY) license (http://creativecommons.org/licenses/by/4.0/).