Reading and Misreading 8-oxoguanine, a Paradigmatic Ambiguous Nucleobase
1
Novosibirsk State University, 1 Pirogova St., 630090 Novosibirsk, Russia
2
SB RAS Institute of Chemical Biology and Fundamental Medicine, 8 Lavrentieva Ave., 630090 Novosibirsk, Russia
3
RAS Institute of Molecular Genetics, 2 Kurchatova Sq., 123182 Moscow, Russia
4
Podalirius Ltd., 77 Sacco and Vanzetti St, 630008 Novosibirsk, Russia
*
Authors to whom correspondence should be addressed.
†
These authors contributed equally to this work.
Received: 26 April 2019 / Revised: 17 May 2019 / Accepted: 19 May 2019 / Published: 23 May 2019
Abstract
7,8-Dihydro-8-oxoguanine (oxoG) is the most abundant oxidative DNA lesion with dual coding properties. It forms both Watson–Crick (
anti
)oxoG:(
anti
)C and Hoogsteen (
syn
)oxoG:(
anti
)A base pairs without a significant distortion of a B-DNA helix. DNA polymerases bypass oxoG but the accuracy of nucleotide incorporation opposite the lesion varies depending on the polymerase-specific interactions with the templating oxoG and incoming nucleotides. High-fidelity replicative DNA polymerases read oxoG as a cognate base for A while treating oxoG:C as a mismatch. The mutagenic effects of oxoG in the cell are alleviated by specific systems for DNA repair and nucleotide pool sanitization, preventing mutagenesis from both direct DNA oxidation and oxodGMP incorporation. DNA translesion synthesis could provide an additional protective mechanism against oxoG mutagenesis in cells. Several human DNA polymerases of the X- and Y-families efficiently and accurately incorporate nucleotides opposite oxoG. In this review, we address the mutagenic potential of oxoG in cells and discuss the structural basis for oxoG bypass by different DNA polymerases and the mechanisms of the recognition of oxoG by DNA glycosylases and dNTP hydrolases.
View Full-Text
►

▼

Figures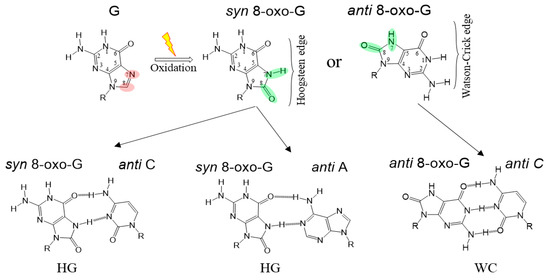 Figure 1
This is an open access article distributed under the
Creative Commons Attribution License
which permits unrestricted use, distribution, and reproduction in any medium, provided the original work is properly cited (CC BY 4.0).

Share & Cite This Article
MDPI and ACS Style
Yudkina, A.V.; Shilkin, E.S.; Endutkin, A.V.; Makarova, A.V.; Zharkov, D.O. Reading and Misreading 8-oxoguanine, a Paradigmatic Ambiguous Nucleobase. Crystals 2019, 9, 269.
Note that from the first issue of 2016, MDPI journals use article numbers instead of page numbers. See further details here.
Related Articles
Comments
[Return to top]