Application of Dimming Compensation Technology Via Liquid Crystal Lens for Non-Imaging Projection Laser Systems
1
Department of Mechanical and Automation Engineering, National Kaohsiung First University of Science and Technology, Kaohsiung City 824, Taiwan
2
Graduate Institute of Precision Engineering, National Chung Hsing University, Taichung City 402, Taiwan
3
Department of Computer and Communication, Shu-Te University, No.59, Hengshan Rd., Yanchao, Kaohsiung County 82445, Taiwan
*
Author to whom correspondence should be addressed.
Received: 24 November 2018 / Revised: 16 February 2019 / Accepted: 23 February 2019 / Published: 26 February 2019
Abstract
The main purpose of this paper is to explore a newly developed optical design, then to further improve the overhead lighting contrast in the laser projector module. In terms of the structural design of the projector, a liquid crystal lens array was used as the local dimming system for the light source, in order to achieve the objective, which was to significantly improve the contrast facility of the projection system. Second, in terms of the design of the light source, the output method for the light source was a laser light source employing arrays of micro-scanning. The main purpose was to compensate for the dim spots in the hole between the lenses in each unit of the liquid crystal when the liquid crystal lens array was locally dimmed, and thus significantly improving the contrast facility of the projection system. In terms of the software simulation, a liquid crystal lens array was used to simulate a pore size of 2.0 mm and focal lengths of 9 cm and 23 cm. The end effect gave good control and adjustment of the bright and dark areas during local dimming of the projector's imaging chip components. For a single laser source, the maximum contrast for local dimming was about 128:1, 438:1, and 244:1, for the Red (R), Green (G), and Blue (B) optical paths, respectively. The light efficiency scores were approximately 20.91%, 20.05%, and 24.45%, for the R, G, and B optical paths, respectively. After compensation using a micro-scanning light source, the defect of having dim spots between the pores was remedied, and the light adjustment area became more uniform while the contrasts became smaller. The maximum contrasts were approximately 52:1, 122:1, and 110:1, for the R, G, and B optical paths, respectively. For the projector, when the liquid crystal lenses were not transmissive, the maximum uniformity scores were 82.25%, 87.15%, and 88.43%, for the R, G, and B optical paths, respectively.
View Full-Text
►

▼

Figures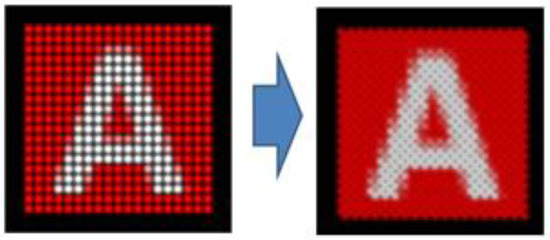 Figure 1
This is an open access article distributed under the
Creative Commons Attribution License
which permits unrestricted use, distribution, and reproduction in any medium, provided the original work is properly cited (CC BY 4.0).

Share & Cite This Article
MDPI and ACS Style
Fang, Y.-C.; Tsai, C.M.; Cheng, D.-L. Application of Dimming Compensation Technology Via Liquid Crystal Lens for Non-Imaging Projection Laser Systems. Crystals 2019, 9, 122.
Note that from the first issue of 2016, MDPI journals use article numbers instead of page numbers. See further details here.
Related Articles
Comments
[Return to top]