New Crystal Forms for Biologically Active Compounds. Part 1: Noncovalent Interactions in Adducts of Nevirapine with XB Donors
Saint Petersburg State University, Saint Petersburg 199034, Russia
*
Author to whom correspondence should be addressed.
Received: 12 January 2019 / Revised: 25 January 2019 / Accepted: 29 January 2019 / Published: 30 January 2019
Abstract
Stabilization of specific crystal polymorphs of an active pharmaceutical ingredient is crucial for preventing uncontrollable interconversion of various crystalline forms, which affects physicochemical properties as well as physiological activity. Co-crystallization with various excipients is an emerging productive way of achieving such stabilization in the solid state. In this work, we identified an opportunity for co-crystallization of antiviral drug nevirapine (NVP) with a classical XB donor, 1,2,4,5-tetrafluoro-3,6-diiodobenzene (1,4-FIB), as well as 1,3-diiodobenzene (1,3-DIB), which has been seldom employed as an XB donor to date. In the X-ray structures of NVP·1,4-FIB and NVP·1,3-DIB co-crystals, different hydrogen and halogen bonding modes were detected and further investigated via DFT calculations as well as topological analysis of the electron density distribution within the framework of the QTAIM method at the M06/DZP-DKH level of theory. Estimated energies of these supramolecular contacts vary from 0.6 to 5.7 kcal/mol.
View Full-Text
►

▼

Figures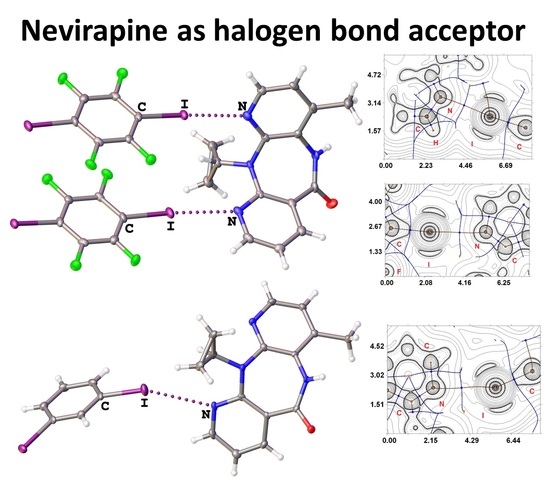 Graphical abstract
This is an open access article distributed under the
Creative Commons Attribution License
which permits unrestricted use, distribution, and reproduction in any medium, provided the original work is properly cited (CC BY 4.0).

Share & Cite This Article
MDPI and ACS Style
Kryukova, M.A.; Sapegin, A.V.; Novikov, A.S.; Krasavin, M.; Ivanov, D.M. New Crystal Forms for Biologically Active Compounds. Part 1: Noncovalent Interactions in Adducts of Nevirapine with XB Donors. Crystals 2019, 9, 71.
Note that from the first issue of 2016, MDPI journals use article numbers instead of page numbers. See further details here.
Related Articles
Comments
[Return to top]