Solvent Effects on the Spin Crossover Properties of Iron(II) Imidazolylimine Complexes
1
Functional Materials and Nanotechnology Center of Excellence, Walailak University, Thasala, Nakhon Si Thammarat 80160, Thailand
2
School of Chemistry, Monash University, Clayton, VIC 3800, Australia
3
School of Chemistry, University of New South Wales, Sydney, NSW 2052, Australia
4
MacDiarmid Institute for Advanced Materials and Nanotechnology, Institute of Fundamental Sciences, Massey University, Palmerston North 4442, New Zealand
*
Author to whom correspondence should be addressed.
Received: 23 January 2019 / Revised: 19 February 2019 / Accepted: 20 February 2019 / Published: 22 February 2019
Abstract
A series of Fe(II) complexes,
fac
-[Fe(4-ima-Bp)
3
](Y)
2
⋅sol (Y = ClO
4
; sol = 3EtOH
1
, 3MeOH
2
; Y= BF
4
; sol = EtOH⋅4H
2
O
3
, 4H
2
O
4
and 3.5MeCN
5
) have been prepared and structurally and magnetically characterized. The low temperature structures of
1
,
2
and
5
have been determined by X-ray crystallography with LS Fe(II) centres found in all cases. Extensive C–H···π interactions between the cations form 2D layers, which are linked to one another through N-H···O and O-H···O hydrogen bonds, resulting in high cooperativity. Despite
5
containing MeCN, N-H···O/F hydrogen bonds, and C–H···π and π-π interactions combine to give similar 2D layers. Magnetic measurements reveal moderately abrupt spin crossover for
1
-
4
; becoming more gradual and only 50% complete in
1
due to solvent loss. The MeCN solvate shows more gradual SCO and reinforces how subtle changes in packing can significantly influence SCO behaviour.
View Full-Text
►

▼

Figures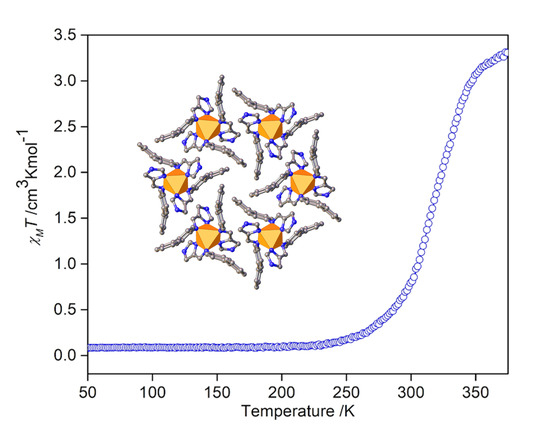 Graphical abstract
This is an open access article distributed under the
Creative Commons Attribution License
which permits unrestricted use, distribution, and reproduction in any medium, provided the original work is properly cited (CC BY 4.0).

Share & Cite This Article
MDPI and ACS Style
Sertphon, D.; Harding, P.; Murray, K.S.; Moubaraki, B.; Neville, S.M.; Liu, L.; Telfer, S.G.; Harding, D.J. Solvent Effects on the Spin Crossover Properties of Iron(II) Imidazolylimine Complexes. Crystals 2019, 9, 116.
Note that from the first issue of 2016, MDPI journals use article numbers instead of page numbers. See further details here.
Related Articles
Comments
[Return to top]