Open Access This article is
freely available
re-usable
Review
ZnO as a Functional Material, a Review
Łukasiewicz Research Network—Institute of Electron Technology, Al. Lotników 32/46, 02-668 Warsaw, Poland
Received: 28 August 2019 / Accepted: 23 September 2019 / Published: 28 September 2019
Abstract
:
Zinc oxide (ZnO) is a fascinating wide band gap semiconductor material with many properties that make it widely studied in the material science, physics, chemistry, biochemistry, and solid-state electronics communities. Its transparency, possibility of bandgap engineering, the possibility to dope it into high electron concentrations, or with many transition or rare earth metals, as well as the many structures it can form, all explain the intensive interest and broad applications. This review aims to showcase ZnO as a very versatile material lending itself both to bottom-up and top-down fabrication, with a focus on the many devices it enables, based on epitaxial structures, thin films, thick films, and nanostructures, but also with a significant number of unresolved issues, such as the challenge of efficient p-type doping. The aim of this article is to provide a wide-ranging cross-section of the current state of ZnO structures and technologies, with the main development directions underlined, serving as an introduction, a reference, and an inspiration for future research.
Keywords:
zinc oxide; epitaxy; synthesis; thin films; thick films; nanoparticles
1. Introduction
Although the scientific community mostly regards zinc oxide (ZnO) as a semiconductor relevant for potential opto/electronic/bio/chemical applications, it is insightful to note that, in the history of human civilization, such applications are marginal when compared to the other widespread uses of ZnO. Since at least two millennia B.C., in ancient Egypt and later in Rome, ZnO has been used in ointments for the treatment of adverse skin conditions [
1
]. ZnO ore was used in brass production in Europe and more importantly in central and eastern Asia since the middle ages [
2
,
3
]. The widespread use of ZnO as a pigment started in the 18th century for applications in watercolors with 19th century, seeing the development of the ZnO pigment for oil painting using the so-called French process [
4
]. With further developments in ZnO production, its application in the rubber industry gained relevance as a vulcanization accelerator activator during tire production [
4
]. Today, between 50% and 60% of ZnO is used in the rubber industry [
5
], followed by uses in the ceramic industry [
5
], concrete manufacturing [
6
], skin ointments and sunblock creams, food (as a source of zinc), and pigments with only a small portion of the use related to the study of its functional properties. Outside of the large-scale industry, zinc oxide has been seen as a promising material for thin film optoelectronic [
7
,
8
,
9
], piezoelectronic [
10
,
11
,
12
], transparent electronic [
13
], spintronic [
14
,
15
], sensing [
16
,
17
,
18
], and photovoltaic [
19
,
20
,
21
] devices, just to name a few, due to its inherent properties and a wide array of morphologies achievable with different technologies used for fabrication. Initially hailed as the 'newer version' of the commercially successful gallium nitride (GaN) that enabled white solid-state lighting and efficient high frequency electronics, as it has a similar band gap and band gap engineering possibilities, a similar crystalline structure, along with greater exciton binding energy, greater piezoelectric constants, as well as less demanding growth conditions, easier wet chemical processing, larger native substrates available, and easier electrical contact fabrication, ZnO has not yet given up its full potential as some challenges remain unsolved. The major one lies in the inability to fabricate a stable, efficient and reproducible p-type doped material, as well as in unlocking the full performance of the grown unipolar structures. Unlike GaN, however, the focus of ZnO research has now mostly shifted into the realm of nanostructures, where the easily fabricated unipolar n-type ZnO with highly developed surfaces and nanoscale morphologies can be an excellent material for many applications, raising a significant research interest from groups outside the solid-state physics and electronics community. This is evident in the publication statistics for 2019 where 18,000 papers are reported on ZnO in general, including less than 1000 on p-type ZnO. For comparison, in the same year around 11,000 papers can be found on GaN, the majority concerning epitaxial and thin film structures. Such a vast number is impossible to be studied thoroughly by a single person, which makes following new developments in the field extremely difficult. This review therefore does not aim to achieve the impossible feat of revising every published paper, instead the goal is to provide a wide cross-section through the current state of the ZnO material performances and structures with a focus on the final applications. The following sections of this paper describe in more detail the following. First, the general properties of ZnO followed by the array of methods of ZnO structure fabrication, with the examples of ZnO-based devices for each of the structure types: epitaxial, thin films, thick films, nanostructures and nanoparticles given next and, subsequently, the outlines of the main standing problems in ZnO technology are presented, finishing with a future outlook.
2. General Properties of ZnO
ZnO is a direct wide band gap semiconductor (
EG
= 3.37 eV [
22
]) transparent in the visible wavelength range and suitable for UV and blue wavelength optoelectronic applications with a large exciton binding energy of 60 meV [
23
] enabling efficient excitonic emission at room temperature. A low refractive index of 2.05 enables easier light extraction from an optical device. Its wurtzite crystalline structure with the lattice parameters
a
and
c
equal to 3.2495 Å and 5.2062 Å [
24
], respectively and the large piezoelectric constants enable strong piezoelectric polarization in the material, resulting not only in the possibility of piezoelectronic device fabrication but also the fabrication of high quality 2D electron gas structures [
25
,
26
] with the recent observation of fractional quantum Hall effect [
27
]. From a more chemical point of view, the lattice can be described as two intertwined hexagonal close packed Zn and O lattices, arranged in such a way that each Zn
2+
ion is coordinated by four O
2-
ions in a tetrahedral arrangement and likewise, each O
2−
ion is coordinated by four Zn
2+
ions in the same way (see
Figure 1
). The bonds are sp
3
hybridized bonds of almost equally ionic and covalent character. It has to be said here that, under special growth conditions, or using cubic lattice substrates, ZnO can form zinc blende lattice films with the same ionic coordination types, however since these are fringe studies in the field they will not be discussed here. Additionally, ZnO forms ternary wurtzite alloys with CdO and MgO making possible band gap engineering of the material [
28
] with the band gap widths from 2.3 eV [
29
] to 4.0 eV [
30
] enabling the growth of high-quality quantum well structures [
31
,
32
] (see
Figure 2
).
The unique optical and piezoelectric properties of ZnO are paired with its nontrivial electrical characteristics. A II-IV semiconductor, ZnO is usually reported to exhibit n-type conductivity with high carrier mobilities in the range of 100 cm
2
V
−1
s
−1
, even when not intentionally doped. Although the first reports explained that defects, such as Zn interstitials (
Zni
) or O vacancies (
Ov
), were responsible for the intrinsic n-type of the material [
34
,
35
], more contemporary works [
36
,
37
] argue that
Ov
are deep donors which cannot be responsible for the n-type conductivity and that
Zni
although being shallow donors, have large formation energies and diffuse fast, thus being unstable.
Znv
are deep acceptors with low formation energies under the conditions leading to n-type ZnO growth and can therefore compensate the n-type charges [
38
,
39
,
40
]. Finally,
Oi
and oxygen and zinc antisites are regarded as having too large formation energies to exist in significant concentrations in the material [
41
]. There has been a consensus therefore, that the intrinsic n-type conductivity of ZnO films is due to impurities present during the growth process. Depending on the growth process, hydrogen, fluorine or group III impurities (In, Ga, B, Al) have been taken into account. As far as these group III impurities are concerned, all of them have been found to intentionally dope ZnO into n-type [
42
,
43
,
44
,
45
] by Zn substitution. Al-doped ZnO is commercially successful as a transparent conducting film for transparent electronic applications [
46
]. Fluorine substituting oxygen in the lattice acts as a shallow donor with an ionization energy of 80 meV and low formation energy [
47
]. Finally, hydrogen was found to be acting as a shallow donor with 35 meV ionization energy [
48
] at the interstitial position. Unlike as in other semiconductors, where the hydrogen interstitial is an amphoteric dopant [
49
], incorporating into n-type material as an acceptor and into p-type as a donor, in ZnO it always incorporates as a shallow donor [
50
]. Hydrogen substituting oxygen is also a shallow donor with a slightly lower formation energy than
Hi
[
38
,
39
,
40
,
41
,
42
,
43
,
44
]. It has to be underlined here, that while Al and In impurities may mostly incorporate during chemical crystal growth, hydrogen impurity may be relevant for vacuum-based techniques, as most vacuum chambers are machined out of stainless steel, which is known to outgas hydrogen [
51
,
52
]. However, it has to be noted that the community dealing with ZnO materials still seems to not put enough attention to the recent developments of the defect level identification. This is especially common when describing the green luminescence band, visible in most ZnO materials. Some authors focused most on the fabrication and application of the given sample, claim it to be related to Zn
v
and some to O
v
based solely on literature references, not on experimental considerations. However, the bulk of the literature finds works contradicting themselves, when applied to ZnO as a whole, not to the particular case of ZnO structure using a particular technique under the particular conditions. Recent experimental investigations show that in fact the green luminescence can originate from various sources, even in the same sample – e.g., for hydrothermal ZnO single crystals both Zn
v
coupled with H
+
and O
v
have been reported to give rise to the green luminescence with small offsets [
53
].
ZnO is composed of very chemically active ions, resulting in a material being itself far from inert. Firstly, it lends itself easily to wet chemical etching, which simplifies epitaxial device processing down to micron scale. But this reactivity is also beneficial from the material fabrication point of view, as ZnO easily forms precipitates in solutions, and based on the conditions of the reaction a plethora of morphologies is attainable, including nanocolumns [
54
], nanowires [
55
], nanosheets [
56
], nanofibers [
57
], nanoflowers [
58
], nanoparticles [
59
], and quantum dots [
60
], as well as 3D hierarchical architectures [
61
], which is one of the reasons for the incredible popularity of ZnO nanostructures in research. As an example, Ko et al. reported on the fabrication of a hierarchical ZnO nanoforest using hydrothermal growth [
62
] and Wang described the growth of nanowires, nanotubes, nanobelts, nanohelixes, nanocombs, nanorings, nanopropellers, nanosprings, and nanoshells using ZnO powder sublimation and deposition [
63
]. Additionally, porous ZnO was developed using nanotube membranes [
64
] and dynamic template assisted electrodeposition [
65
]. Due to their high surface-to-volume ratio and surface reactivity, these structures are regarded as potential candidates for particle absorption applications, be it photons in dye-sensitized solar cells [
61
] or bio-chemical molecules in biomedical sensors [
66
] or gas molecules in gas sensors. Additionally, its low toxicity, biocompatibility and biodegradability make ZnO nanostructures and nanoparticles a material of interest in biomedical and environmental systems. However, care has to be taken when using ZnO nanostructures in aqueous environments, since at low concentrations ZnO dissolves in water and the dissolution concentration threshold increases rapidly with decreasing pH, potentially forming many problems for real life, stable applications in areas such as biomedicine or photocatalysis. In such cases, the appropriate structure and morphology design, sometimes additionally employing ultrathin surface passivation layers, can be viable solutions. Noteworthy is the fact that, contrary to high quality ZnO epitaxial and thin film growth where vacuum-based techniques are most often employed, nanostructured ZnO is in most cases grown using chemical methods, with only a few developments based on vacuum techniques such as magnetron sputtering (MS) [
67
] or pulsed laser deposition (PLD) [
53
]. The chemical methods, although relatively economical and easy to implement, may meet with challenges in the areas of large-scale production, uniformity, and replicability when deployed, not as kg and larger-scale powders, but in the forms of mg and lower-scale doses or thick films.
Other, less known properties of ZnO include high radiation hardness, high thermal conductivity, and strong non-linear optical behavior, which makes the material interesting, respectively, for space applications, thermoelectric generators, and nonlinear optical elements.
One of the biggest unsolved challenges in the technology of ZnO is the fabrication of stable p-type ZnO material, e.g,. for homojunction applications in LEDs or laser diodes (LDs) but also for a variety of bipolar electronic devices. Such materials not only have to exhibit stable transport properties, but also be preferentially of high crystalline quality, devoid of grain boundary acceptor aggregation/segregation as well as with low density of non-radiative recombination centers. There have been many potential candidates for acceptors in ZnO, including elements from group IA, IB and V but so far, no commercially adopted breakthrough has been reported.
3. Methods of Fabrication
ZnO can be grown as large-scale single crystals, epitaxial structures, thin and thick film structures as well as nanostructures and nanoparticles. The methods of fabrication are as widespread as the reported structures and their applications. The methods are usually chosen based on their typical intrinsic possibilities and limitations to grow a given type of a structure, with some reports pushing the conventional capabilities of growth to obtain atypical structures.
4. Review of Applications
Having presented a review of the fabrication techniques for different ZnO structures, this part of the paper will go through the different existing and perceived applications of the material to give a complete overview of the material's potential. The division will be again based on the type of the structure: epitaxial, thin film, thick film or nanostructure.
5. Unresolved Problems
Two of the biggest problems in the technology of ZnO related mostly to the physical and chemical worlds can be identified as: (1) the inability to obtain p-type conducting material that is highly conducting, reproducible, stable in time and with a well identifiable origin and (2) a wide range of synthesis conditions resulting in a larger-than-comprehensible zoo of various nanostructures with differing properties. The first problem is the reason why, widely regarded as the material to make GaN obsolete due to it's much easier deposition and larger scale available, ZnO has since failed to deliver on that promise, despite many years of intensive research from the scientific community using a wide variety of state-of-the-art experimental growth and characterization techniques, supplemented by computation studies identifying appropriate dopants and complex doping strategies. The second one leads to a supersaturation of the literature with many similar reports on ZnO nanostructures, yielding the field very difficult to follow thoroughly, lowering the reproducibility and impact of the results, and also reducing the chances for new, valuable reports to be published. However, since the ZnO nanostructure synthesis community can be regarded as the developing one, while the p-type community as the diminishing one, the p-type doping problem will be discussed here in more detail due to its gravity.
P-Type Doping Issue in ZnO
The p-type conductivity in zinc oxide has long been a subject of extensive research and debate, however without significant consensus. Firstly, the potential acceptors are readily compensated by intrinsic impurity donors and intrinsic stable deep donor states. Secondly, the candidate acceptors have their ionization energies rather large in comparison to the ionization energies of shallow donors in ZnO. An additional difficulty lies in the observed formation of a surface electron accumulation layer in ZnO [
193
,
194
] which may render the conductivity measurements in the films if not performed with high rigor. Among the potential acceptors are column IA (Li, Na, K) and IB (Cu, Ag, Au) elements substituting Zn with ionization energies relative to the conduction band maximum calculated at 0.09 eV for Li
Zn
, 0.17 eV for Na
Zn
and 0.32 eV for K
Zn
[
195
] and 0.25 eV–0.4 for Ag
Zn
[
196
,
197
,
198
], 0.35 for Cu
Zn
and 0.45 eV for Au
Zn
[
199
]. Group IA elements have however small ionic radii and are more prone to go into interstitial positions not substitution and such interstitial dopants have first to be passivated before the ones occupying substitutional sites can be seen as acceptors. Group V elements substituting O have also been considered as potential acceptors with ionization energies calculated at 0.40 eV for N
O
, 0.93 eV for P
O
, and 1.15 eV for As
O
with nitrogen being later reported to be deeper at 1.3 eV [
200
] using a modified theoretical approach. These levels may be regarded as too deep to provide efficient p-type conductivity in the material, however there have been reports on p-type ZnO films achieved experimentally using group IA [
201
], Ag [
202
,
203
] and group V acceptors [
204
,
205
,
206
,
207
,
208
]. It remains still to be shown that these results are stable and reproducible with p-type conductivity in ZnO being known to degrade over time [
209
,
210
]. Furthermore, no reliable results concerning ZnO p-n homojunctions were reported. If, however, there are stable p-type ZnO films achieved using the above described acceptors the effect may still be achieved by intentional and unintentional codoping or dopant complex formation. Donor-acceptor codoping may enhance acceptor solubility at the same time suppress the formation of compensating defects changing the growth conditions such as is the case of hydrogen doping during p-GaN:Mg growth [
211
]. It is relevant to notice, that this codoping may be intentional, e.g., using In [
212
], as well as unintentional due to the presence of impurities in the film such as H. Dual acceptor doping was reported to yield p-type ZnO thin films with As-N [
213
] and Li-N [
214
] dopants with acceptor activation energies in the latter at 95 meV. Generally dual acceptors complex may lead to formation of hybrid bonding states closer to the valence band maximum than the respective isolated acceptor states. Furthermore, although Ag-N pairs are expected to have deeper states than the isolated elements, Ag-N-H triangles may yield lower energy levels at 0.14 eV [
215
], showing that intrinsic impurities may have yet another way of influencing the conductivity of the films. Recent reports suggest that a new route towards obtaining shallower acceptor energies in ZnO is to use the traditional acceptors in ZnO alloyed by iso-valent elements such as Mg, Be, S, Se, or Te due to their possibility to push up the conduction band minimum or valence band maximum energies as well as the suppression of compensating intrinsic defects [
216
]. However, although there is much research effort along the new pathways, still no breakthrough is visible. A final comment here should be added here, that due to the problems with the electron accumulation layer, as well as grain boundary defect and dopant segregation, the Hall effect measurements performed using van der Pauw Hall configuration can lead to misleading effects. Therefore, it is highly desirable to perform experiments using high quality ZnO single crystal structures with the Hall effect measurements supplemented by Seebeck effect measurements, photoluminescence, and chemical characterization such as secondary ion mass spectrometry with a final verification in device operation such as a p-field effect transistor or a p-n/p-i-n diode.
6. Summary and Outlook
Zinc oxide has firmly marked its presence in the scientific community. It has not seen the spectacular success as it was expected due to the inherent difficulties in obtaining complementary conductivity types and the epitaxial n-type devices show limited performance in relation to the gallium nitride counterparts. It has however seen a significant surge in interest in the chemical community due to the wide variety of synthetic approaches it lends itself to and the broad array of achievable nanostructure morphologies that can be applied in many devices. The works on overcoming the p-type doping obstacle have died down in intensity but are still continued and should lead to a final success, however most probably the material will not be pure ZnO but some sort of an alloy or highly defected material due to the need to form complexes and co-dope. Opening up the way for p-type ZnO will lead to a revival of interest in the material as the common p-n devices will be developed, most notably for light emitters, which may finally realize the dream some have of phasing out GaN. The works on the 2DEG devices are limited due to much lower mobilities than in AlGaN/GaN structures and other ZnO film structures are mostly believed to be waiting for the stable p-type. ZnO single crystal substrates are emerging as price and size competitive substrates for GaN-based devices, however the growth processes for GaN are weary of oxide outdiffusion into the GaN layers, leading to uncontrolled compensation of the grown structures. ZnO single substrates are therefore not seen as the game changer for GaN devices in terms of lattice match and crystalline perfection, with most growth of the nitride occurring on the highly mismatched sapphire, silicon carbide and silicon. On the other hand, the nanostructured ZnO range is constantly developing and catching researcher interest. One of the most promising areas for these nanostructures is the sensor area where metal oxide devices are well established and ZnO can find relatively easy implemented applications. However, the nanostructured ZnO area seems to become saturated with reports where the different morphologies are often seen as 'yet another' report that does not contribute much to bridging the knowledge gap. It is probably the role of individual researchers to move from the synthesis to serious device development utilizing ZnO nanostructures to push for the market presence, otherwise the topic may be seen as stagnant. The need for a rigorous research approach is evident both for nanostructures where the experimental details have to be thoroughly controlled as for the films, where the various conductivity origins have to be thoroughly understood and presented. To summarize, ZnO is now in the stage where the initial hype has died down or is slowly saturating, and mostly comprehensive investigations are needed to push the material to deliver on its promising capabilities and fulfill its potential.
Author Contributions
M.A.B. is the sole author of this review.
Funding
This work received no external funding.
Acknowledgments
There are no acknowledgments for this work.
Conflicts of Interest
The author declares no conflict of interest.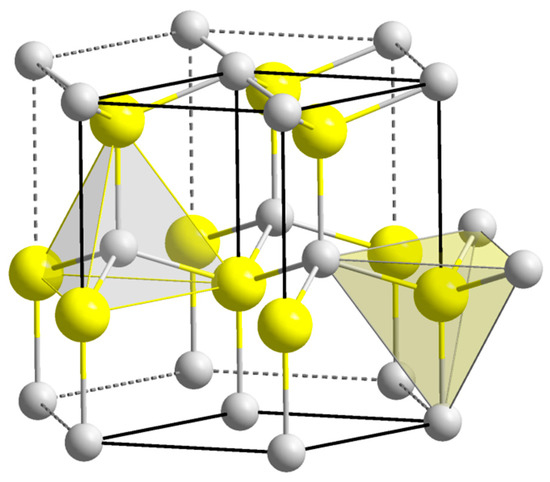 Figure 1.
ZnO wurtzite cell, Zn in yellow, O in grey, the tetrahedral coordination is shown for both types of atoms. Source: [
33
], public domain.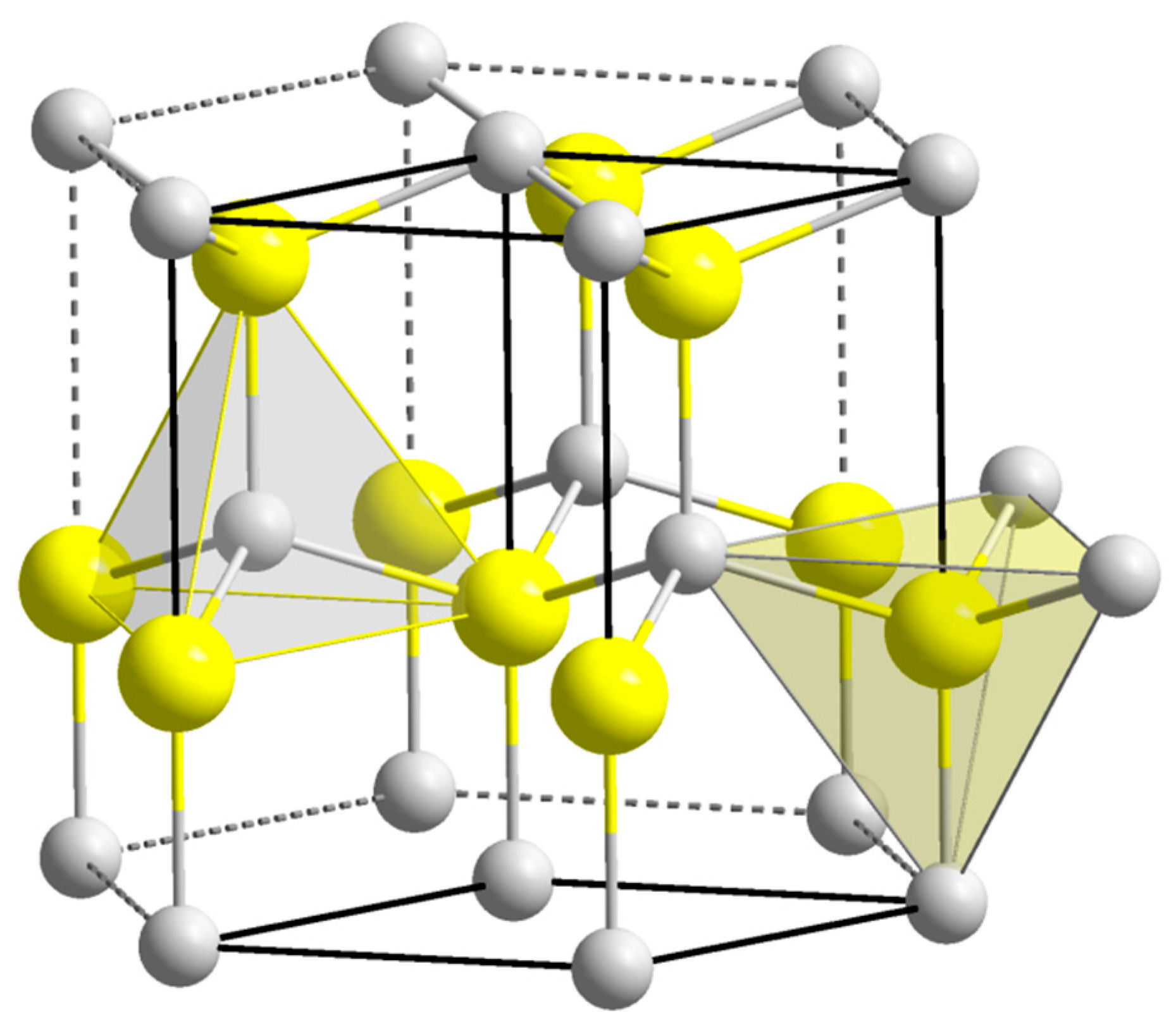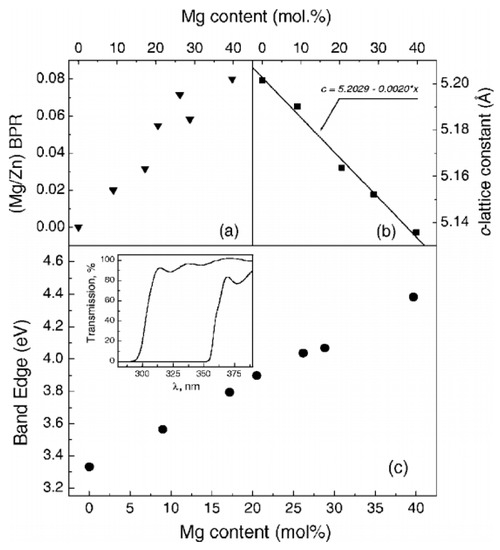 Figure 2.
The variation (
a
) BPR—beam-equivalent-pressure ratio of Mg to Zn beams during MBE growth, (
b
) c-lattice constant, and (
c
) room temperature band gap versus Mg content. In 700 nm thick ZnMgO MBE-grown epilayers. Inset: optical transmission spectra for x = 0.10 (right), 0.40 (left). Reprinted from Sadofev, S., Blumstengel, S., Cui, J., Puls, J., Rogaschewski, S., Schäfer, P., Sadofyev, Yu. G., and Henneberger, F., Growth of high-quality ZnMgO epilayers and ZnO/ZnMgO quantum well structures by radical-source molecular-beam epitaxy on sapphire,
Appl. Phys. Lett.
,
2005
, 87, 091903; doi:10.1063/1.2034113, with the permission of AIP Publishing.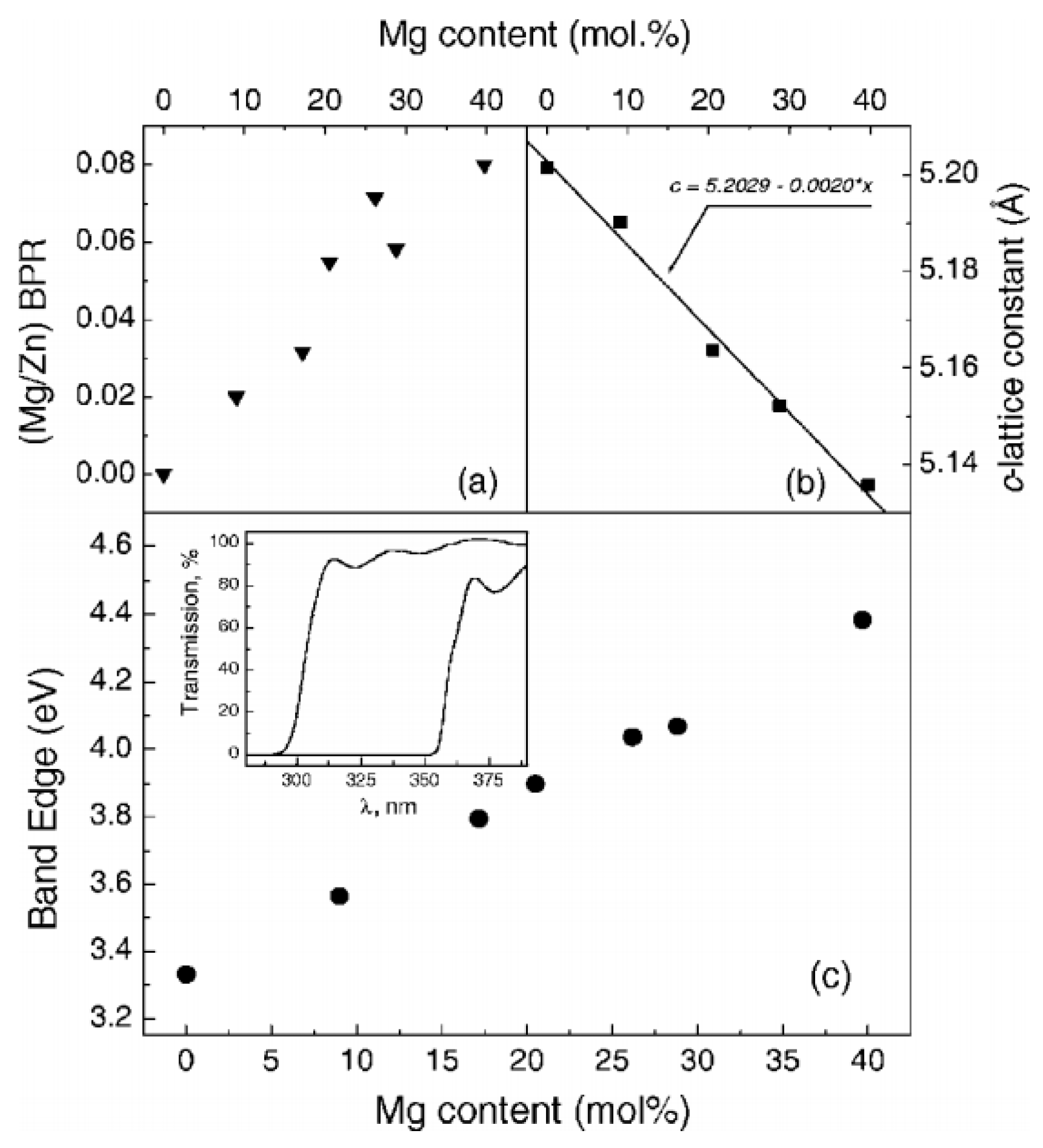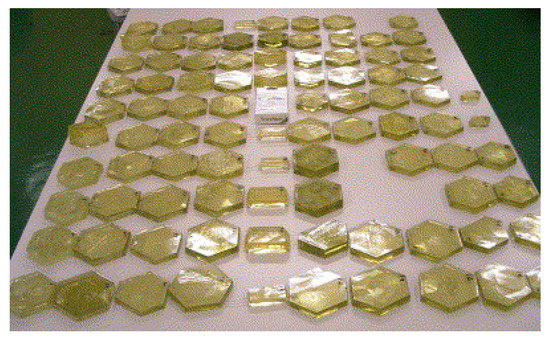 Figure 3.
Two-inch size ZnO crystals produced during one hydrothermal growth run. Reprinted from Ehrentraut, D., Sato, H., Kagamitani, Y., Sato, H., Yoshikawa, A., Fukuda, T., Solvothermal growth of ZnO,
Progress in Crystal Growth and Characterization of Materials
2006
, 52, 280–335; doi:10.1016/j.pcrysgrow.2006.09.002, Copyright (2006), with permission from Elsevier.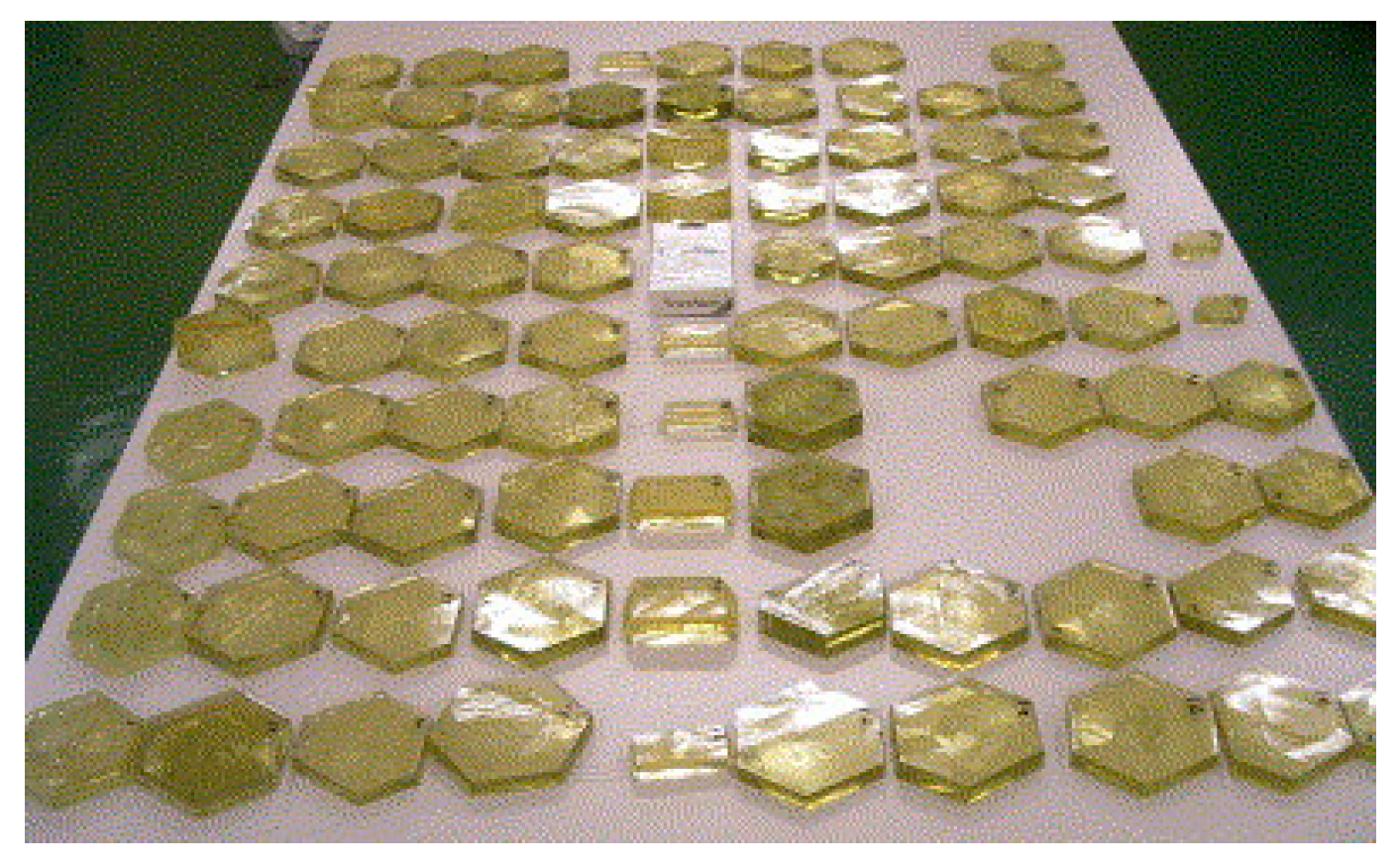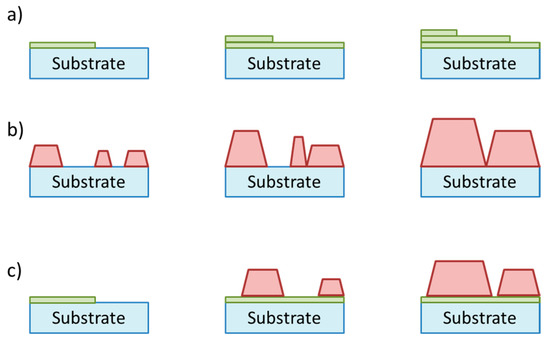 Figure 4. Schematic diagram of three basic growth modes: (a) layer-by-layer growth mode; (b) island growth mode; and (c) Stranski–Krastanov mode.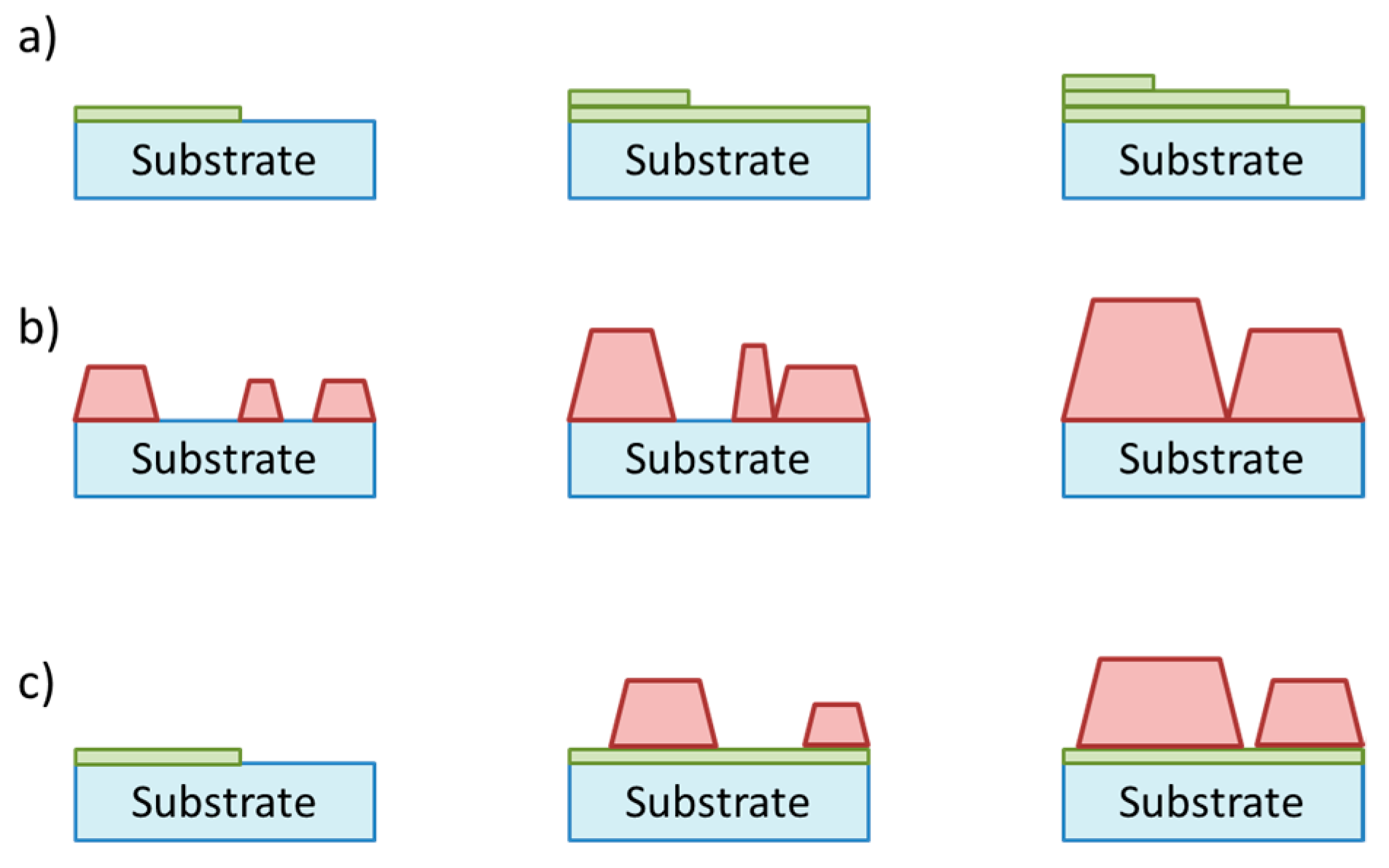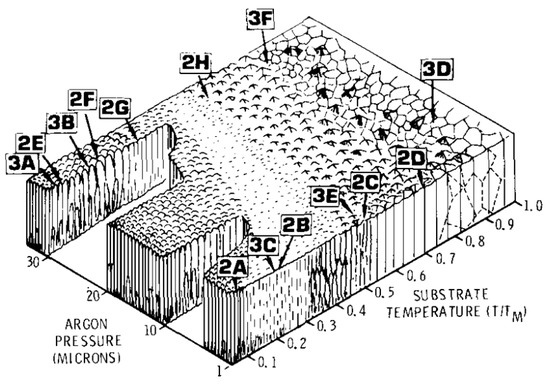 Figure 5.
Schematic representation of dependence of coating structure on substrate temperature and argon pressure for sputter deposition, that is representative of most achievable thin film morphologies by other methods, but not necessarily in the same parameter space. The number-letter codes describe the different morphologies in detail in the source communication. Reprinted from Thornton A.J., Influence of apparatus geometry and deposition conditions on the structure and topography of thick sputtered coatings,
J. Vacuum Sci. Technol.
1974
, 11, 666; doi:10.1116/1.1312732 with the permission of AIP Publishing.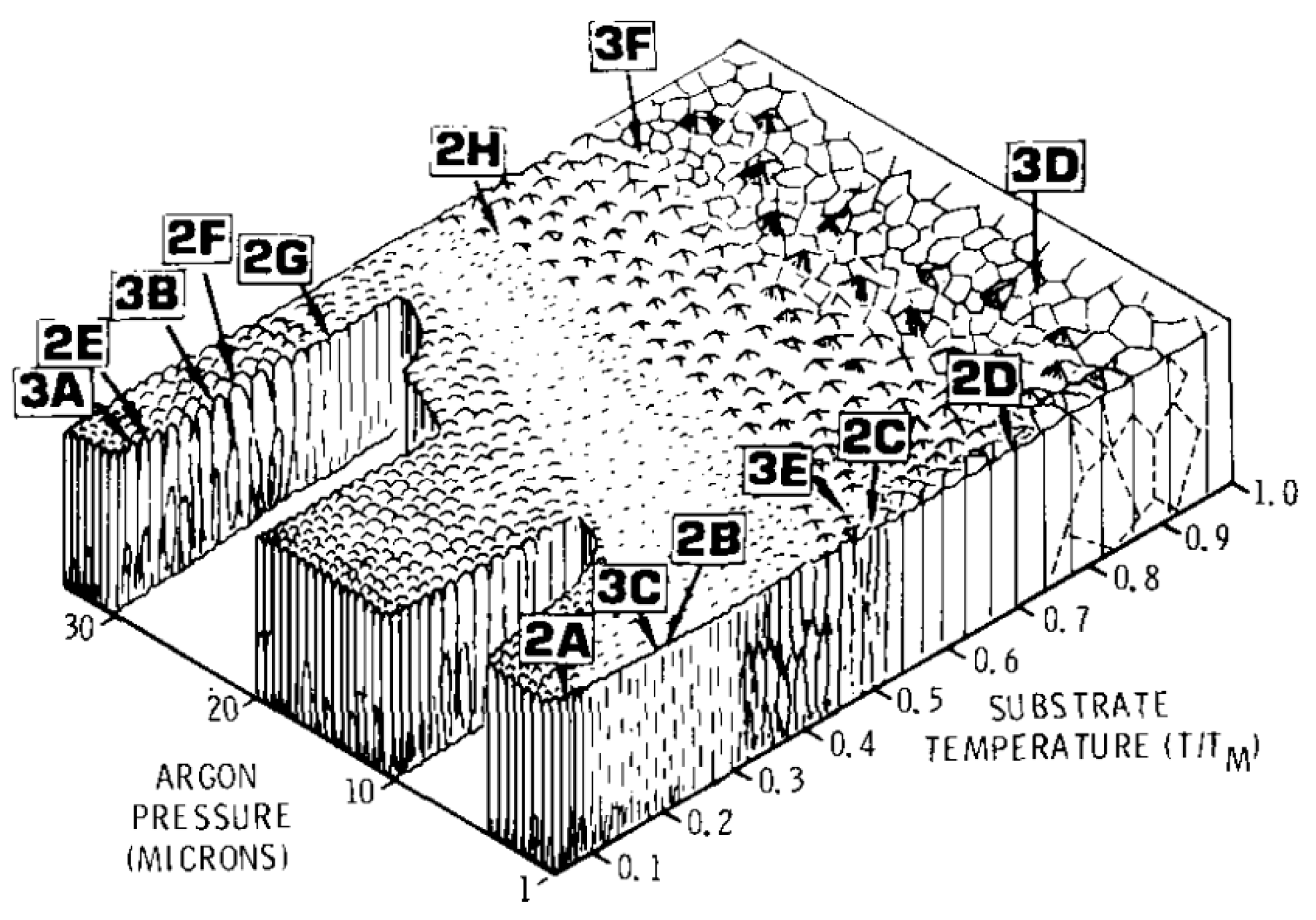 Figure 6.
SEM top view and cross section images of different screen printed ZnO film thickness (
a
) 15, (
b
) 7, (
c
) 3 and (
d
) 1 μm. The porous morphology is evident. Reprinted from Sun, H., Kimura, T., Chiba, T., Mori, S., Khosla, A., and Yoshida, T., High Voltage Flexible ZnO Solar Cells Employing Bulky Organic Dye and [Co(bpy)
3
]
2+/3+
Redox Electrolyte,
J. Electrochem. Soc.
2018
, 165, B3194-B3200; doi:10.1149/2.0251808jes under the CC BY 4.0 license.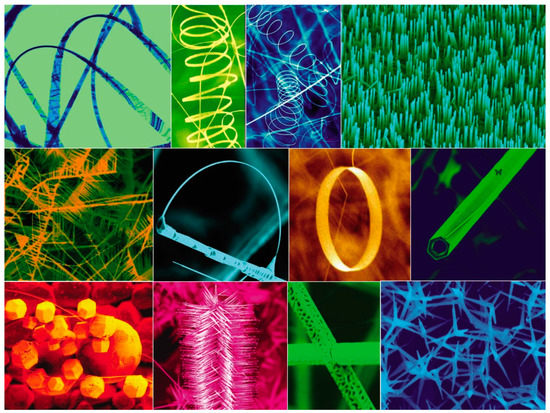 Figure 7. A collection of nanostructures of ZnO synthesized under controlled conditions by thermal evaporation of solid powders. Reprinted from Wang, Z.L., Nanostructures of zinc oxide, Mater. Today 2004, 7, 26–33; doi:10.1016/S1369-7021(04)00286-X, Copyright (2004), with permission from Elsevier.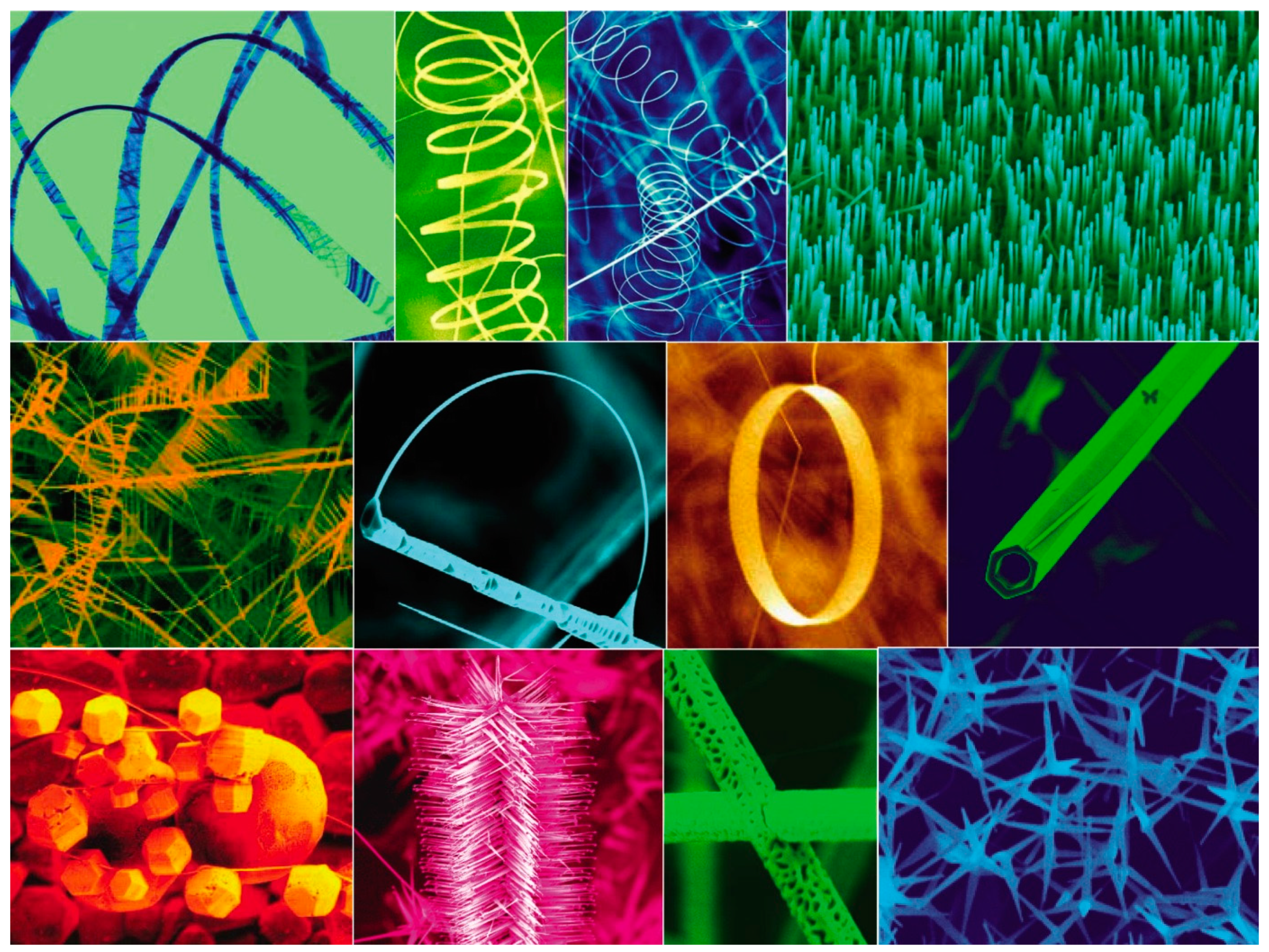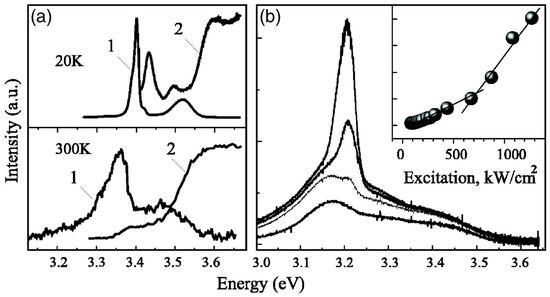 Figure 8.
(
a
) Photoluminescence (1) and photoluminescence emission (PLE) (2) spectra measured in a 3nm ZnO/ZnMgO SQW separate confinement double heterostructure. The room temperature PLE spectrum is monitored from the "green" PL peak (2.393eV) for the sake of better resolution. (
b
) RT spectra of stimulated emission measured at the excitation power density (from bottom to top): 436, 674, 872, and 1079 kW/cm
2
. The inset presents the PL intensity dependence on the excitation power. Reprinted from [
140
], with the permission of AIP Publishing.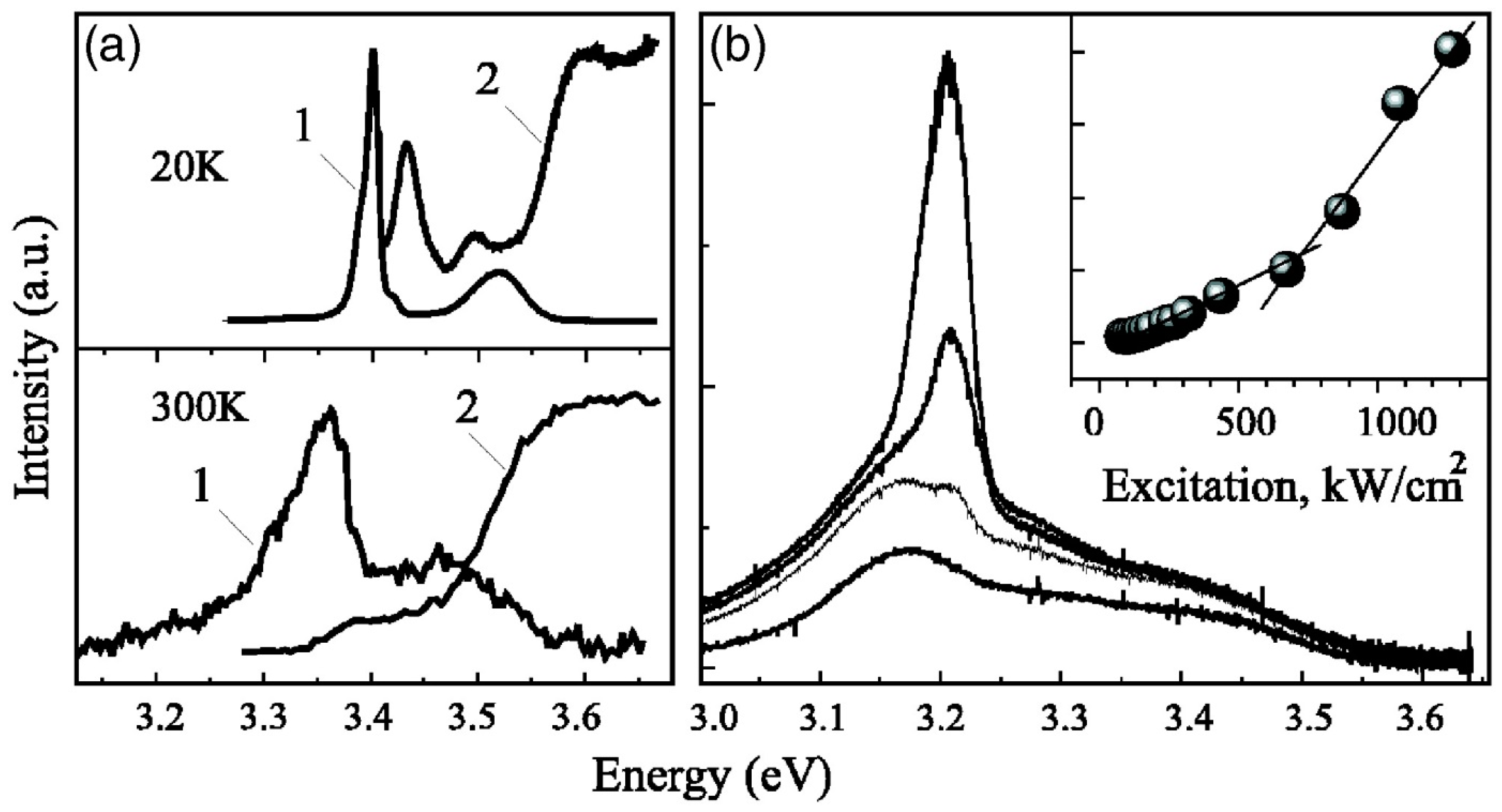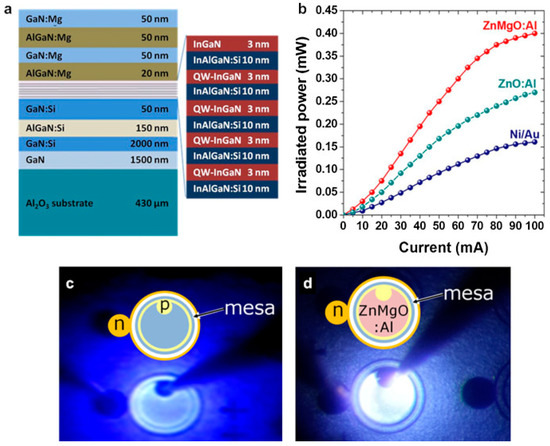 Figure 9.
(
a
) UV AlGaN/GaN LED structure used in the experiment; (
b
) irradiated power as a function of diode current for the LED with Ni/Au, ZnO:Al and ZnMgO:Al contact electrodes; photographs and plan-view schematics of the LEDs with a Ni/Au electrode (
c
) and a ZnMgO:Al transparent electrode (
d
) showing increased output for the bandgap-engineered AZO electrode. Reprinted from Borysiewicz, M. A., Wzorek, M., Gołaszewska, K., Kruszka, R., Pągowska, K. D., Kamińska, E., Nanocrystalline sputter-deposited ZnMgO:Al transparent p-type electrode in GaN-based 385 nm UV LED for significant emission enhancement,
Materials Science and Engineering: B
2015
, 200, 93–98; doi:10.1016/j.mseb.2015.06.013, Copyright (2015) with permission from Elsevier.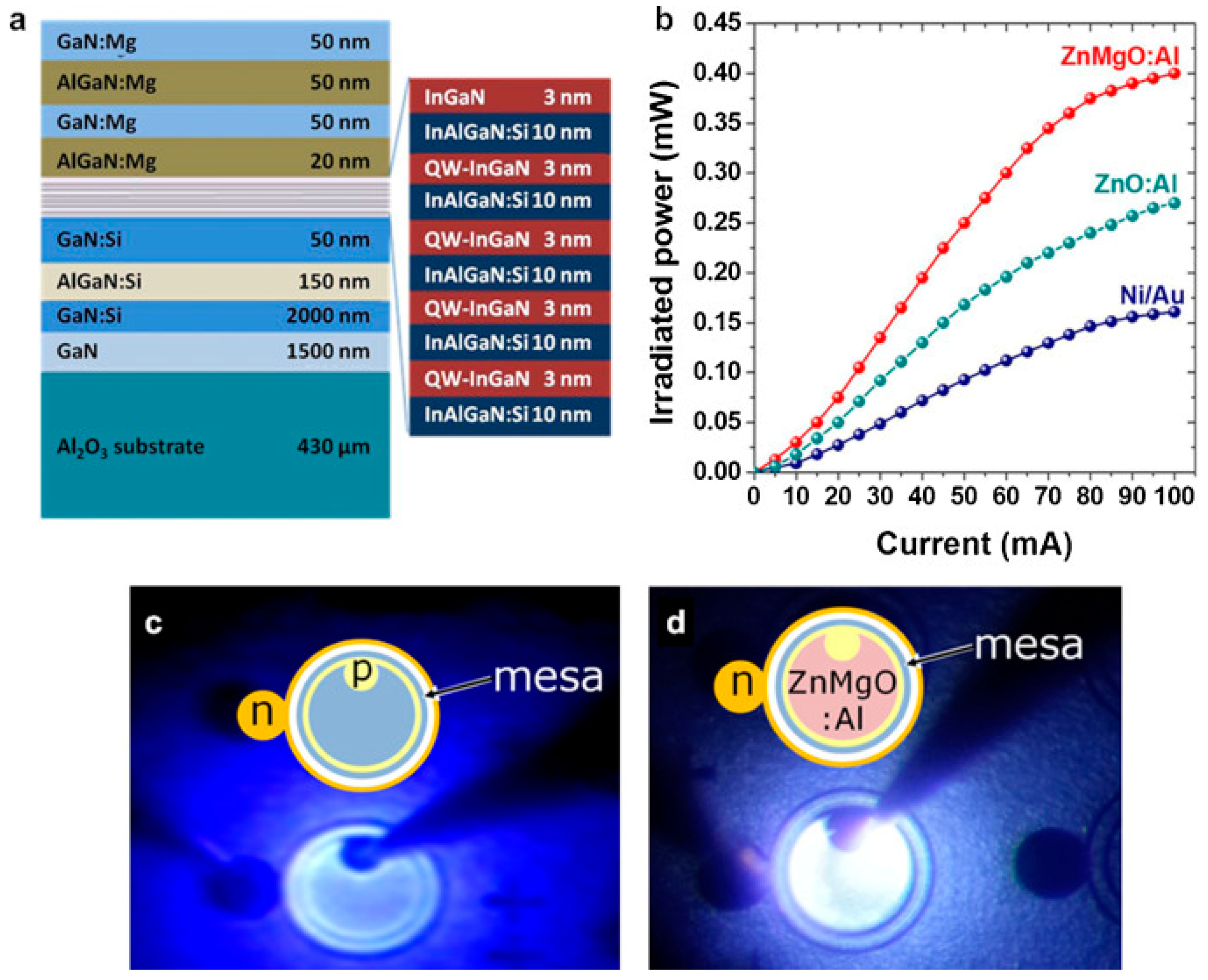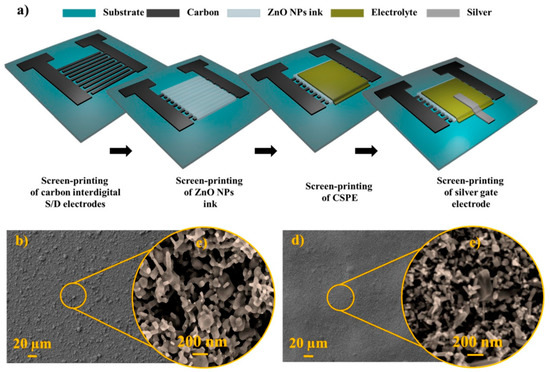 Figure 10.
(
a
) Schematic representation of the fabrication steps for the fully printed ZnO electrolyte-gated transistors (EGTs). (
b
,
c
) and (
d
,
e
) Topographical views of the screen-printed layers using two different ZnO inks. Reprinted from [
173
] under the CC BY 4.0 license.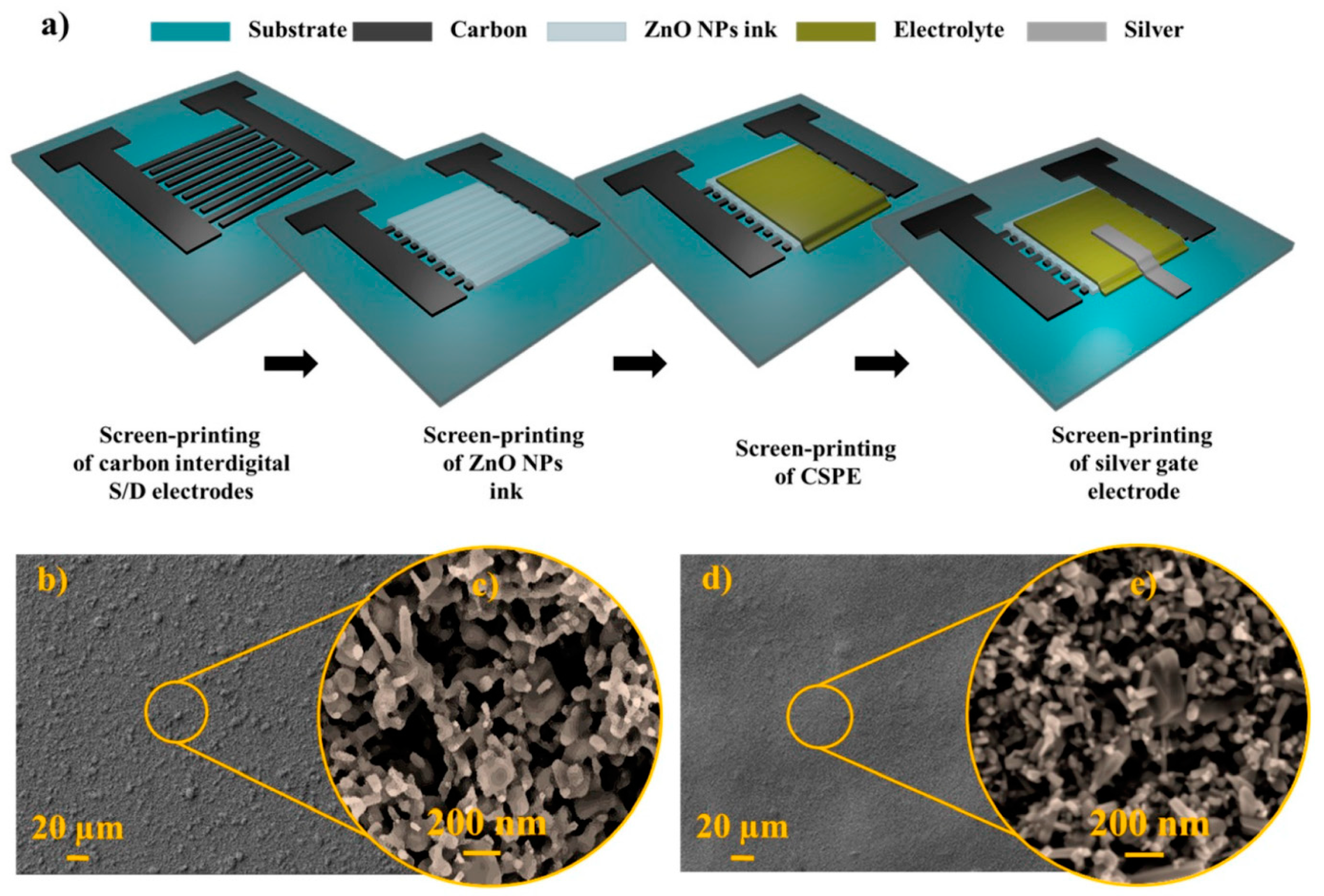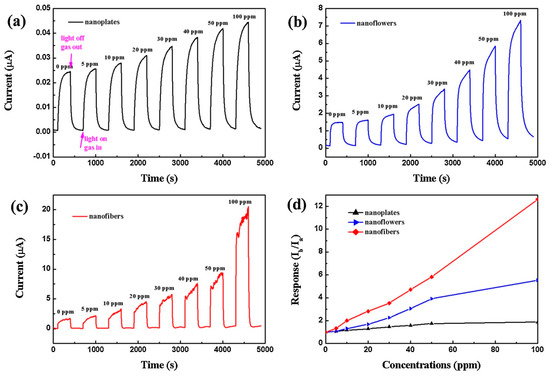 Figure 11.
The current response cycles of ZnO nanoplates (
a
), nanoflowers (
b
) and nanofibers (
c
) to different concentrations of formaldehyde and the gas-sensing responses (
d
) with a bias voltage of 10 V under 365 nm light irradiation at room temperature. Reprinted from Cui, J., Shi, L., Xie, T., Wang, D., Lin, Y., UV-light illumination room temperature HCHO gas-sensing mechanism of ZnO with different nanostructures,
Sensors and Actuators B: Chemical
,
2016
, 227, 220–226; doi:10.1016/j.snb.2015.12.010, Copyright (2016) with permission from Elsevier.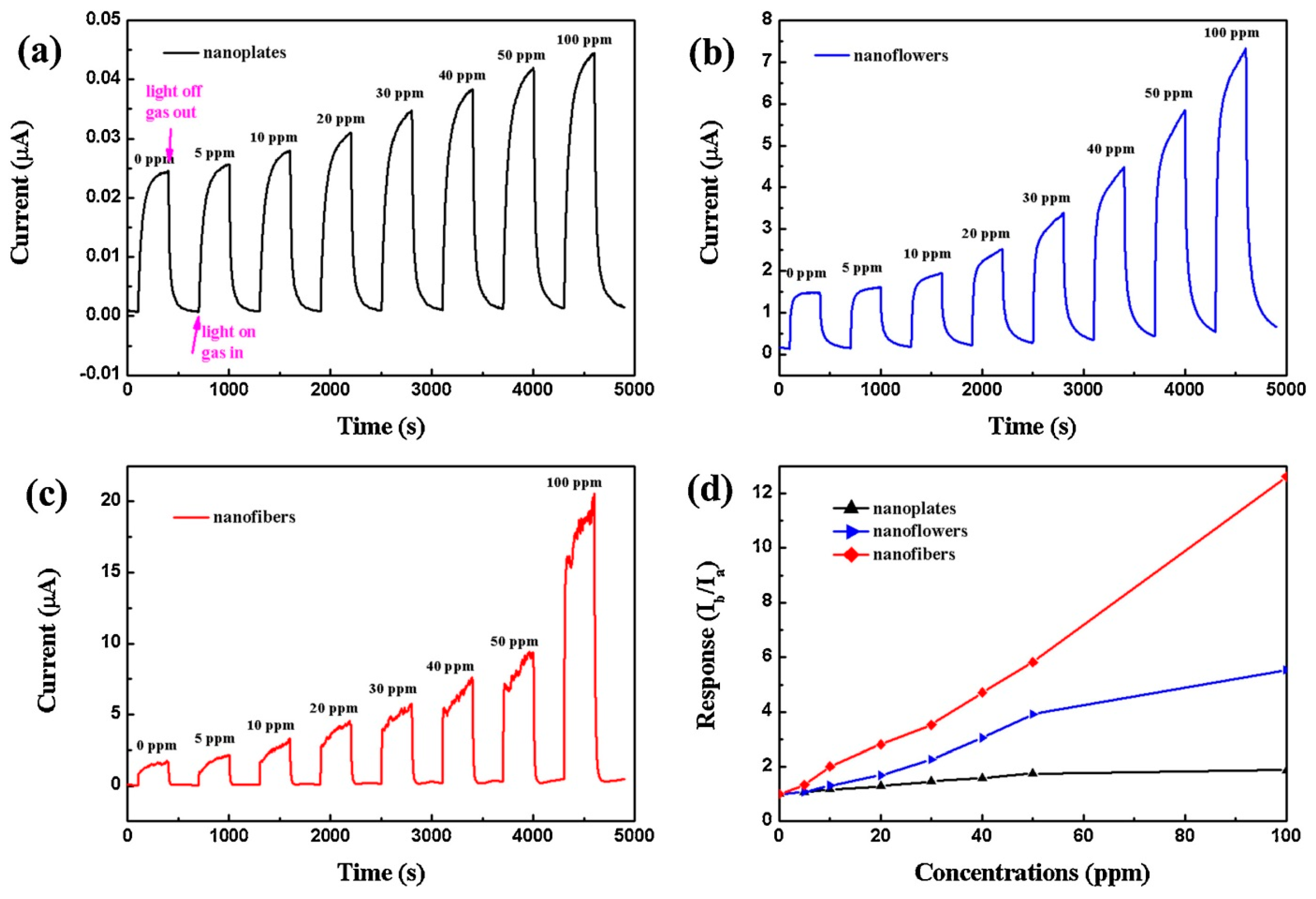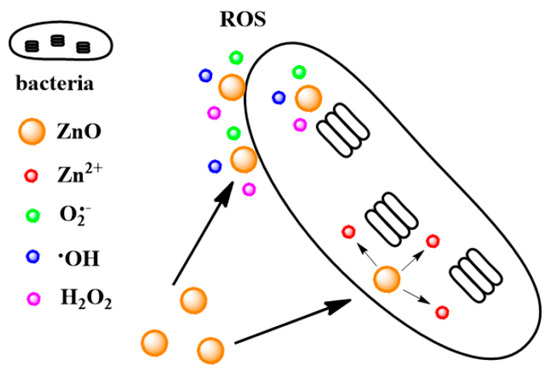 Figure 12. Schematic illustration of antibacterial activity of ZnO NPs. In the outer cell membrane of the bacteria, an excess of reactive oxygen species (ROS) is expected and a release of Zn2+ ions, which in high concentration are cytotoxic. Reprinted from Zhang, Z.Y., and Xiong, H.M., Photoluminescent ZnO Nanoparticles and Their Biological Applications, Materials 2015, 8(6), 3101–3127; doi:10.3390/ma8063101, under the CC BY 4.0 license.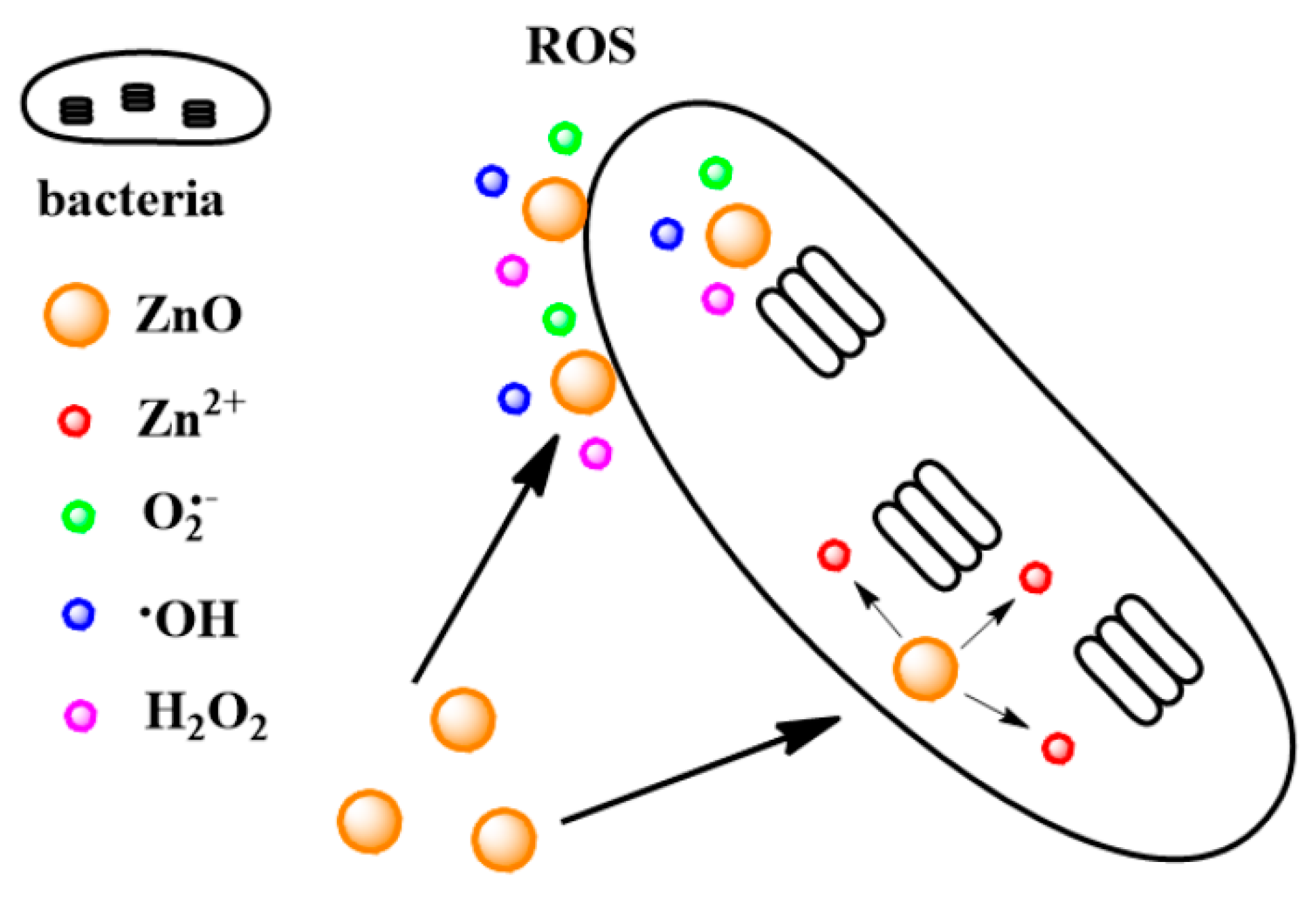 © 2019 by the author. Licensee MDPI, Basel, Switzerland. This article is an open access article distributed under the terms and conditions of the Creative Commons Attribution (CC BY) license (http://creativecommons.org/licenses/by/4.0/).