The Importance of CH···X (X = O, π) Interaction of a New Mixed Ligand Cu(II) Coordination Polymer: Structure, Hirshfeld Surface and Theoretical Studies
Department of Physics, Jadavpur University, Kolkata 700032, India
Received: 22 October 2018 / Revised: 3 December 2018 / Accepted: 5 December 2018 / Published: 7 December 2018
Abstract
In this study, a new equimolar (1:1:1) mixed ligand Cu(II) polymer, [Cu(IDA)(ImP)]
n
(
1
) with iminodiacetato (IDA) and imidazo[1,2-a]-pyridine (ImP) was synthesized and characterized by single crystal X-ray diffraction analysis. X-ray crystallography reveals that compound (
1
) consists of polymeric zigzag chain along [010] the carboxylate carbonyl oxygen atom by two-fold symmetry screw axis. The solid-state structure is stabilized through C–H···O hydrogen bonds and C–H···π interactions that lead the molecules to generate two-dimensional supramolecular assemblies. The intricate combinations of hydrogen bonds and C–H···π interactions are fully described along with computational studies. A thorough analysis of Hirshfeld surface and fingerprint plots elegantly quantify the interactions involved within the structure. The binding energies associated with the noncovalent interactions observed in the crystal structure and the interplay between them were calculated using theoretical DFT calculations. Weak noncovalent interactions were analyzed and characterized using Bader's theory of ''atoms-in-molecules'' (AIM). Finally, the solid-state supramolecular assembly was characterized by the "Noncovalent Interaction" (NCI) plot index.
View Full-Text
►

▼

Figures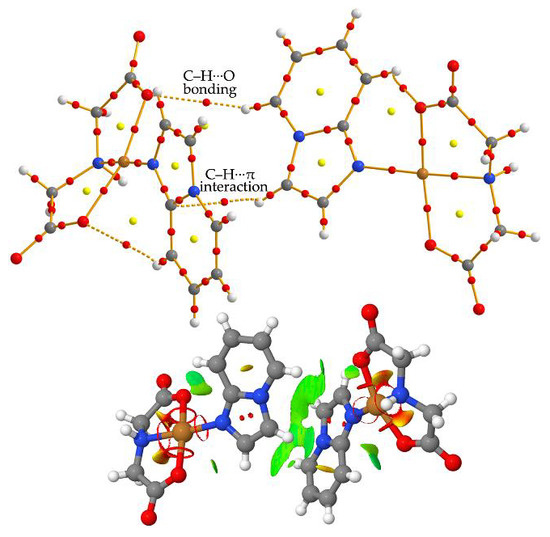 Graphical abstract
This is an open access article distributed under the
Creative Commons Attribution License
which permits unrestricted use, distribution, and reproduction in any medium, provided the original work is properly cited (CC BY 4.0).

Share & Cite This Article
MDPI and ACS Style
Seth, S.K. The Importance of CH···X (X = O, π) Interaction of a New Mixed Ligand Cu(II) Coordination Polymer: Structure, Hirshfeld Surface and Theoretical Studies. Crystals 2018, 8, 455.
Note that from the first issue of 2016, MDPI journals use article numbers instead of page numbers. See further details here.
Related Articles
Comments
[Return to top]