Open Access This article is
freely available
re-usable
Article
Transparency of Semi-Insulating, n-Type, and p-Type Ammonothermal GaN Substrates in the Near-Infrared, Mid-Infrared, and THz Spectral Range
1
AMMONO S. A, Prusa 2, 00-493 Warsaw, Poland
2
Department of Experimental Physics, Wroclaw University of Science and Technology, Wybrzeże Wyspiańskiego 27, 50-370 Wrocław, Poland
3
Institute of High Pressure Physics, Polish Academy of Science, Sokołowska 29/37, 01-142 Warsaw, Poland
*
Author to whom correspondence should be addressed.
Received: 10 May 2017 / Accepted: 21 June 2017 / Published: 25 June 2017
Abstract
:
GaN substrates grown by the ammonothermal method are analyzed by Fast Fourier Transformation Spectroscopy in order to study the impact of doping (both n- and p-type) on their transparency in the near-infrared, mid-infrared, and terahertz spectral range. It is shown that the introduction of dopants causes a decrease in transparency of GaN substrates in a broad spectral range which is attributed to absorption on free carriers (n-type samples) or dopant ionization (p-type samples). In the mid-infrared the transparency cut-off, which for a semi-insulating GaN is at ~7 µm due to an absorption on a second harmonic of optical phonons, shifts towards shorter wavelengths due to an absorption on free carriers up to ~1 µm at n ~ 1020 cm−3 doping level. Moreover, a semi-insulating GaN crystal shows good transparency in the 1–10 THz range, while for n-and p-type crystal, the transparency in this spectral region is significantly quenched below 1%. In addition, it is shown that in the visible spectral region n-type GaN substrates with a carrier concentration below 1018 cm−3 are highly transparent with the absorption coefficient below 3 cm−1 at 450 nm, a satisfactory condition for light emitting diodes and laser diodes operating in this spectral range.
Keywords:
GaN; infrared spectral range; THz spectral range; free-carrier absorption
1. Introduction
While the transparency window of SI GaN is 0.36–7 µm, doping can significantly affect it not only in the infrared and at longer wavelengths, but also in the visible range. This is unfavorable from the optoelectronics point of view where a reabsorption of the light emitted from an active part of the device (i.e., a quantum well) can occur in the doped passive part (e.g., a contact layer). In this way, a significant part of the emission may be blocked.
2. Materials and Methods
Bulk GaN crystals for this study were grown by a basic ammonothermal method [
7
,
8
]. The doping was introduced by a controlled introduction of dopants (O and Mg) into the growth autoclave. Crystals were cut into 0.5 mm thick slices and polished on both sides for transparency measurements.
Transmission measurements were performed at room temperature on a Bruker Vertex 80v customized Fourier spectrometer [
19
]. In the near- to mid-infrared spectral range a Globar was used as a light source and a mercury-cadmium-telluride photoconductor as a detector. In the terahertz range, a bolometric detection was used with an optical cut off (700 cm
−1
) filter and the same Globar lamp as a source.
Absorption measurements were performed using a Cary5 (Varian) spectrophotometer operating in the UV–VIS–NIR range (250–3300 nm) at room temperature. All the spectra were corrected for multiple reflections of light from the GaN sample. The absorption coefficient was calculated using the following formula, which assumes a normal light incidence
where
T
—measured transmission,
d
—sample thickness,
α
—absorption coefficient, and
R
—measured reflection. Both transmission and reflection were measured independently for each sample.
To determine electrical properties (carrier concentration) of the studied samples, both impedance spectroscopy and Hall measurements have been applied. For these purposes, an impedance analyzer Agilent 4294A and a MMR Technologies Hall system were used.
3. Results and Discussion
4. Conclusions
Transparency measurements of SI, O-, and Mg-doped bulk ammonothermal GaN substrates reveal the strong impact of doping in near-infrared, mid-infrared, and terahertz regions. N-type doping, through the absorption on free carriers, can be employed to tune the transparency of GaN crystals in the mid- to near-infrared by shifting the cut-off wavelength in a controlled manner. On the other hand, p-type doping could potentially reduce the transparency in the near-infrared while keeping it on a high level in the mid-infrared. However, a relatively small change in Mg concentration can bring the transparency close to zero in the whole infrared range and the mechanism of light absorption in this spectral range is more complex, since it depends on a concentration of Mg dopants as well as non-intentional donor-like dopants. At the terahertz frequencies, any kind of doping causes a dramatic reduction of the transparency. A semi-insulating GaN can maintain transparency in the 1–8 THz range at a high level. For laser applications in the visible and near-infrared, keeping as low a carrier concentration as possible is beneficial as the absorption coefficient can be kept as low a 2–3 cm−1 in the 450–1200 nm range.
Acknowledgments
This work was performed within the grant of the National Center for Research and Development (grant PBS3/A3/23/2015).
Author Contributions
Robert Kucharski has grown all these samples, prepared GaN samples for optical studies, and supervised this project at the Ammono company; Lukasz Janicki was responsible for electrical characterization and has prepared the first version of the manuscript; Marcin Zajac controlled doping issues, performed absorption measurements in UV–VIS–NIR range; Monika Welna and Marcin Motyka performed transmission measurements in the near-infrared, mid-infrared, and THz range; Czeslaw Skierbiszewski tested GaN substrates in molecular beam epitaxy, discussed results, supervised this project at Institute of High Pressure Physics, and coordinated the whole PBS project between involved institutions; Robert Kudrawiec analyzed experimental data, revised the manuscript, and supervised the project at Wroclaw University of Science and Technology. All authors corrected the final version of the manuscript.
Conflicts of Interest
The authors declare no conflict of interest.

Figure 1. GaN substrates obtained by the ammonothermal method: (a) 1" low n-type highly transparent, (b) 2" n-type (1019 cm−3), and (c) 1.5" SI-type.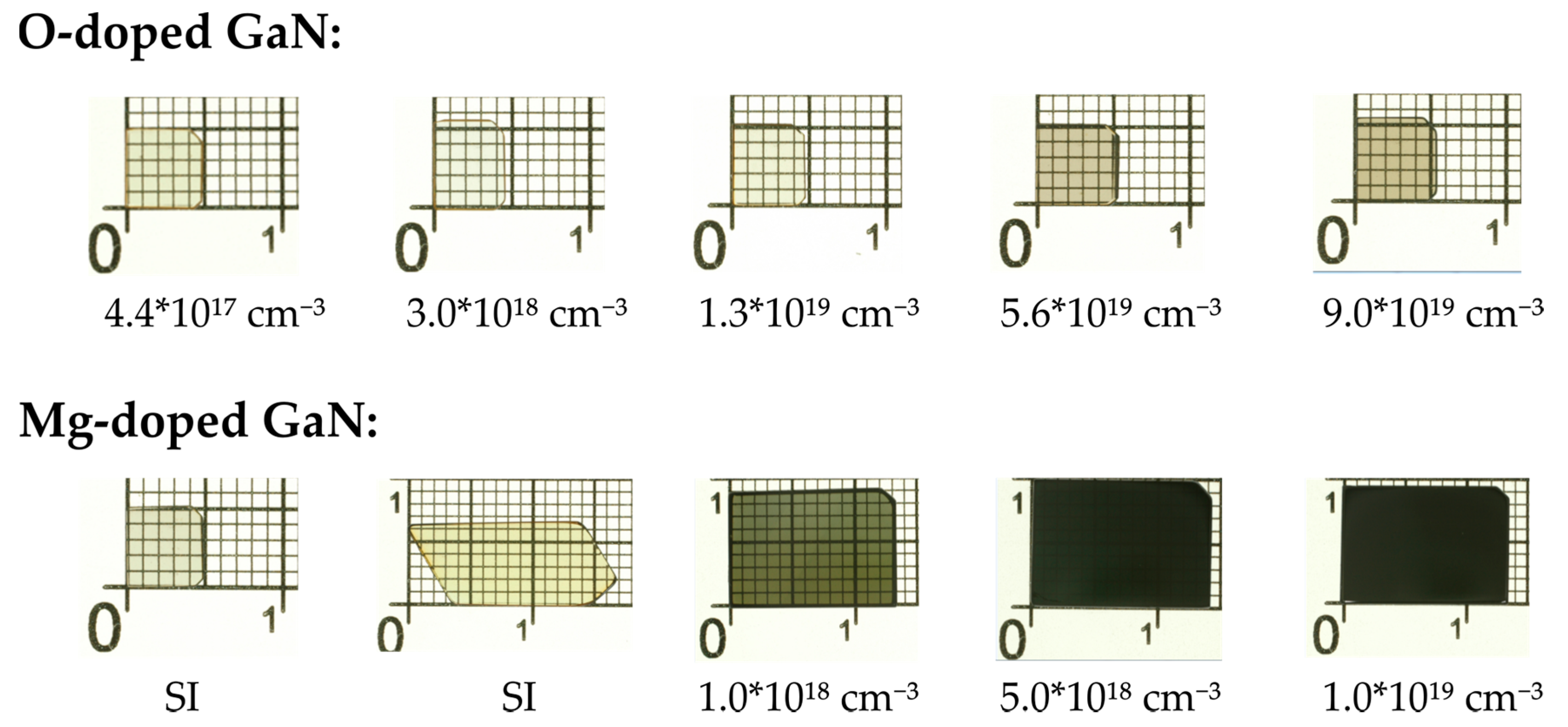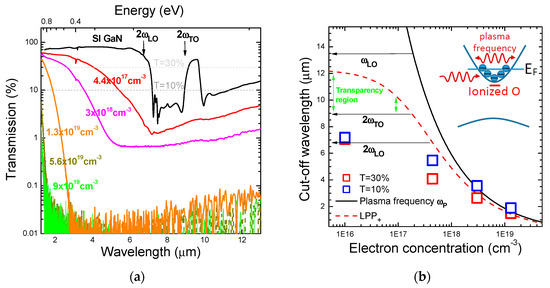 Figure 3. (a) Transmission spectra of n-type GaN of various electron concentrations (color lines) together with a transmission spectrum of SI GaN measured at room temperature in the near- and mid-infrared spectral region. (b) The transparency cut-off wavelength (open squares) for n-type GaN of various electron concentrations taken at the transparency of 10% (blue points) and 30% (red points) together with curves representing plasma frequency and high energy branch of longitudinal phonon-plasmon (LPP+). In the sketch EF means the Fermi level.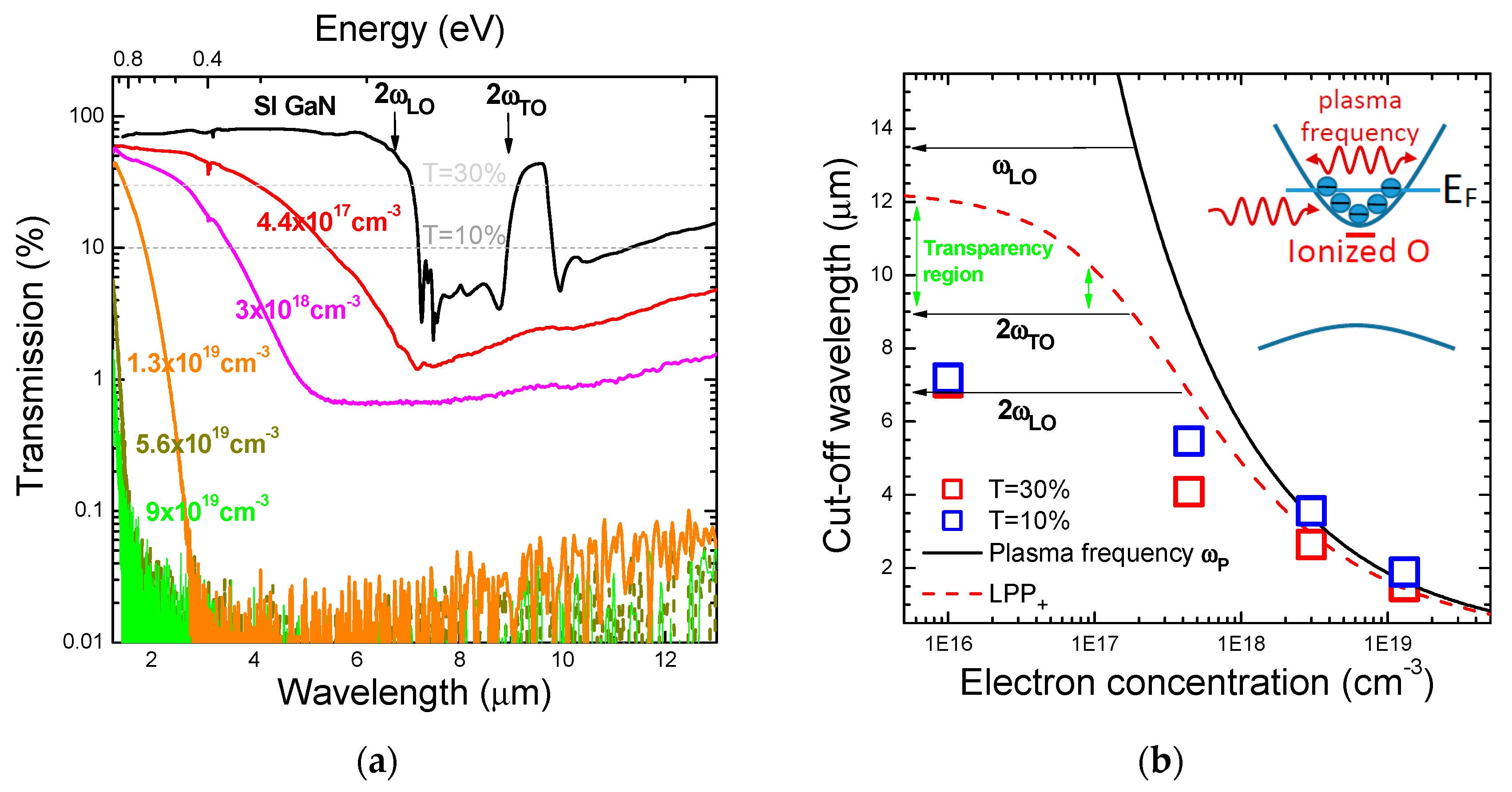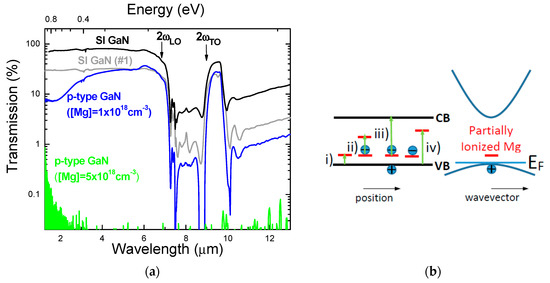 Figure 4. (a) Transmission spectra of p-type GaN of various hole concentrations (color lines) together with transmission spectra of SI GaN (black and grey lines) measured at room temperature in the near- and mid-infrared spectral region. (b) The sketch of light absorption in p-type GaN which is associated with dopants.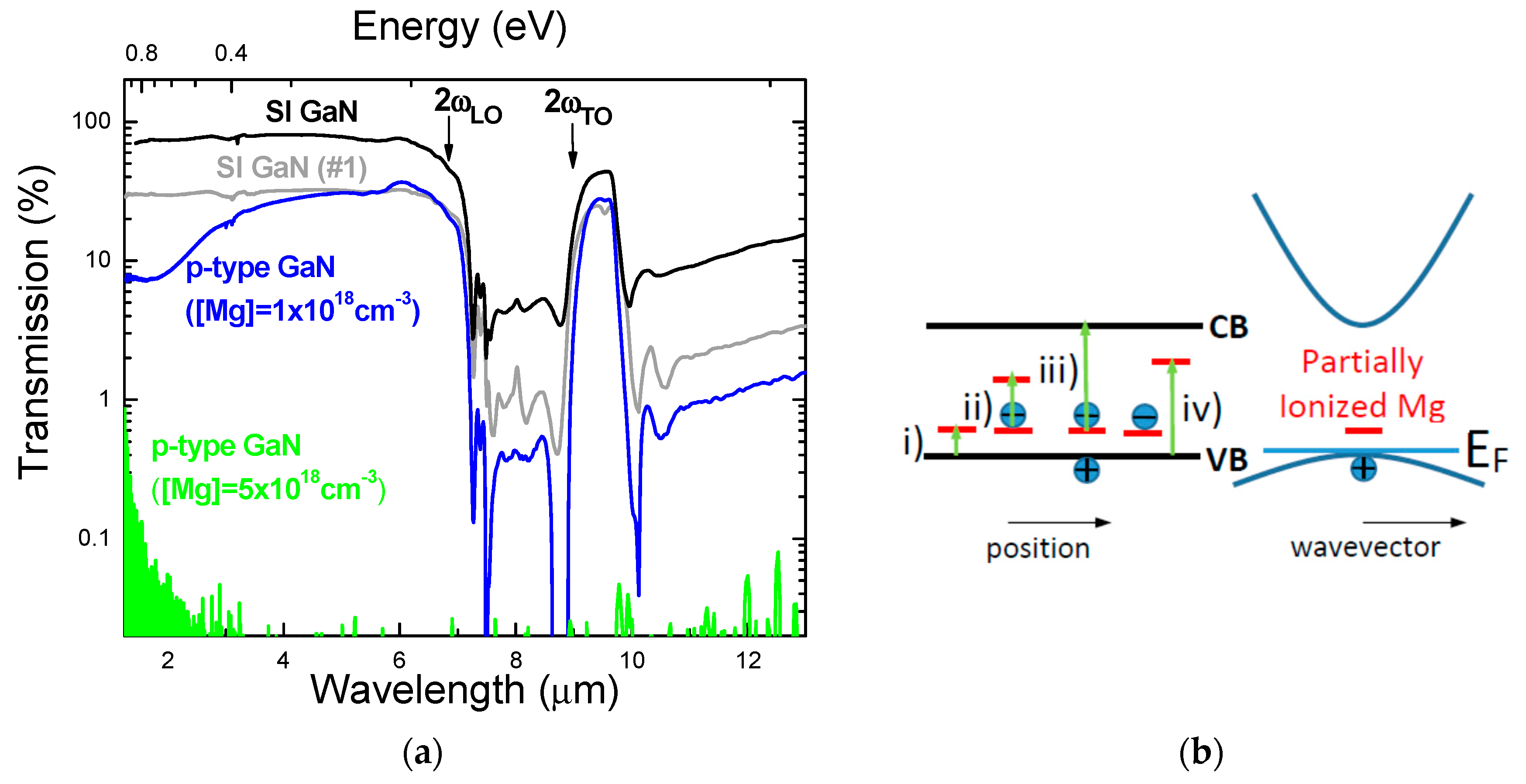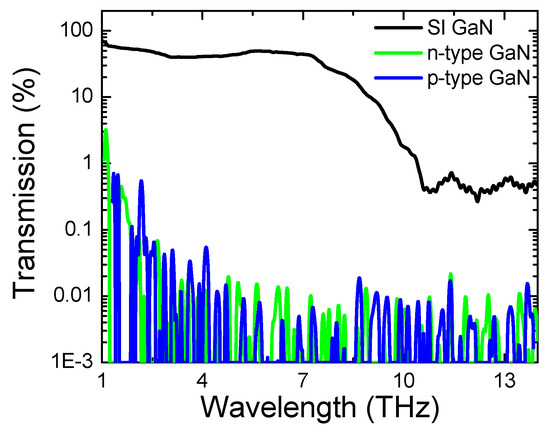 Figure 5. Transmission spectra of SI (black line), n-type (green line), and p-type (blue line) GaN substrates measured at room temperature in the THz spectral range.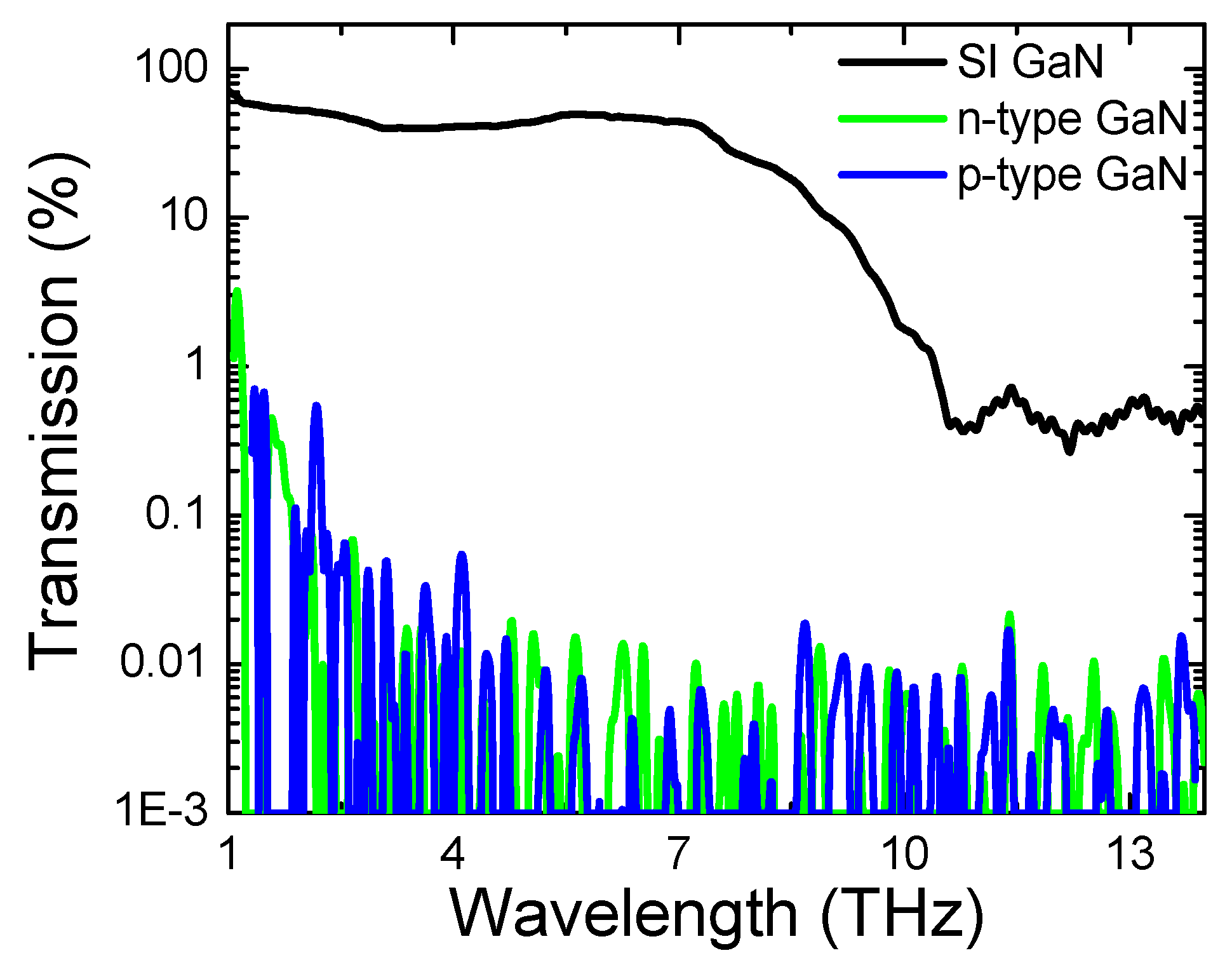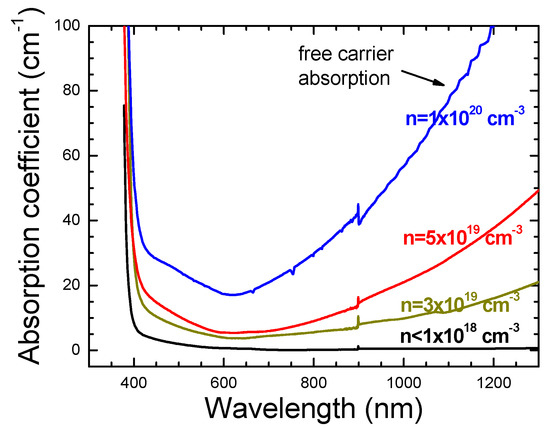 Figure 6. The absorption coefficient determined in the visible and near-infrared spectral region for n-type GaN substrates dedicated for light emitters.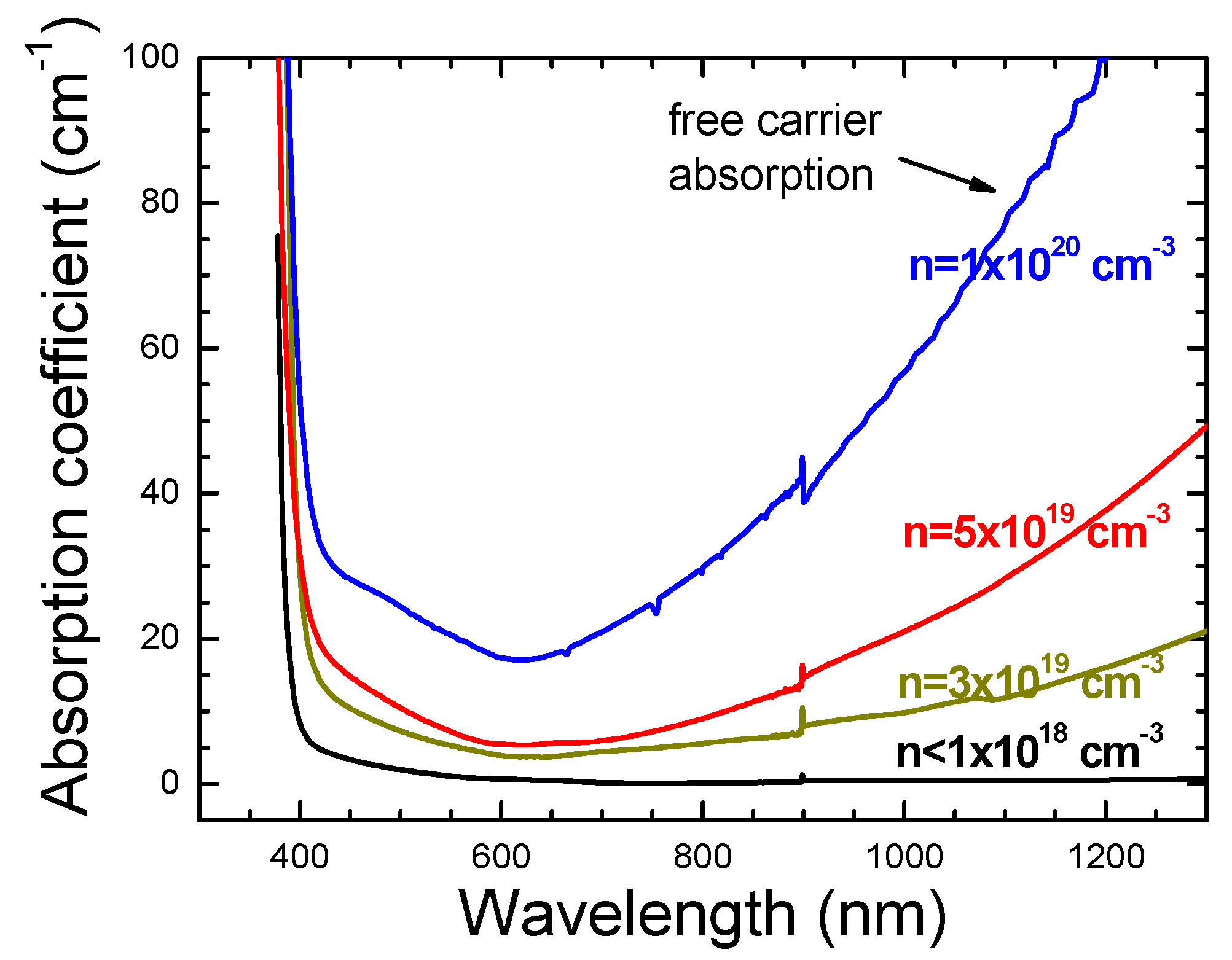 © 2017 by the authors. Licensee MDPI, Basel, Switzerland. This article is an open access article distributed under the terms and conditions of the Creative Commons Attribution (CC BY) license (http://creativecommons.org/licenses/by/4.0/).