Molecular Structure, Spectroscopic and DFT Computational Studies of Arylidene-1,3-dimethylpyrimidine-2,4,6(1
H

,3

H

,5

H

)-trione

1

Department of Chemistry, College of Science, King Saud University, P.O. Box 2455, Riyadh 11451, Saudi Arabia

2

Department of Chemistry, Rabigh College of Science and Art, P.O. Box 344, Rabigh 21911, Saudi Arabia

3

Department of Chemistry, Faculty of Science, Alexandria University, P.O. Box 426, Ibrahimia, Alexandria 21321, Egypt

4

Department of Pharmaceutical Chemistry, College of Pharmacy, King Saud University, P.O. Box 2457, Riyadh 11451, Saudi Arabia

5

Department of Medicinal Chemistry, Faculty of Pharmacy, Mansoura University, Mansoura 35516, Egypt

*

Authors to whom correspondence should be addressed.

Academic Editor: Helmut Cölfen

Received: 4 July 2016 / Revised: 1 September 2016 / Accepted: 5 September 2016 / Published: 8 September 2016
Abstract
Reaction of barbituric acid derivatives and di-substituted benzaldehyde in water afforded arylidene-1,3-dimethylpyrimidine-2,4,6(1
H
,3
H
,5
H
)-trione derivatives (
1
and
2
). The one step reaction proceeded efficiently, smoothly, and in excellent yield. The arylidene compounds were characterized by spectrophotometric tools plus X-ray single crystal diffraction technique. Quantum chemical calculations were performed using the DFT/B3LYP method to optimize the structure of the two isomers (
1
and
2
) in the gas phase. The optimized structures were found to agree well with the experimental X-ray structure data. The highest occupied (HOMO) and lowest unoccupied (LUMO) frontier molecular orbitals analyses were performed and the atomic charges were calculated using natural populationanalysis.
View Full-Text
►

▼

Figures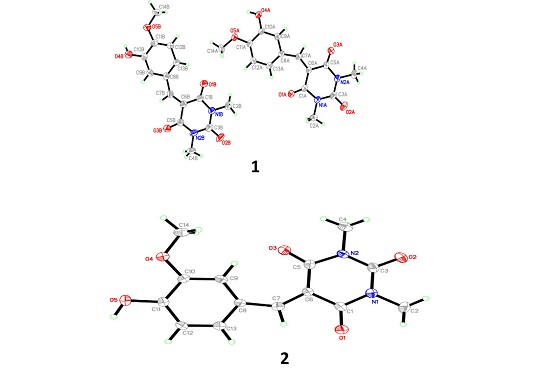 Graphical abstract
This is an open access article distributed under the
Creative Commons Attribution License
which permits unrestricted use, distribution, and reproduction in any medium, provided the original work is properly cited (CC BY 4.0).

Share & Cite This Article
MDPI and ACS Style
Barakat, A.; Soliman, S.M.; Ghabbour, H.A.; Ali, M.; Al-Majid, A.M.; Shahidul Islam, M.; Ghfar, A.A. Molecular Structure, Spectroscopic and DFT Computational Studies of Arylidene-1,3-dimethylpyrimidine-2,4,6(1H,3H,5H)-trione. Crystals 2016, 6, 110.
Note that from the first issue of 2016, MDPI journals use article numbers instead of page numbers. See further details here.
Related Articles
Comments
[Return to top]