Open Access This article is
freely available
re-usable
Article
Pb(Er1/2Nb1/2)O3–Pb(Zn1/3Nb2/3)O3–PbTiO3 Single Crystals with High Curie Temperature
Shaanxi Key Laboratory of Photoelectric Functional Materials and Devices, School of materials and Chemical Engineering, Xi'an Technological University, Xi'an 710021, China
*
Author to whom correspondence should be addressed.
Received: 27 December 2019 / Accepted: 3 January 2020 / Published: 5 January 2020
Abstract
:
In this work, 0.15Pb(Er
1/2
Nb
1/2
)O
3
–0.63Pb(Zn
1/3
Nb
2/3
)O
3
–0.22PbTiO
3
(15PEN–63PZN–22PT) single crystals with a pure perovskite structure are obtained through the flux method. The phase structure, dielectric, ferroelectric properties and upconversion photoluminescence of the crystals are studied. The ternary crystals along the [110] orientation have a high Curie temperature (T
c
= 250 °C) and large coercive field (
E
c
= 11.0597 kV/cm) which are higher than those of crystals reported previously. Furthermore, the PEN–PZN–PT crystals are produced with a strong green light excited by a 980 nm laser. Being in the range 298–478 K, the emission intensity of all peaks decreases with increase in temperature. The absolute quantum yield (QY) for the crystals is 0.00059%. These excellent properties provide new possibilities for multifunctional materials of optoelectronic devices.
Keywords:
PEN–PZN–PT; perovskite; high Curie temperature; upconversion luminescence
1. Introduction
In recent years, due to their remarkable piezoelectricity and dielectricity, relaxor ferroelectric materials have been widely investigated [
1
,
2
,
3
,
4
,
5
]. Pb(Zn
1/3
Nb
2/3
)O
3
–
x
PbTiO
3
(PZN–
x
PT) ferroelectric crystals with a composition near the morphotropic phase boundary (MPB) show a prominent piezoelectricity of
d
33
= 2000–2500 pC/N and electromechanical coupling factors of
k
33
= 90%–92% [
6
,
7
,
8
,
9
]. These remarkable electric performances make PZN–9PT single crystals a promising candidate for electromechanical devices, including underwater sonar, sensors, and medical imaging, etc. [
10
,
11
].
However, the Curie temperature (
T
c
~170 °C) and coercive field (
E
c
~3.5 kV/cm) of PZN-9PT single crystals are relatively low [
12
,
13
,
14
]. All of these shortcomings make PZN-PT unsuitable for high-power applications and high temperature working environments.
Lately, to meet the needs of high power and high temperature application, the coercive field and the Curie temperature of PZN–PT-based crystals have been increased to some extent by forming ternary solid solution systems such as Pb(Ni
1/3
Nb
2/3
)O
3
–Pb(Zn
1/3
Nb
2/3
)O
3
–PbTiO
3
(PNN–PZN–PT) [
15
,
16
], Pb(In
1/2
Nb
1
/2
)O
3
–Pb(Zn
1/3
Nb
2/3
)O
3
–PbTiO
3
(PIN–PZN–PT) [
17
], Pb(Lu
1/2
Nb
1
/2
)O
3
-Pb(Zn
1/3
Nb
2/3
)O
3
–PbTiO
3
(PLN–PZN–PT) [
18
], and Pb(Yb
1/2
Nb
1/2
)O
3
–Pb(Zn
1/3
Nb
2/3
)O
3
–PbTiO
3
(PYN–PZN–PT) [
19
]. A. Salak prepared Pb(Er
1/2
Nb
1/2
)O
3
(PEN) ceramics with a perovskite structure under high temperature and high pressure condition without precedent [
20
]. The ceramics display an antiferroelectric phase at room temperature which transforms into a paraelectric phase when the temperature rises to about 347 °C [
20
]. PZN–PT together with PEN can form a ternary solid solution which contributes a lot to the increase in the coercive field and Curie temperature of the crystals. Furthermore, PEN can achieve upconversion luminescence. Hence, PZN–PT modified by PEN may have potential application in optical-electrical devices.
In this paper we incorporate PEN into PZN–PT single crystals to form a new system. It is anticipated that the new material possesses a high coercive field and Curie temperature, as well as good electric and optical properties. Firstly, we design the components of PEN–PZN–PT crystals using linear rules and grow PEN–PZN–PT single crystals using the flux technique. Secondly, we investigate the structure and electric (dielectric and ferroelectric) and optical (optical absorption, upconversion (UC) luminescence, and absolute quantum yield (QY) properties of PEN–PZN–PT crystals.
2. Experiments
The composition of 15PEN–63PZN–22PT crystals is determined by the linear rule, with the linear rule being that in a ternary system, the two components near the MPBs in PZN–9PT and PEN–50PT are connected by a straight line, and most compositions on a straight line have an MPB structure [
21
]. The crystals were obtained by the traditional flux method. In order to eliminate the pyrochlore phase and thereby increase the yield of perovskite, the precursors ZnNb
2
O
6
(ZN) and ErNbO
4
(EN) were pre-synthesized at 1050 °C for 6 h and 1150 °C for 10 h, respectively [
22
]. The raw materials ZN, EN, PbO, and TiO
2
powder, with a PbO excess of 70 wt.%, were wet-milled with ethanol for 10 h. After drying, the mixed raw material was first loaded into a platinum crucible and then the filled platinum crucible was placed in a corundum (Al
2
O
3
) crucible. Following this, the gap between the two crucibles was filled with alumina powder. Then, the corundum crucible was put into an ultrahigh temperature furnace and the crystals were grown according to the preset processes. After the crystal growth was completed, the platinum crucible was boiled in dilute nitric acid at a concentration of 50% and the crystals were separated.
Ground crystal powder and crystal wafers with polished parallel surfaces were prepared. The phase structure of the crystals was measured using an X-ray diffractometer (XRD-6000, Tokyo, Japan) with Cu target Kα (
λ
= 1154 nm). Micro morphology of the crystals was performed using a scanning electron microscope (SEM, Quanta 400F, FEI, Holland) and an energy dispersive system (EDS) spectrum was used to measure the elemental homogeneity of the crystals. The silver paste was spread evenly on the surface of the crystals and fired at 550 °C for 40 min to obtain electrodes. The dielectric constant behavior was tested using an E4980/GJW-I system (Agilent E4980A, Agilent, NM, USA) equipped with a temperature control system from 25 °C to 400 °C. Polarization–electric field hysteresis loops of the crystals were performed using a ferroelectric testing system (Radiant Precision Premier Ⅱ, Radiant Technologies, Inc. Albuquerque, NM, USA) at room temperature. To realize the luminescence characteristics of the sample, the UC photoluminescence and absolute quantum yield of the crystal powder were explored through photoluminescence spectrometry (FLS980, Edinburgh, UK).
3. Results and Discussion
4. Conclusions
In this work, PEN–PZN–PT crystals with a pure perovskite structure were first obtained using the high-temperature flux method. The electric properties of the crystals have been greatly improved. The Curie temperature
T
c
increased from 170 °C for the PZN–9PT crystals to 250 °C for the PEN–PZN–PT crystals. The coercive field
E
c
of the PEN–PZN–PT crystals reached 33.92 kV/cm, which is about nine times higher than that of the PZN-9PT system. Furthermore, PEN–PZN–PT crystals produce a UC with a strong green light when excited by a 980 nm laser. The luminescence intensity of all the emission peaks decreased across an increasing temperatures range of 298 to 478 K. In addition, the absolute QY for the crystals was found to be 0.00059%. The results make PEN–PZN–PT crystals a potential candidate for optoelectronic devices.
Author Contributions
Conceptualization, Z.X.; methodology, Y.C.; formal analysis, Y.C.; investigation, Y.C.; resources, Z.X.; writing—original draft preparation, Y.C.; writing—review and editing, Z.X.; F.G.; P.F.; X.L.; W.L.; A.H.; Q.Z.; supervision, Z.X. All authors have read and agreed to the published version of the manuscript.
Funding
This work was supported by the National Natural Science Foundation of China (Grant Nos. 51772235 and 11704249) the Shaanxi Key Laboratory Fundament Research Foundation (14JK1333) and the Shaanxi Key Laboratory of Optoelectronic Functional Materials and Devices (Grant No. 2015SZSJ-59-5).
Conflicts of Interest
The authors declare no conflict of interest.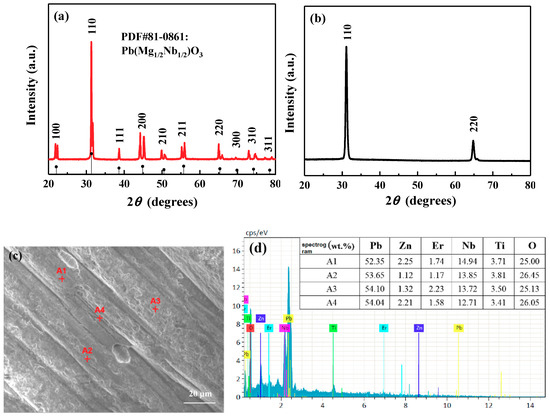 Figure 1. XRD profiles of (a) crystal powder and(b) [110]-oriented crystals. (c) An SEM image of the crystals. (d) An energy dispersive system (EDS) spectrum of crystals.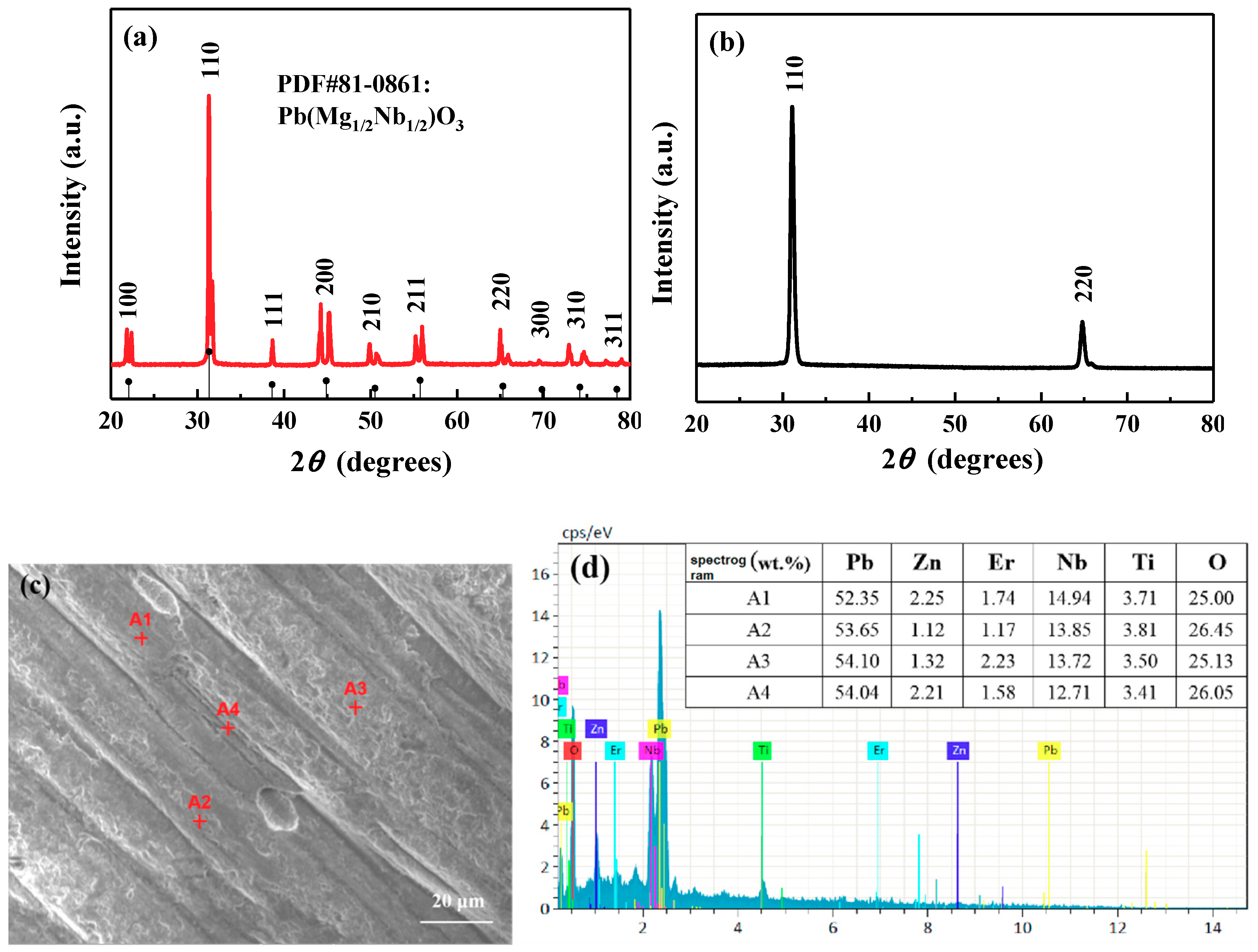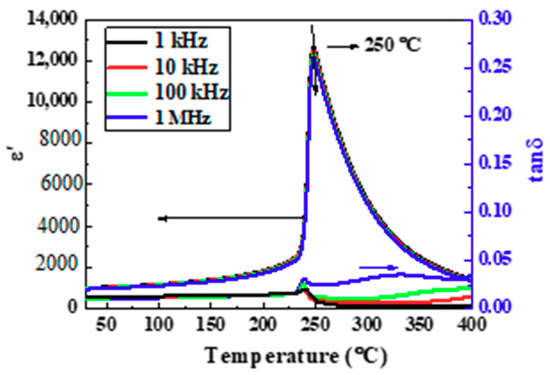 Figure 2.
The dependence of the dielectric constant (
ε
′) and dielectric loss (tan
δ
) on the temperature of [110] crystals at different frequencies (1 kHz to 1 MHz).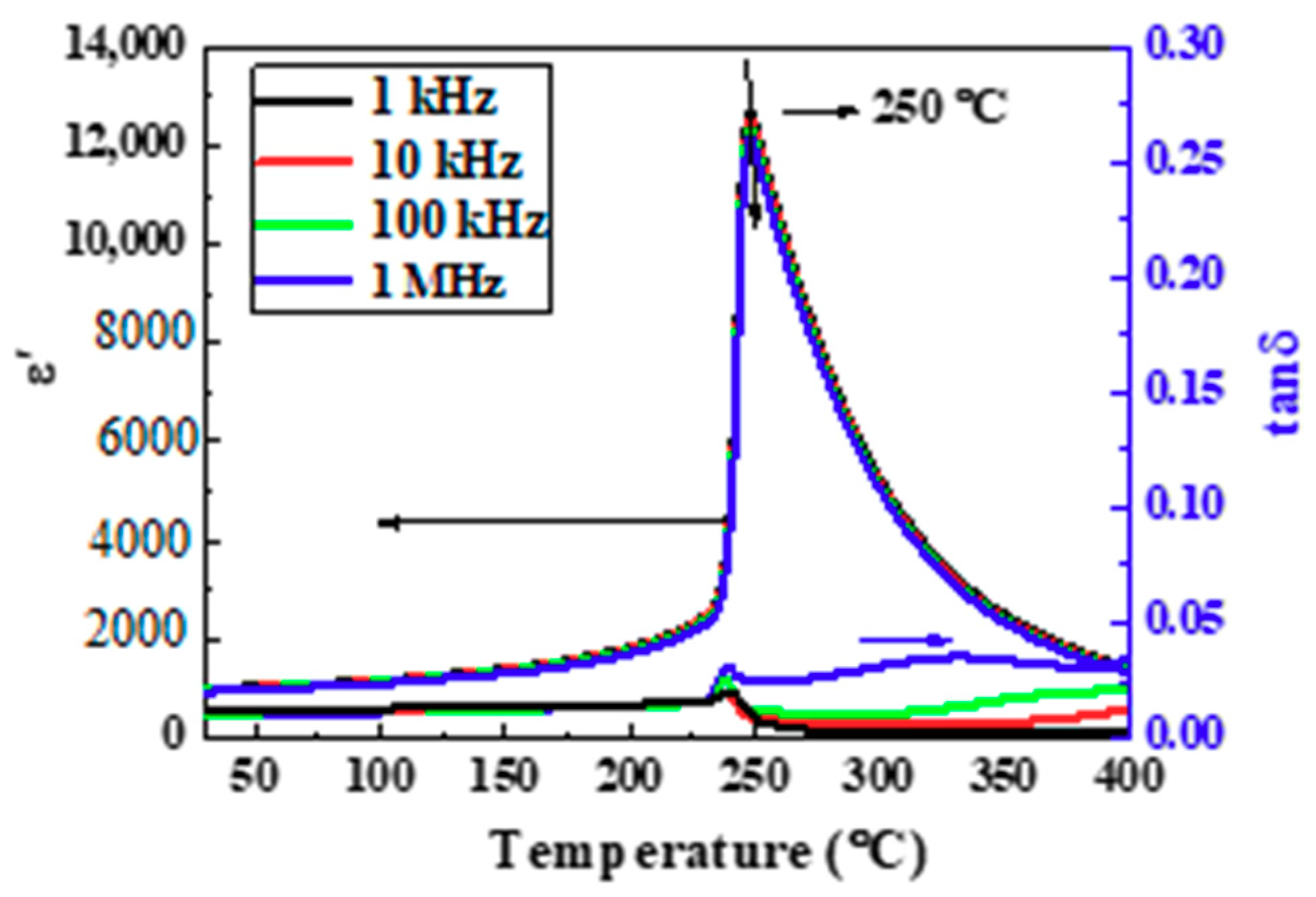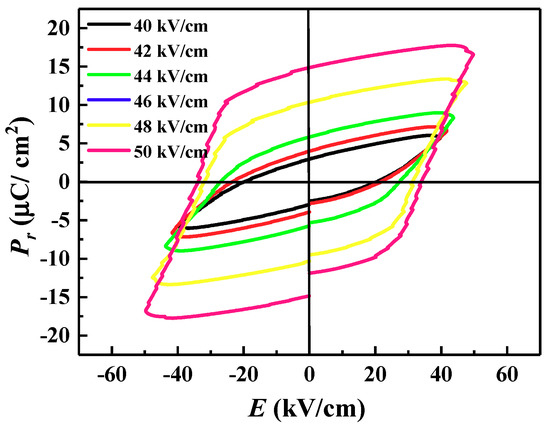 Figure 3.
Polarization-electric field (
P
-
E
) hysteresis loops for crystals under different electric fields at room temperature.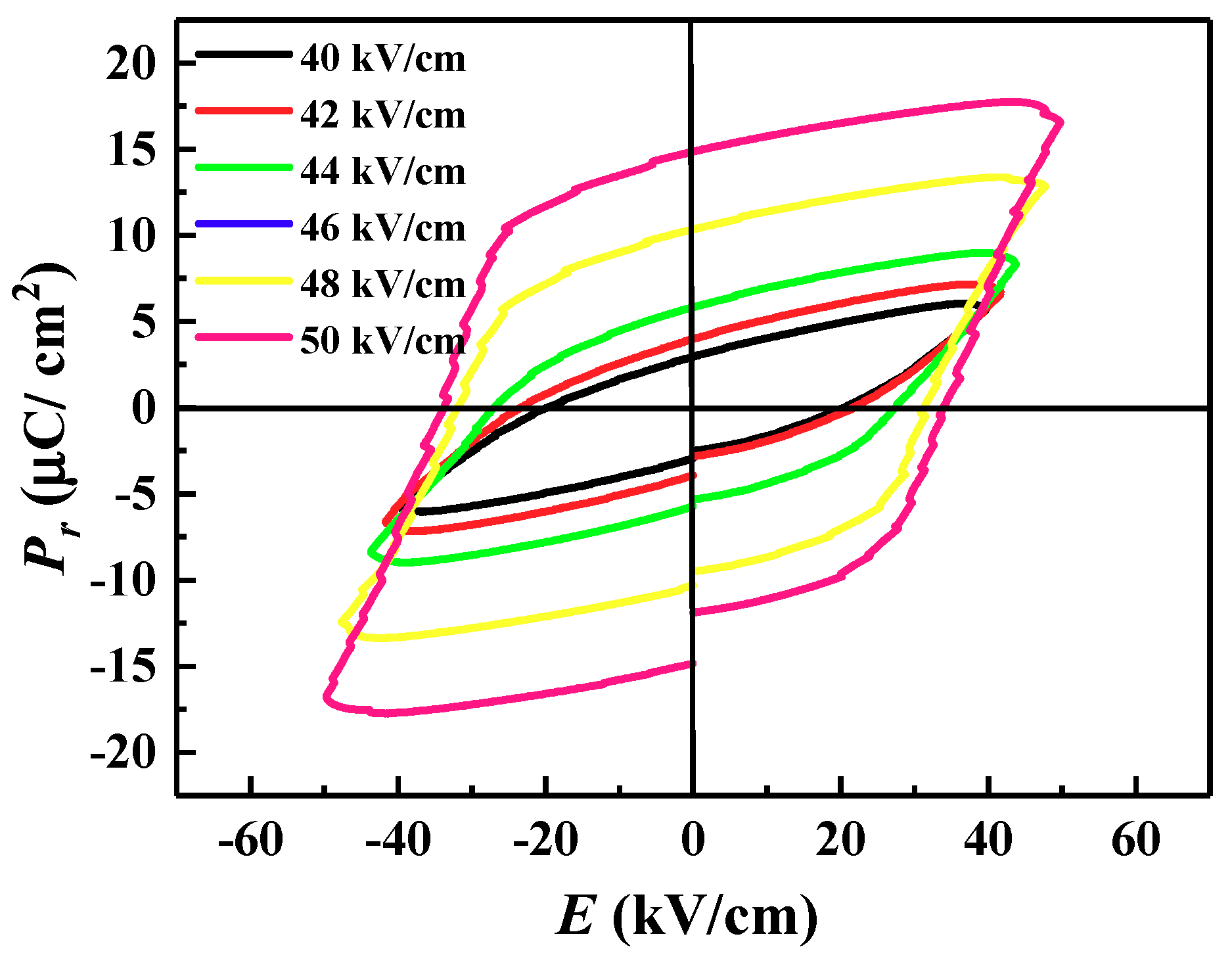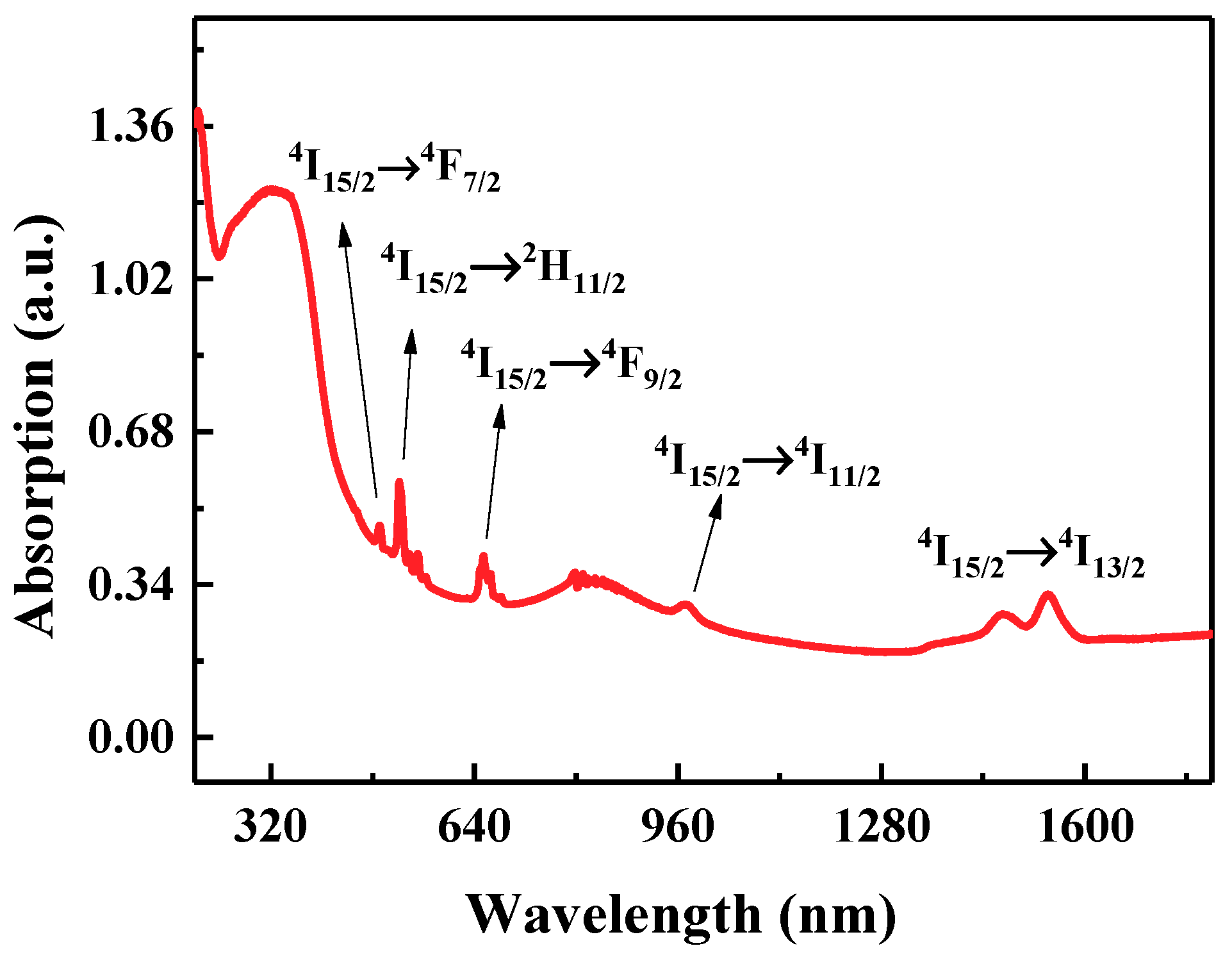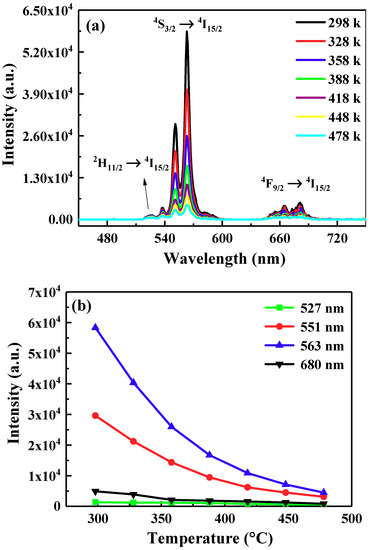 Figure 5.
(
a
) Upconversion photoluminescence (UL PL) (
λ
ex
= 980 nm) spectra of the crystals at different temperatures. (
b
) The dependence of luminescence intensity on temperature located at different wavelengths.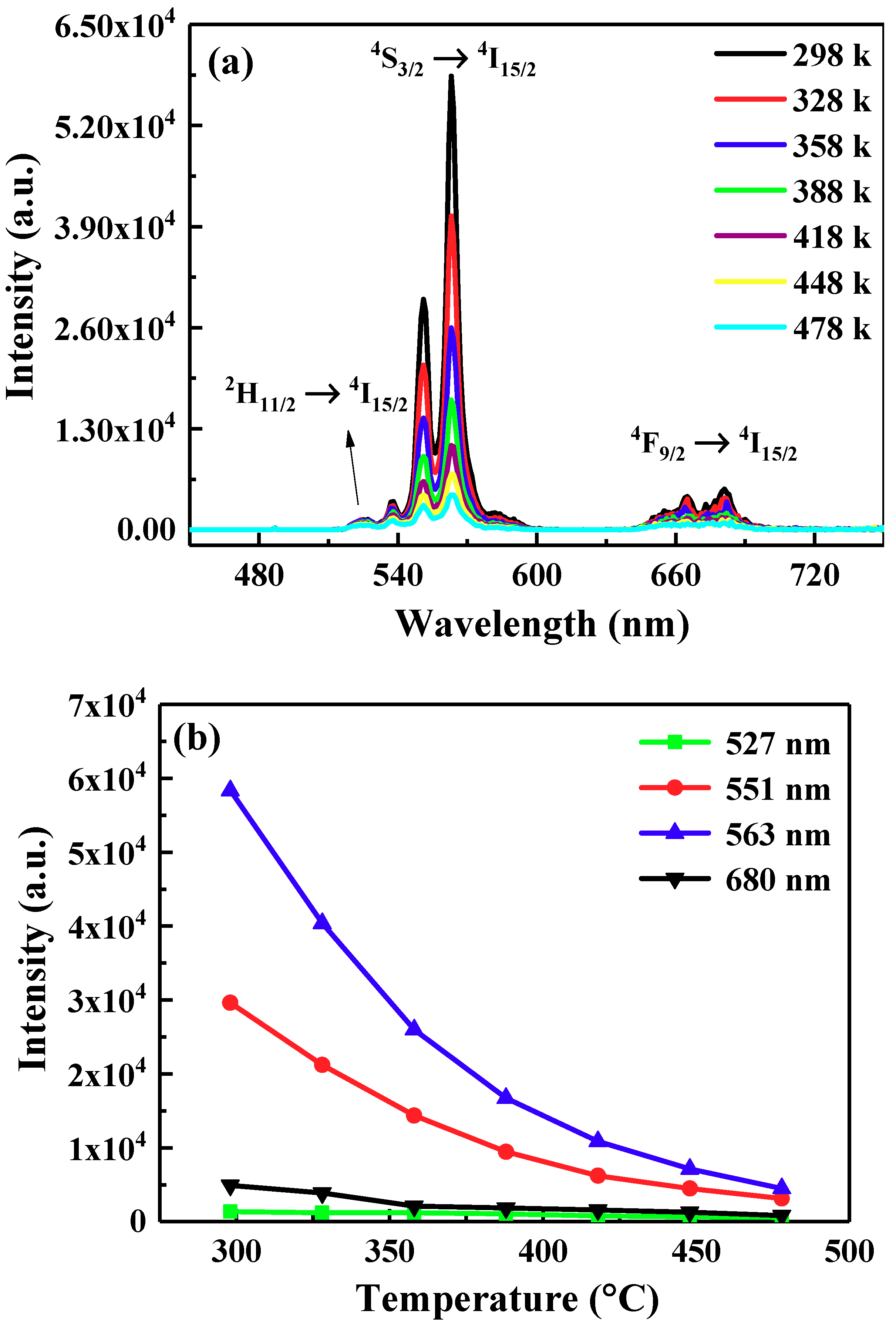 Figure 6. (a) The quantum yield (QY) emission spectra of the crystals under 980 nm excitation. (b) The QY scatter spectra of the crystals under 980 nm excitation.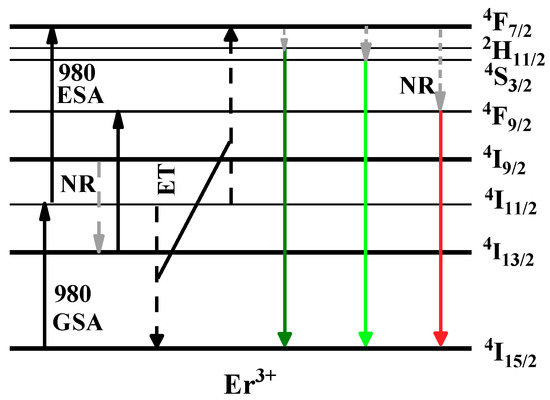 Figure 7. Energy level diagram of the crystals and possible luminescence mechanism under 980 nm excitation. Legend: ESA, excited state absorption; ET, energy transfer; GSA, ground state absorption; NR, non-radiative.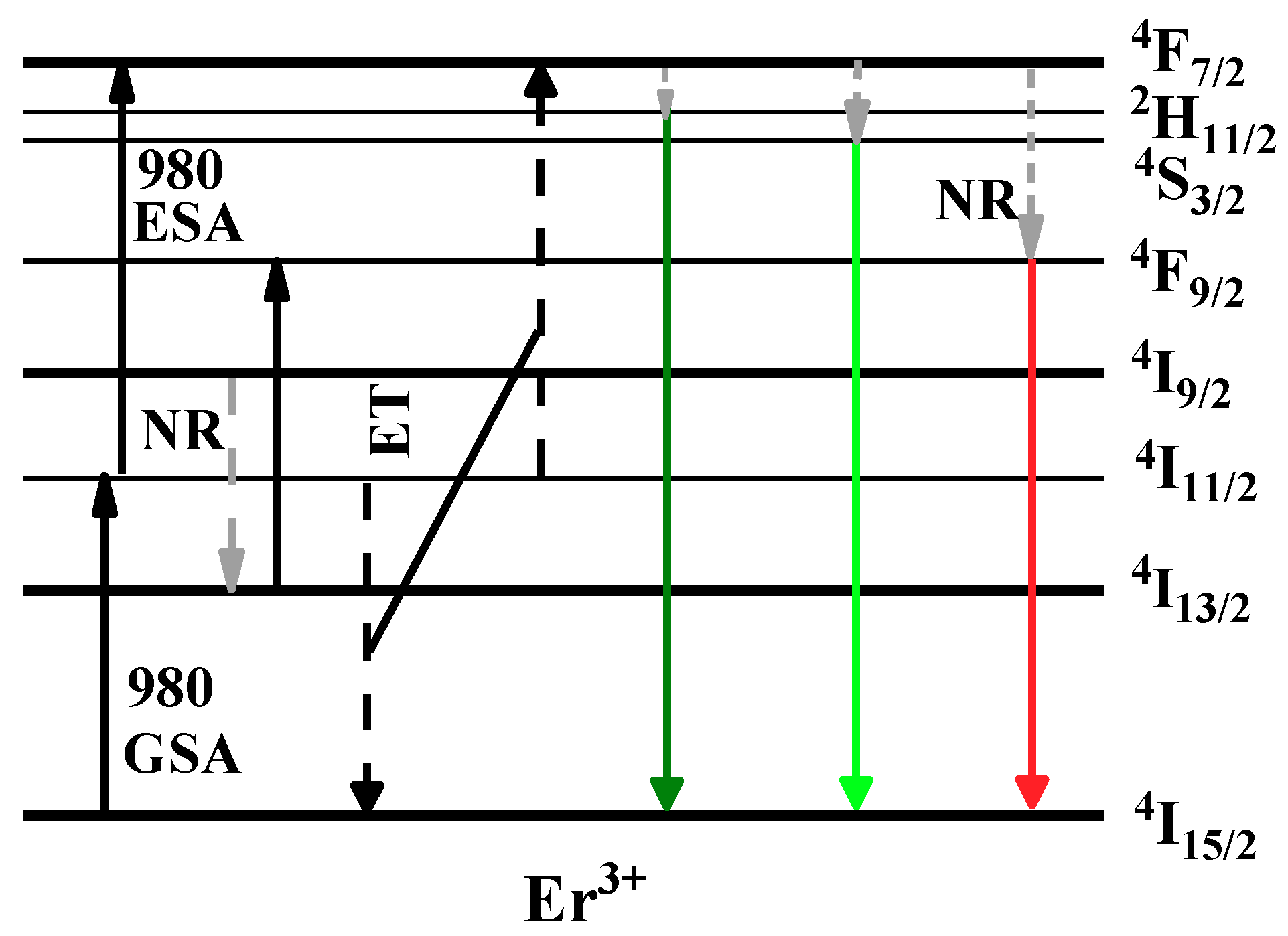 © 2020 by the authors. Licensee MDPI, Basel, Switzerland. This article is an open access article distributed under the terms and conditions of the Creative Commons Attribution (CC BY) license (http://creativecommons.org/licenses/by/4.0/).