Effect of Organic Assistant on the Performance of Ceria-Based Catalysts for the Selective Catalytic Reduction of NO with Ammonia
Beijing Key Laboratory for Green Catalysis and Separation, Key Laboratory of Beijing on Regional Air Pollution Control, Department of Chemistry and Chemical Engineering, College of Environmental and Energy Engineering, Beijing University of Technology, Beijing 100124, China
*
Authors to whom correspondence should be addressed.
†
The first two authors contributed equally to this work and are joint first authors.
Received: 27 February 2019 / Revised: 3 April 2019 / Accepted: 8 April 2019 / Published: 12 April 2019
Abstract
In the present study, a series of CeO
2
/TiO
2
catalysts were fabricated by dry ball milling method in the absence and presence of organic assistants, and their catalytic performances for the selective catalytic reduction (SCR) of NO by NH
3
were investigated. It was found that the addition of organic assistants in the ball milling process and the calcining ambience exerted a significant influence on the catalytic performances of CeO
2
/TiO
2
catalysts. The nitrogen sorption isotherm measurement (BET), powder X-ray diffraction (XRD), Raman spectra, high-resolution transmission electron microscopy (HR-TEM), hydrogen temperature-programmed reduction (H
2
-TPR), ammonia temperature-programmed desorption (NH
3
-TPD), sulfur dioxide temperature-programmed desorption (SO
2
-TPD), thermogravimetric analysis (TG), Fourier transform infrared (FT-IR) and X-ray photoelectron spectra (XPS) characterizations showed that the introduction of citric acid in the ball milling process could significantly change the decomposition process of the precursor mixture, which can lead to improved dispersion and reducibility of cerium species, surface acidity as well as the surface microstructure, all which were responsible for the high low temperature activity of CeTi-C-N in an NH
3
-SCR reaction. In contrast, the addition of sucrose in the milling process showed an inhibitory effect on the catalytic performance of CeO
2
/TiO
2
catalyst in an NH
3
-SCR reaction, possibly due to the decrease of the crystallinity of the TiO
2
support and the carbon residue covering the active sites.
View Full-Text
►

▼

Figures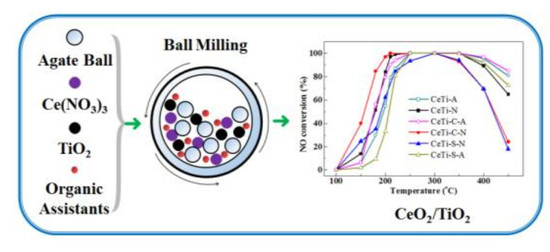 Graphical abstract
This is an open access article distributed under the
Creative Commons Attribution License
which permits unrestricted use, distribution, and reproduction in any medium, provided the original work is properly cited (CC BY 4.0).

Share & Cite This Article
MDPI and ACS Style
Huang, X.; Li, S.; Qiu, W.; Chen, Y.; Cheng, J.; Sun, Y.; Bai, G.; Song, L.; Zhang, G.; He, H. Effect of Organic Assistant on the Performance of Ceria-Based Catalysts for the Selective Catalytic Reduction of NO with Ammonia. Catalysts 2019, 9, 357.
Note that from the first issue of 2016, MDPI journals use article numbers instead of page numbers. See further details here.
Related Articles
Comments
[Return to top]