Appraisal of Sulphonation Processes to Synthesize Palm Waste Biochar Catalysts for the Esterification of Palm Fatty Acid Distillate
1
Institute of Advanced Technology, Universiti Putra Malaysia, 43400 UPM Serdang, Selangor, Malaysia
2
Department of Chemical and Environmental Engineering, Faculty of Engineering, Universiti Putra Malaysia, 43300 UPM Serdang, Selangor, Malaysia
3
Catalysis Science and Technology Research Centre, Faculty of Science, Universiti Putra Malaysia, 43400 UPM Serdang, Selangor, Malaysia
*
Author to whom correspondence should be addressed.
Received: 27 December 2018 / Revised: 24 January 2019 / Accepted: 24 January 2019 / Published: 15 February 2019
Abstract
Palm waste biochar (PWB) catalysts were synthesized as bio-based catalysts using different sulphonation methods. (NH
4
)
2
SO
4
, ClSO
3
H, and H
2
SO
4
were applied to functionalize PWB and appraise the discrepancies between the sulfonic agents, as they affect the esterification reaction in terms of fatty acid methyl ester (FAME) yield and conversion while using palm fatty acid distillate (PFAD) as feedstock. The PWB was first soaked in phosphoric acid (H
3
PO
4
) for 24 h and then pyrolized at 400 °C for 2 h in tube furnace. Afterwards, sulphonation was done with different sulfonic agents and characterized with thermo-gravimetric analysis (TGA), Brunauer-Emmett-Teller (BET), Fourier transform infrared (FT-IR), X-ray diffraction (XRD), field emission scanning electron microscopy (FESEM), energy-dispersive X-ray (EDX), and temperature programmed desorption–ammonia (TPD-NH
3
). The three synthesized catalysts showed high free fatty acid (FFA) conversions of 90.1% for palm waste biochar-ammonium sulfate (PWB-(NH
4
)
2
SO
4
), 91.5% for palm waste biochar-chlorosulfonic acid (PWB-ClSO
3
H), and 97.4% for palm waste biochar - sulphuric acid (PWB-H
2
SO
4
), whereas FAME yields were 88.6% (PWB-(NH
4
)
2
SO
4
), 89.1% (PWB-ClSO
3
H), and 96.1% (PWB-H
2
SO
4
). It was observed that PWB-H
2
SO
4
has the best catalytic activity, which was directly linked to its high acid density (11.35 mmol/g), improved pore diameter (6.25 nm), and increased specific surface area (372.01 m
2
g
−1
). PWB-H
2
SO
4
was used for the reusability study, where it underwent eight reaction runs and was stable until the seventh run. PWB-H
2
SO
4
has shown huge promise for biodiesel synthesis, owing to its easy synthetic process, recyclability, and high catalytic activity for waste oils and fats.
View Full-Text
►

▼

Figures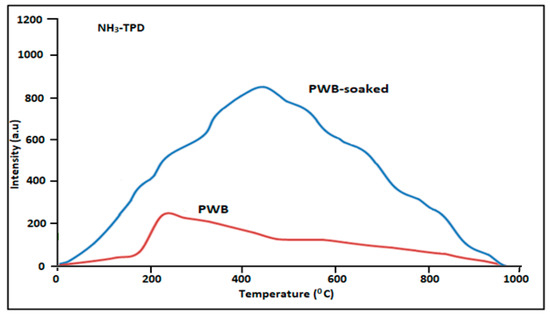 Figure 1
This is an open access article distributed under the
Creative Commons Attribution License
which permits unrestricted use, distribution, and reproduction in any medium, provided the original work is properly cited (CC BY 4.0).

Share & Cite This Article
MDPI and ACS Style
Akinfalabi, S.-I.; Rashid, U.; Yunus, R.; Taufiq-Yap, Y.H. Appraisal of Sulphonation Processes to Synthesize Palm Waste Biochar Catalysts for the Esterification of Palm Fatty Acid Distillate. Catalysts 2019, 9, 184.
Note that from the first issue of 2016, MDPI journals use article numbers instead of page numbers. See further details here.
Related Articles
Comments
[Return to top]