Palanquin-Like Cu4Na4 Silsesquioxane Synthesis (via Oxidation of 1,1-bis(Diphenylphosphino)methane), Structure and Catalytic Activity in Alkane or Alcohol Oxidation with Peroxides
1
Nesmeyanov Institute of Organoelement Compounds, Russian Academy of Sciences, ul. Vavilova, 28, Moscow 119991, Russia
2
People's Friendship University of Russia, ul. Miklukho-Maklaya, dom 6, Moscow 117198, Russia
3
National Research Center "Kurchatov Institute", pl. Akad. Kurchatova, dom 1, Moscow 123182, Russia
4
Boreskov Institute of Catalysis SB RAS, prosp. Akad. Lavrentieva, dom 5, Novosibirsk 630090, Russia
5
Semenov Institute of Chemical Physics, Russian Academy of Sciences, ul. Kosygina, dom 4, Moscow 119991, Russia
6
Chair of Chemistry and Physics, Plekhanov Russian University of Economics, Stremyannyi pereulok, dom 36, Moscow 117997, Russia
*
Authors to whom correspondence should be addressed.
Received: 26 December 2018 / Revised: 10 January 2019 / Accepted: 16 January 2019 / Published: 4 February 2019
Full-Text
|
PDF
[3473 KB, uploaded 4 February 2019]
|
|

Review Reports
Abstract
The self-assembly synthesis of copper-sodium phenylsilsesquioxane in the presence of 1,1-bis(diphenylphosphino)methane (dppm) results in an unprecedented cage-like product: [(PhSiO
1,5
)
6
]
2
[CuO]
4
[NaO
0.5
]
4
[dppmO
2
]
2
1
. The most intriguing feature of the complex
1
is the presence of two oxidized dppm species that act as additional O-ligands for sodium ions. Two cyclic phenylsiloxanolate (PhSiO
1,5
)
6
ligands coordinate in a sandwich manner with the copper(II)-containing layer of the cage. The structure of
1
was established by X-ray diffraction analysis. Complex
1
was shown to be a very good catalyst in the oxidation of alkanes and alcohols with hydrogen peroxide or
tert
-butyl hydroperoxide in acetonitrile solution. Thus, cyclohexane (CyH), was transformed into cyclohexyl hydroperoxide (CyOOH), which could be easily reduced by PPh
3
to afford stable cyclohexanol with a yield of 26% (turnover number (TON) = 240) based on the starting cyclohexane. 1-Phenylethanol was oxidized by
tert
-butyl hydroperoxide to give acetophenone in an almost quantitative yield. The selectivity parameters of the oxidation of normal and branched alkanes led to the conclusion that the peroxides H
2
O
2
and
tert
-BuOOH, under the action of compound (
1
), decompose to generate the radicals HO
•
and
tert
-BuO
•
which attack the C-H bonds of the substrate.
View Full-Text
►

▼

Figures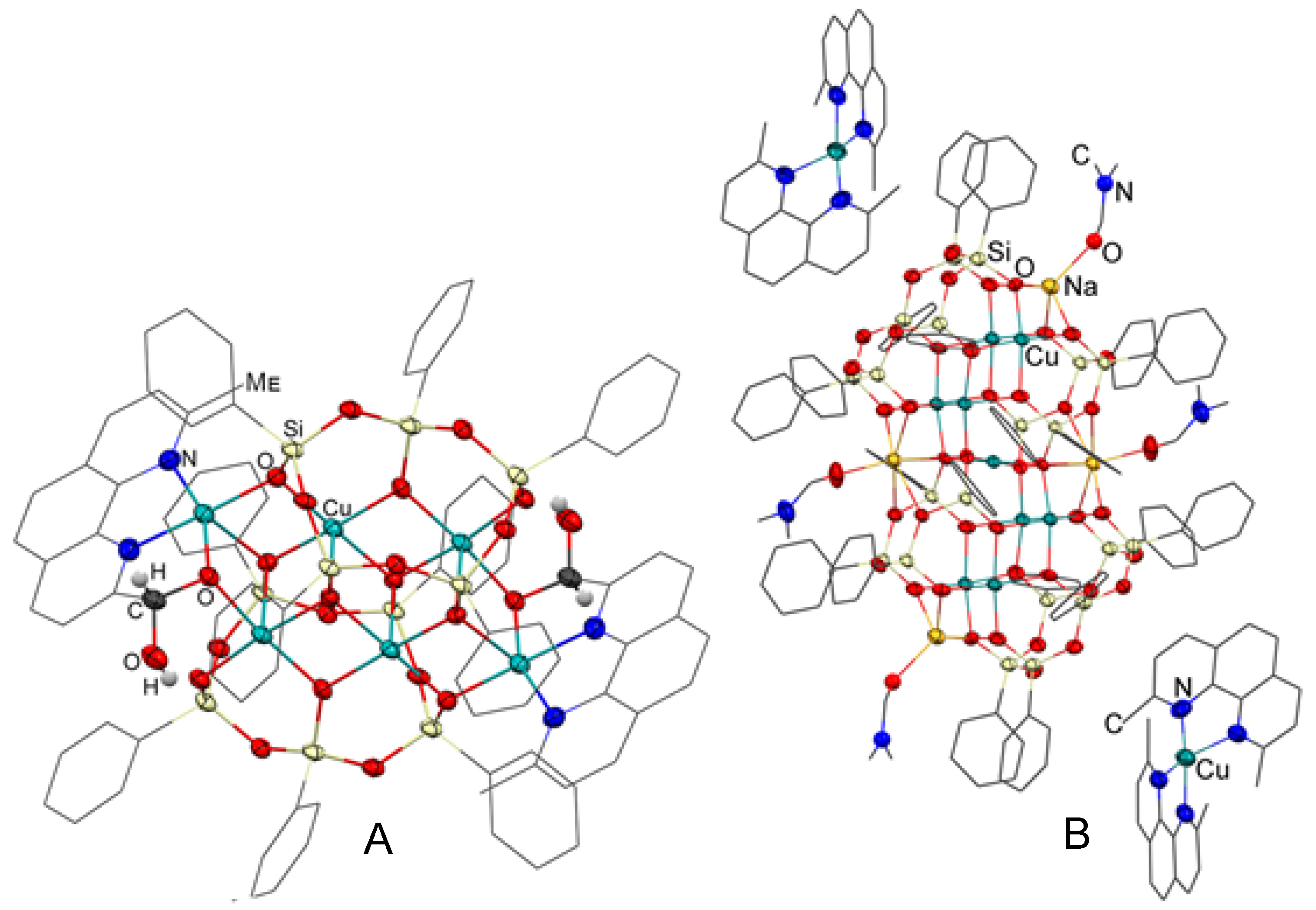 Figure 1
This is an open access article distributed under the
Creative Commons Attribution License
which permits unrestricted use, distribution, and reproduction in any medium, provided the original work is properly cited (CC BY 4.0).

Share & Cite This Article
MDPI and ACS Style
Kulakova, A.N.; Khrustalev, V.N.; Zubavichus, Y.V.; Shul'pina, L.S.; Shubina, E.S.; Levitsky, M.M.; Ikonnikov, N.S.; Bilyachenko, A.N.; Kozlov, Y.N.; Shul'pin, G.B. Palanquin-Like Cu4Na4 Silsesquioxane Synthesis (via Oxidation of 1,1-bis(Diphenylphosphino)methane), Structure and Catalytic Activity in Alkane or Alcohol Oxidation with Peroxides. Catalysts 2019, 9, 154.
Note that from the first issue of 2016, MDPI journals use article numbers instead of page numbers. See further details here.
Related Articles
Comments
[Return to top]