Enhancement Photocatalytic Activity of the Heterojunction of Two-Dimensional Hybrid Semiconductors ZnO/V2O5
1
Departamento de Química, Facultad de Ciencias Naturales, Universidad Tecnológica Metropolitana, Matemáticas y Medio Ambiente, P.O. Box 9845, Santiago, Chile
2
Programa Institucional de Fomento a la I+D+i, Universidad Tecnológica Metropolitana, Ignacio Valdivieso 2409, P.O. Box 8940577, San Joaquín, Santiago, Chile
3
Departamento de Química, Facultad de Ciencia, Universidad de Chile, P.O. Box 653, Santiago, Chile
4
Center for the Development of Nanoscience and Nanotechnology, CEDENNA, Av. Ecuador 3493, Santiago, Chile
5
Catalan Institute of Nanoscience and Nanotechnology (ICN2), CSIC and BIST, Campus UAB Bellaterra, 08193 Barcelona, Spain
6
ICREA, Pg. Lluís Companys 23, 08010 Barcelona, Spain
*
Authors to whom correspondence should be addressed.
Received: 30 July 2018 / Revised: 22 August 2018 / Accepted: 27 August 2018 / Published: 4 September 2018
Abstract
In this work, we report the fabrication of the new heterojunction of two 2D hybrid layered semiconductors—ZnO (stearic acid)/V
2
O
5
(hexadecylamine)—and its behavior in the degradation of aqueous methylene blue under visible light irradiation. The optimal photocatalyst efficiency, reached at a ZnO (stearic acid)/V
2
O
5
(hexadecylamine) ratio of 1:0.25, results in being six times higher than that of pristine zinc oxide. Reusability test shows that after three photocatalysis cycles, no significant changes in either the dye degradation efficiency loss, nor the photocatalyst structure, occur. Visible light photocatalytic performance observed indicates there is synergetic effect between both 2D nanocomposites used in the heterojunction. The visible light absorption enhancement promoted by the narrower bandgap V
2
O
5
based components; an increased photo generated charge separation favored by extensive interface area; and abundance of hydrophobic sites for dye adsorption appear as probable causes of the improved photocatalytic efficiency in this hybrid semiconductors heterojunction. Estimated band-edge positions for both conduction and valence band of semiconductors, together with experiments using specific radical scavengers, allow a plausible photodegradation mechanism.
View Full-Text
►

▼

Figures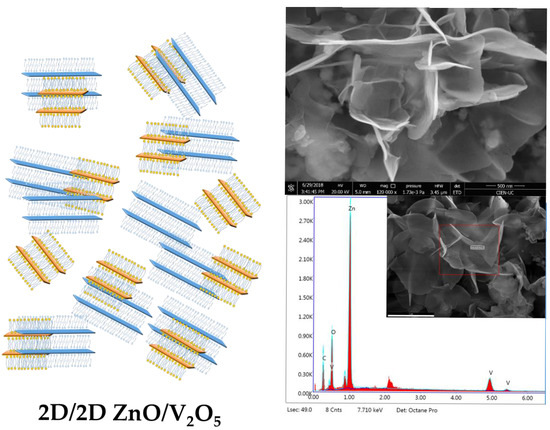 Graphical abstract
This is an open access article distributed under the
Creative Commons Attribution License
which permits unrestricted use, distribution, and reproduction in any medium, provided the original work is properly cited (CC BY 4.0).

Share & Cite This Article
MDPI and ACS Style
Aliaga, J.; Cifuentes, N.; González, G.; Sotomayor-Torres, C.; Benavente, E. Enhancement Photocatalytic Activity of the Heterojunction of Two-Dimensional Hybrid Semiconductors ZnO/V2O5. Catalysts 2018, 8, 374.
Note that from the first issue of 2016, MDPI journals use article numbers instead of page numbers. See further details here.
Related Articles
Comments
[Return to top]