Effect of Surface Modifications of SBA-15 with Aminosilanes and 12-Tungstophosphoric Acid on Catalytic Properties in Environmentally Friendly Esterification of Glycerol with Oleic Acid to Produce Monoolein
1
Department of Chemistry, Faculty of Science, Chulalongkorn University, Payathai Road, Patumwan, Bangkok 10330, Thailand
2
Center of Excellence on Catalysis and Catalytic Reaction Engineering, Department of Chemical Engineering, Faculty of Engineering, Chulalongkorn University, Payathai Road, Patumwan, Bangkok 10330, Thailand
3
Center of Excellence in Catalysis for Bioenergy and Renewable Chemicals (CBRC), Department of Chemistry, Faculty of Science, Chulalongkorn University, Payathai Road, Patumwan, Bangkok 10330, Thailand
4
Green Chemistry for Fine Chemical Productions STAR, Department of Chemistry, Faculty of Science, Chulalongkorn University, Payathai Road, Patumwan, Bangkok 10330, Thailand
*
Author to whom correspondence should be addressed.
Received: 1 August 2018 / Revised: 19 August 2018 / Accepted: 24 August 2018 / Published: 28 August 2018
Abstract
A series of protonated amino-functionalized SBA-15 materials was synthesized and tested as heterogeneous catalysts for the esterification of glycerol with oleic acid to produce monoolein. Mesoporous SBA-15 (S) was functionalized with three different aminosilanes: 3-aminopropyltriethoxysilane (N
1
); [3-(2-amino-ethylamino)propyltrimethoxysilane] (N
2
); and (3-trimethoxysilylpropyl) diethylenetriamine (N
3
), before being impregnated with 40 wt % 12-tungstophosphoric acid (HPW). The resulting nanocatalysts (S-N
x
-HPW) were characterized by X-ray powder diffraction (XRD), Fourier transform infrared spectroscopy (FT-IR), N
2
adsorption-desorption, SEM equipped with energy dispersive X-ray spectroscopy (SEM-EDX), transmission electron microscopy (TEM), and elemental analysis techniques. The presence of components of the nanocatalysts and the preservation of the hexagonal structure of SBA-15 were confirmed. Using different functionalizing agents considerably affected the textural properties and acidity of the synthesized nanocatalysts, which helped to improve the catalytic performance. In particular, S-N
2
-HPW was more active and selective than other catalysts in this study, as well as than a number of other commercial acid catalysts, with 95.0% oleic acid conversion and 60.9% monoolein selectivity being obtained after five h of reaction at 160 °C using 2.5 wt % of catalyst loading and glycerol/oleic acid molar ratio of 4:1. Aminosilane functionalization also helped to increase the reusability of the catalysts to at least six cycles without considerable loss of activity through strong electrostatic interactions between HPW anions and the protonated amino-functionalized SBA-15 materials.
View Full-Text
►

▼

Figures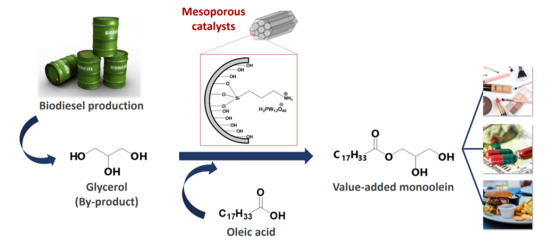 Graphical abstract
This is an open access article distributed under the
Creative Commons Attribution License
which permits unrestricted use, distribution, and reproduction in any medium, provided the original work is properly cited (CC BY 4.0).

Share & Cite This Article
MDPI and ACS Style
Ratchadapiban, K.; Praserthdam, P.; Tungasmita, D.N.; Tangku, C.; Anutrasakda, W. Effect of Surface Modifications of SBA-15 with Aminosilanes and 12-Tungstophosphoric Acid on Catalytic Properties in Environmentally Friendly Esterification of Glycerol with Oleic Acid to Produce Monoolein. Catalysts 2018, 8, 360.
Note that from the first issue of 2016, MDPI journals use article numbers instead of page numbers. See further details here.
Related Articles
Comments
[Return to top]