Open Access This article is
freely available
re-usable
Article
Evolution of Water Diffusion in a Sorption-Enhanced Methanation Catalyst
1
Institute of Materials and Process Engineering (IMPE), Zurich University of Applied Sciences (ZHAW), Technikumstrasse 9, CH-8401 Winterthur, Switzerland
2
Laboratory for Advanced Analytical Technologies, Swiss Federal Laboratories for Materials Science and Technology (Empa), Überlandstrasse 129, CH-8600 Dübendorf, Switzerland
3
Materials for Energy Conversion, Swiss Federal Laboratories for Materials Science and Technology (Empa), Überlandstrasse 129, CH-8600 Dübendorf, Switzerland
4
Institute of Mechanics, Materials and Civil Engineering (iMMC), Université catholique de Louvain, Place Sainte-Barbe 2, B-1348 Louvain-la-Neuve, Belgium
*
Author to whom correspondence should be addressed.
Received: 28 May 2018 / Accepted: 18 August 2018 / Published: 21 August 2018
Abstract
:
Sorption-enhanced methanation has consequent advantages compared to conventional methanation approaches; namely, the production of pure methane and enhanced kinetics thanks to the application of Le Châtelier's principle. In this paper, we address the question of the long-term stability of a sorption-enhanced methanation catalyst-support couple: Ni nanoparticles on zeolite 5A. Compared to most conventional methanation processes the operational conditions of sorption-enhanced methanation are relatively mild, which allow for stable catalyst activity on the long term. Indeed, we show here that neither coking nor thermal degradation come into play under such conditions. However, a degradation mechanism specific to the sorption catalysis was observed under cyclic methanation/drying periods. This severely affects water diffusion kinetics in the zeolite support, as shown here by a decrease of the water-diffusion coefficient during multiple cycling. Water diffusion is a central mechanism in the sorption-enhanced methanation process, since it is rate-limiting for both methanation and drying.
Keywords:
CO
2
methanation; catalysis; water sorption; water diffusion
1. Introduction
The key issues of intermittency and dispersion of primary renewable electricity sources find an answer in power-to-gas (P2G) strategies, where the excess of renewable electricity is converted into synthetic gas fuels, using hydrogen produced by water electrolysis as a primary reactant [
1
]. Renewable methane is produced from renewable hydrogen and carbon dioxide with a high efficiency (Sabatier reaction). This process can be implemented on a large scale [
2
], namely because renewable methane plants are based on relatively simple chemical reactors using earth-abundant Ni-based catalysts located near areas of renewable electricity production, abundant CO
2
sources such as biogas production and access to the natural gas grid.
Established methanation processes [
3
,
4
] involve fixed-bed, fluidized-bed and three-phase reactors with classic metal-support catalyst systems. Although other elements are studied at a fundamental level (e.g., Ru [
5
], Co [
6
], Mo [
7
] and Fe [
8
]), nickel remains the most suitable active metal (and by far the most widely used in commercial applications) when considering activity, selectivity and price [
3
,
9
]. However, the reaction temperature is above 250 °C, resulting in a thermodynamically limited conversion yield of less than 96% [
10
], which is further reduced by finite kinetics. Although the latter may be improved by appropriate catalysts, the thermodynamic limit can only be overcome by modifying thermodynamic conditions. A straightforward possibility is to increase the reaction pressure, which comes with an additional energy cost. The thermodynamic equilibrium is also shifted by the active removal of the water product from the catalyst reaction centers by adsorbing it in the water affine catalyst support such as zeolites in order to improve the reaction yield and kinetics (i.e., making use of the well-known Le Châtelier's principle) [
11
,
12
]. We have shown that this process runs optimally with specific parameters, notably with gas hourly space velocities (GHSV) which are lower by orders of magnitude than processes used in classic catalyzed methanation (i.e., on the order of 100 h
−1
[
13
]). The reason for this is that, under certain gas flow conditions, moisture evolves in the reactor as a stable water front. As long as this front does not reach the reactor outlet (sorption-enhanced mode), pure methane is produced. When the zeolite support is saturated with water, a drying step is required. Specific criteria also come into play in terms of reactor temperature: an optimum needs to be found between the zeolite support water sorption capacity and the metal catalytic activity. In the case of Ni nanoparticles on zeolite 5A, the optimum is 300 °C at atmospheric pressure [
13
]. The need for a fine optimization of sorption-enhanced processes was also recently shown by numerical simulations [
14
].
Similar to normal methanation conditions, nickel is facing durability issues when used as a sorption catalyst that simultaneously affect the process performance, cost and environmental impact. Depending on the process considered and on the methanation conditions—GHSV, temperature, pressure, stoichiometry, and reactant purity—different deactivation mechanisms can potentially occur [
3
,
15
]: poisoning [
16
], fouling (coking) [
17
], thermal degradation [
18
], mechanical degradation (attrition, crushing) [
19
] and corrosion (leaching) [
16
,
20
]. Despite their differences, these mechanisms all affect the concentration of active sites on the catalyst surface, in turn lowering the apparent rate constant for methanation. The development of effective solutions to these deactivation issues is a crucial research topic for future applications [
9
,
15
]. Another emerging field is the synergy between the catalyst and its support [
9
,
21
], which can affect the system performance in many ways. There was concern that the Ni sorption catalyst is particularly sensitive to coking due to the low water concentration at the catalytically active centers [
10
,
16
,
19
]. We show in this publication that the degradation of the catalytic activity relevant during the reaction phase of a sorption catalyst is negligible at optimized conditions. We attribute this to the encapsulation of the Ni-particle in the inner of the zeolite structure, preventing irreversible carbon growth, but allowing exchange of reactants and products to and from the active surface, respectively. However, we observe a diminution of the water diffusion, a process relevant only in sorption catalysts during the regeneration (drying) phase.
In this paper, a focus is made on the long-term performance of the catalyst-support couple under optimum conditions for sorption-enhanced methanation, the latter of which were determined elsewhere [
13
], using nickel nanoparticles as the active metal and zeolite 5A as the support. The choice of zeolite 5A is justified elsewhere [
22
,
23
]. In short, the most important parameters for the choice of a sorption enhanced support are (i) the pore size, which allows manipulating the reaction path towards the desired reaction intermediates and products—because of the differences in product kinetic diameters, pore sizes ≥5 Å favor CH
4
formation while pore sizes ≤3 Å favor CO formation—and (ii) the water sorption capacity at the catalyst operation temperature, which determines the extent of Le Châtelier's effect.
The performance of this system was studied by means of a thermogravimetric method; i.e., with specimens under the gas stream in a magnetic suspension balance. This approach allows for both equilibrium and kinetic analyses through real-time monitoring of the specimen mass change. This reflects the evolution of the Sabatier reaction, because water is one of its products and is entirely adsorbed on the zeolite support as long as the reaction is sorption-enhanced. We also used this experimental approach to measure the equilibrium CO2 and H2O uptake capacity at conditions relevant for methanation. Methanation and drying have been studied over long periods of time, both in steady-state and multiple-cycling conditions. The evolution of the performance was then linked to the catalyst surface chemistry, crystal structure and water desorption kinetics.
2. Results and Discussion
3. Experimental Details
As stated above (see introduction), this study starts from a fully optimized process [
13
] with known catalyst microstructure and properties [
11
,
23
], from which the question of the long-term stability of the related catalyst arises. The metal-support system was prepared as follows: nickel nitrate hexahydrate (Ni(NO
3
)
2
, Sigma-Aldrich, St. Louis, MO, USA) was dissolved in deionized water. Pellets of zeolite 5A (Linde Type A, cylindrical shape, 1.5 mm diameter, 3 mm length) were immersed in this solution for 24 h at room temperature. Ni partly ion-exchanged with alkali/alkaline earth elements from the zeolite structure (zeolite 5A formula: Ca
n
Na
12−2n
[(AlO
2
)
12
(SiO
2
)
12
]·xH
2
O), while non-impregnated Ni could also remain in the zeolite pores after immersion. Therefore, the present synthesis is a combination of liquid ion exchange and impregnation. Washing of the pellets was omitted in order to avoid producing toxic Ni waste. The pellets were then dried at 100 °C for another 24 h, and reduced in hydrogen flow for 2 h at 650 °C. In these conditions, Ni atoms incorporated in the zeolite structure cluster and form nanoparticles on the surface as well as in the bulk, for a Ni loading of about 6 wt % [
13
].
This catalyst was characterized by the following methods: scanning electron microscopy (SEM) images of the zeolite surface were acquired using a Nova NanoSEM 230 FEI (Thermo Fischer Scientific, Waltham, MA, USA) with a 20 kV acceleration voltage. SEM observations were conducted at pellet surfaces and fracture surfaces without noticeable difference. The crystal structure of the specimens was investigated by X-ray powder diffraction (XRD) with a Bruker D8 diffractometer (Bruker, Billerica, MA, USA) with Cu-Kα radiation in a 2θ range of 5°–90° and a step size of 0.017° (pattern PDF codes: 01-077-1335 (zeolite 5A) and 01-071-4740 4-850 (Ni)). Topas software (v. 5.0, Bruker AXS, Karlsruhe, Germany, 2014) was used for determination of crystallite sizes (Scherrer equation). Carbon concentrations were determined by melting the specimens in pure oxygen (with a slight overpressure compared to atmosphere) in a tubular oven at 1350 °C (IRF 1600 from SYLAB, Metz, France) and measuring the CO2 emitted by carbon combustion in real time with nondispersive infrared spectrometry (Infrared Analyzer CSbox from SYLAB, with a resolution of 0.1 ppm).
The catalyst specimens were studied in-situ in a magnetic suspension balance (Rubotherm, Bochum, Germany) modified in order to encapsulate the specimen holder in a gas stream. This system is shown schematically in
Figure 9
. The outlet gas stream was connected to an infrared spectrometer (Alpha from Bruker, Billerica, MA, USA, equipped with an 8-cm gas cell, resolution: 0.9 cm
−1
). The specimen could be heated up to 500 °C. The bucket-shaped specimen holder was micrometrer-sized meshed—any gas species could penetrate easily without undesirable flow effects. The gas connections were made with Swagelock tubing (Swagelock, Solon, OH, USA), and the gas flows controlled by thermal-based mass flow controllers (EL-FLOW Select series from Bronkhorst, Ruurlo, The Netherlands). The latter could be programmed with a LabVIEW interface. The outlet gas line was heated to 100 °C with a heating band in order to avoid water condensation in the optical cell. The main advantage of this system is the robustness of the magnetic suspension balance measurements. Reliable data could be acquired for days, either by continuous methane production or by repeated methanation/drying cycles. Apart from kinetic measurements, the system was used to acquire equilibrium data for the uptake of water and CO
2
as a function of temperature. For these experiments, the catalyst was exposed either to a 4:1 He/CO
2
gas mixture at 1 bar, or to humidified He gas corresponding to a water partial pressure of 15.8 mbar (50% humidity at 25 °C).
The specimen mass change during sorption-enhanced methanation and drying was monitored in this system, providing quantitative insight into the kinetics and equilibrium behaviors of the catalyst-support couple. The specimen mass was in the range 2.5–3 g. Both methanation and drying were performed at atmospheric pressure with a total flow of 250 mL/min and a stoichiometric H2/CO2 ratio. It should be noted that this setup is not a catalyst screening setup. No gas hourly space velocity, and thereby no catalyst turnover frequency, could be deduced from the total gas flow because the specimen holder was hanging in empty space, and therefore could not be considered as a catalyst bed. A significant CO2 signal was always observed because the inlet gas species could easily bypass the specimen. Additionally, water could escape the specimen at any time and from any region. Consequently, the long-term performance of the catalyst will be discussed in terms of in-situ IR signal ratio between gas species, rather than absolute gas composition.
In the methanation experiments considered here, the specimens were permanently subjected to a H
2
flow; the CO
2
flow was then switched on to trigger methanation and simply switched off to trigger drying. In order to discuss the long-term catalyst performance in both classic and sorption-enhanced methanation, temperatures between 320 and 500 °C were considered; i.e., by screening the catalyst activity from the sorption-enhanced methanation optimum of 300 °C described by Borgschulte et al. [
13
] up to more commonly encountered temperatures for classic catalytic methanation [
3
,
4
].
4. Conclusions
Sorption-enhanced methanation catalysts allow for relatively mild operational conditions compared to conventional methanation; namely, in the case of Ni nanoparticles distributed on 5A zeolite, the active nanoparticles under operational conditions shows practically no long-term deactivation close to the sorption-enhanced methanation optimum, as coking and thermal degradation are excluded in the present study. However, sorption-enhanced methanation requires alternating methanation/drying periods. Water diffusion in the zeolite pellet bed is the rate-limiting step in both cases. A comparison of the equilibrium adsorption data of CO2 and H2O suggests that thermodynamic properties such as diffusion may be estimated from that of the pure zeolite, for which much more data exist. For equivalent methanation times, specimens screened under such cyclic treatments exhibited carbon contents about 55% higher than specimens subjected to continuous methanation conditions. This suggests a degradation phenomenon specific to sorption-enhanced methanation, which does not directly affect the catalytic activity of the active metal. In this sense, this degradation phenomenon is not a deactivation phenomenon. Reaction intermediates and products in the zeolite formed during methanation phases block pores in the sorbent during drying phases. The consequence of this was a decrease in the water diffusion coefficient of 40% observed after 39 cycles. The decrease in diffusion hardly affects the catalytic performance but has a considerable impact on the regeneration due to the much longer water diffusion path lengths. Further investigations are necessary in order to determine the mechanism of the reduction of diffusion, as well as the factors that influence the adsorption of reaction intermediates and products in the zeolite under dry conditions. Catalyst drying in oxidizing conditions is a good solution to this degradation phenomenon. More generally, we believe that the sorption-enhanced methanation strategy could be adapted to other power-to-fuel processes in the future (e.g., methanol synthesis, Fischer–Tropsch process).
Author Contributions
R.D. and A.B. conceived and designed the experiments, R.D. and J.T. performed the experiments, R.D. and A.B. analyzed the data, A.R. and J.P. performed materials analysis. R.D., A.H. and A.B. wrote and revised the paper.
Funding
This research was funded by the Swiss Federal Office of Energy (SFOE) and the 'Forschungs-, Entwicklungs- und Förderungsfonds der Schweizer Gaswirtschaft' (FOGA) through the SMARTCAT project (grant number SI/501130-01 and 0268) and by the Swiss National Science Foundation (SNSF) in the NRP70 programme 'Energy Turnaround'.
Conflicts of Interest
The authors declare no conflicts of interest.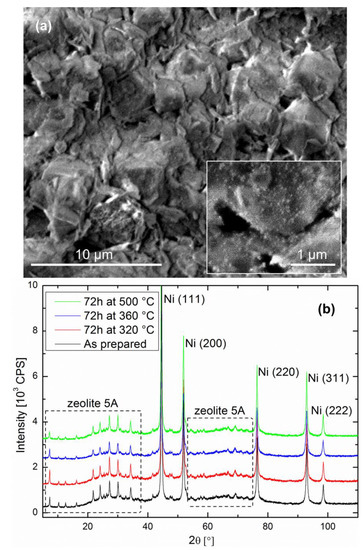 Figure 1. (a) Representative SEM image of the fracture surface of a Ni-impregnated 5A zeolite pellet after reduction. (b) X-ray powder diffraction patterns of the catalyst as prepared and after methanation under different conditions.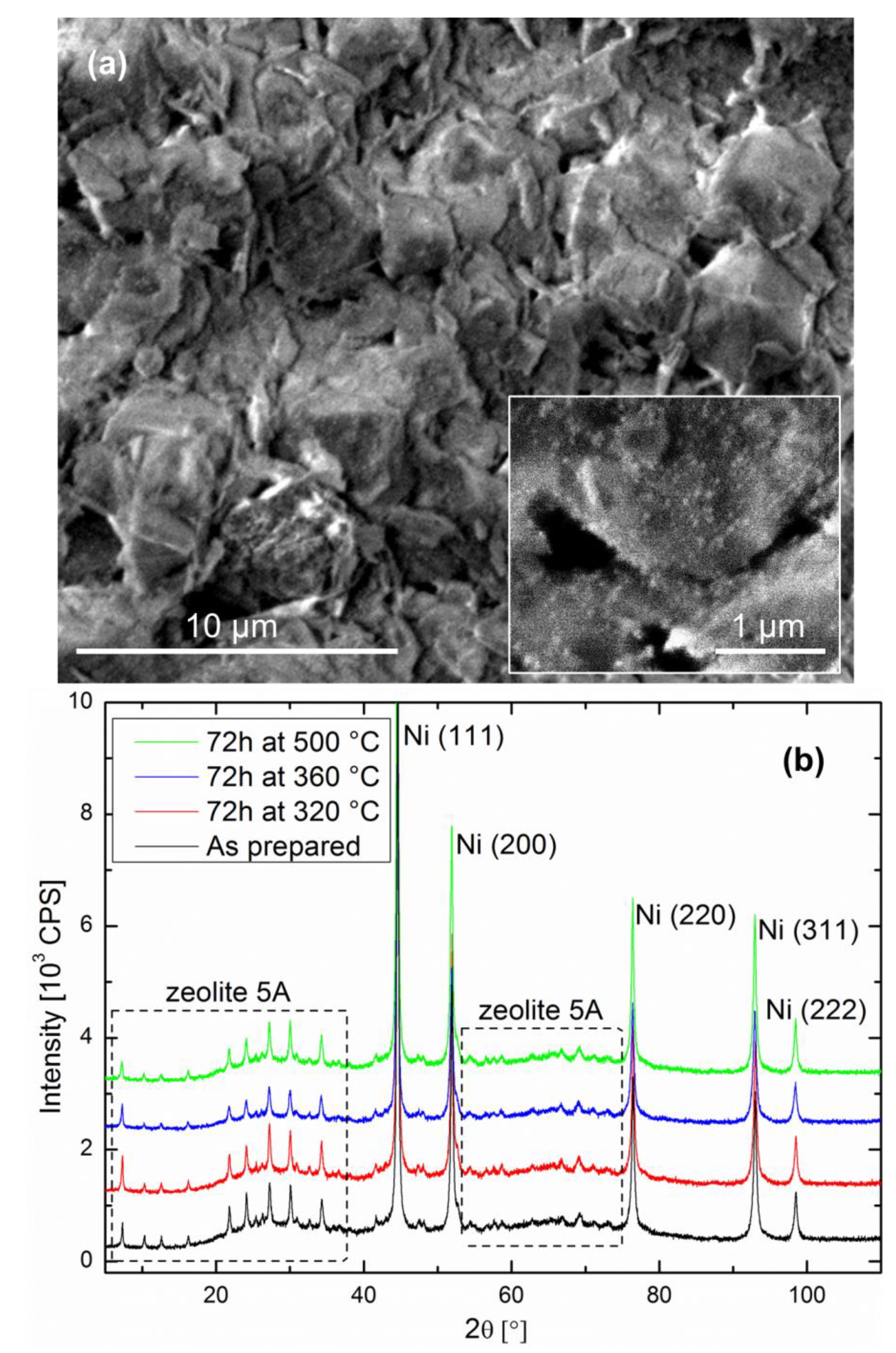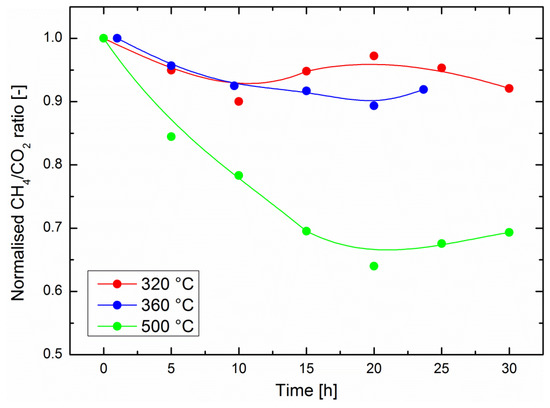 Figure 2. Evolution of the normalized CH4/CO2 ratio calculated from in-situ IR data during long-term methanation experiments at different temperatures. The solid lines are guides for the eye.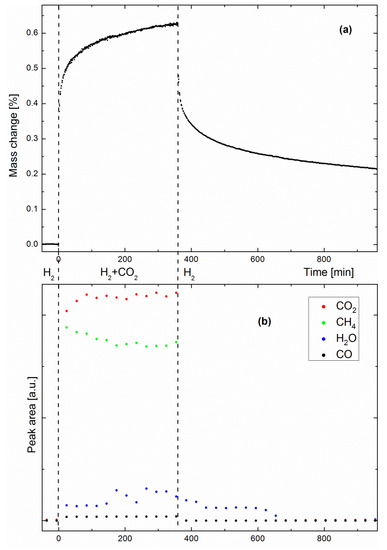 Figure 3.
(
a
) Evolution of the mass of a Ni-impregnated 5A zeolite catalyst measured by a magnetic suspension balance during methanation (6 h) and drying (10 h) at 360 °C with stoichiometric H
2
/CO
2
feed ratio. H
2
is always present in the inlet gas stream, and
t
= 0 s corresponds to CO
2
introduction into the system. (
b
) Evolution of the IR peak areas of CH
4
, CO
2
, H
2
O, and CO in the outlet gas stream.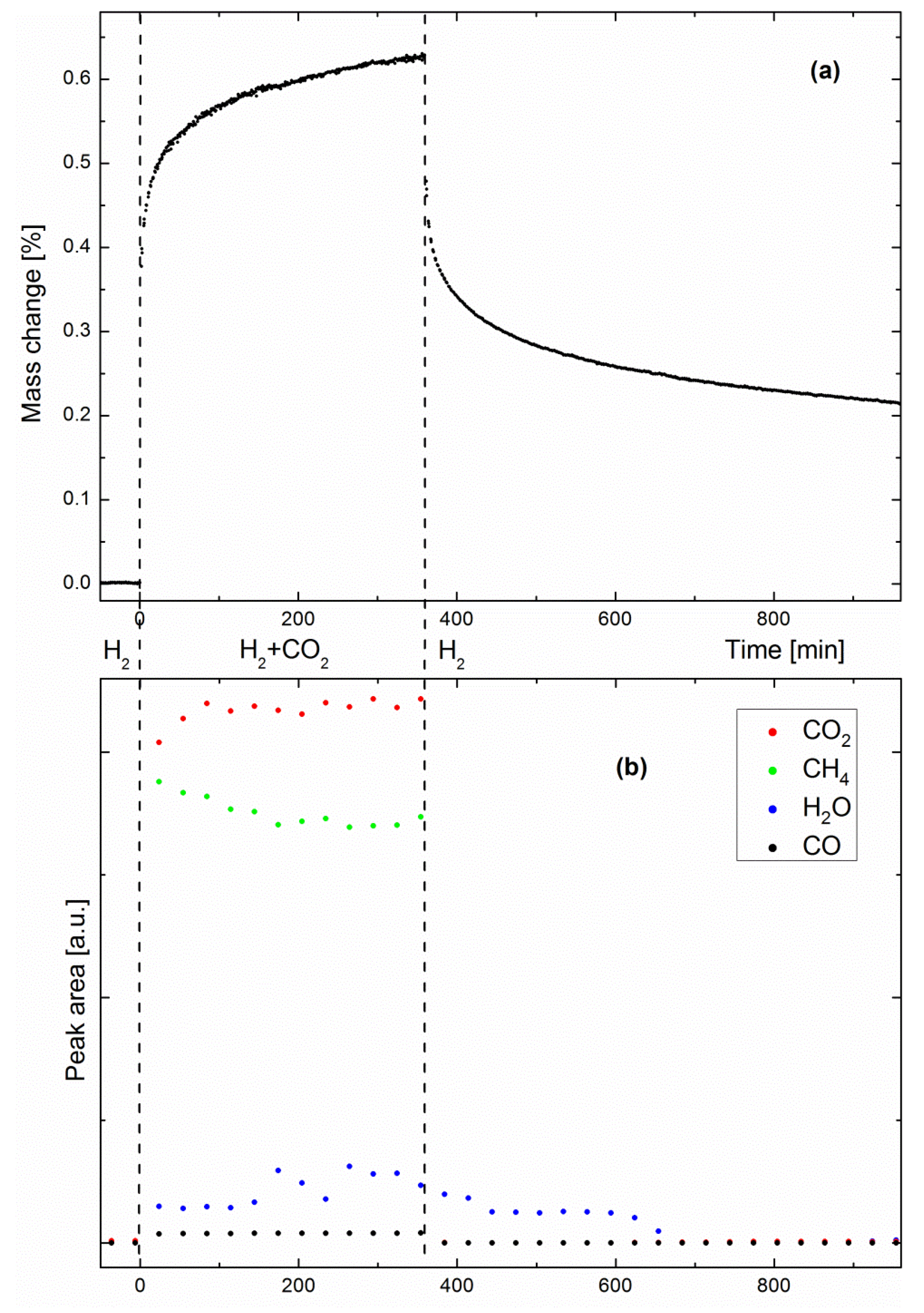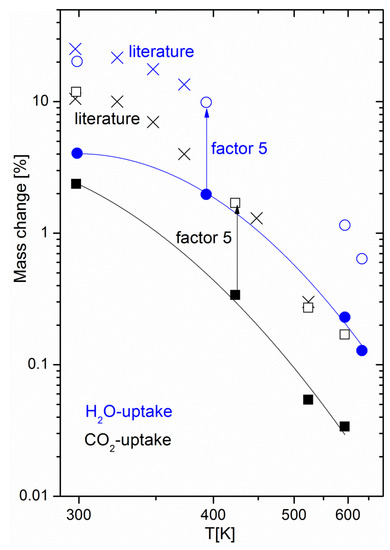 Figure 4. Equilibrium uptake of CO2 and water at fixed partial pressures for various temperatures. The partial pressures are 200 mbar CO2 and 15.8 mbar H2O, respectively, in the carrier gas He. Literature data on pure zeolite 5A24 is included for comparison. The literature data matches that for the sorption catalyst if scaled by a factor of five.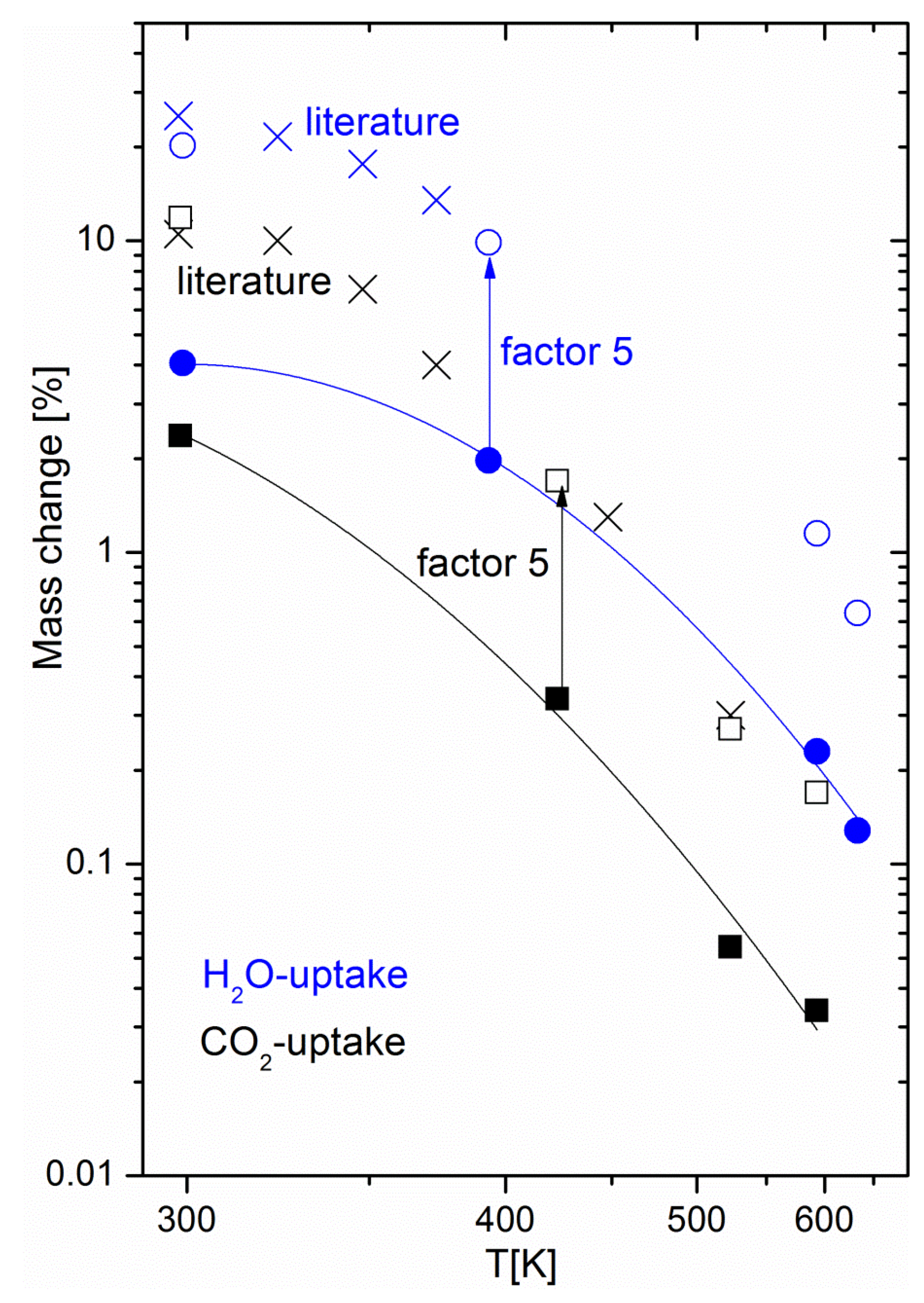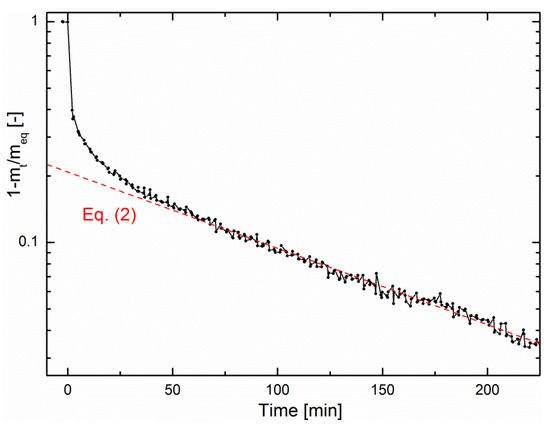 Figure 5. Evolution of the fractional mass uptake of a Ni-impregnated 5A zeolite catalyst during methanation at 360 °C with stoichiometric H2/CO2 feed ratio. The red line represents Equation (2).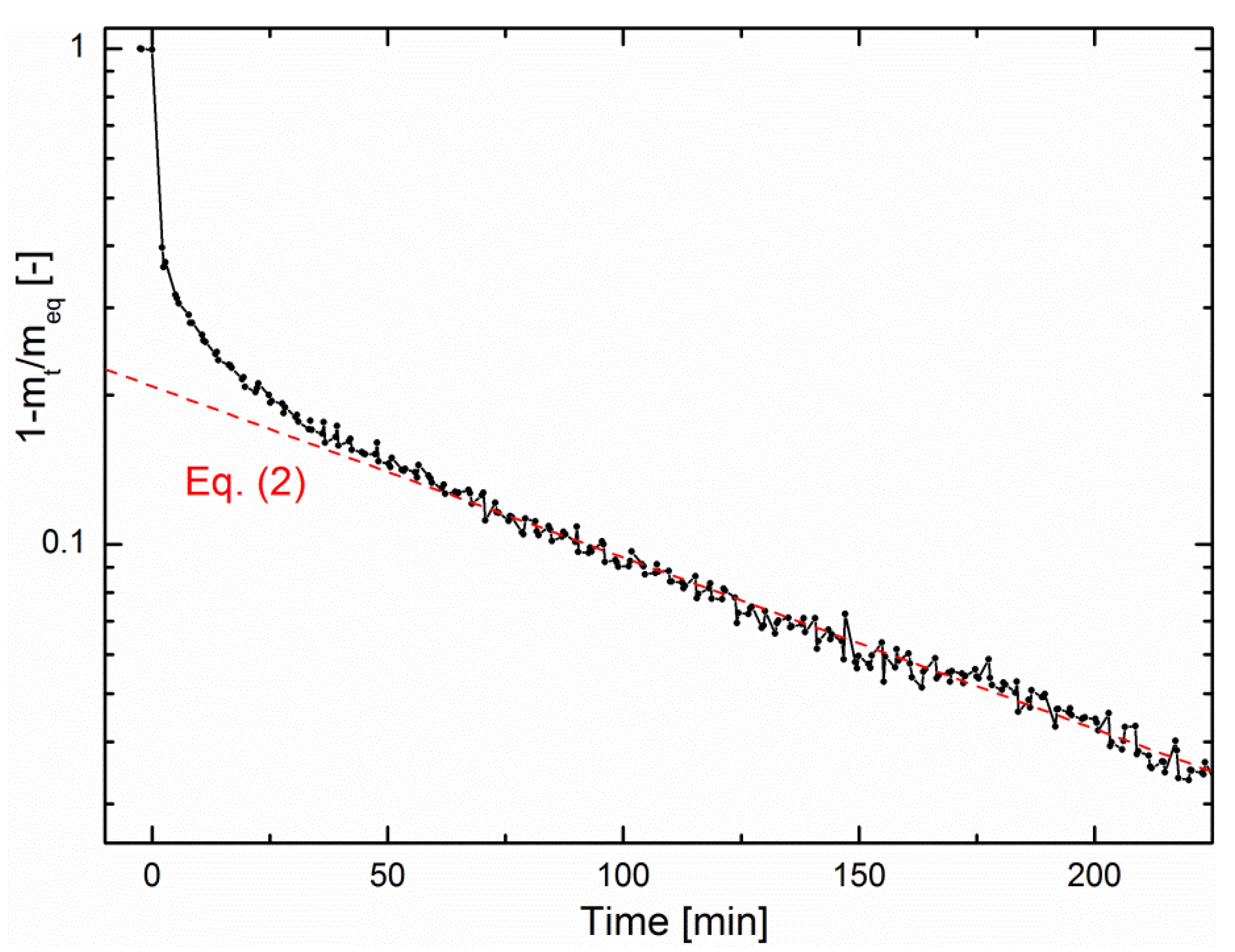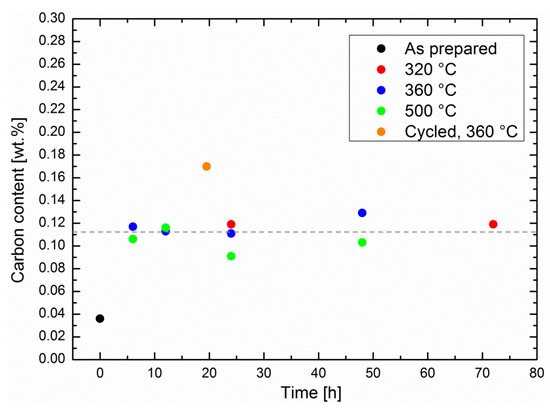 Figure 6. Gravimetric carbon content in Ni-impregnated 5A zeolite specimens subjected to continuous methanation experiments (red, blue and green dots, average of the latter shown by the grey line) and multiple methanation/drying cycles (orange).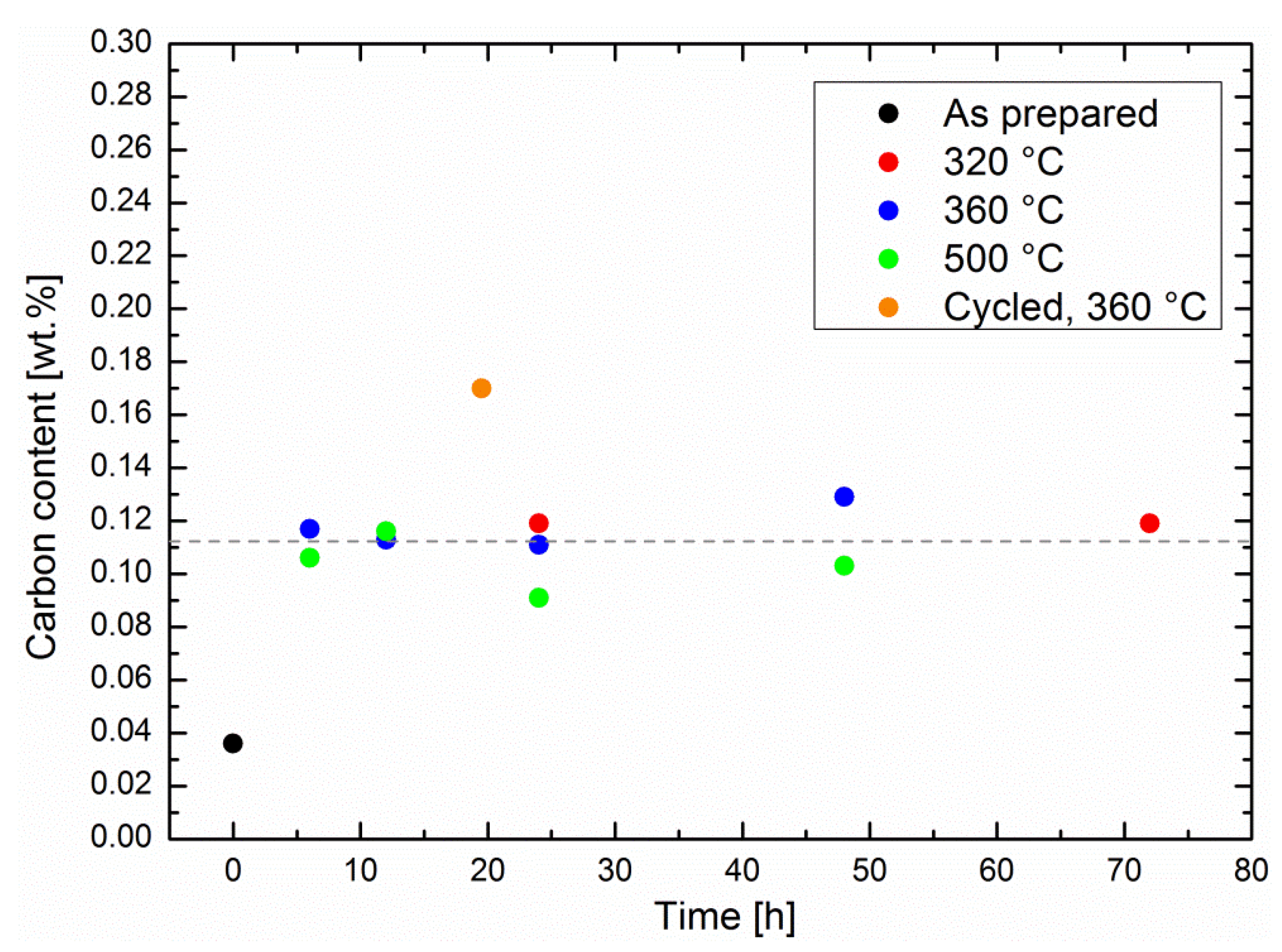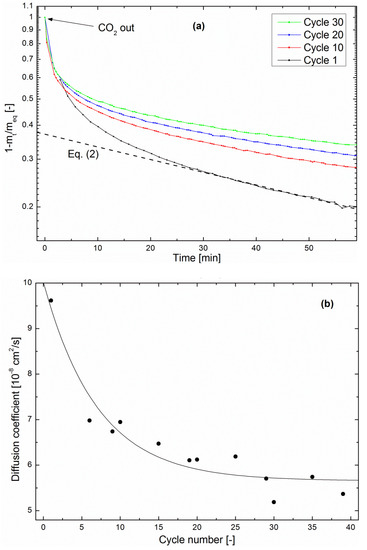 Figure 7.
(
a
) Evolution of the fractional mass loss of a Ni-impregnated 5A zeolite catalyst during drying at 360 °C in a multiple cycling experiment.
t
= 0 s corresponds to CO
2
removal from the system. (
b
) Diffusion coefficient as a function of cycle number, calculated from fitting Equation (2) to the late-stage region of drying curves. The solid line is a guide to the eye.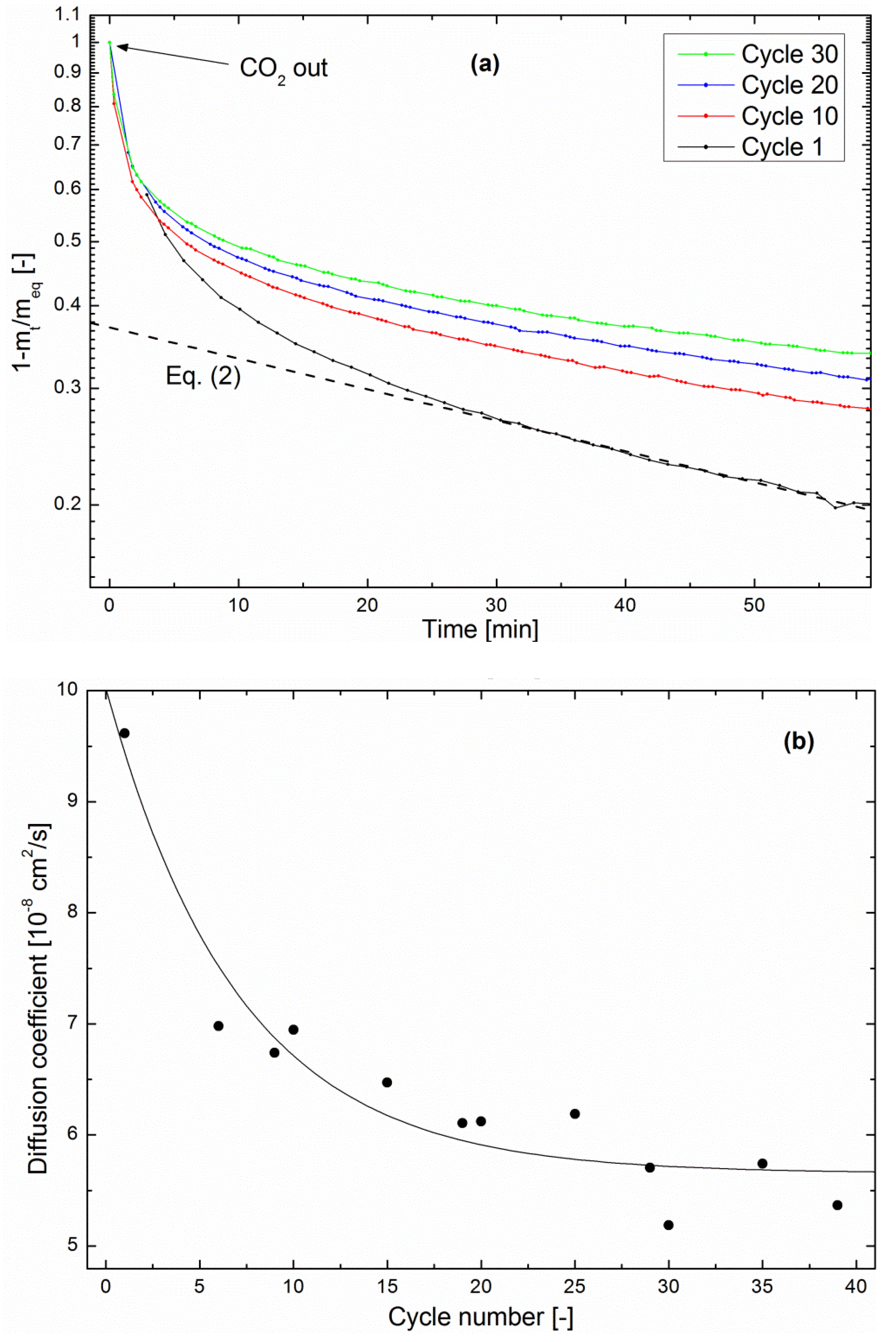 Figure 8. Sketch to illustrate the different length scale of diffusion: water diffusion is a local phenomenon during methanation (from the catalytic reaction centers to the neighboring zeolite crystallites, i.e., of the order of m); for regeneration, water has to leave the catalyst pellet, i.e., diffusion path lengths of m.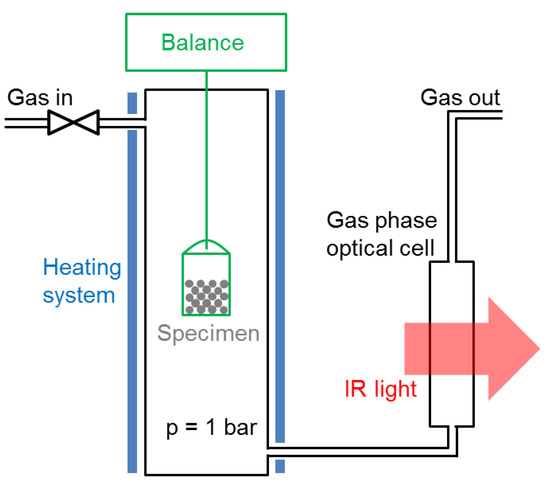 Figure 9. Schematic representation of the experimental setup used in this study for sorption-enhanced methanation and drying.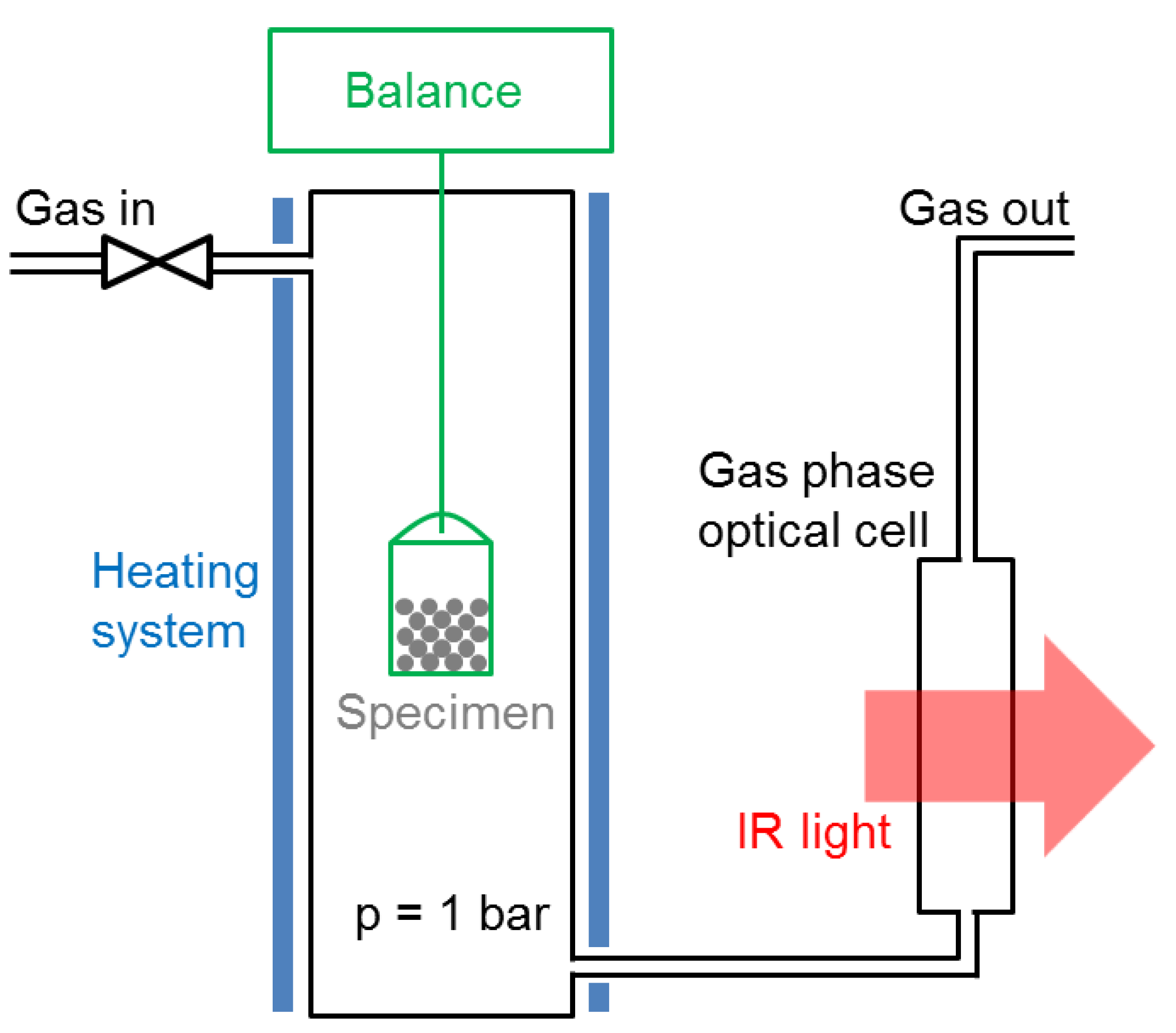 © 2018 by the authors. Licensee MDPI, Basel, Switzerland. This article is an open access article distributed under the terms and conditions of the Creative Commons Attribution (CC BY) license (http://creativecommons.org/licenses/by/4.0/).