A Characterization Study of Reactive Sites in ALD-Synthesized WOx/ZrO2 Catalysts
1
Chemical & Biomolecular Engineering, University of Pennsylvania, Philadelphia, PA 19104, USA
2
Department of Chemistry, University of Pennsylvania, Philadelphia, PA 19104, USA
3
Material Science & Engineering, University of Pennsylvania, Philadelphia, PA 19104, USA
*
Author to whom correspondence should be addressed.
Received: 20 June 2018 / Revised: 11 July 2018 / Accepted: 17 July 2018 / Published: 19 July 2018
Abstract
A series of ZrO
2
-supported WO
x
catalysts were prepared using atomic layer deposition (ALD) with W(CO)
6
, and were then compared to a WO
x
/ZrO
2
catalyst prepared via conventional impregnation. The types of sites present in these samples were characterized using temperature-programmed desorption/thermogravimetric analysis (TPD-TGA) measurements with 2-propanol and 2-propanamine. Weight changes showed that the WO
x
catalysts grew at a rate of 8.8 × 10
17
W atoms/m
2
per cycle. Scanning transmission electron microscopy/energy-dispersive spectroscopy (STEM-EDS) indicated that WO
x
was deposited uniformly, as did the 2-propanol TPD-TGA results, which showed that ZrO
2
was completely covered after five ALD cycles. Furthermore, 2-propanamine TPD-TGA demonstrated the presence of three types of catalytic sites, the concentrations of which changed with the number of ALD cycles: dehydrogenation sites associated with ZrO
2
, Brønsted-acid sites associated with monolayer WO
x
clusters, and oxidation sites associated with higher WO
x
coverages. The Brønsted sites were not formed via ALD of WO
x
on SiO
2
. The reaction rates for 2-propanol dehydration were correlated with the concentration of Brønsted sites. While TPD-TGA of 2-propanamine did not differentiate the strength of Brønsted-acid sites, H–D exchange between D
2
O and either toluene or chlorobenzene indicated that the Brønsted sites in tungstated zirconia were much weaker than those in H-ZSM-5 zeolites.
View Full-Text
►

▼

Figures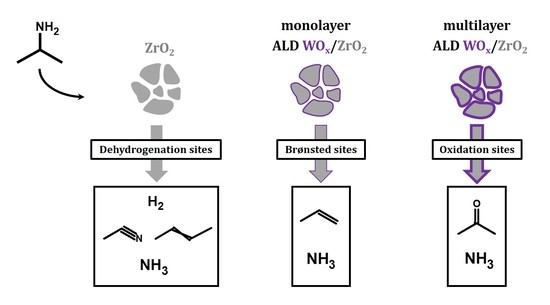 Graphical abstract
This is an open access article distributed under the
Creative Commons Attribution License
which permits unrestricted use, distribution, and reproduction in any medium, provided the original work is properly cited (CC BY 4.0).

Share & Cite This Article
MDPI and ACS Style
Wang, C.; Mao, X.; Lee, J.D.; Onn, T.M.; Yeh, Y.-H.; Murray, C.B.; Gorte, R.J. A Characterization Study of Reactive Sites in ALD-Synthesized WOx/ZrO2 Catalysts. Catalysts 2018, 8, 292.
Note that from the first issue of 2016, MDPI journals use article numbers instead of page numbers. See further details here.
Related Articles
Comments
[Return to top]