Efficiently Enhancing Electrocatalytic Activity of α-MnO2 Nanorods/N-Doped Ketjenblack Carbon for Oxygen Reduction Reaction and Oxygen Evolution Reaction Using Facile Regulated Hydrothermal Treatment
Hunan Key Laboratory of Biomedical Nanomaterials and Devices, College of Life Sciences and Chemistry, Hunan University of Technology, Zhuzhou 412007, China
*
Authors to whom correspondence should be addressed.
Received: 6 March 2018 / Revised: 25 March 2018 / Accepted: 28 March 2018 / Published: 30 March 2018
Abstract
Scalable, low-cost and highly efficient catalysis of oxygen electrocatalytic reactions (ORR/OER) are required for the rapid development of clean and renewable energy conversion/storage technologies. Herein, two types of α-MnO
2
nanorods were prepared under hydrothermal treatment at 150 °C for 0.5 h (MnO
2
-150-0.5) or 120 °C for 12 h (MnO
2
-120-12), then supported on N-doped ketjenblack carbon (N-KB) as bi-functional ORR/OER catalysts. Their electrocatalytic activities toward ORR and OER were investigated systematically. As a result, MnO
2
-150-0.5/N-KB displays superior ORR catalytic activity, with much more positive half-wave potential and much larger limiting current density (0.76 V and 6.0 mA cm
−2
), comparable to those of 20 wt. % Pt/C (0.82 V and 5.10 mA cm
−2
). MnO
2
-150-0.5/N-KB also shows high electron transfer number (3.86~3.97) and low yield of peroxides (1–7%) during ORR process in the whole potential range of 0–1.0 V (vs. RHE). Meanwhile, the MnO
2
-150-0.5/N-KB also exhibits better OER activity with low overpotential, comparable to IrO
2
/N-KB. The excellent electrocatalytic activity of MnO
2
-150-0.5/N-KB can be attributed to the synergistic effect, relatively smaller size, higher amount of Mn
3+
, and low charge transfer resistance. This work offers a new strategy for scalable preparation of more efficient and cost-effective α-MnO
2
bi-functional oxygen catalysts.
View Full-Text
►

▼

Figures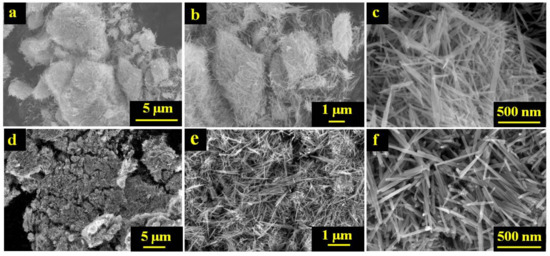 Figure 1
This is an open access article distributed under the
Creative Commons Attribution License
which permits unrestricted use, distribution, and reproduction in any medium, provided the original work is properly cited (CC BY 4.0).

Share & Cite This Article
MDPI and ACS Style
Wang, M.; Chen, K.; Liu, J.; He, Q.; Li, G.; Li, F. Efficiently Enhancing Electrocatalytic Activity of α-MnO2 Nanorods/N-Doped Ketjenblack Carbon for Oxygen Reduction Reaction and Oxygen Evolution Reaction Using Facile Regulated Hydrothermal Treatment. Catalysts 2018, 8, 138.
Note that from the first issue of 2016, MDPI journals use article numbers instead of page numbers. See further details here.
Related Articles
Comments
[Return to top]