Nucleophilic Dearomatization of Activated Pyridines
Department of Industrial Chemistry "Toso Montanari" and INSTM RU Bologna, Alma Mater Studiorum-University of Bologna, Via Risorgimento 4, 40136 Bologna, Italy
*
Authors to whom correspondence should be addressed.
Received: 16 November 2018 / Revised: 29 November 2018 / Accepted: 1 December 2018 / Published: 6 December 2018
Abstract
Amongst nitrogen heterocycles of different ring sizes and oxidation statuses, dihydropyridines (DHP) occupy a prominent role due to their synthetic versatility and occurrence in medicinally relevant compounds. One of the most straightforward synthetic approaches to polysubstituted DHP derivatives is provided by nucleophilic dearomatization of readily assembled pyridines. In this article, we collect and summarize nucleophilic dearomatization reactions of pyridines reported in the literature between 2010 and mid-2018, complementing and updating previous reviews published in the early 2010s dedicated to various aspects of pyridine chemistry. Since functionalization of the pyridine nitrogen, rendering a (transient) pyridinium ion, is usually required to render the pyridine nucleus sufficiently electrophilic to suffer the attack of a nucleophile, the material is organized according to the type of
N
-functionalization. A variety of nucleophilic species (organometallic reagents, enolates, heteroaromatics, umpoled aldehydes) can be productively engaged in pyridine dearomatization reactions, including catalytic asymmetric implementations, providing useful and efficient synthetic platforms to (enantioenriched) DHPs. Conversely, pyridine nitrogen functionalization can also lead to pyridinium ylides. These dipolar species can undergo a variety of dipolar cycloaddition reactions with electron-poor dipolarophiles, affording polycyclic frameworks and embedding a DHP moiety in their structures.
View Full-Text
►

▼

Figures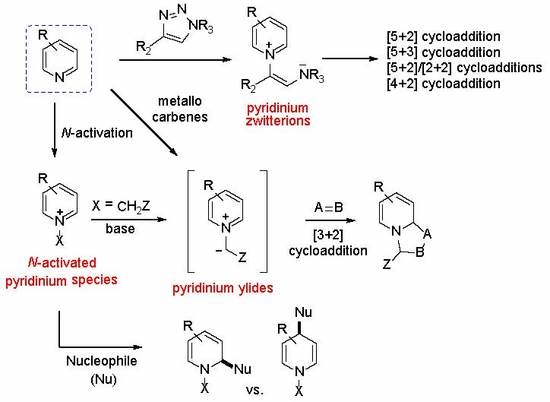 Graphical abstract
This is an open access article distributed under the
Creative Commons Attribution License
which permits unrestricted use, distribution, and reproduction in any medium, provided the original work is properly cited (CC BY 4.0).

Share & Cite This Article
MDPI and ACS Style
Bertuzzi, G.; Bernardi, L.; Fochi, M. Nucleophilic Dearomatization of Activated Pyridines. Catalysts 2018, 8, 632.
Note that from the first issue of 2016, MDPI journals use article numbers instead of page numbers. See further details here.
Related Articles
Comments
[Return to top]