Open Access This article is
freely available
re-usable
Communication
Relationships between Substrate Promiscuity and Chiral Selectivity of Esterases from Phylogenetically and Environmentally Diverse Microorganisms
1
Institute of Catalysis, Consejo Superior de Investigaciones Científicas, 28049 Madrid, Spain
2
Biozentrum Klein Flottbek, Mikrobiologie & Biotechnologie, Universität Hamburg, 22609 Hamburg, Germany
3
School of Chemistry, Bangor University, Bangor LL57 2UW, UK
4
Uni Research AS, Center for Applied Biotechnology, 5006 Bergen, Norway
5
Institute of Molecular Enzyme Technology, Heinrich-Heine-University Düsseldorf, 52426 Jülich, Germany
6
Department of Biology and KG Jebsen Centre for Deep Sea Research, University of Bergen, 5020 Bergen, Norway
7
School of Biological Sciences, Bangor University, LL57 2UW Bangor, UK
8
Centre for Environmental Biotechnology, Bangor University, Bangor LL57 2UW, UK
9
Institute for Coastal Marine Environment, Consiglio Nazionale delle Ricerche, 98122 Messina, Italy
10
Immanuel Kant Baltic Federal University, 236040 Kaliningrad, Russia
11
Institute for Bio- and Geosciences IBG-1: Biotechnology, Forschungszentrum Jülich GmbH, 52426 Jülich, Germany
12
Department of Chemical Engineering and Applied Chemistry, University of Toronto, Toronto, ON M5S 3E5, Canada
†
These authors contributed equally to this work.

Received: 22 December 2017 / Accepted: 3 January 2018 / Published: 5 January 2018
Abstract
:
Substrate specificity and selectivity of a biocatalyst are determined by the protein sequence and structure of its active site. Finding versatile biocatalysts acting against multiple substrates while at the same time being chiral selective is of interest for the pharmaceutical and chemical industry. However, the relationships between these two properties in natural microbial enzymes remain underexplored. Here, we performed an experimental analysis of substrate promiscuity and chiral selectivity in a set of 145 purified esterases from phylogenetically and environmentally diverse microorganisms, which were assayed against 96 diverse esters, 20 of which were enantiomers. Our results revealed a negative correlation between substrate promiscuity and chiral selectivity in the evaluated enzymes. Esterases displaying prominent substrate promiscuity and large catalytic environments are characterized by low chiral selectivity, a feature that has limited commercial value. Although a low level of substrate promiscuity does not guarantee high chiral selectivity, the probability that esterases with smaller active sites possess chiral selectivity factors of interest for industry (>25) is significantly higher than for promiscuous enzymes. Together, the present study unambiguously demonstrates that promiscuous and selective esterases appear to be rare in nature and that substrate promiscuity can be used as an indicator of the chiral selectivity level of esterases, and vice versa.
Keywords:
esterase; metagenomics; promiscuity; selectivity
Acknowledgments
This project has received funding from the European Union's Horizon 2020 research and innovation program (Blue Growth: Unlocking the potential of Seas and Oceans) through the Project 'INMARE' under grant agreement No. 634486 and ERA-IB 5 'METACAT'. This work was further funded by grants PCIN-2014-107 (within ERA NET IB2 grant nr. ERA-IB-14-030—MetaCat), PCIN-2017-078 (within the ERA-MarineBiotech grant ProBone), BIO2014-54494-R and BIO2017-85522-R from the Spanish Ministry of Economy and Competitiveness. The present investigation was also funded by the UK Biotechnology and Biological Sciences Research Council (BBSRC), grant nr. BB/M029085/1. P.N.G. acknowledges the support of the Supercomputing Wales project, which is partly funded by the European Regional Development Fund (ERDF) via the Welsh Government. O.V.G. and P.N.G. acknowledge the support of the Centre of Environmental Biotechnology Project funded by the European Regional Development Fund (ERDF) through the Welsh Government. A.F.Y. gratefully acknowledges funding from Genome Canada (2009-OGI-ABC-1405) and the NSERC Strategic Network grant IBN. The authors gratefully acknowledge financial support provided by the European Regional Development Fund (ERDF). C. Coscolín thanks the Spanish Ministry of Economy, Industry and Competitiveness for a PhD fellowship (Grant BES-2015-073829).
Author Contributions
M.F., P.N.G., and W.R.S. conceived the study; C.C., M.M.-M., J.C., R.B., A.G.-M., G.E.K.B., A.B., R.S., I.H.S., O.V.G., M.M.Y., K.-E.J. and A.F.Y. contributed to enzyme collection and data analysis; M.F. drafted the manuscript which was revised by all co-authors.
Conflicts of Interest
The authors declare no conflict of interest. The founding sponsors had no role in the design of the study; in the collection, analyses, or interpretation of data; in the writing of the manuscript, or in the decision to publish the results.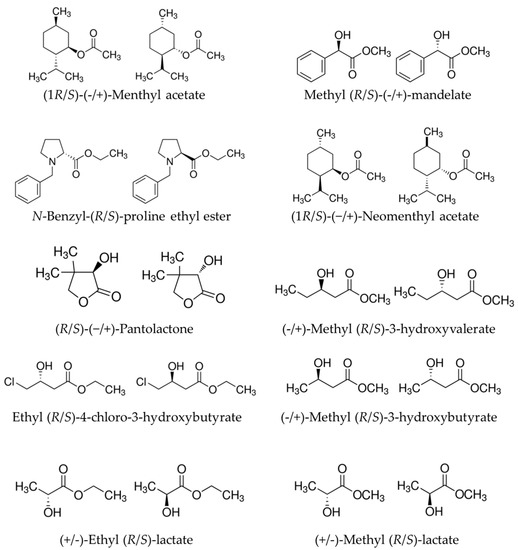 Figure 1. Representative chemical structures of 20 chiral esters used to evaluate chiral selectivity.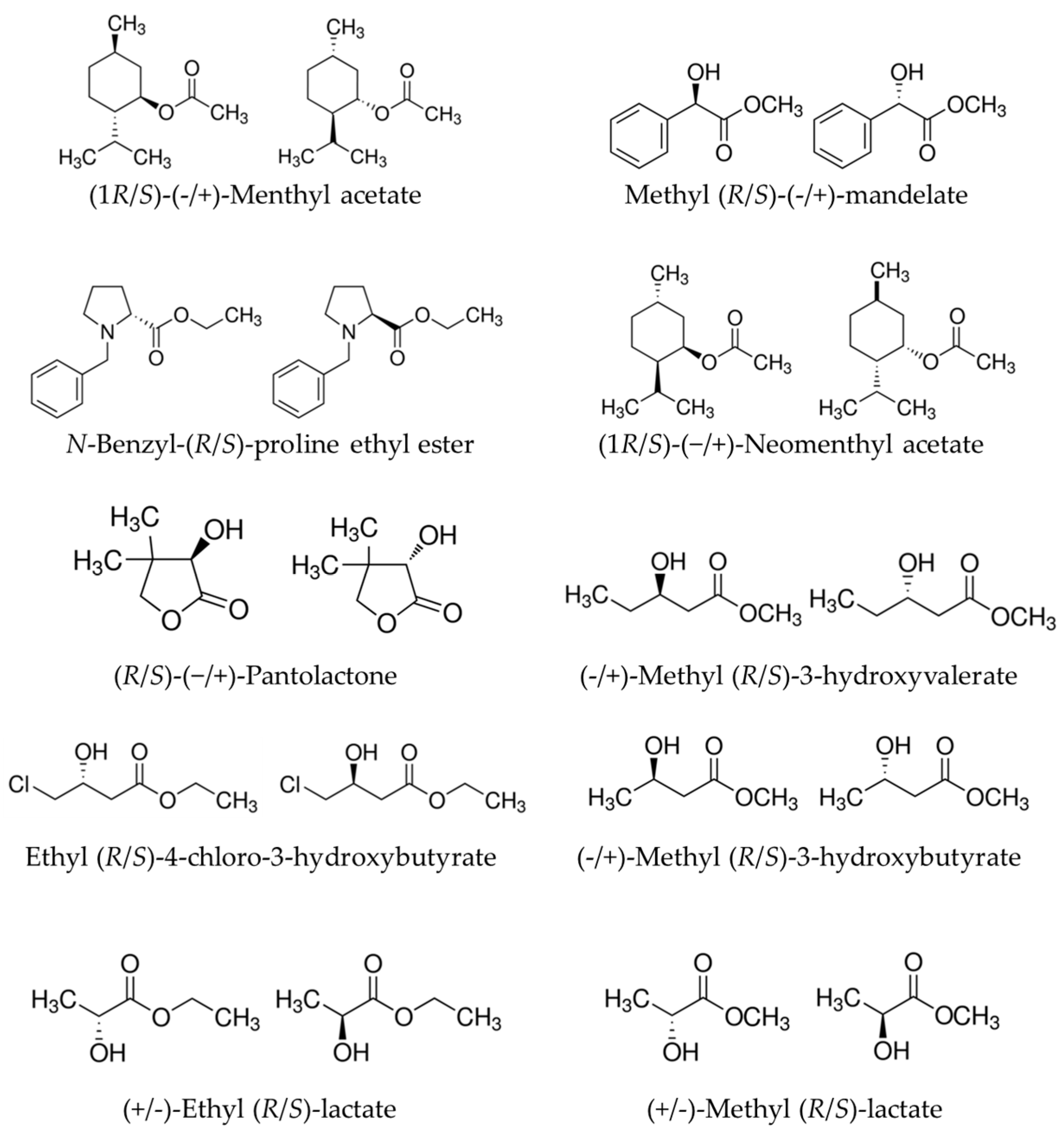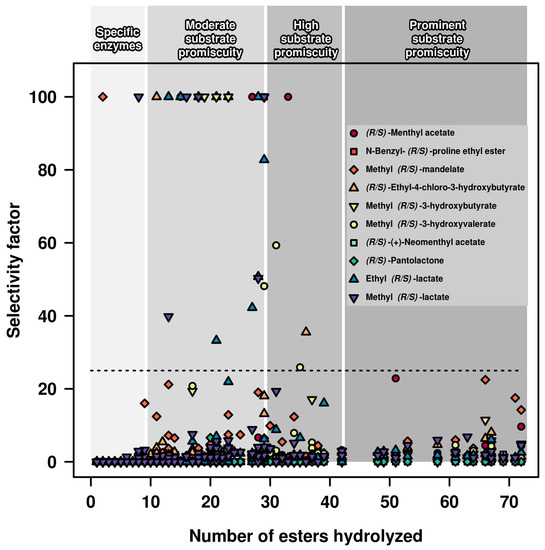 Figure 2.
Chiral selectivity factor vs. number of esters hydrolyzed per each of the 145 hydrolases tested. Selectivity factor was calculated per each pair of enantiomers as the ratio of specific activity (U·g
−1
) of the preferred over the non-preferred chiral ester when each of the chiral esters was tested separately. Chiral esters are color coded. The value 100 was arbitrarily given to represent those esterases capable of hydrolyzing, under our assay conditions, only one of the enantiomers (100% selective) and those with selectivity factors higher than 100. These data are based on the data reported previously [
5
], using conditions described in Materials and Methods. The level of promiscuity, according to criteria previously established [
5
], is marked under a shadowed grey background. The 25-selectivity factor threshold at which an esterase started to have commercial value is indicated by a horizontal dashed gray line.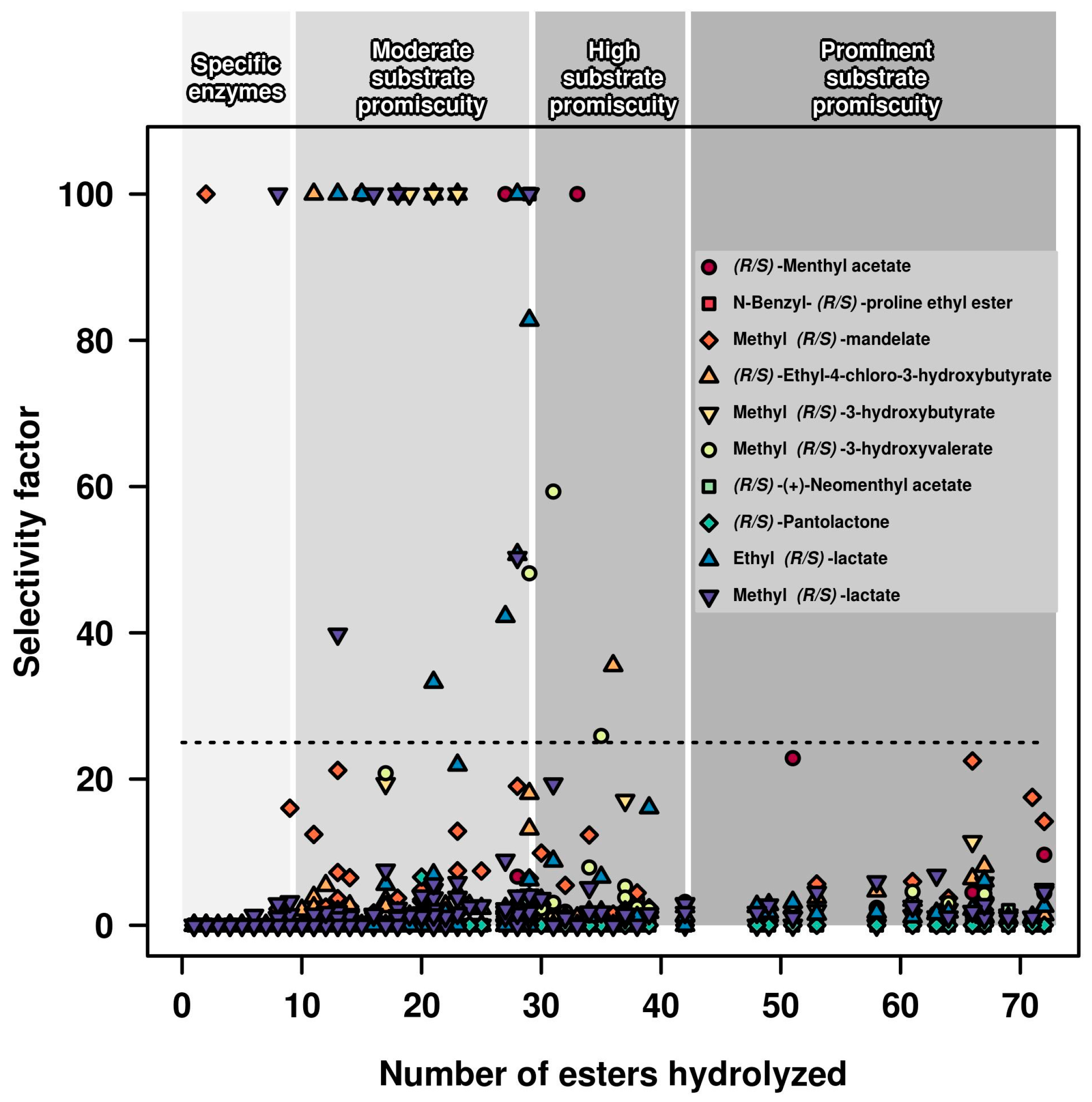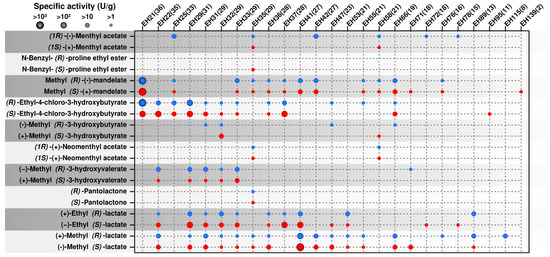 Figure 3.
Chiral preferences of 25 hydrolases which were found to be selective for at least one chiral ester according to the 25-selective factor threshold. The figure illustrates the specific activity (U·g
−1
; represented by the size of the circles) of each esterase per each of the 20 chiral esters tested. The ID code for each esterase (for full description see ref. [
5
]) is shown on the top; the number of esters (out of 96 tested) hydrolyzed by each esterase is shown in brackets. The Figure was created with the R language console from data previously reported [
5
]. The list of the 20 chiral esters tested is shown on the left, with (
R
)-enantiomer in blue and (
S
)-enantiomer in red color. The protocol established and used to identify the esters hydrolyzed by each esterase is described in Materials and Methods.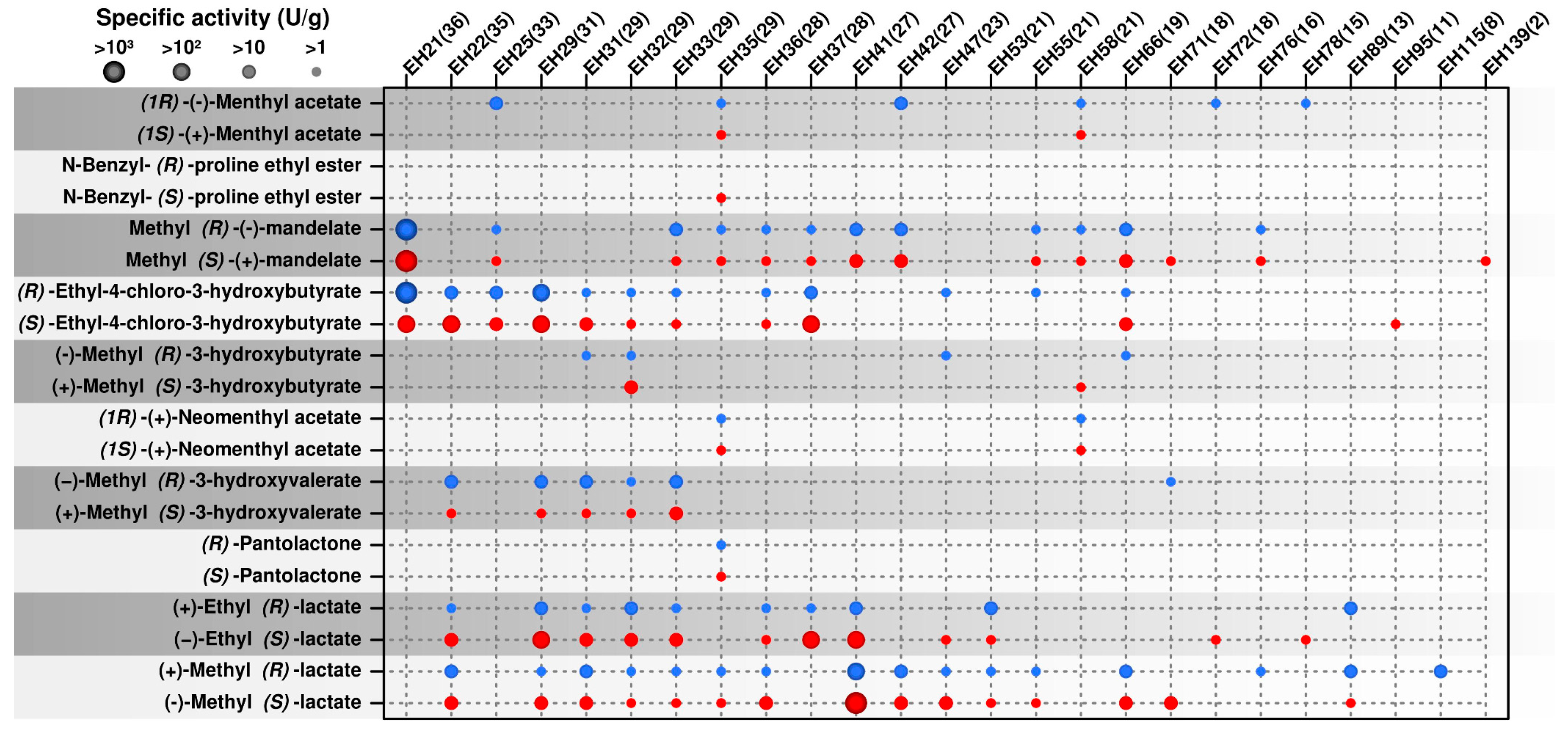 © 2018 by the authors. Licensee MDPI, Basel, Switzerland. This article is an open access article distributed under the terms and conditions of the Creative Commons Attribution (CC BY) license (http://creativecommons.org/licenses/by/4.0/).