Regioselective Synthesis of Lactulose Esters by
Candida antarctica

and

Thermomyces lanuginosus

Lipases

1

Posgrado en Ciencias Naturales e Ingeniería, Universidad Autónoma Metropolitana-Unidad Cuajimalpa, Av. Vasco de Quiroga 4871, Col. Santa Fe Cuajimalpa, Deleg. Cuajimalpa de Morelos 05348 CDMX, Mexico

2

Departamento de Ciencias Naturales, Universidad Autónoma Metropolitana-Unidad Cuajimalpa, Av. Vasco de Quiroga 4871, Col. Santa Fe Cuajimalpa, Deleg. Cuajimalpa de Morelos 05348 CDMX, Mexico

3

Instituto Politécnico Nacional - CNMN, Calle Luis Enrique Erro s/n, Unidad Profesional Adolfo López Mateos, Col. Zacatenco, México D.F. CP 07738, Mexico

4

Departamento de Procesos y Tecnología, Universidad Autónoma Metropolitana-Unidad Cuajimalpa, Av. Vasco de Quiroga 4871, Col. Santa Fe Cuajimalpa, Deleg. Cuajimalpa de Morelos 05348 CDMX, Mexico

*

Author to whom correspondence should be addressed.

Received: 14 August 2017 / Revised: 26 August 2017 / Accepted: 29 August 2017 / Published: 3 September 2017
Abstract
The interest in sugar esters as emulsifiers has been increasing in recent years because they have tunable surfactant properties that depend on the chain length of the fatty acid and the type of the sugar, covering a wide range of hydrophilic-lipophilic balance (HLB). In this work, ten biocatalysts were used for the transesterification reaction screening of lactulose, a prebiotic sugar, with vinyl laurate. The reactions were followed by thin layer chromatography (TLC) analysis, identifying two major monoesters mixtures defined as monoester fraction 1 and monoester fraction 2.
Candida antarctica
lipase B (Novozym 435) produces "monoester fraction 1", while
Thermomyces lanuginosus
lipase (Lipozyme
®
TL IM) and
Mucor miehei
lipase (Lipozyme
®
) seem to produce the same "monoester fraction 2". These three enzymes were selected as model biocatalysts for a kinetic study, and monoester fractions 1 and 2 from Novozym 435 and Lipozyme
®
TL IM, respectively, were used for product characterization. Monoester fraction 1 contained 86.9% of the major monoester in position 1-
O
-, and monoester fraction 2 contained 91.4% of 6′-
O
-. Although these lipases acylated three positions of lactulose, they mainly synthesize a monoester presenting regioselectivity. These results contribute to the study of the chemical structure diversity of biosurfactants to enhance their applications in foods, pharmaceutical products, and cosmetics.
View Full-Text
►

▼

Figures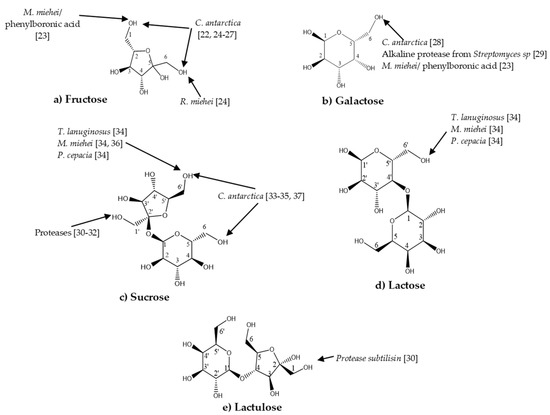 Figure 1
This is an open access article distributed under the
Creative Commons Attribution License
which permits unrestricted use, distribution, and reproduction in any medium, provided the original work is properly cited (CC BY 4.0).

Share & Cite This Article
MDPI and ACS Style
Chávez-Flores, L.F.; Beltran, H.I.; Arrieta-Baez, D.; Reyes-Duarte, D. Regioselective Synthesis of Lactulose Esters by Candida antarctica and Thermomyces lanuginosus Lipases. Catalysts 2017, 7, 263.
Note that from the first issue of 2016, MDPI journals use article numbers instead of page numbers. See further details here.
Related Articles
Comments
[Return to top]