Pure and Fe-Doped Mesoporous Titania Catalyse the Oxidation of Acid Orange 7 by H2O2 under Different Illumination Conditions: Fe Doping Improves Photocatalytic Activity under Simulated Solar Light
1
Department of Applied Science and Technology Politecnico di Torino, Corso Duca degli Abruzzi, 24, 10129 Torino, Italy
2
INSTM Unit of Torino-Politecnico, Corso Duca degli Abruzzi, 24, 10129 Torino, Italy
3
Dipartimento di Chimica, Università degli Studi di Milano, CNR-ISTM and INSTM Unit Milano-Università, via C. Golgi 19, 20133 Milano, Italy
4
Dipartimento di Chimica, Università degli Studi di Bari "Aldo Moro", via Orabona 4, 70125 Bari, Italy
5
Dipartimento di Ingegneria Chimica, Civile ed Ambientale, Università degli Studi di Genova and INSTM Unit Genova, P.le Kennedy 1, 16129 Genova, Italy
*
Author to whom correspondence should be addressed.
Academic Editor: Adam F. Lee
Received: 5 May 2017 / Revised: 11 July 2017 / Accepted: 11 July 2017 / Published: 18 July 2017
Abstract
A sample of mesoporous TiO
2
(MT, specific surface area = 150 m
2
·g
−1
) and two samples of MT containing 2.5 wt.% Fe were prepared by either direct synthesis doping (Fe2.5-MTd) or impregnation (Fe2.5-MTi). Commercial TiO
2
(Degussa P25, specific surface area = 56 m
2
g
−1
) was used both as a benchmark and as a support for impregnation with either 0.8 or 2.5 wt.% Fe (Fe0.80-IT and Fe2.5-IT). The powders were characterized by X-ray diffraction, N
2
isotherms at −196 °C, Energy Dispersive X-ray (EDX) Spectroscopy, X-ray Photoelectron Spectroscopy (XPS), Diffuse Reflectance (DR) ultra-violet (UV)-Vis and Mössbauer spectroscopies. Degradation of Acid Orange 7 (AO7) by H
2
O
2
was the test reaction: effects of dark-conditions versus both UV and simulated solar light irradiation were considered. In dark conditions, AO7 conversion was higher with MT than with Degussa P25, whereas Fe-containing samples were active in a (slow) Fenton-like reaction. Under UV light, MT was as active as Degussa P25, and Fe doping enhanced the photocatalytic activity of Fe2.5-MTd; Fe-impregnated samples were also active, likely due to the occurrence of a photo-Fenton process. Interestingly, the Fe2.5-MTd sample showed the best performance under solar light, confirming the positive effect of Fe doping by direct synthesis with respect to impregnation.
View Full-Text
►

▼

Figures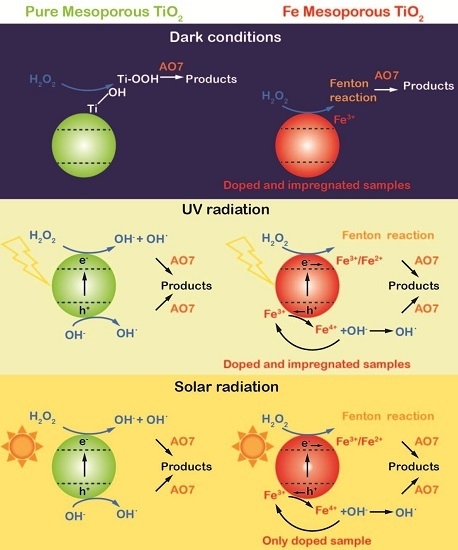 Graphical abstract
This is an open access article distributed under the
Creative Commons Attribution License
which permits unrestricted use, distribution, and reproduction in any medium, provided the original work is properly cited (CC BY 4.0).

Share & Cite This Article
MDPI and ACS Style
Freyria, F.S.; Compagnoni, M.; Ditaranto, N.; Rossetti, I.; Piumetti, M.; Ramis, G.; Bonelli, B. Pure and Fe-Doped Mesoporous Titania Catalyse the Oxidation of Acid Orange 7 by H2O2 under Different Illumination Conditions: Fe Doping Improves Photocatalytic Activity under Simulated Solar Light. Catalysts 2017, 7, 213.
Note that from the first issue of 2016, MDPI journals use article numbers instead of page numbers. See further details here.
Related Articles
Comments
[Return to top]