The Effects of CeO2 Nanorods and CeO2 Nanoflakes on Ni–S Alloys in Hydrogen Evolution Reactions in Alkaline Solutions
1
State Key Laboratory of Metastable Materials Science and Technology, Yanshan University, Qinhuangdao 066004, China
2
Hebei Key Laboratory of Applied Chemistry, College of Environmental and Chemical Engineering, Yanshan University, Qinhuangdao 066004, China
*
Authors to whom correspondence should be addressed.
Academic Editor: Luísa Margarida Martins
Received: 8 May 2017 / Revised: 15 June 2017 / Accepted: 16 June 2017 / Published: 27 June 2017
Abstract
Composite coatings synthesized by different morphologies of CeO2 in supergravity devices are highly active in hydrogen evolution reactions (HERs). By adding CeO2 nanoflakes (CeO2 Nf) or CeO2 nanorods (CeO2 Nr), the change in the microstructures of composites becomes quite distinct. Moreover, most Ni–S alloys are attached on the surface of CeO2 and roughen it compare with pure CeO2. In order to make the expression more concise, this paper uses M instead of Ni–S. At a current density of 10 mA/cm2, overpotentials of Ni–S/CeO2 Nr (M–CeO2 Nr) and Ni–S/CeO2 Nf (M–CeO2 Nf) are 200 mV and 180 mV respectively, which is lower than that of Ni–S (M-0) coating (240 mV). The exchange current density (j0) values of M–CeO2 Nf and M–CeO2 Nr are 7.48 mA/cm2 and 7.40 mA/cm2, respectively, which are higher than that of M-0 (6.39 mA/cm2). Meanwhile, double-layer capacitances (Cdl) values of M–CeO2 Nf (6.4 mF/cm2) and M–CeO2 Nr (6 mF/cm2) are 21.3 times and 20 times of M-0 (0.3 mF/cm2), respectively
View Full-Text
►

▼

Figures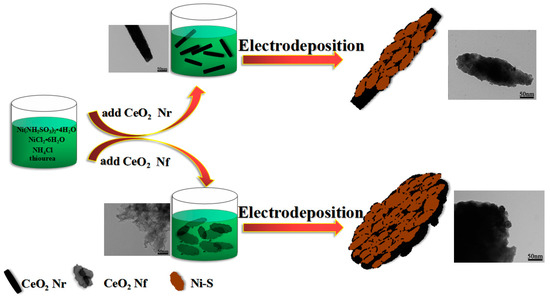 Figure 1
This is an open access article distributed under the
Creative Commons Attribution License
which permits unrestricted use, distribution, and reproduction in any medium, provided the original work is properly cited (CC BY 4.0).

Share & Cite This Article
MDPI and ACS Style
Zhao, M.; Li, Y.; Dong, H.; Wang, L.; Chen, Z.; Wang, Y.; Li, Z.; Xia, M.; Shao, G. The Effects of CeO2 Nanorods and CeO2 Nanoflakes on Ni–S Alloys in Hydrogen Evolution Reactions in Alkaline Solutions. Catalysts 2017, 7, 197.
Note that from the first issue of 2016, MDPI journals use article numbers instead of page numbers. See further details here.
Related Articles
Comments
[Return to top]