Preparation of Salen–Metal Complexes (Metal = Co or Ni) Intercalated ZnCr-LDHs and Their Photocatalytic Degradation of Rhodamine B
1
College of Chemical Engineering, Zhejiang University of Technology, Hangzhou 310014, China
2
School of Life Sciences, Huzhou University, Huzhou 313000, China
*
Author to whom correspondence should be addressed.
Academic Editors: Shaobin Wang and Xiaoguang Duan
Received: 14 April 2017 / Revised: 28 April 2017 / Accepted: 4 May 2017 / Published: 7 May 2017
Abstract
Salen–metal complexes (SalenM) were successfully intercalated into ZnCr layered double hydroxides (LDHs) through coprecipitation method, then a series of novel organic–inorganic hybrid materials were obtained. The structure and properties of the materials were thoroughly characterized by inductively-coupled plasma atomic emission spectrometry (ICP-AES), powder X-ray diffraction (XRD), Fourier transform infrared spectrometry (FTIR), scanning electron microscopy (SEM), and ultraviolet visible diffuse reflectance spectroscopy (UV-Vis DRS). Meanwhile, with Rhodamine B (RhB) as a target contaminant, the photocatalytic activities of SalenM-intercalated ZnCr-LDHs were investigated and compared with the traditional LDHs (ZnCr-LDHs, ZnCoCr-LDHs, and ZnNiCr-LDHs). Furthermore, the effect of the intercalation amount of SalenM (M = Co or Ni) on the photocatalytic activity was studied. The results showed that when the molar ratio of SalenM to Cr was 0.75, SalenM-intercalated ZnCr-LDHs exhibited significantly higher photocatalytic activities than the traditional LDHs. The degradation rates of RhB reached about 90%, and all of them had good recycling rates. In addition, the kinetics of photocatalytic process and the mechanism of photocatalysis are discussed.
View Full-Text
►

▼

Figures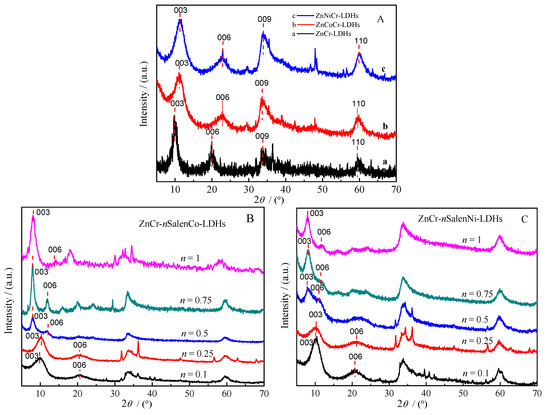 Figure 1
This is an open access article distributed under the
Creative Commons Attribution License
which permits unrestricted use, distribution, and reproduction in any medium, provided the original work is properly cited (CC BY 4.0).

Share & Cite This Article
MDPI and ACS Style
Meng, Y.; Luo, W.; Xia, S.; Ni, Z. Preparation of Salen–Metal Complexes (Metal = Co or Ni) Intercalated ZnCr-LDHs and Their Photocatalytic Degradation of Rhodamine B. Catalysts 2017, 7, 143.
Note that from the first issue of 2016, MDPI journals use article numbers instead of page numbers. See further details here.
Related Articles
Comments
[Return to top]