Open Access This article is
freely available
re-usable
Article
Treatment of Aqueous Bromate by Superparamagnetic BiOCl-Mediated Advanced Reduction Process
1
Institute of Municipal Engineering, College of Civil Engineering and Architecture, Zhejiang University, Hangzhou 310058, China
2
Institute of Port, Coastal and Offshore Engineering, Ocean College, Zhejiang University, Hangzhou 310058, China
3
Environmental Engineering, Jiyang College of Zhejiang A & F University, Zhuji 311800, China
*
Author to whom correspondence should be addressed.
Academic Editors: Giuseppe Marcì and Elisa I. García-López
Received: 22 March 2017 / Accepted: 27 April 2017 / Published: 1 May 2017
Abstract
:
Bromate () contamination in drinking water is a growing concern. Advanced reduction processes (ARPs) are reportedly promising in relieving this concern. In this work, UV/superparamagnetic BiOCl (BiOCl loaded onto superparamagnetic hydroxyapatite) assisted with small molecule carboxylic acid (formate, citrate, and acetate), a carboxyl anion radical ()-based ARP, was proposed to eliminate aqueous . Formate and citrate were found to be ideal precursor, and the latter was found to be safe for practical use. (10 μg·L−1, WHO guideline for drinking water) can be completely degraded within 3 min under oxygen-free conditions. In this process, degradation was realized by the reduction of (major role) and formyloxyl radical (minor role) in bulk solution. The formation mechanism of radicals and the transformation pathway of were proposed based on data on electron paramagnetic resonance monitoring, competitive kinetics, and degradation product analysis. The process provided a sustainable decontamination performance (<5% deterioration for 10 cycles) and appeared to be more resistant to common electron acceptors (O2, , and Fe3+) than hydrated electron based-ARPs. Phosphate based-superparamagnetic hydroxyapatite, used to support BiOCl in this work, was believed to be applicable for resolving the recycling problem of other metal-containing catalyst.
Keywords:
bromate; carboxyl anion radical; reduction; magnetic recovering
1. Introduction
As a toxic byproduct of disinfection, bromate ( in drinking water can find its sources from stock NaOCl and HOBr solution used as disinfectants [
1
], bromide () oxidation by ozone, chlorine, or oxidative radicals (e.g., hydroxyl radical (HO·), sulfate radical ()) [
2
], and contaminant of hypochlorite disinfectant used in water plants [
3
]. Compared with the phase-transferring purification technologies (such as adsorption [
4
,
5
], ion exchange [
6
], and membrane filtration [
7
]), solving methods based on conventional non-radical-based reduction (medium-pressure UV irradiation [
8
], electrochemical reduction [
9
], zero-valent metal reduction [
10
], and Fe(II)/SI(IV) reduction [
11
]) or advanced reduction (involves strong reactive reducing radicals (RRRs) such as H/ [
12
,
13
,
14
]) seem to be more thoroughly because of conversion of to in the latter methods. Advanced reduction processes (ARPs) involve fast degradation kinetics and exhibit a relatively weak sensitivity to dissolved oxygen (DO) compared with conventional non-radical-based reduction processes. As such, ARPs shed light on the efficient and economical removal of BrO
3
−
from drinking water.
In ARPs, one challenge is the efficient generation of RRRs under mild conditions and without secondary pollution. Generally, reactive free radicals (HO·, H·, , and ) can be produced by irradiation (X/γ-rays [
15
], vacuum UV [
16
], electron beams [
17
]), ultrasound, peroxide thermolysis/photolysis/transition metal activation [
18
], photosensitization [
19
], ozone chain decomposition [
20
], and // photolysis [
21
]. RRRs usually form along with the formation of reactive oxidative species (ROSs) in most of these reported technologies. A popular manipulation procedure is using scavengers (, , , and formate) to quench ROSs to generate a system which dominated by RRRs. Our recent work concluded that the low-pressure UV photolysis of (UV-L/) is highly suitable for practical degradation [
13
]. The process that uses (−2.9 V) as reductant gains and as end products. However, the possible formation of sulfur-containing organic intermediates discount the advantage of UV-L/ [
22
]. Besides H·/, another strong reductant carboxyl anion radical (, −2.0 V) exists. This radical can be produced by reactions between RRRs/ROSs and small-molecular-weight organic carboxylic acids (SOCAs; e.g., oxalate, formate, and citrate) [
23
]. The -based process may perform well in removal in terms of thermodynamics ( = −0.61 V, [
13
]). As regards the method of production and level of understanding, HO· shows the most variety and thoroughness among the ROSs. Thus, HO· is an ideal precursor for .
Semiconductor heterogeneous photocatalysis is an adaptable, low-cost, environmentally friendly treatment technology for various pollutants currently being commercialized in many countries [
24
]. Recently, a novel type of semiconductor photocatalyst, bismuth oxyhalide (BiOX, X = F, Cl, Br, I), has attracted great concern because of its potential to address environmental and energy problems. The bandgap energy for BiOX was about 1.85~3.64 eV [
25
]. Thus, BiOX can be photoexcited by UV/visible light irradiation. The photocatalytic ability of BiOCl, BiOBr, and BiOI were reported to be superior to that of commercial TiO
2
(P25) [
26
,
27
,
28
]. For liquid-phase photocatalytic BiOX depollution processes, photoinduced holes /HO· ( HO·) and superoxide radicals (), have been considered to play important roles [
29
]. Thus, photoexcited BiOX can be used as an efficient source of HO·. In calculations for practical application, modest effort has been devoted to load BiOX onto magnetic materials (e.g., spinel [
30
], Fe
3
O
4
[
31
], and Fe
2
O
3
[
32
]). Recently, phosphate was used as photocatalyst support to improve a photocatalyst's resistance against water erosion and hydraulic shearing [
33
]. Therefore, magnetic hydroxyapatite (HAP; Ca
10
(PO
4
)
6
(OH)
2
) may be a proper support in producing recoverable BiOX.
Besides HO·, SOCAs are other precursors of . In the photocatalytic system, two mechanisms may underlie the conversion of organic carboxylic acids into organic radicals, such as . First, SOCAs initially complex with the metal ion harboured by the photocatalyst. Subsequent intramolecular electron transfer from carboxylic acid to the photocatalyst conducted band and photogenerated hole ()-mediated oxidation lead to the formation of organic radicals [
34
]. This mechanism considers that the reduction process occurs at the catalyst surface. In this mechanism, the energy of the highest occupied molecular orbital and ionization potential of SOCAs determine the formation potential of the reducing organic radicals. Second, ROSs (such as /HO·) generated on the interface of the photocatalyst and then reacted with the free SOCAs. As a result, reducing organic radicals, such as , are produced [
35
]. To date, only a few works have distinguished these two aspects in the mechanism expounding. In particular, the contributions of the absorbed ROSs on the photocatalyst surface and free ROSs in bulk solution to the formation of reducing organic radicals have not been discussed.
Given the above-mentioned literature review, an UV/BiOX/SOCA process was proposed to degrade in drinking water. BiOCl, which was loaded onto superparamagnetic HAP (HAPSM), was selected as a typical of BiOX for experimentation. This work intends to (1) probe the potential of combining photoexcited BiOX and SOCAs for generation and removal; (2) clarify the formation mechanism of reductive radical and the main site where degradation occurs; and (3) evaluate the influence of several common electron acceptors (O2, , and Fe3+), which may influence the decontamination efficiency of UV/BiOX/SOCA.
2. Results and Discussion
3. Materials and Methods
3.1. Materials and Reagents
Nitrobenzene (NB), phosphoric acid, KBrO
3
, Na
2
SO
3
, NaNO
3
, humic acid (HA), and 3,4-dihydro-1-oxylato-2,2-dimethyl-2H-pyrrolium (DMPO) were of ACS reagent grade purchased from J&K Scientific Ltd. (Shanghai, China). High-performance liquid chromatography (HPLC)-grade methanol was ordered from Merck (Darmstadt, Germany). Other reagents were obtained from Aladdin (Shanghai, China). In addition, GF/C glass fiber filters were obtained from Whatman (Maidstone, England). HA was purified as described previously [
55
]. The concentration of HA stock solution was calibrated every time before use. All other reagents were used without purification, and Milli-Q water (18.2 MΩ cm) was employed in preparing solutions. High-purity (99.99%) nitrogen and helium gases were purchased from Jingong (Hangzhou, China).
3.2. Synthesis and Characterization of BiOCl-HAPSM
HAPSM was synthesised as follows. First, 0.025 mol FeCl2·4H2O and 0.05 mol FeCl3·6H2O were dissolved in 50 mL ultrapure water, and 0.03 mol H3PO4 was diluted with 50 mL ultrapure water. Then, the above-mentioned solution was mixed with continuous stirring at 200 rpm for 10 min. This mixture was stripped with nitrogen for 10 min to solution A. Afterwards, 0.5 mol Ca(OH)2 was dissolved in 100 mL 70 °C Milli-Q water to produce solution B. Solution A was dosed into solution B with a peristaltic pump at a speed of 1.2 mL·min−1. The whole process was maintained in continuous stirring (400 rpm) and thermostatic (70 °C) under nitrogen protection. Ammonia solution was used to adjust the solution pH to 12–13. The final reaction slurry was transferred to a 1000 mL beaker, sealed with sealing film and settled for 72 h at 25 °C. The deposits were rinsed repeatedly with Milli-Q water, dehydrated at 70 °C under vacuum, and then ground. Pure HAP crystals were synthesised following the same steps of the synthesis of n-Fe-HA, except replacing the solution A by 100 mL H3PO4 solution (0.3 M).
The obtained HAPSM (0.5 g) was added to 50 mL 0.01 M ethylene glycol solution of Bi(NO3)3. The mixture was ultrasonicated for 10min to ensure uniform dispersion. Then, 50 mL 0.01 M ethylene glycol solution of KBr was dosed into the above solution with a peristaltic pump at a flow rate of 0.6 mL·min−1 with mechanically stirring at room temperature. The mixed solution was then autoclaved at 160 °C for 12 h. The formed precipitate was washed repeatedly with copious amounts of ultrapure water and anhydrous ethanol until the conductivity of waste liquid was maintained constant. The precipitate was then dried under vacuum for 12 h at 60 °C.
The X-ray powder diffraction pattern of HAPSM powders was tested using a Rigaku Dmax-2000 diffractometer (Rigaku Co., Tokyo, Japan. The morphology and microstructure of the synthesized BiOCl-HAPSM particles were observed by scanning electron microscopy (SEM; FEI Quanta FEG-650) and transmission electron microscopy (TEM; JEOL JEM-1230). X-ray photoelectron spectroscopy (XPS) analysis was conducted using an ESCALAB 250Xi spectrometer. Magnetization measurements were performed using a Lakeshore 7304 vibrating sample magnetometer (Lake Shore Co. Ltd., Columbus, OH, USA) at 25 °C.
3.3. Experimental Procedures
A similar photoreactor described in a previous work was used to perform experiments [
22
]. This photoreactor is cylindrical (4 cm internal diameter) and has a total volume of 1.8 L (1.5 L samples). The UV source is a Heraeus low-pressure mercury UV lamp (no ozone generation, light emission at 253.7 nm), which was put in a quartz tube located at the center of the reactor and caused a incident UV intensity of 4.0 mW·cm
−2
in the completely mixed sample. Sodium bromate (1 mg·L
−1
) was first dissolved with oxygen-free water preloaded in the reactor. Afterwards, precalculated amount HAP
SM
-BiOCl (0.5 g·L
−1
) and SOCAs (4 mM) were added. The resultant solution was mixed thoroughly. Oxygen-free water was prepared by helium gas purging (30 min at 1.0 L·min
−1
). In most of the reactions, borate was used to adjust the solution pH. Collected samples were filtered through a 0.22 μm membrane before analysis. All experiments were operated in a thermostatic room (25 °C). The UV lamp was turned on for 20 min until stable prior to experiments.
3.4. Analysis Methods
and bromide () were analyzed through ion chromatography (Dionex ICS-2000). NB (column: 4.6 mm × 250 mm × 5 µm SB–C18, column temperature: 25 °C, mobile phase: water and methanol (55:45,
v
/
v
), flow: 1.0 mL·min
−1
, and VWD signal: 263 nm) was measured by a Agilent 1200 HPLC (Agilent, Palo Alto, CA, USA). Br
2
and HBrO/BrO
−
were determined by the chemical ionization mass spectrometry method [
56
]. Bromite () determination followed the method reported [
57
].
Radicals (HO·, and H·) were trapped with DMPO and corresponding DMPO adducts were examined by a Bruker EPR A300 electron paramagnetic resonance spectrometer (Bruker, Rheinstetten, Germany). The parameters of the EPR spectrometer were as follows: microwave power, 45 mW; central field, 3445 G; modulation frequency, 100 kHz; sweep width, 70 G; scans, 1–25; sweep time, 1–5 s; modulation amplitude, 1.25 Gpp; receiver gain, (8–40) × 105; and time constant, 1–50 ms. Tests on magnetic properties were performed using a MPMS SQUID magnetometer (Quantum Design, San Diego, CA, USA).
4. Conclusions
The formate- or citrate- mediated UV/BiOCl-HAPSM ARP was proved to be a feasible method for the eliminating BrO3− possibly existing in drinking water. reacted quickly with (1.4 × 109 M−1·s−1), and degradation mainly resulted from the reduction in bulk solution. A mechanism for degradation was proposed. Among the common electron acceptors (, DO, and Fe3+), only DO displayed a relatively obvious negative effect (20% inhibition of degradation under the current condition). Phosphate () based-BiOCl-HAPSM catalyst also demonstrated a superior reusability owing to the possible strong coordination between the surface Bi atom and . These findings are beneficial for developing green and efficient technologies for controlling levels in drinking water. Further work on the preparation of photocatalysts that would generate high yields of free HO· should be pursued in the future research.
Acknowledgments
This work was financially supported by the National Natural Science Foundation of China (Grant Nos. 51408539 and 51478417), the National Key Research and Development Plan (Grant No. 2016YFC04006), the Science and Technology Program of Zhejiang Province (Grant No. 2015C33007), and the Important National Science and Technology Specific Projects (Grant No. 2012ZX07408-002). The authors also greatly appreciate the additional support from Jiyang College of Zhejiang A & F University (Grant No. 04251700010).
Author Contributions
Tingchao Yu conceived and designed the experiments; Xiaowei Liu, Zhe Sun and Lili Wang performed the experiments and analyzed the data; Tingchao Yu and Yu Shao contributed reagents/materials/analysis tools; Lili Wang wrote the paper.
Conflicts of Interest
The authors declare no conflict of interest.
Appendix A
As we discussed above, degradation in the UV/BiOCl-HAP
SM
/formate system was mainly own to induced reduction. Additionally, elimination by UV irradiation and adsorption can be ignored within a short reaction time (≤5 min) (
Figure 5
). Considering usually undergo one-electron reaction [
52
] and degradation intermediates are minor at the early stage of reaction (≤5 min), the kinetic expression of degradation can be expressed as Equation (A1) and its integrated form as Equation (A2):
Here, is the second-order rate constant of with , [] defined as the quasi-stationary concentrations of , and [BrO3−]0 and [] are the initial concentration of and concentration at time t, respectively.
Because it is difficult to determine the absolute concentration of , the competitive kinetic method is applied. This approach is realized by introducing a reference compound (NB) of a known rate constant with into the original reaction system. The reference compound (NB), which follows a similar kinetic equation to that for target compound :
After dividing Equations (A2) with (A3), Equation (A4) is obtained:
The plot of ln ([BrO
3
−
]/ln[BrO
3
−
]
0
) versus ln ([NB]/ln[NB]
0
) yielded a straight line with a slope of / = 1.37 as shown in
Figure S2
. The has been reported to be 1.0 × 10
9
M
−1
·
s
−1
at pH 6–7 [
52
]. According to these values, was found to be 1.37 × 10
9
M
−1
·s
−1
. It is noteworthy that this determined value is corresponding to the initial attacking of to , which may generate an intermediate (not bromide).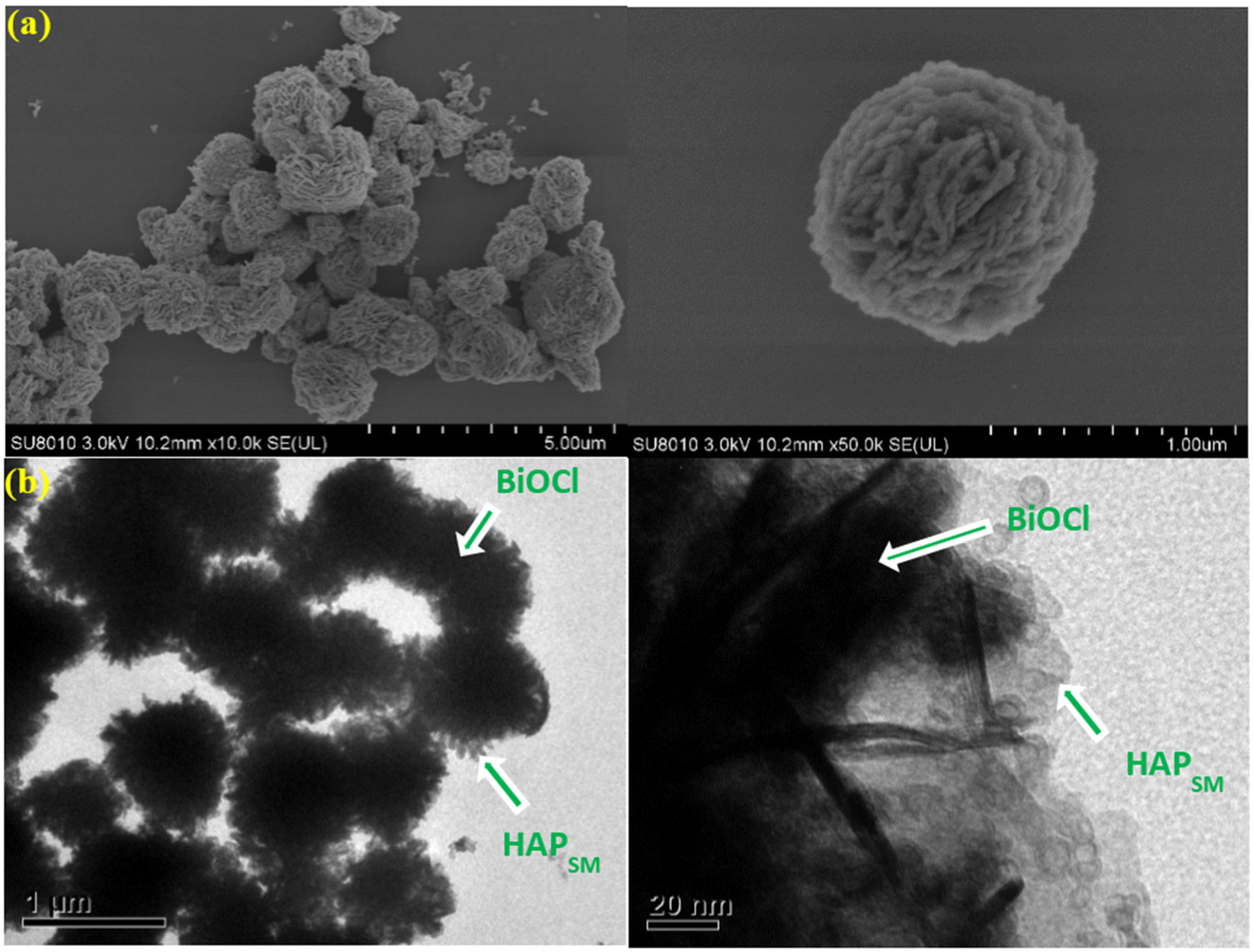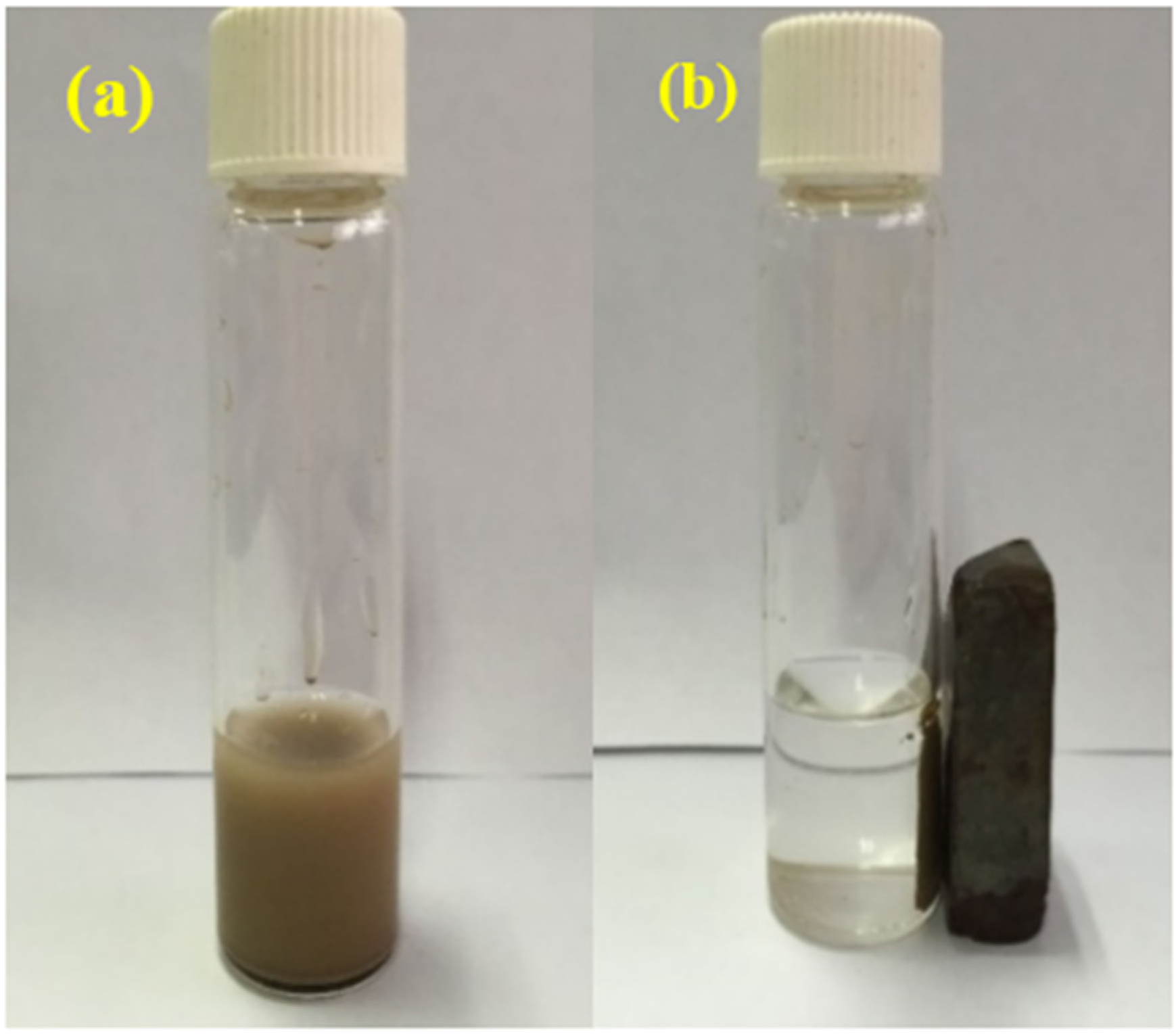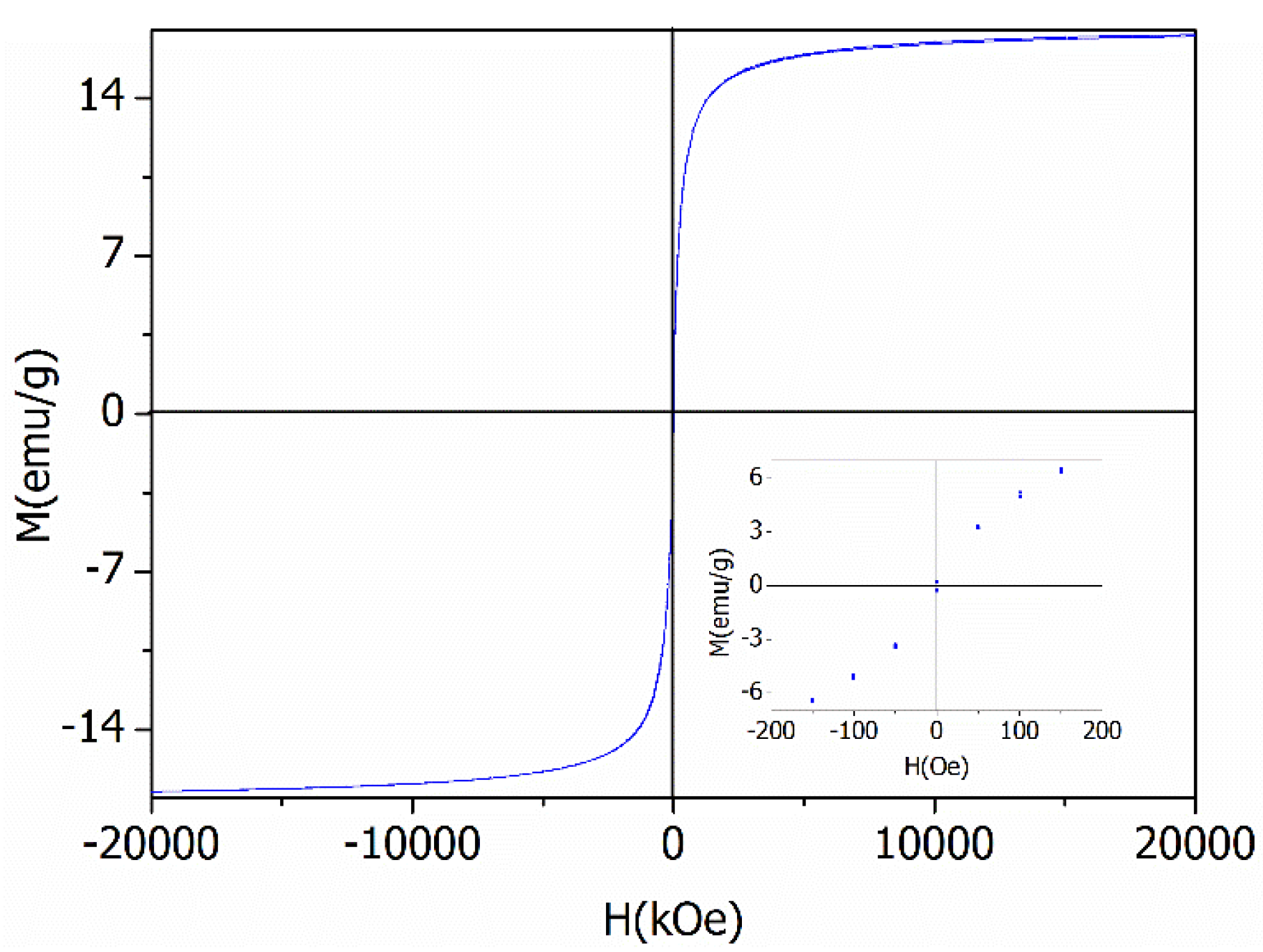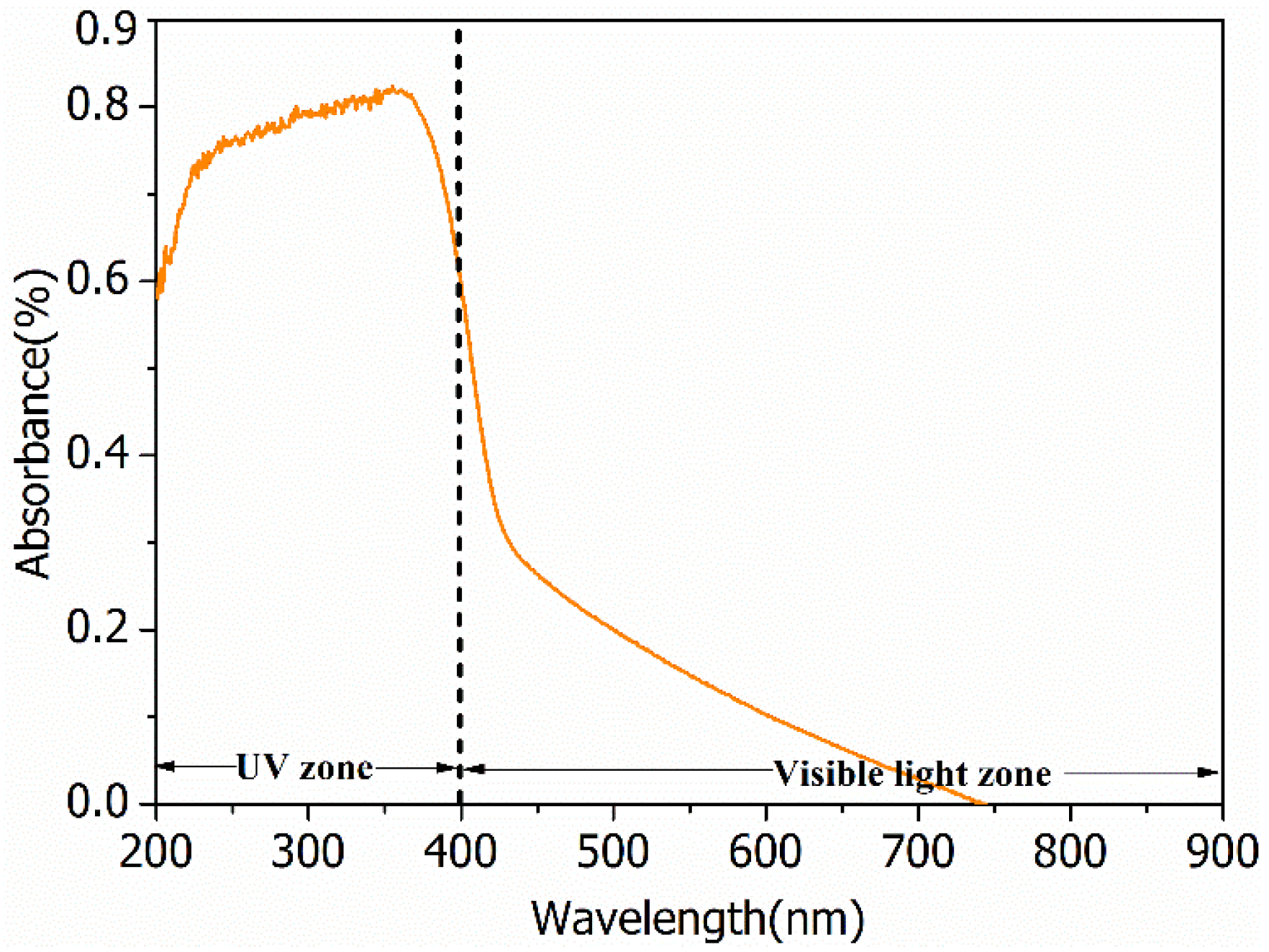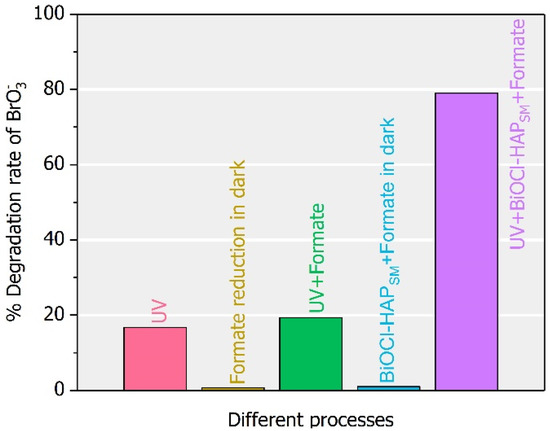 Figure 5. Bromate degradation efficiency by different processes. Conditions: [Formate]0 = 4 mM; BiOCl-HAPSM dosage 0.5 g·L−1, []0 = 6.6 μM, pH = 7.0 ± 0.1, 25 °C, reaction time 15 min.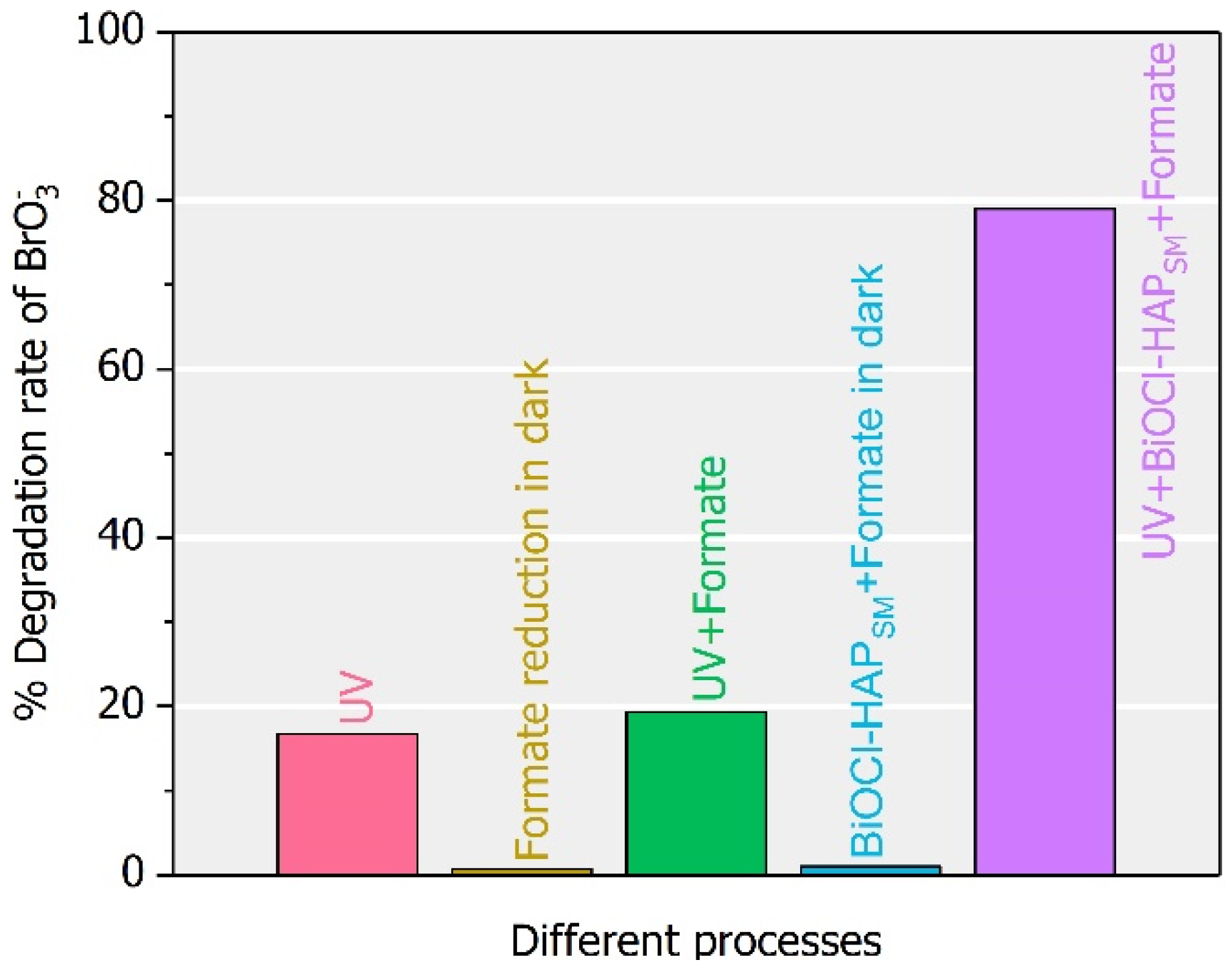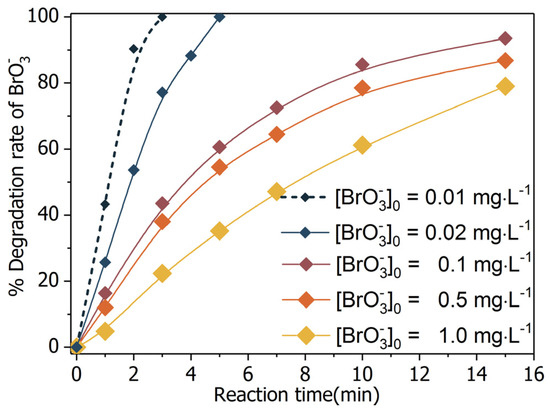 Figure 6. Bromate degradation by UV/BiOCl-HAPSM/formate: efficiency changes with variation of initial concentration of bromate ([]0). Conditions: [Formate]0 = 4 mM, BiOCl-HAPSM dosage 0.5 g·L−1, pH = 7.0 ± 0.1, 25 °C.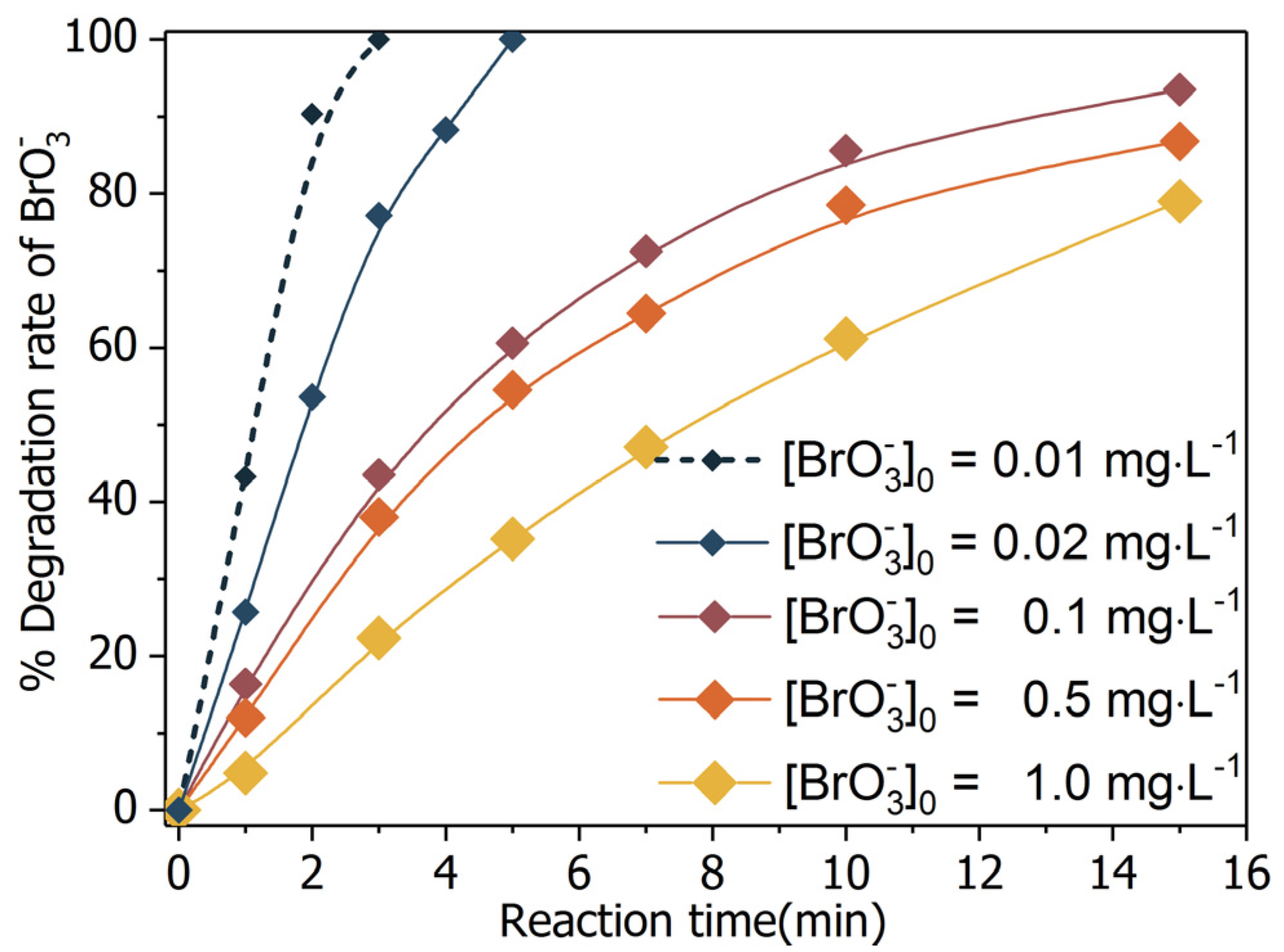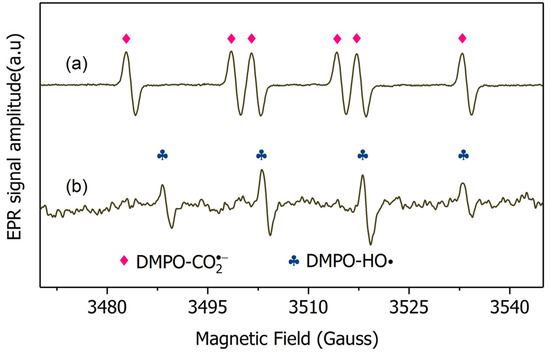 Figure 7. EPR spectra obtained from (a) UV/BiOCl-HAPSM/Formate and (b) UV/BiOCl-HAPSM systems in the presence of DMPO. Conditions: BiOCl-HAPSM dose 0.5 g·L−1, [DMPO]0 = 10 mM, []0 = 6.6 μM, [Formate]0 = 4.0, pH = 7.0, 25 °C.

Figure 8. (a) Adsorption of formate by BiOCl-HAPSM in presence or absence of and (b) effect of on the degradation of bromate. Conditions: BiOCl-HAPSM dose 0.5 g·L−1, []0 = 6.6 μM, [Formate]0 = 4.0 mM, []0 = 4.0 mM, pH = 7.0, 25 °C.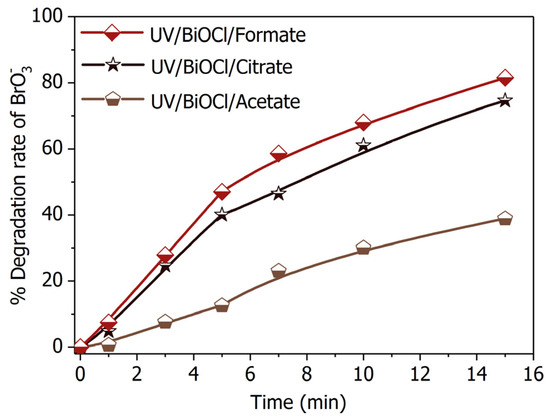 Figure 9. Bromate degradation efficiency by in presence of different SOCA. Conditions: [Formate]0 = [Citrate]0 = [Acetate]0 = 4 mM; BiOCl-HAPSM dosage 0.5 g·L−1, []0 = 6.6 μM, pH = 7.0 ± 0.1, 25 °C, reaction time 15 min.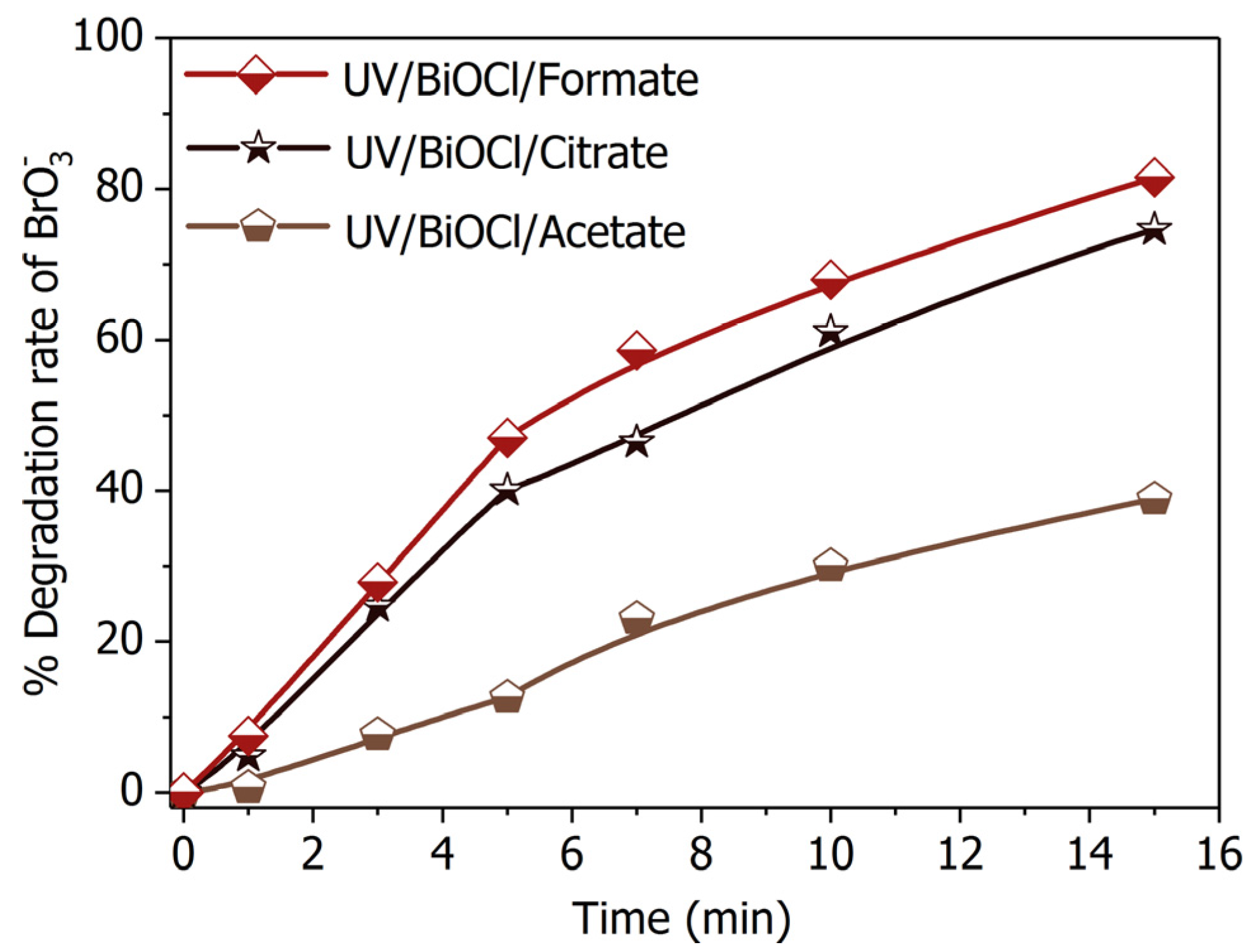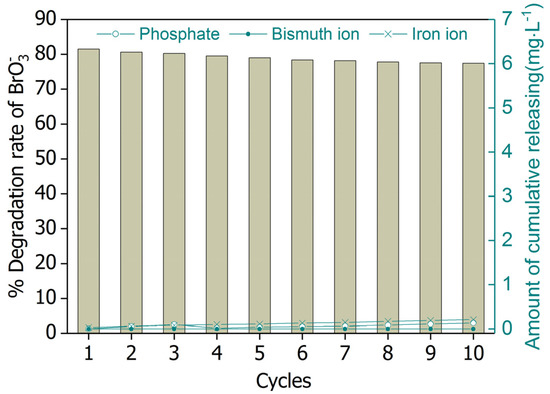 Figure 10. Removal of bromate by UV/BiOCl-HAPSM/formate and element releasing for 10 successive cycles. Conditions: [Formate]0 = 4 mM; BiOCl-HAPSM dosage 0.5 g·L−1, []0 = 6.63 μM, pH = 7.0 ± 0.1, 25 °C, reaction time 15 min.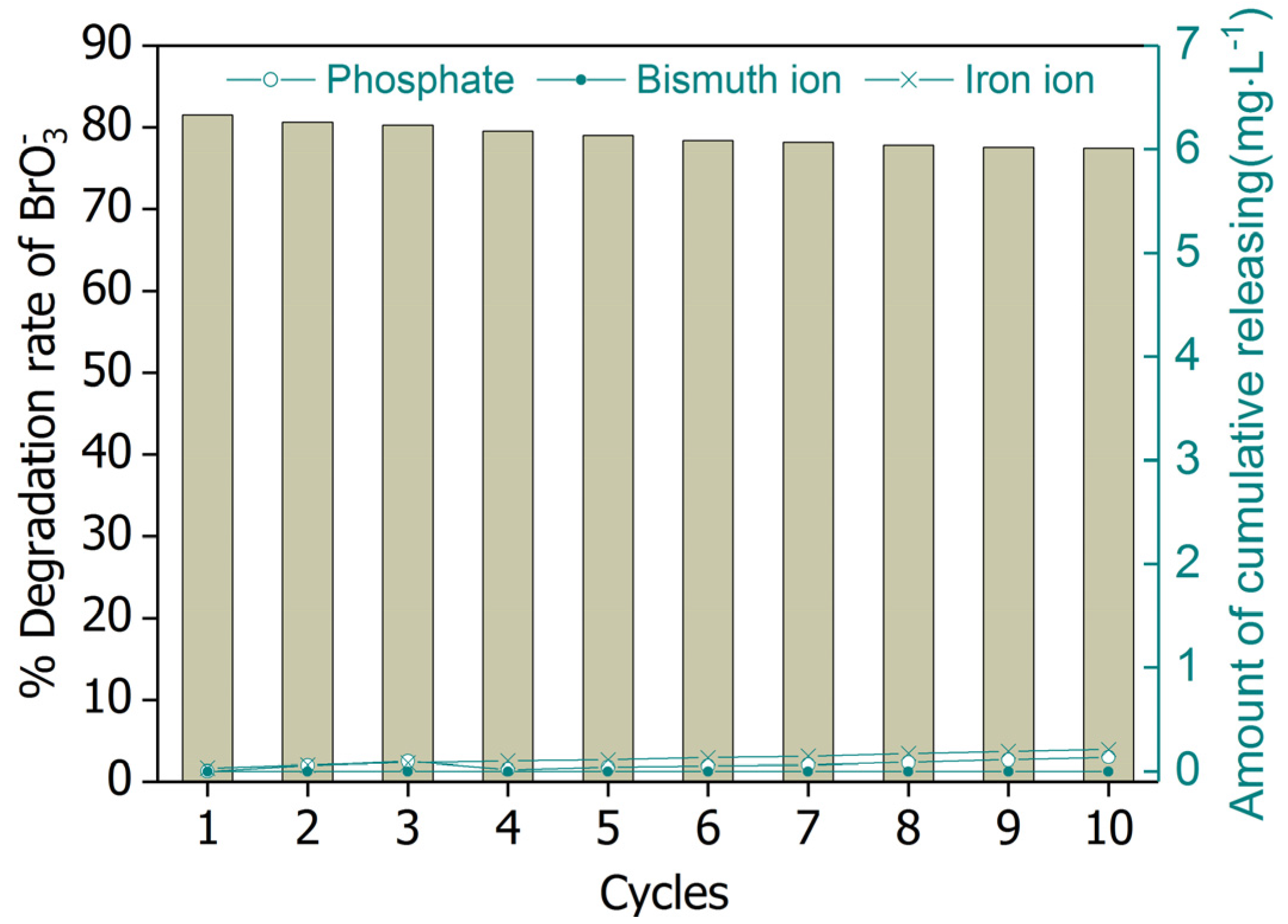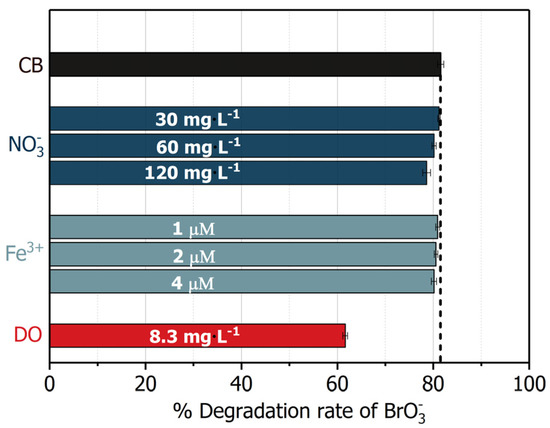 Figure 11. Effects of common electron acceptors on the removal of bromate by UV/BiOCl-HAPSM/formate. Control blank (CB) conditions: [Formate]0 = 4 mM; BiOCl-HAPSM dosage 0.5 g·L−1, []0 = 6.63 μM, pH = 7.0 ± 0.1, 25 °C, reaction time 15 min.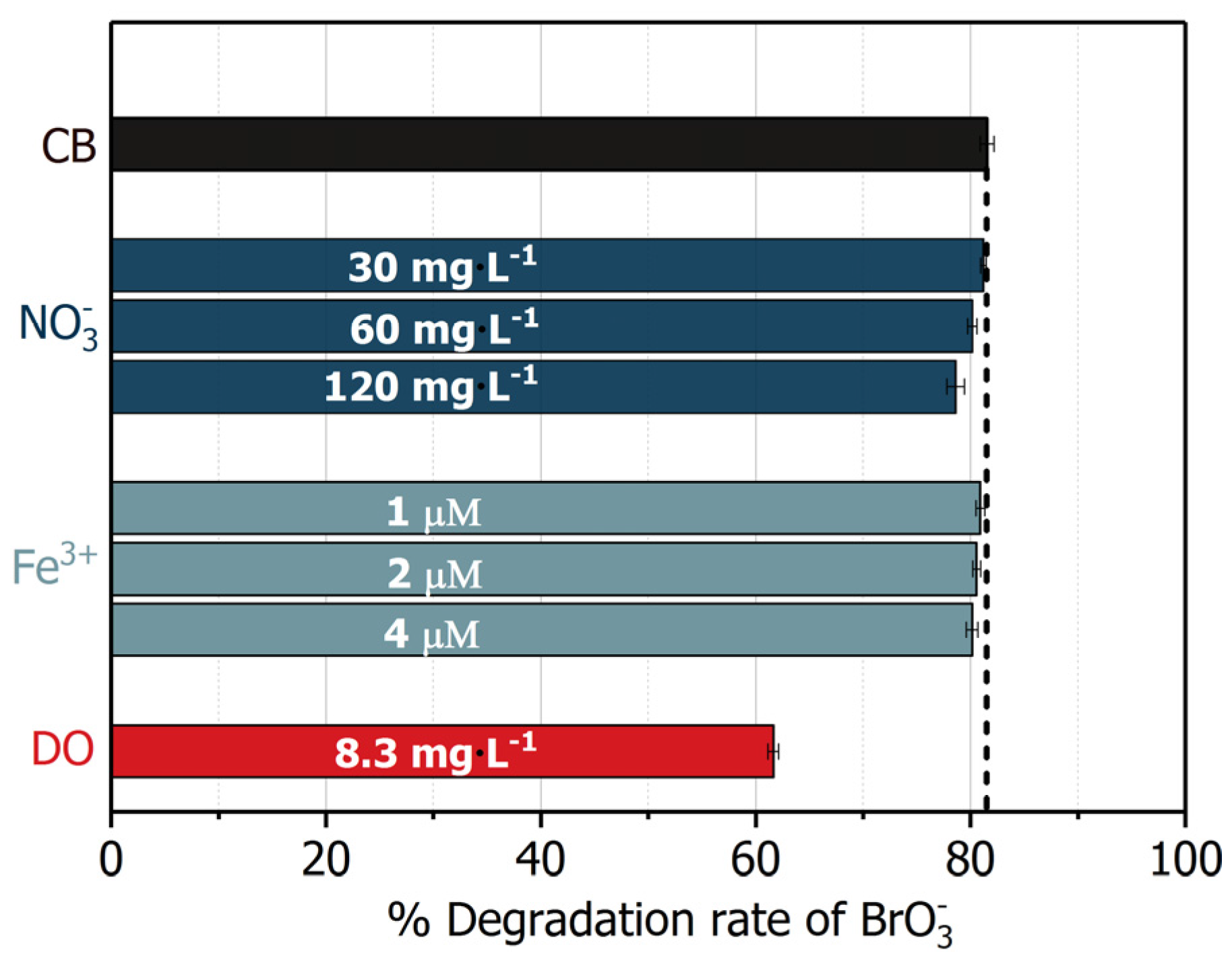 Figure 12. (a) Mass balance of bromine element and (b) relationship of bromate decrease and bromide increase. Conditions: [Formate]0 = 4 mM; BiOCl-HAPSM dosage 0.5 g·L−1, []0 = 6.6 μM, pH = 7.0 ± 0.1, 25 °C.


© 2017 by the authors. Licensee MDPI, Basel, Switzerland. This article is an open access article distributed under the terms and conditions of the Creative Commons Attribution (CC BY) license (http://creativecommons.org/licenses/by/4.0/).