Morphology-Dependent Properties of Cu/CeO2 Catalysts for the Water-Gas Shift Reaction
State Key Laboratory of Chemical Resources Engineering, Beijing University of Chemical Technology, Beijing 100029, China
*
Author to whom correspondence should be addressed.
Academic Editors: Enrique Rodríguez-Castellón, Agustín Bueno-López and Elisa Moretti
Received: 4 January 2017 / Revised: 20 January 2017 / Accepted: 26 January 2017 / Published: 5 February 2017
Abstract
CeO
2
nanooctahedrons, nanorods, and nanocubes were prepared by the hydrothermal method and were then used as supports of Cu-based catalysts for the water-gas shift (WGS) reaction. The chemical and physical properties of these catalysts were characterized by X-ray diffraction (XRD), transmission electron microscopy (TEM), N
2
adsorption/desorption, UV-Vis spectroscopy, X-ray photoelectron spectroscopy (XPS), hydrogen temperature-programmed reduction (H
2
-TPR) and in situ diffuse reflectance infra-red fourier transform spectroscopy (DRIFTS) techniques. Characterization results indicate that the morphology of the CeO
2
supports, originating from the selective exposure of different crystal planes, has a distinct impact on the dispersion of Cu and the catalytic properties. The nanooctahedron CeO
2
catalyst (Cu-CeO
2
-O) showed the best dispersion of Cu, the largest amount of moderate copper oxide, and the strongest Cu-support interaction. Consequently, the Cu-CeO
2
-O catalyst exhibited the highest CO conversion at the temperature range of 150–250 °C when compared with the nanocube and nanorod Cu-CeO
2
catalysts. The optimized Cu content of the Cu-CeO
2
-O catalysts is 10 wt % and the CO conversion reaches 91.3% at 300 °C. A distinctive profile assigned to the evolution of different types of carbonate species was observed in the 1000–1800 cm
−1
region of the in situ DRIFTS spectra and a particular type of carbonate species was identified as a potential key reaction intermediate at low temperature.
View Full-Text
►

▼

Figures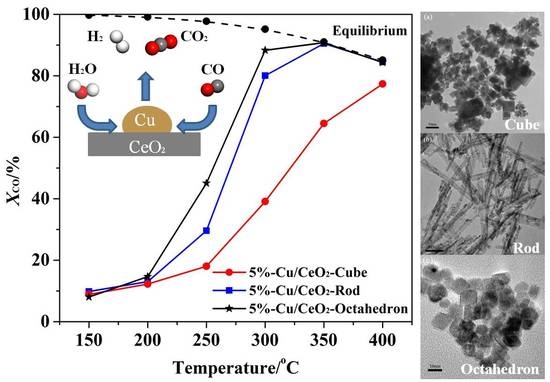 Graphical abstract
This is an open access article distributed under the
Creative Commons Attribution License
which permits unrestricted use, distribution, and reproduction in any medium, provided the original work is properly cited (CC BY 4.0).

Share & Cite This Article
MDPI and ACS Style
Ren, Z.; Peng, F.; Li, J.; Liang, X.; Chen, B. Morphology-Dependent Properties of Cu/CeO2 Catalysts for the Water-Gas Shift Reaction. Catalysts 2017, 7, 48.
Note that from the first issue of 2016, MDPI journals use article numbers instead of page numbers. See further details here.
Related Articles
Comments
[Return to top]