Open Access This article is
freely available
re-usable
Article
Cross-Linked CoMoO4/rGO Nanosheets as Oxygen Reduction Catalyst
1
Key Laboratory of Polyoxometalate Science of Ministry of Education, Key Laboratory of Nanobiosensing and Nanobioanalysis at Universities of Jilin Province, Faculty of Chemistry, Northeast Normal University, Changchun 130024, China
2
School of Chemistry, The University of Glasgow, Galsgow G12 8QQ, UK
*
Authors to whom correspondence should be addressed.
Received: 23 November 2017 / Accepted: 28 November 2017 / Published: 4 December 2017
Abstract
:
Development of inexpensive and robust electrocatalysts towards oxygen reduction reaction (ORR) is crucial for the cost-affordable manufacturing of metal-air batteries and fuel cells. Here we show that cross-linked CoMoO4 nanosheets and reduced graphene oxide (CoMoO4/rGO) can be integrated in a hybrid material under one-pot hydrothermal conditions, yielding a composite material with promising catalytic activity for oxygen reduction reaction (ORR). Cyclic voltammetry (CV) and linear sweep voltammetry (LSV) were used to investigate the efficiency of the fabricated CoMoO4/rGO catalyst towards ORR in alkaline conditions. The CoMoO4/rGO composite revealed the main reduction peak and onset potential centered at 0.78 and 0.89 V (vs. RHE), respectively. This study shows that the CoMoO4/rGO composite is a highly promising catalyst for the ORR under alkaline conditions, and potential noble metal replacement cathode in fuel cells and metal-air batteries.
Keywords:
CoMoO
4
nanosheets; reduced graphene oxide; hydrothermal reaction; oxygen reduction reaction; fuel cell
1. Introduction
The exponential increase of energy demand and serious environmental problems induce the growth of clean and sustainable energy [
1
,
2
,
3
,
4
,
5
]. The electrochemical oxygen reduction reaction (ORR) and oxygen evolution reaction (OER) have been deemed as two main processes which are highly important in green energy applications. From these two processes, the ORR is the determinant reaction in fuel cells and metal-air batteries [
6
,
7
,
8
,
9
].
ORR is inherently complicated and has sluggish oxygen reduction kinetics in both fuel cells and metal-air batteries [
10
]. At present, Pt and Pt based alloys catalysts have been conceded as the best ORR catalysts [
11
,
12
]; however platinum's scarcity in the earth's crust, its high cost, and poor stability have prevented widespread commercial application. In an effort to overcome the above issues, extensive research efforts have been focused on the devise and synthesis of ORR electrocatalysts based on transition-metal elements which are cheap, highly active, and stable over the long term.
Transition metal elements such as iron, manganese, nickel, and cobalt were investigated as potential low-cost and earth-abundant catalysts towards ORR under alkaline condition [
13
,
14
,
15
,
16
,
17
,
18
]. Binary metal oxides and mixed metal oxides have been considered due to their good performance for ORR, such as ZnCo
2
O
4
[
19
], Zn
2
SnO
4
[
20
], NiCo
2
O
4
[
21
], NiMoO
4
[
22
], and CoMoO
4
[
23
,
24
]. Additionally, transition metal oxides have attracted the attention of research groups and have been widely utilized as bifunctional catalysts due to their multiple oxidation states, which is apt to be used in electrocatalytic processes. The relevant materials that can adopt different oxidation states which are directly related to the observed functionality and activity in various processes while they can contribute to the stability of an electrolytic cell. Also, in marked contrast to the noble metal catalysts, transition metal oxides are earth-abundant and cheaper [
25
]. Lately metal molybdates were proposed to be an outstanding candidate in electrochemical energy conversion, such as water-splitting and lithium-ion batteries, indicative of their rapid and efficient redox activity. Metal molybdates illustrate exceptional stability in alkaline solution. Especially CoMoO
4
is deemed as a highly promising ORR catalyst due to its low cost, low toxicity, abundance, and durability. Yet, CoMoO
4
nanostructure also exhibits the disadvantage of easy aggregation. So, there have only been rare reports on the synthesis of highly dispersed CoMoO
4
nanostructure with good electrocatalytic activity via hydrothermal synthesis. A general means to tackle this issue is to devise and synthesize an appropriate material exhibiting high conductivity, evenly distributed catalytic active sites, increase the onset potential which will finally boost the reaction rates [
26
].
It has been reported that carbon based components like graphene and single-walled carbon nanotubes (SWNTs) have been routinely used for the preparation of hybrid materials as ORR electrocatalysts, in supercapacitors and proton-exchange-membrane fuel cells, owing to their extraordinary performances arising from their big surface area, high conductivity, and structural flexibility [
27
,
28
,
29
,
30
]. Graphene intrinsically has numerous advantages such as high specific surface area which can easily contact with electrolyte solution and long term electrochemical stability, making it a superb substrate for high-property electrocatalysis reactions.
Herein, we report the preparation and characterization of a hybrid material composed of CoMoO4 nanosheets and reduced graphene oxide as well as its efficiency as ORR catalyst in alkaline media. CoMoO4 nanosheets grown on rGO revealed improved conductivity, increased active area and enhanced contact of the electrolyte solution with the electrode material. Cooperative effects of the composite's components revealed improved ORR performance and higher stability compared to pristine CoMoO4 or rGO.
2. Results and Discussion
3. Experimental Section
3.1. Chemicals and Materials
Cobalt(II) chloride hexahydrate (CoCl2·6H2O), ammonium molybdate tetrahydrate ((NH4)6Mo7O24·24H2O), urea, ethanol and potassium hypermanganate were acquired from Beijing Chemical Reagent Co. Ltd. (Beijing, China). Nafion (5 wt %) and commercial Pt/C (20 wt %) catalysts were obtained from DuPont (DuPont, Shanghai, China) and Johnson Matthey (Johnson Matthey, Shanghai, China), respectively. Flake graphite was acquired from Qingdao Risheng graphite Ltd. (Qingdao, China). All chemicals were all directly applied without any further purification. Ultrapure water (18.25 MΩ cm−2) was offered by Water Purifier system and used for all aqueous solution.
3.2. Synthesis of Graphene Oxide (GO)
Graphene oxide was prepared with the improved method reported in the literature [
44
]. For the improved method, the mixed acid of 360 mL H
2
SO
4
and 40 mL H
3
PO
4
was slowly added to a large drying beaker containing 3 g graphite flakes and 18 g KMnO
4
mixed solid, the exothermic reaction led to the increase of the temperature of the reaction system. Then the resultant solution was kept at 50 °C and oscillated for 12 h. After cooling to ambient temperature, about 400 mL of ice water and 3 mL 30% H
2
O
2
slowly poured into the reaction under vigorous stirring, changing the color of the resultant from dark brown to bright yellow. The prepared product was rinsed several times with H
2
O and filtered. The as-synthesized sample was dried at room temperature.
3.3. Synthesis of CoMoO4/rGO Catalysts
0.1185 g CoCl2·6H2O (0.5 mmol), 0.877 g (NH4)6Mo7O24·24H2O (0.5 mmol) were dissolved in 10 mL of deionized water (DI) and stirred for 10 min to form CoMoO4 solution. Then 72.6 mg GO (ρ = 6.6 g/L) dispersion was added into the CoMoO4 solution. Meanwhile, 29 mL distilled water was poured into the reaction mixture. The mixture was agitated for 1 h and formed a clear solution. After 1 h, the pH of the solution was adjusted to 10 using ammonia solution (25~28%). The homogenous solution was placed into an autoclave. The autoclave was sealed and maintained at 120 °C for 12 h. After cooling down to ambient temperature, the product was filtered, rinsed several times with distilled water and dried at 60 °C overnight. For comparison, rGO and CoMoO4 samples were also prepared in a similar manner in the absence of CoMoO4 or GO, respectively.
4. Conclusions
Graphene-supported, cross-linked CoMoO4/rGO nanosheets were fabricated employing a facile one-pot hydrothermal approach. The CoMoO4/rGO hybrid material revealed an improved catalytic performance for the oxygen reduction reaction, comparing to the pristine CoMoO4 and rGO. Furthermore, CoMoO4/rGO displays a remarkable durability towards the ORR compared to the Pt/C in alkaline medium. The electrocatalytic activity of the as-synthesized CoMoO4/rGO can be attributed to: (1) the molybdenum based induced fast electron transfer processes; (2) the CoMoO4 doping of rGO hinders the aggregation of graphene leading to uniform dispersion of CoMoO4 onto rGO; and (3) the overall synergistic effect between CoMoO4 and rGO improved the accessibility of more cobalt based active sites. The observed improvement of the electrochemical properties renders the CoMoO4/rGO composite material as a highly promising electrode material for energy related applications such as manufacturing of cost-affordable fuel cells.
Supplementary Materials
The following are available online at
www.mdpi.com/2073-4344/7/12/375/s1
, Figure S1. Raman spectra of graphene oxide, Table S1. Comparison of ORR activity parameters with other recently reported. 1. Physical characterization, 2. Electrochemical measurements.
Acknowledgments
The authors gratefully acknowledge the financial support from the National Natural Science Foundation of China (No. 21471028), National Key Basic Research Program of China (No. 2013CB834802), Changbai Mountain Scholarship, Natural Science Foundation of Jilin Province (No. 20150101064JC), and the Fundamental Research Funds for the Central Universities (No. 2412015KJ012).
Author Contributions
Jiaqi Fu and Jiang-Li Meng have contributed equally. Jiaqi Fu wrote the paper, Jiaqi Fu and Jiang-Li Meng did the experiments. Mei-Jie Wei contributed analysis tools and reagents. Hong-Ying Zang and Haralampos N. Miras revised the article. Hong-Ying Zang, Hua-Qiao Tan, Yong-Hui Wang, Yang-Guang Li, Jiaqi Fu, Jiang-Li Meng, and Mei-Jie Wei analyzed the data.
Conflicts of Interest
The authors declare no conflict of interest.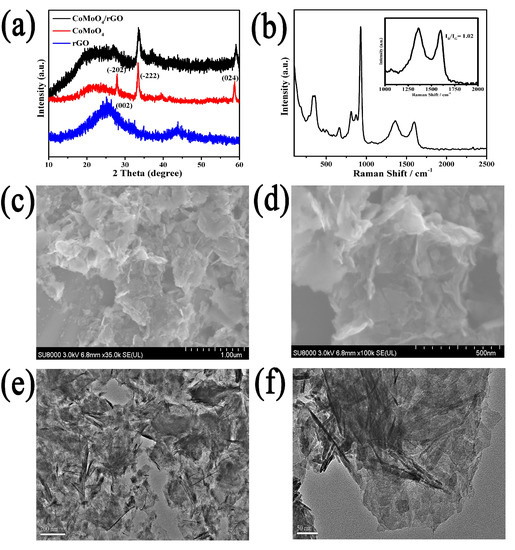 Figure 1. (a) X-ray Powder Diffraction (XRD) patterns of CoMoO4/rGO, CoMoO4 and rGO powder samples; (b) Raman spectra. GO: graphene oxide. (c,d) SEM images of CoMoO4/rGO. (e,f) TEM images of CoMoO4/rGO.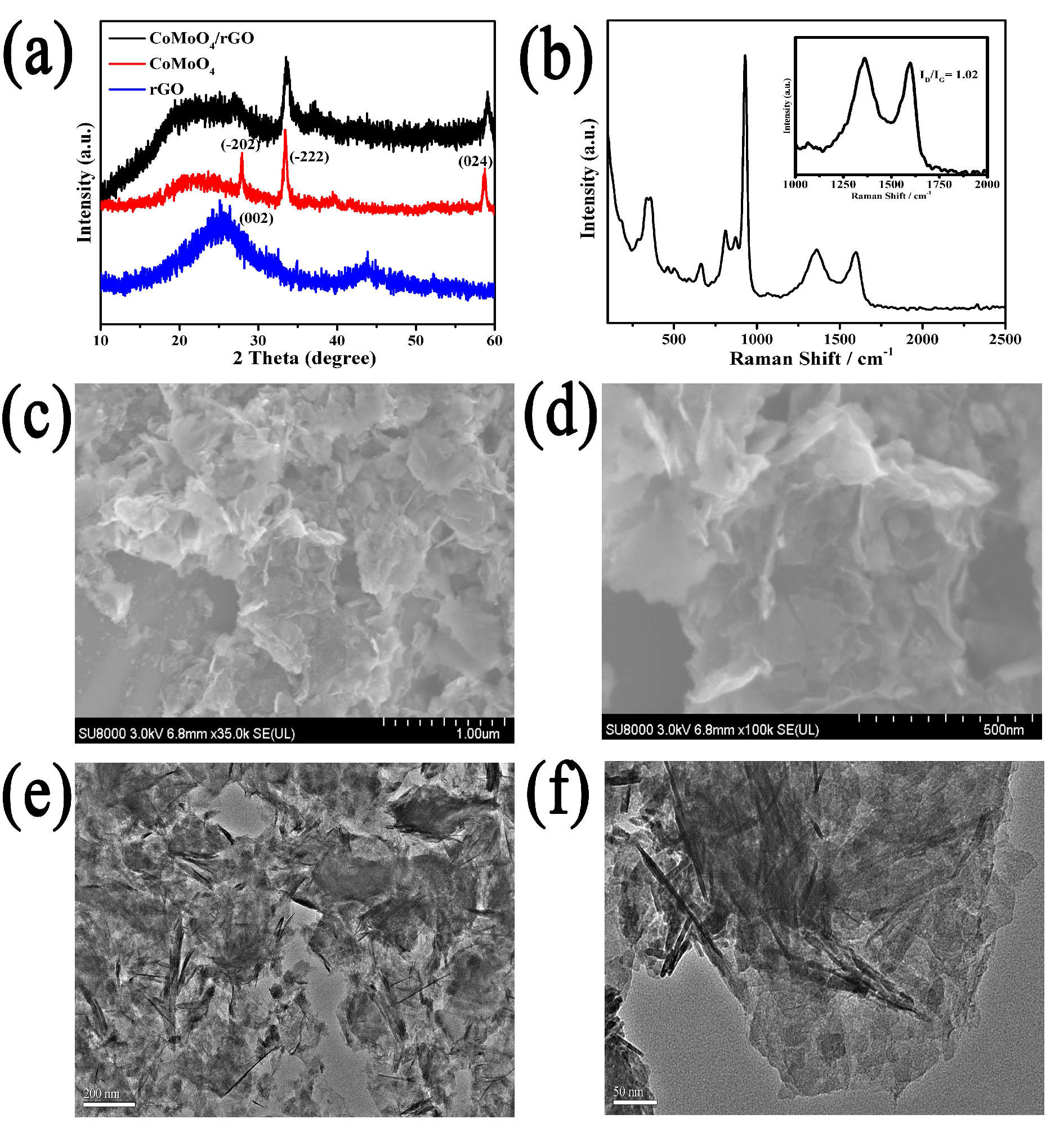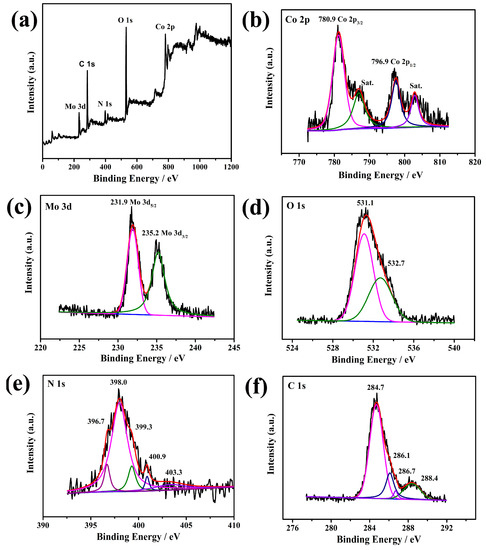 Figure 2. (a) the XPS survey of CoMoO4/rGO; (b) Co 2p XPS peaks; (c) Mo 3d XPS peaks; (d) O 1s XPS spectrum; (e) N 1s XPS spectrum; (f) C 1s peaks XPS.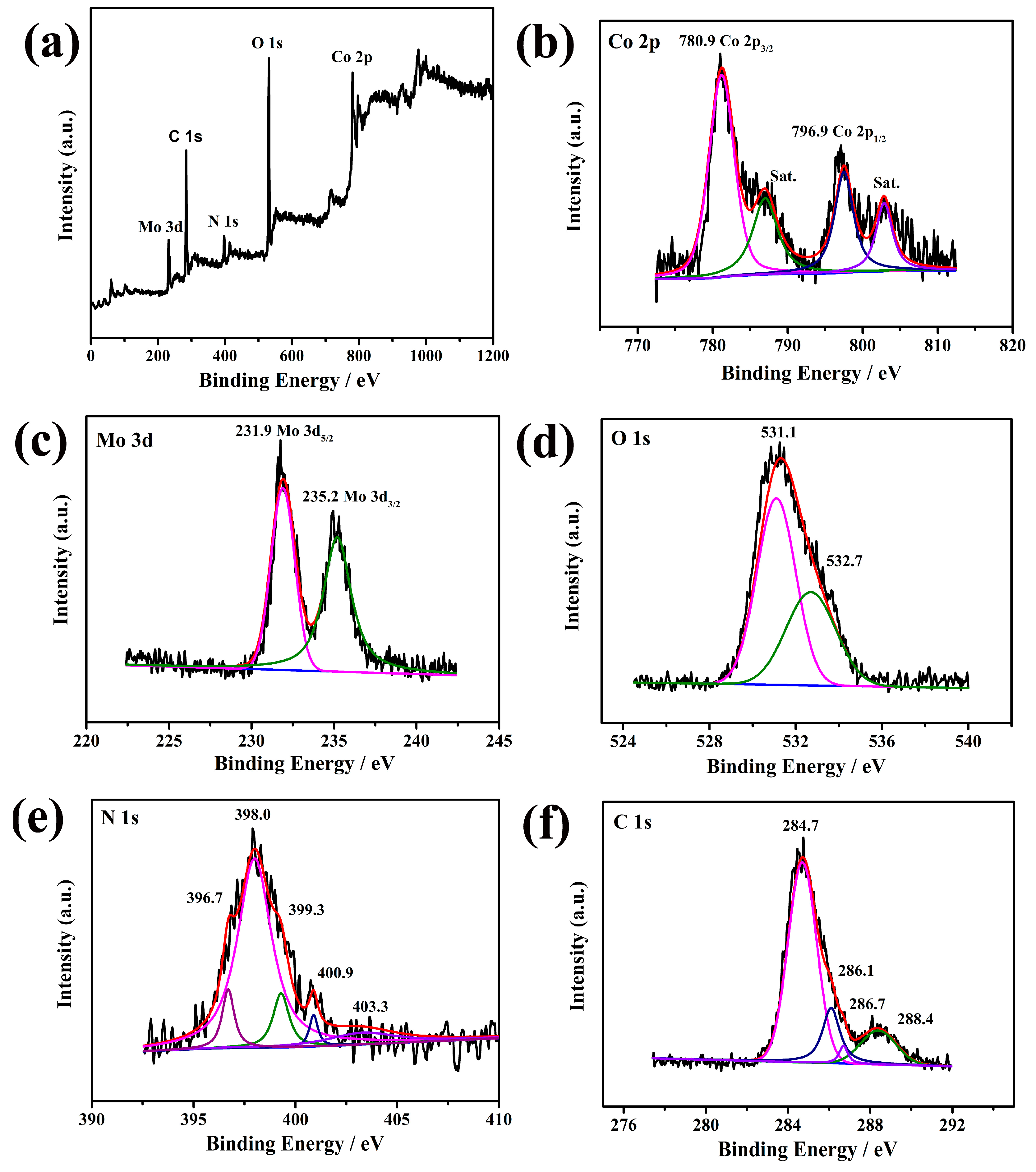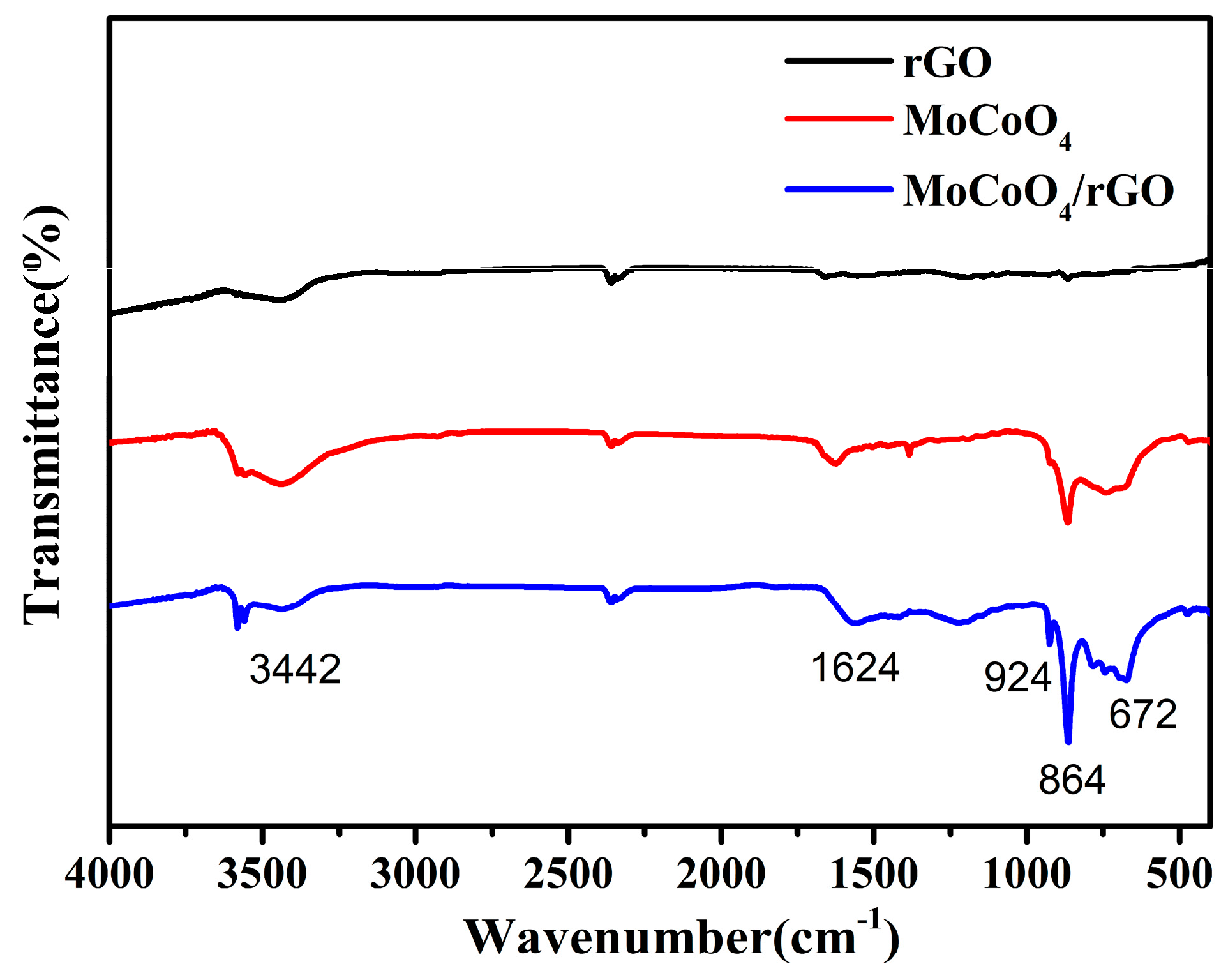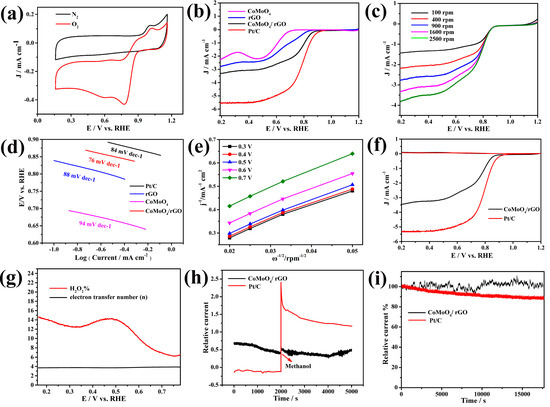 Figure 4. (a) CV curves of CoMoO4/rGO in O2-saturated (red line) or N2-saturated (black line) 0.1 M KOH with a scan rate of 10 mV s−1; (b) linear sweep voltammetry (LSV) curves of CoMoO4, rGO, CoMoO4/rGO, and Pt/C nanocomposites in O2-saturated 0.1 M KOH with a sweep rate of 5 mV s−1 at 1600 rmp; (c) LSV curves of CoMoO4/rGO at various rotation speeds with a sweep of 5 mV s−1; (d) Tafel plots of CoMoO4, rGO, CoMoO4/rGO, and Pt/C in O2 saturated 0.1 M KOH at a scan rate of 5 mV/s, rotation rate = 1600 rpm; (e) Koutecky–Levich plots of CoMoO4/rGO at different electrode potentials; (f) rotating ring disk electrode (RRDE) voltammograms of CoMoO4/rGO and Pt/C; (g) The transfer electron number (n) and hydrogen peroxide yield (H2O2%) curves of CoMoO4/rGO material; (h) Current-time (I-t) curves of CoMoO4/rGO and Pt/C with the addition of 1 M methanol; (i) the relative retention of current vs. Time in O2-saturated 0.1 M KOH solution for CoMoO4/rGO and Pt/C.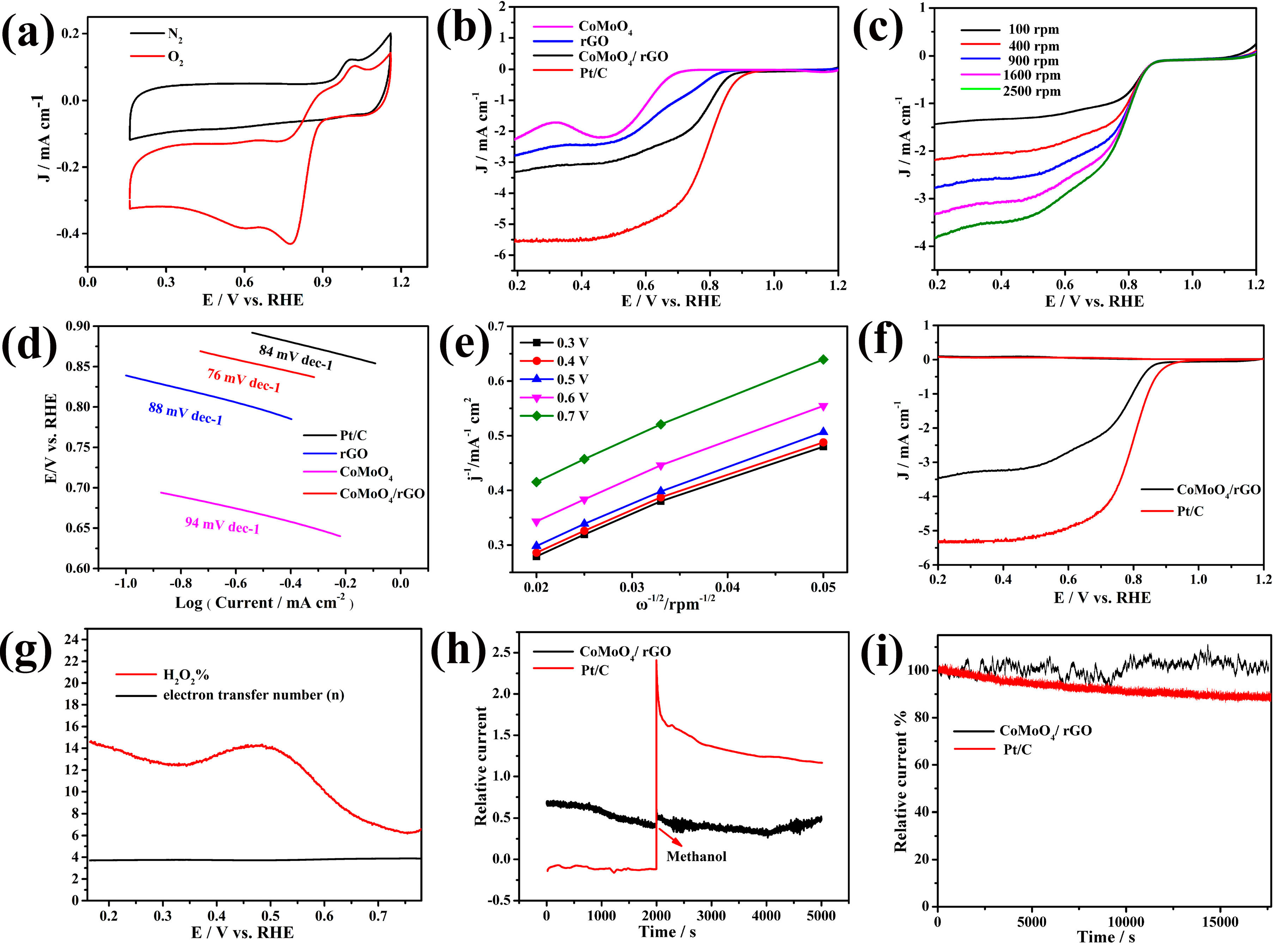 © 2017 by the authors. Licensee MDPI, Basel, Switzerland. This article is an open access article distributed under the terms and conditions of the Creative Commons Attribution (CC BY) license (http://creativecommons.org/licenses/by/4.0/).