Fine-Tuning Synthesis and Characterization of Mono-Sized H-Beta Zeolite-Supported Palladium-Iridium Nanoparticles and Application in the Selective Hydrogenation of Acetylene
Department of Chemical Engineering, School of Chemical and Petroleum Engineering, Shiraz University, Shiraz 71345, Iran
*
Author to whom correspondence should be addressed.
Received: 1 October 2017 / Revised: 28 October 2017 / Accepted: 29 October 2017 / Published: 13 November 2017
Abstract
In this research, a mono-sized Beta zeolite support synthesized by the solvothermal method was used in the selective acetylene to ethylene hydrogenation reaction with minimum coke build up on the catalyst surface. Tetrapropylammonium hydroxide (TPAOH), tetrapropylammonium bromide (TPABr),
n
-butylamine, and morpholine were used as structure direct agents (SDA) in the support to obtain various shapes. The characterization results show that although the Si/(Al+SDA) ratio has no effect on the phase purity of support, it has a remarkable effect on porosity, crystal size, shape, and structure of micropores. After comparing characterization results, the developed support, based on TPAOH, was selected and modified by different metals (Ce, Ir, Ag, and Pd) using the incipient wetness co-impregnation method. Since there is an interaction between selectivity and conversion, the optimum metal content in the synthesized catalysts and reaction condition were determined to achieve the desired acetylene conversion and ethylene selectivity. The physicochemical transformation of the developed optimum catalysts was determined using different techniques. Based on the characterization and cata-test results, the catalyst which contains 0.29% Ir and 0.08% Pd presents a better performance and higher stability compared to the other catalysts due to the moderate size and mono layer dispersion of the metals on the support. The experimental results show that acetylene conversion and ethylene selectivity approach 97% and 92% at 55 °C, respectively.
View Full-Text
►

▼

Figures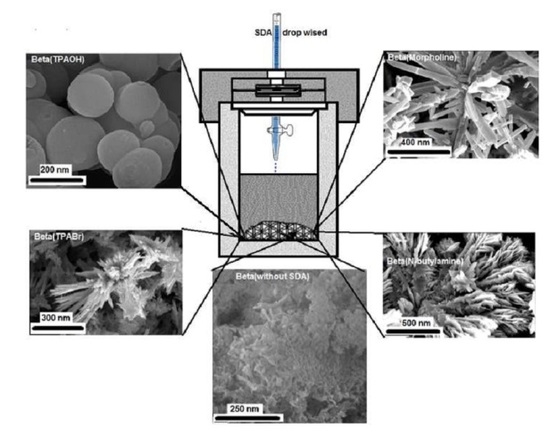 Graphical abstract
This is an open access article distributed under the
Creative Commons Attribution License
which permits unrestricted use, distribution, and reproduction in any medium, provided the original work is properly cited (CC BY 4.0).

Share & Cite This Article
MDPI and ACS Style
Sahooli, M.; Rahimpour, M.R.; Khorram, M. Fine-Tuning Synthesis and Characterization of Mono-Sized H-Beta Zeolite-Supported Palladium-Iridium Nanoparticles and Application in the Selective Hydrogenation of Acetylene. Catalysts 2017, 7, 343.
Note that from the first issue of 2016, MDPI journals use article numbers instead of page numbers. See further details here.
Related Articles
Comments
[Return to top]