Open Access This article is
freely available
re-usable
Article
Hydrogen Production via Water Dissociation Using Pt–TiO2 Photocatalysts: An Oxidation–Reduction Network
1
Faculty of Engineering, Chemical Reactor Engineering Centre (CREC), Western University, London, ON N6A 5B9, Canada
2
Unidad de Ciencias Químicas, Autonomous University of Zacatecas, Zacatecas, Zac 98000, México
*
Author to whom correspondence should be addressed.
Received: 18 September 2017 / Accepted: 18 October 2017 / Published: 30 October 2017
Abstract
:
Several TiO2 based semiconductors with different Pt loadings are prepared using incipient impregnation, wet impregnation and the sol-gel method. These photocatalysts are evaluated in the Photo-CREC-Water II Photoreactor for hydrogen production via water dissociation, using an organic renewable scavenger (ethanol). Results obtained show the influence of the photocatalyst preparation in the production of hydrogen and in the observed quantum yields. Furthermore, it is established that the reaction networks leading to hydrogen production, using various photocatalysts, share common features. This analysis is developed by both identifying and quantifying different chemical species and their changes with irradiation time. Key species in this oxidation–reduction network are hydrogen, hydrogen peroxide, ethanol, methane, ethane, acetaldehyde and carbon dioxide. On this basis, it is shown that under an inert gas atmosphere, ethanol consumption is sub-stoichiometric. This points towards simultaneous ethanol consumption and the formation of the ethanol scavenger.
Keywords:
photocatalysis; titanium dioxide; platinum; hydrogen; water and electron scavenger
1. Introduction
Heterogeneous photocatalysis is a technique based on the excitation of a semiconductor. Photons having enough energy can promote the transition of an electron from the valence band to the conduction band. In this way, a couple of electrical charges are generated: the electron (
e−
) and the hole (
h+
). It is in this promoted outer semiconductor particle surface site, where the various redox reactions are initiated [
1
,
2
,
3
,
4
]. Hydroxide ions (OH
−
) from dissociated water may react with electron holes (
h+
) yielding
•
OH radicals. These
•
OH radicals may be consumed by ethanol at 1.00–2.00%
v
/
v
concentrations. The efficiency of the photocatalytic process can be enhanced by the addition of so-called sacrificial reagents (i.e., ethanol, methanol) [
5
,
6
,
7
]. Ethanol is an attractive organic renewable scavenger that can be produced from sugars or agricultural waste fermentation processes at a low cost. Electrons may eventually react with protons (H
+
) to form H
●
radicals. H
●
radicals may dimerize, forming molecular hydrogen (H
2
).
Nowadays, TiO
2
is the most widely used photocatalyst due to its photocatalytic activity, chemical stability in aqueous solutions and favourable band gap energy (3.20 eV in anatase) [
5
]. However, new materials such as modified TiO
2
combined with noble metals are gaining importance in hydrogen production because of the reported reduced band gaps [
1
,
2
,
6
,
7
]. In 2005, Galinska et al. [
4
] performed photocatalytic water splitting over Pt–TiO
2
(Degussa P25) using various sacrificial reagents under UV irradiation. Nevertheless, these authors did not report values for the quantum yield. Despite this progress, the value of doped noble metals on TiO
2
semiconductors for hydrogen production has not yet been established and remains broadly unreported. To address this issue, this manuscript describes hydrogen formation via water splitting in a Photo CREC Water-II Reactor (PCW-II) using 2.00%
v
/
v
ethanol under inert gas. A diversity of Pt–TiO
2
photocatalysts are evaluated, showing the criticality of the preparation method. This is important to achieve the 22% high quantum yield reported by Guayaquil-Sosa et al. [
8
]. We are not aware of comparable results reported in the technical literature until today.
Quantum Efficiencies
An assessment of photocatalyst performance can be established using quantum efficiency, as shown in Equation (1). This is the case for the conversion of organic species in both air and water.
In the case of hydrogen production, a Quantum Yield (QY) can be defined as the ratio between the number of generated chemical species molecules and the number of photons absorbed by the photocatalysts [
8
,
9
]:
or
where (a) the represents the rate of moles of formed hydrogen radicals at any time during the photocatalyst irradiation and (b)
P
a
is the number of moles of photons absorbed by the catalyst per unit of time. Additional details of the
Pa
calculation are provided in
Appendix A
.
Regarding the rate, it can be calculated by multiplying the slope of the cumulative hydrogen produced by 2. It has to be mentioned that, in this respect, Equation (2) applies to all the photocatalysts considered in the present study. Additional information regarding is given in
Appendix C
.
However, to favour hydrogen production with high quantum yields, one can provide additional electron sites (i.e., inner metal sites) as illustrated in
Figure 1
. These sites act as electron reservoirs on the photocatalyst inner surface. This approach for enhanced hydrogen production over mesoporous TiO
2
doped with Pt was recently reported by Guayaquil-Sosa et al. [
8
].
2. Experimental Methods
The photocatalysts of the present study were doped with platinum using incipient impregnation, wet impregnation and a sol-gel method. Pt loadings were confirmed using XRF with deviations from nominal values not exceeding 10% in any case. The TiO2 semiconductors synthesized and doped with Pt exhibit a light grey colour for small Pt loadings (<1.00 wt %) and a dark grey colour for high Pt concentrations (>1.00 wt %). These photocatalysts were characterized using BET analysis, UV spectroscopy with diffuse reflectance, and X-ray diffraction (XRD). Furthermore, a near UV lamp was employed during the runs in the Photo-CREC-Water II Reactor. Various methodologies used for photocatalyst preparation as well as for hydrogen production experiments are described in the upcoming sections of this manuscript.
3. Conclusions
The following are the main conclusions of the present study:
(a) Pt-loaded photocatalysts can be prepared using both wet impregnation and sol-gel synthesis. These photocatalysts are used very effectively to produce hydrogen via water splitting with 2.00%
v
/
v
ethanol as an organic scavenger.
(b) The Pt–TiO2 sol-gel photocatalysts showed a reduced 2.34 eV band gap. This reduced band gap can be attributed to the role of Pt in the modified semiconductor. In addition, the XRD for the Pt–TiO2 sol-gel photocatalysts showed a dominant anatase content, contributing to enhanced photocatalytic activity for hydrogen production.
(c) A common series-parallel reaction network with reduction–oxidation steps included was observed for all photocatalysts studied for hydrogen production, using ethanol as an organic scavenger. Both reduced species (methane, ethane) and oxidized species (acetaldehyde, carbon dioxide) were consistently detected in all experiments.
(d) The proposed reaction network was found to be consistent with the overall carbon balance, accounting for various carbon-containing species involved in both oxidation and reduction steps.
Acknowledgments
The authors would like to express their gratitude to the Natural Sciences and Engineering Research Council of Canada (
NSERC
) for the Discovery Grant awarded to Professor de Lasa, which provided valuable financial support to this project. Jesus Fabricio Guayaquil-Sosa (J.F.G.-S.) would like to thank the National Council for Science and Technology (
CONACyT
), México, for the scholarship (
N 359213
) and the Secretariat of Public Education (
SEP
), México, for the supplementary bursary "Beca Complemento" (
N 7493
). We would like also to thank Florencia de Lasa for her assistance in the editing of the manuscript.
Author Contributions
J.F.G.-S. conceived and designed the experiments, wrote a draft of the paper, contributed in modifying the manuscript and to its revision, performed experiments as well as data analyses; A.C. contributed to the synthesis of the impregnated materials and the ones prepared via Sol-Gel method A, and to the determination of hydrogen peroxide concentrations; B.S. assisted with the manuscript writing process, treatment and analysis of data; S.E. helped with the design of the storage hydrogen tank; and H.d.L. provided the final revision of the manuscript and shared thoughts for the rebuttals.
Conflicts of Interest
The authors declare no conflict of interest.
Nomenclature
| | |
| --- | --- |
| c | speed of light (3.0 × 108 m/s) |
| C | Celsius |
| dp | porous diameter (cm) |
| e− | electron |
| h+ | hole |
| h | Planck's constant (6.63 × 10−34 J/s) |
| E | energy of a photon at a given wavelength (J) |
| Eav | average energy of a photon at a wavelength range, (J/mol photon). |
| Ebg | energy band gap (eV) |
| eV | electron volts |
| H2PtCl6 | hexachloroplatinic acid |
| H● | hydrogen radical dot |
| Pa | rate of absorbed photons by semiconductor (photons/s) |
| Pbs | rate of backscattered photons flying off the system (photons/s) |
| Pi | rate of photons reaching the reactor inner surface (photons/s) |
| Pt | rate of transmitted photons (photons/s) |
| Pt | platinum |
| OH− | hydroxide ions |
| ●OH | hydroxyl radical dot |
| t | time (h) |
| TiO2 | titanium dioxide |
| Vg | volume of the gas phase in the storage tank (cm3) |
| W | weight (g) |
| wt % | weight percent (% m/m) |
| Greek symbols | |
| α | absorbance (a.u.) |
| θ | diffraction angle (°) |
| λ | wavelength (nm) |
| ν | frequency (1/s) |
| Acronyms | |
| BJH | Barrett–Joyner–Halenda model |
| BLB | black light blue lamp |
| BET | Brunauer–Emmett–Teller surface area method |
| CB | conduction band |
| DP25 | TiO2 Degussa P25 |
| PCWII | Photo CREC Water II Reactor |
| QY | quantum yield |
| UV | ultraviolet |
| VB | balance band |
| Subscripts | |
| a | absorbed photons by the photocatalyst |
| bg | band gap |
| bs | photons backscattered by the photocatalyst |
| g | gas phase |
| i | incident photons to the photocatalyst |
| t | photons transmitted by the photocatalyst |
| max | maximum |
| min | minimum |
Appendix A. Pa Absorbed Photon Energy
The calculation of the Pa absorbed photon energy involves: (a) the amount of incident photons on the semiconductor surface (Pi); (b) the number of photons transmitted by the semiconductor (Pt); and (c) the photons backscattered by the semiconductor (Pbs).
One calculates the number of absorbed photons by the photocatalyst through the algebraic addition of the
Pi
,
Pt, Pbs
ratios as follows:
with the units of all these terms being in photons/s.
Appendix B. Eav Average Photon Energy
The average photon energy can be calculated by using the spectrum of the lamp and the following equation [
10
]:
where represents the intensity of the emitted photons in W/cm
2
, which can be calculated via , with representing the irradiance in W/(cm
2
nm) as per in
Figure A1
.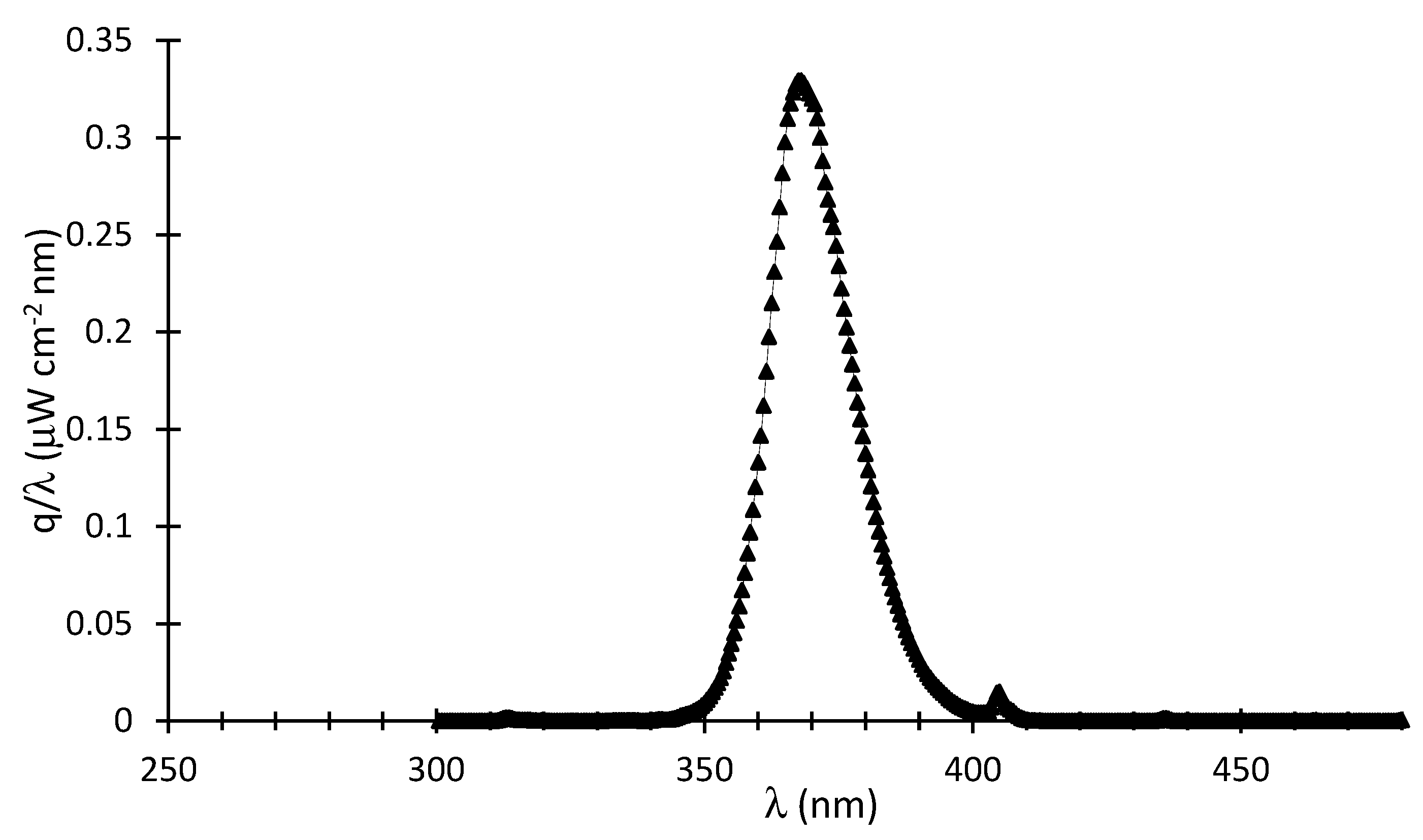 As a result, the average
Eav
photon energy is as follows:
and
Appendix C. Rate of H● Formation
The rate of formation of H
●
is described in this appendix for the 1.70 wt % Pt prepared by sol-gel method A. In this case, the H
●
radical concentrations at 2.5 h and 3.0 h are considered:
Thus, the moles of H
●
radicals at these two irradiation times are:
Then, the rate of H
●
formation can be defined as:
Appendix D. Quantum Yield Calculation
Based on the information provided in
Appendix A
and
Appendix C
, one can establish the quantum yield for 1.70 wt % Pt prepared by sol-gel method A as:
Appendix E. Carbon Balances
Carbon balances are required to establish the reliability of each of the experiments developed. In order to accomplish this, one has to compare the sum of moles of carbon as found in each of the species detected, with the initial moles of carbon fed to the photocatalytic reactor as ethanol.
An example of a carbon balance calculation is reported for a photocatalyst prepared via incipient impregnation with 1.00 wt % of platinum:
(a)

Moles of carbon at irradiation time zero:

(b)

Moles of carbon observed at the end of the experiment in both gas and liquid phases following 6 h of irradiation:

(b.1)

Moles of ethanol in both liquid and gas phase:

(b.2)

Moles of methane in the gas phase:

(b.3)

Moles of ethane in the gas phase:

(b.4)

Moles of acetaldehyde in the gas phase:

(b.5)

Moles of carbon dioxide in both liquid and gas phase:
Thus, the sum of all the moles of carbon contained in various chemical species after six hours of irradiation is:
While this quantity is compared with the moles of ethanol fed, one can see that the percentage error in the carbon balance is as follows:
Thus, a percentage error in the 3% range is assessed. This is acceptable and provides confirmation that all relevant species containing carbon were included in the reaction product analysis.
Appendix F. Ratio of ●OH and H● Consumed
The ratio of
●
OH moles and H
●
moles consumed can be calculated using the following equation:
with 2.
For the 2.50 wt % Pt–TiO
2
photocatalyst prepared via sol-gel B, These values were obtained from
Figure 12
,
Figure 13
,
Figure 14
,
Figure 15
and
Figure 16
. The concentration with respect to time for hydrogen peroxide was tracked experimentally using titration with a solution of potassium permanganate (KMnO
4
) [
11
], the rate was found. For the value of 39.16 nanomoles/cm
3
h was assessed using thermodynamic equilibrium calculations, assuming both ideal gas and ideal solution assumptions.
© 2017 by the authors. Licensee MDPI, Basel, Switzerland. This article is an open access article distributed under the terms and conditions of the Creative Commons Attribution (CC BY) license (http://creativecommons.org/licenses/by/4.0/).