Metal Oxide Nanoparticles Supported on Macro-Mesoporous Aluminosilicates for Catalytic Steam Gasification of Heavy Oil Fractions for On-Site Upgrading
1
Grupo de Investigación en Fenómenos de Superficie–Michael Polanyi, Facultad de Minas, Universidad Nacional de Colombia Sede-Medellín. Kra 80 No. 65-223 Medellín, Colombia
2
Grupo de Investigación Industrial en Diseño de Materiales a partir de Minerales y Procesos (IDIMAP), Sumicol S.A.S., Sabaneta, 055450, Colombia
*
Authors to whom correspondence should be addressed.
Received: 28 September 2017 / Revised: 16 October 2017 / Accepted: 16 October 2017 / Published: 29 October 2017
Abstract
Catalytic steam gasification of extra-heavy oil (EHO) fractions was studied using functionalized aluminosilicates, with NiO, MoO
3
, and/or CoO nanoparticles with the aim of evaluating the synergistic effect between active phase and the support in heavy oil on-site upgrading. Catalysts were characterized by chemical composition through X-ray Fluorescence, surface area, and pore size distribution through N
2
adsorption/desorption, catalyst acidity by temperature programmed desorption (TPD), and metal dispersion by pulse H
2
chemisorption. Batch adsorption experiments and catalytic steam gasification of adsorbed heavy fractions was carried out by thermogravimetric analysis and were performed with heavy oil model solutions of asphaltenes and resins (R–A) in toluene. Effective activation energy estimation was used to determine the catalytic effect of the catalyst in steam gasification of Colombian EHO. Additionally, R–A decomposition under inert atmosphere was conducted for the evaluation of oil components reactions with active phases and steam atmosphere. The presence of a bimetallic active phase Inc.reases the decomposition of the heavy compounds at low temperature by an increase in the aliphatic chains decomposition and the dissociation of heteroatoms bonds. Also, coke formation after steam gasification process is reduced by the application of the bimetallic catalyst yielding a conversion greater than 93%.
View Full-Text
►

▼

Figures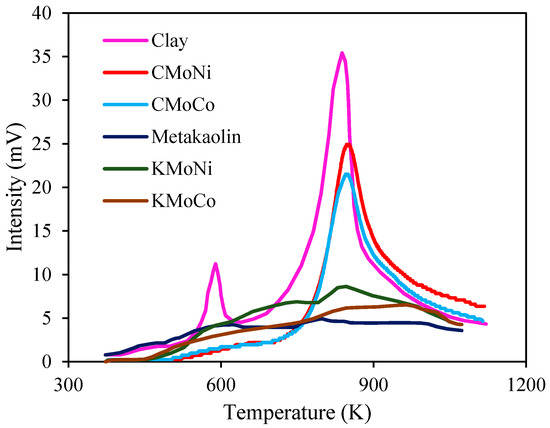 Figure 1
This is an open access article distributed under the
Creative Commons Attribution License
which permits unrestricted use, distribution, and reproduction in any medium, provided the original work is properly cited (CC BY 4.0).

Share & Cite This Article
MDPI and ACS Style
López, D.; Giraldo, L.J.; Salazar, J.P.; Zapata, D.M.; Ortega, D.C.; Franco, C.A.; Cortés, F.B. Metal Oxide Nanoparticles Supported on Macro-Mesoporous Aluminosilicates for Catalytic Steam Gasification of Heavy Oil Fractions for On-Site Upgrading. Catalysts 2017, 7, 319.
Note that from the first issue of 2016, MDPI journals use article numbers instead of page numbers. See further details here.
Related Articles
Comments
[Return to top]