Analysis of Anodes of Microbial Fuel Cells When Carbon Brushes Are Preheated at Different Temperatures
1
School of Food and Environment, Dalian University of Technology, No. 2 Dagong Road, Panjin 124221, China
2
State Key Laboratory of Urban Water Resource and Environment, Harbin Institute of Technology, No. 73 Huanghe Road, Harbin 150090, China
3
School of Pharmacy, Harbin University of Commerce, Harbin 150000, China
*
Author to whom correspondence should be addressed.
Received: 21 September 2017 / Revised: 17 October 2017 / Accepted: 19 October 2017 / Published: 25 October 2017
Abstract
The anode electrode is one of the most important components in all microbial electrochemical technologies (METs). Anode materials pretreatment and modification have been shown to be an effective method of improving anode performance. According to mass loss analysis during carbon fiber heating, five temperatures (300, 450, 500, 600, and 750 °C) were selected as the pre-heating temperatures of carbon fiber brush anodes. Microbial fuel cell (MFC) reactors built up with these pre-heated carbon brush anodes performed with different power densities and Coulombic efficiencies (CEs). Two kinds of measuring methods for power density were applied, and the numerical values of maximum power densities diverged greatly. Reactors with 450 °C anodes, using both methods, had the highest power densities, and the highest CEs were found using 500 °C anode reactors. The surface elements of heat-treated carbon fibers were analyzed using X-ray photoelectron spectra (XPS), and C, O, and N were the main constituents of the carbon fiber. There were four forms of N1s at the surface of the polyacrylonitrile (PAN)-based carbon fiber, and their concentrations were different at different temperature samples. The microbial community of the anode surface was analyzed, and microbial species on anodes from every sample were similar. The differences in anode performance may be caused by mass loss and by the surface elements. For carbon brush anodes used in MFCs or other BESs, 450–500 °C preheating was the most suitable temperature range in terms of the power densities and CEs.
View Full-Text
►

▼

Figures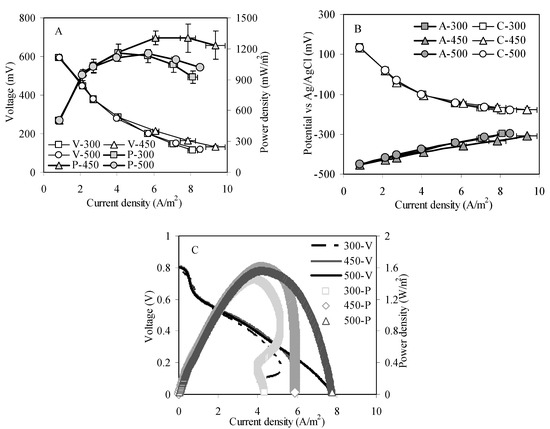 Figure 1
This is an open access article distributed under the
Creative Commons Attribution License
which permits unrestricted use, distribution, and reproduction in any medium, provided the original work is properly cited (CC BY 4.0).

Share & Cite This Article
MDPI and ACS Style
Yang, Q.; Liang, S.; Liu, J.; Lv, J.; Feng, Y. Analysis of Anodes of Microbial Fuel Cells When Carbon Brushes Are Preheated at Different Temperatures. Catalysts 2017, 7, 312.
Note that from the first issue of 2016, MDPI journals use article numbers instead of page numbers. See further details here.
Related Articles
Comments
[Return to top]