Co-Production of Ethanol and 1,2-Propanediol via Glycerol Hydrogenolysis Using Ni/Ce–Mg Catalysts: Effects of Catalyst Preparation and Reaction Conditions
1
Department of Biological Engineering, University of Idaho, Moscow, ID 83844, USA
2
Division of Soil & Land Resources, University of Idaho, Moscow, ID 83844, USA
*
Author to whom correspondence should be addressed.
Received: 17 August 2017 / Revised: 12 September 2017 / Accepted: 25 September 2017 / Published: 29 September 2017
Abstract
Crude glycerol from biodiesel production is a biobased material capable of co-producing biofuels and chemicals. This study aimed to develop a line of Ni catalysts supported on cerium–magnesium (Ce–Mg) to improve the process efficiency of glycerol hydrogenolysis for ethanol and 1,2-propanediol (1,2-PDO). Results showed that catalytic activity was greatly improved by changing the preparation method from impregnation to deposition precipitation (DP), and by adjusting calcination temperatures. Prepared via DP, the catalysts of 25 wt % Ni supported on Ce–Mg (9:1 mol/mol) greatly improved the effectiveness in glycerol conversion while maintaining the selectivities to ethanol and 1,2-PDO. Calcination at 350 °C provided the catalysts better selectivities of 15.61% to ethanol and 67.93% to 1,2-PDO. Increases in reaction temperature and time improved the conversion of glycerol and the selectivity to ethanol, but reduced the selectivity to 1,2-PDO. A lower initial water content led to a higher conversion of glycerol, but lower selectivities to ethanol and 1,2-PDO. Higher hydrogen application affected the glycerol conversion rate positively, but the selectivities to ethanol and 1,2-PDO negatively. A comparison to the commercial Raney
®
Ni catalyst showed that the Ni/Ce–Mg catalyst developed in this study showed a better potential for the selective co-production of ethanol and 1,2-PDO from glycerol hydrogenolysis.
View Full-Text
►

▼

Figures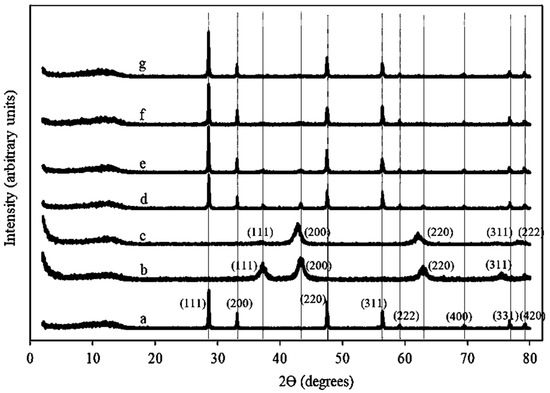 Figure 1
This is an open access article distributed under the
Creative Commons Attribution License
which permits unrestricted use, distribution, and reproduction in any medium, provided the original work is properly cited (CC BY 4.0).

Share & Cite This Article
MDPI and ACS Style
Menchavez, R.N.; Morra, M.J.; He, B.B. Co-Production of Ethanol and 1,2-Propanediol via Glycerol Hydrogenolysis Using Ni/Ce–Mg Catalysts: Effects of Catalyst Preparation and Reaction Conditions. Catalysts 2017, 7, 290.
Note that from the first issue of 2016, MDPI journals use article numbers instead of page numbers. See further details here.
Related Articles
Comments
[Return to top]