Hydrogen Production from Cyclic Chemical Looping Steam Methane Reforming over Yttrium Promoted Ni/SBA-16 Oxygen Carrier
Department of Chemical Engineering, Shiraz University, Shiraz 71345, Iran
*
Author to whom correspondence should be addressed.
Academic Editors: Ewa Kowalska, Marcin Janczarek and Agata Markowska-Szczupak
Received: 3 September 2017 / Revised: 21 September 2017 / Accepted: 22 September 2017 / Published: 25 September 2017
Abstract
In this work, the modification of Ni/SBA-16 oxygen carrier (OC) with yttrium promoter is investigated. The yttrium promoted Ni-based oxygen carrier was synthesized via co-impregnation method and applied in chemical looping steam methane reforming (CL-SMR) process, which is used for the production of clean energy carrier. The reaction temperature (500–750 °C), Y loading (2.5–7.4 wt. %), steam/carbon molar ratio (1–5), Ni loading (10–30 wt. %) and life time of OCs over 16 cycles at 650 °C were studied to investigate and optimize the structure of OC and process temperature with maximizing average methane conversion and hydrogen production yield. The synthesized OCs were characterized by multiples techniques. The results of X-ray powder diffraction (XRD) and energy dispersive X-ray spectroscopy (EDX) of reacted OCs showed that the presence of Y particles on the surface of OCs reduces the coke formation. The smaller NiO species were found for the yttrium promoted OC and therefore the distribution of Ni particles was improved. The reduction-oxidation (redox) results revealed that 25Ni-2.5Y/SBA-16 OC has the highest catalytic activity of about 99.83% average CH
4
conversion and 85.34% H
2
production yield at reduction temperature of 650 °C with the steam to carbon molar ratio of 2.
View Full-Text
►

▼

Figures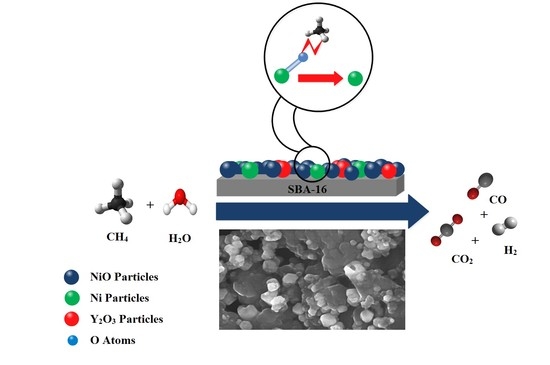 Graphical abstract
This is an open access article distributed under the
Creative Commons Attribution License
which permits unrestricted use, distribution, and reproduction in any medium, provided the original work is properly cited (CC BY 4.0).

Share & Cite This Article
MDPI and ACS Style
Daneshmand-Jahromi, S.; Rahimpour, M.R.; Meshksar, M.; Hafizi, A. Hydrogen Production from Cyclic Chemical Looping Steam Methane Reforming over Yttrium Promoted Ni/SBA-16 Oxygen Carrier. Catalysts 2017, 7, 286.
Note that from the first issue of 2016, MDPI journals use article numbers instead of page numbers. See further details here.
Related Articles
Comments
[Return to top]