Recent Progress on MOF-Derived Nanomaterials as Advanced Electrocatalysts in Fuel Cells
Department of Mechanical and Materials Engineering, The University of Western Ontario, London, ON N6A 5B9, Canada
*
Author to whom correspondence should be addressed.
Academic Editors: Frédéric Jaouen and Keith Hohn
Received: 19 June 2016 / Revised: 14 July 2016 / Accepted: 22 July 2016 / Published: 2 August 2016
Abstract
Developing a low cost, highly active and durable cathode material is a high-priority research direction toward the commercialization of low-temperature fuel cells. However, the high cost and low stability of useable materials remain a considerable challenge for the widespread adoption of fuel cell energy conversion devices. The electrochemical performance of fuel cells is still largely hindered by the high loading of noble metal catalyst (Pt/Pt alloy) at the cathode, which is necessary to facilitate the inherently sluggish oxygen reduction reaction (ORR). Under these circumstances, the exploration of alternatives to replace expensive Pt-alloy for constructing highly efficient non-noble metal catalysts has been studied intensively and received great interest. Metal–organic frameworks (MOFs) a novel type of porous crystalline materials, have revealed potential application in the field of clean energy and demonstrated a number of advantages owing to their accessible high surface area, permanent porosity, and abundant metal/organic species. Recently, newly emerging MOFs materials have been used as templates and/or precursors to fabricate porous carbon and related functional nanomaterials, which exhibit excellent catalytic activities toward ORR or oxygen evolution reaction (OER). In this review, recent advances in the use of MOF-derived functional nanomaterials as efficient electrocatalysts in fuel cells are summarized. Particularly, we focus on the rational design and synthesis of highly active and stable porous carbon-based electrocatalysts with various nanostructures by using the advantages of MOFs precursors. Finally, further understanding and development, future trends, and prospects of advanced MOF-derived nanomaterials for more promising applications of clean energy are presented.
View Full-Text
►

▼

Figures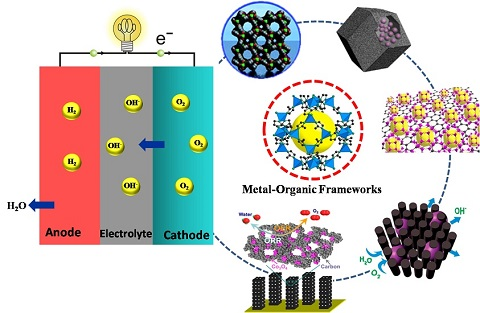 Graphical abstract
This is an open access article distributed under the
Creative Commons Attribution License
which permits unrestricted use, distribution, and reproduction in any medium, provided the original work is properly cited (CC BY 4.0).

Share & Cite This Article
MDPI and ACS Style
Song, Z.; Cheng, N.; Lushington, A.; Sun, X. Recent Progress on MOF-Derived Nanomaterials as Advanced Electrocatalysts in Fuel Cells. Catalysts 2016, 6, 116.
Note that from the first issue of 2016, MDPI journals use article numbers instead of page numbers. See further details here.
Related Articles
Comments
[Return to top]