Open Access This article is
freely available
re-usable
Article
Oxygen Reduction Electrocatalysts Based on Coupled Iron Nitride Nanoparticles with Nitrogen-Doped Carbon
1
Fuel Cell Research Center, Korea Institute of Science and Technology, Seongbuk-gu, Seoul 02792, Korea
2
Department of Energy and Environmental Engineering, Korea University of Science and Technology, Daejeon 34113, Korea
3
Computational Science Research Center, Korea Institute of Science and Technology (KIST), Seongbuk-gu, Seoul 02792, Korea
4
Department of Clean Energy and Chemical Engineering, Korea University of Science and Technology, Daejeon 34113, Korea
5
Green School, Korea University, 145, Anam-ro, Seongbuk-gu, Seoul 136-701, Korea
*
Author to whom correspondence should be addressed.
†
These authors contributed equally to this work.
Academic Editors: Vincenzo Baglio and David Sebastián
Received: 14 April 2016 / Accepted: 6 June 2016 / Published: 15 June 2016
Abstract
:
Aimed at developing a highly active and stable non-precious metal electrocatalyst for oxygen reduction reaction (ORR), a novel FexNy/NC nanocomposite—that is composed of highly dispersed iron nitride nanoparticles supported on nitrogen-doped carbon (NC)—was prepared by pyrolyzing carbon black with an iron-containing precursor in an NH3 atmosphere. The influence of the various synthetic parameters such as the Fe precursor, Fe content, pyrolysis temperature and pyrolysis time on ORR performance of the prepared iron nitride nanoparticles was investigated. The formed phases were determined by experimental and simulated X-ray diffraction (XRD) of numerous iron nitride species. We found that Fe3N phase creates superactive non-metallic catalytic sites for ORR that are more active than those of the constituents. The optimized Fe3N/NC nanocomposite exhibited excellent ORR activity and a direct four-electron pathway in alkaline solution. Furthermore, the hybrid material showed outstanding catalytic durability in alkaline electrolyte, even after 4,000 potential cycles.
Keywords:
oxygen reduction reaction; non-precious metal electrocatalysts; Iron nitride; nitrogen-doped carbon
1. Introduction
Over the last few decades, low temperature polymer electrolyte membrane fuel cells (PEMFCs) have been recognized as a promising substitute to the current fossil fuel based power generation system [
1
,
2
]. Despite extensive efforts to improve performance of PEMFCs, enhancement of sluggish kinetics of oxygen reduction reaction (ORR) has remained a major challenge. Thus far, Pt derived materials have been considered state of the art electrocatalysts for ORR. [
3
,
4
] Nevertheless, the high price and instability of Pt catalysts in various fuel cell operation conditions limit practical applications of PEMFCs.
Development of efficient non-precious metal electrocatalysts is thus a topic of great interest in order to commercialize PEMFCs. However, although performance of such catalysts is continuously increasing, the active species responsible for the activation and reduction of adsorbed oxygen molecules are not fully understood yet.
In recent years, it is suggested that that novel materials substituting for Pt are non-precious Fe or Co metals embedded within an
N
-doped carbon (NC) matrix. Inexpensive Fe and/or Co constitute the catalytically active center, while NC materials provide enhanced electron mobility and oxygen adsorption capacity, which in turn, improve electrocatalytic activity as well as durability [
5
]. Iron carbide (Fe
x
C
y
) [
6
,
7
,
8
,
9
], iron oxide (Fe
x
O
y
) [
10
,
11
], and iron bonded with multiple nitrogen atoms [
12
] have been suggested as plausible active structures for ORR. However, the complexities of creating the desired bond configuration and characterization of the specific Fe species, has resulted in difficulties improving the materials overall catalytic activity in the electrocatalysts.
Herein, we report a facile, one-step synthetic route that leads to a novel precious-metal-free ORR electrocatalyst composed of iron nitride (FexNy) nanoparticles supported on NC (FexNy/NC). Various analytical techniques were employed to elucidate catalytically active sites responsible for the ORR performance. The strong correlation between the FexNy phases and ORR activity was proven by experimental and theoretical studies. For electrocatalytic performance, we show that Fe3N/NC hybrid material exhibits a high ORR activity (half-wave potential ~0.77 V) and low HO2− (<5%) yield in alkaline medium. The prepared electrocatalysts exhibited a direct four-electron ORR pathway and superior stability in an alkaline medium. The proposed synthetic route is low-cost and scalable, providing a feasible method for the development of highly efficient non-precious metal electrocatalysts.
2. Results and Discussions
3. Experimental
3.1. Synthesis of FexNy/NC Catalyst
All of the chemicals were purchased from Sigma-Aldrich (St. Louis, MO, USA) and used without further purification throughout the entire synthetic procedure. A mixture of Carbon black (Ketjen, Chicago, IL, USA) and Fe salt (iron(III) acetylacetonate, Fe(acac)3, 5 wt. %, Sigma-Aldrich, St. Louis, MO, USA) was ground in a mortar. For the other Fe sources, desired amounts of Fe salts such as iron(II) acetylacetonate (Fe(acac)2, Sigma-Aldrich, St. Louis, MO, USA), Iron(III) chloride hexahydrate (FeCl3·6H2O, 97%, Sigma-Aldrich, St. Louis, MO, USA), Iron(II) sulfate heptahydrate (FeSO4·7H2O, 99%, Sigma-Aldrich, St. Louis, MO, USA), and ferrocene (Fe(C5H5)2, 98%, Sigma-Aldrich, St. Louis, MO, USA) were employed, instead of Fe(acac)3. The nominal amount was kept at 5.0 wt. % theoretical loading. Subsequently, the powder was annealed at 900 °C for 2 h with a ramping rate of 5 °C·min−1 under NH3 atmosphere. Fe loading, reaction temperature, and pyrolysis time were altered for the optimization of synthetic conditions.
3.2. Characterization of Catalysts
Morphology of the as-synthesized catalyst was characterized by high resolution transmission electron microscope (HRTEM, FEI Tecnai F20, FEI, Hillsboro, OR, USA) and high angle annular dark field-scanning transmission electron microscope (HAADF-STEM, FEI Titan at 200 Kv, FEI, Hillsboro, OR, USA). Energy dispersive spectrum (EDS) mapping was carried out using a Talos TEM (FEI; Talos F200X 80-200, FEI, Hillsboro, OR, USA) microscope equipped with X-FEG and super-X EDS system with four silicon drift detectors (SDDs) (Bruker, Bermen, Germany) to determine atomic distribution of each element.
3.3. Electrochemical Measurements
An Autolab PGSTAT20 potentiostat (Metrohm Autolab B.V., Kanaalweg, Utrecht, The Netherlands) was used to carry out all electrochemical measurements. The experiments were conducted in a standard three-electrode cell and a rotating disk electrode (RDE) system (Eco Chemie B.V., Utrecht, Utrecht, The Netherlands). A saturated calomel electrode (SCE) and Pt wire were selected as the reference and counter electrode, respectively. All potentials were calibrated using a reversible hydrogen electrode (RHE) and reported with respect to the RHE. A glassy carbon (GC) RDE (5 mm in diameter) acted as the working electrode. A rotating ring-disk electrode (RRDE, 5.61 mm in diameter) was conducted using an AFMSRCE advanced electrochemical system (Pine Instrument Co., Grove City, PA, USA). A three-electrode cell system was employed incorporating a rotating GC disk (disk area: 0.2475 cm
2
) and a Pt ring electrode (ring area: 0.1886 cm
2
) after loading the electrocatalyst as the working electrode. The suspension of the catalytic ink was prepared by ultrasonically dispersing Fe-N-C catalyst in a mixture of Nafion (5 wt. %, Sigma-Aldrich, St. Louis, MO, USA) and 2-propanol. Then, the amount of the ink slurry 0.464 mg∙cm
−2
geo
of Fe-N-C was loaded onto the GC electrode followed by air-drying. To measure the current of the ORR, linear sweep voltammetry (LSV) was conducted in an O
2
saturated 0.1 M KOH solution with a potential range of 0.05 to 1.1 V (
vs.
RHE) and positive scanning rate of 5 mV∙s
−1
at 1600 rpm. The durability of the prepared catalyst was examined by repeating 4,000 potential cycles of cyclic voltammetry (CV) between 0.6 V and 1.0 V (
vs.
RHE) at a scan rate of 100 mV∙s
−1
in
O2
-saturated 0.1 M KOH solution. The peroxide percentage (%HO
2
−
) and electron transfer number (
n
) were evaluated based on the following equations:
In equation (1), n is the number of electrons transferred per oxygen molecule; IR and ID are the ring and disk current, respectively. The manufacturer's value of N (ring collection efficiency) is 37%.
The electrochemical measurements on RDE and RRDE greatly depend on the electrode conditions such as the structure, porosity, and geometry of the catalyst layer [
26
,
27
,
28
,
29
]. We tried to minimize those effects by strictly maintaining the standard procedure for electrode preparation. Thus, we suppose that those effects do not alter our catalytic activity comparison.
4. Conclusion
We reported the essential role of Fe3N as the active site for ORR in FexNy/NC catalysts. Several synthetic variables were optimized to obtain a highly active ORR catalyst, and to reveal the relationship between ORR activity and the density of Fe3N sites. The identical patterns in simulated XRD and measured XRD patterns verified the presence of Fe3N phase in the active catalysts. TEM images and SAED patterns further demonstrated the existence of small sized Fe3N nanoparticles on the N doped carbon material. Numerous parameters such as the type of Fe precursor, Fe contents in the catalyst, pyrolysis temperature, and pyrolysis time affected the formation of the Fe3N nanoparticles. ORR activity of FexNy/NC catalyst was proven to be closely related to the Fe3N phase. The optimized catalyst exhibited excellent ORR activity and durability in alkaline solution. Our effort to identify the active species of iron nitride catalyst for ORR may bring a new opportunity to develop more efficient electrocatalysts and establish a PEMFC based power generation system as well.
Supplementary Materials
The following are available online at
www.mdpi.com/2073-4344/6/6/86/s1
, Figure S1. Linear sweep Voltammetry curves of ORR in 0.1 M KOH catalyzed by Fe-N-C, C, and N-C., Figure S2. Calculated formation energy for different Fe
x
N
y
compounds.
Acknowledgments
This research was supported by the Technology Development Program to Solve Climate Changes of the Natinal Research Foundation (NRF) funded by the Ministry of Science, ICT, & Future Planning (NRF-2015M1A2A2056690). This work was supported by the Korean Government through the New and Renewable Energy Core Technology Program of the Korea Institute of Energy Technology Evaluation and Planning (KETEP) funded by MOTIE (No.20133030011320), and the National Research Foundation of Korea Grant funded by MSIP (2016, University-Institute cooperation program). This work was also financially supported by KIST through Institutional Project (2E25411).
Author Contributions
Min Jung Park and Jin Hee Lee contributed equally to this work. They prepared the catalysts and evaluated the electrocatalytic activity of the catalysts. K. P. S. S. Hembram and Sang Soo Han carried out the theoretical calculations and analysis of FexNy compounds. Chang Won Yoon and Suk-Woo Nam contributed the interpretation of the analytical data and writing the manuscript. Jin Young Kim provided the concept of this research and managed all the experimental and writing process as the corresponding author.
Conflicts of Interest
The authors declare no conflict of interest.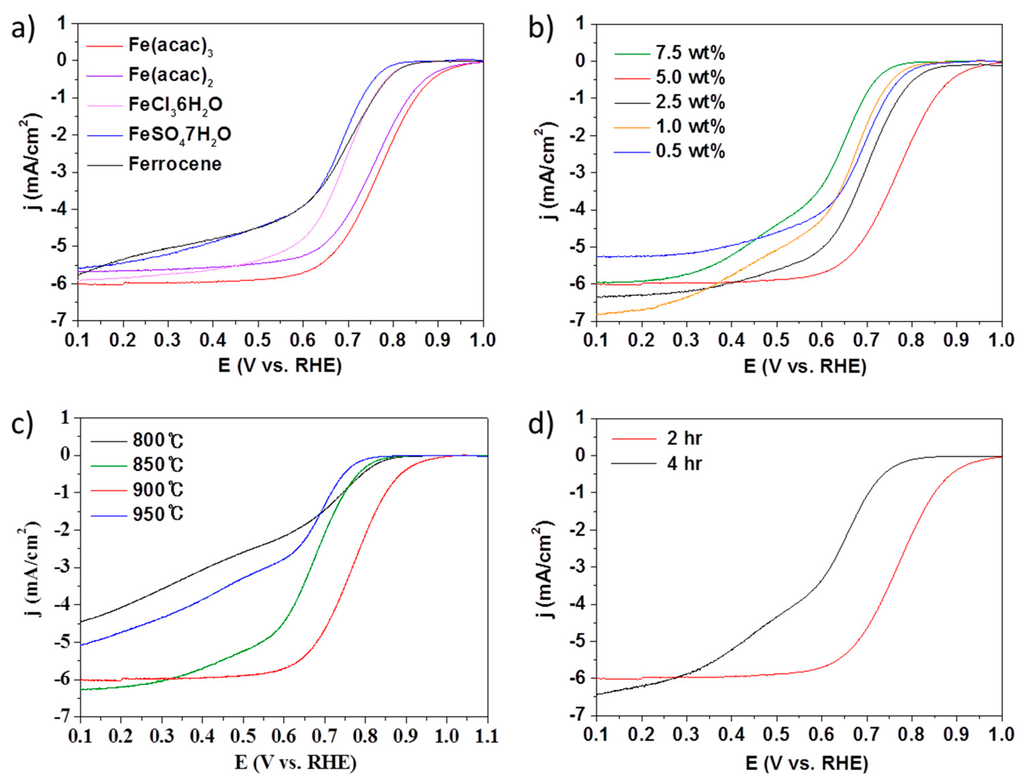 Figure 1. Linear sweep voltammetry curves of oxygen reduction reaction (ORR) in 0.1 M KOH catalyzed by FexNy/NC prepared by altering synthetic conditions. (a) Fe source, (b) Fe contents, (c) pyrolysis temperature, and (d) pyrolysis time.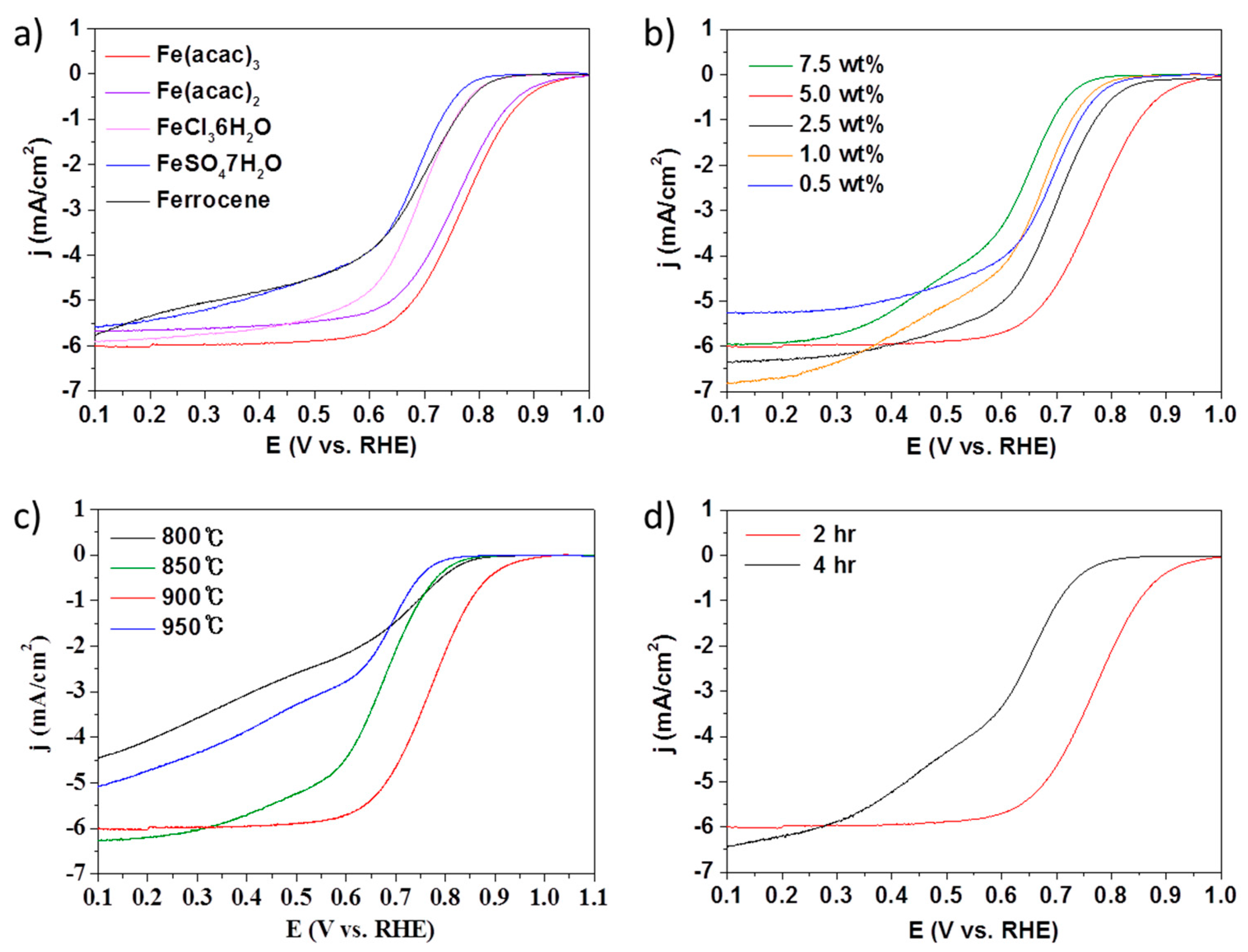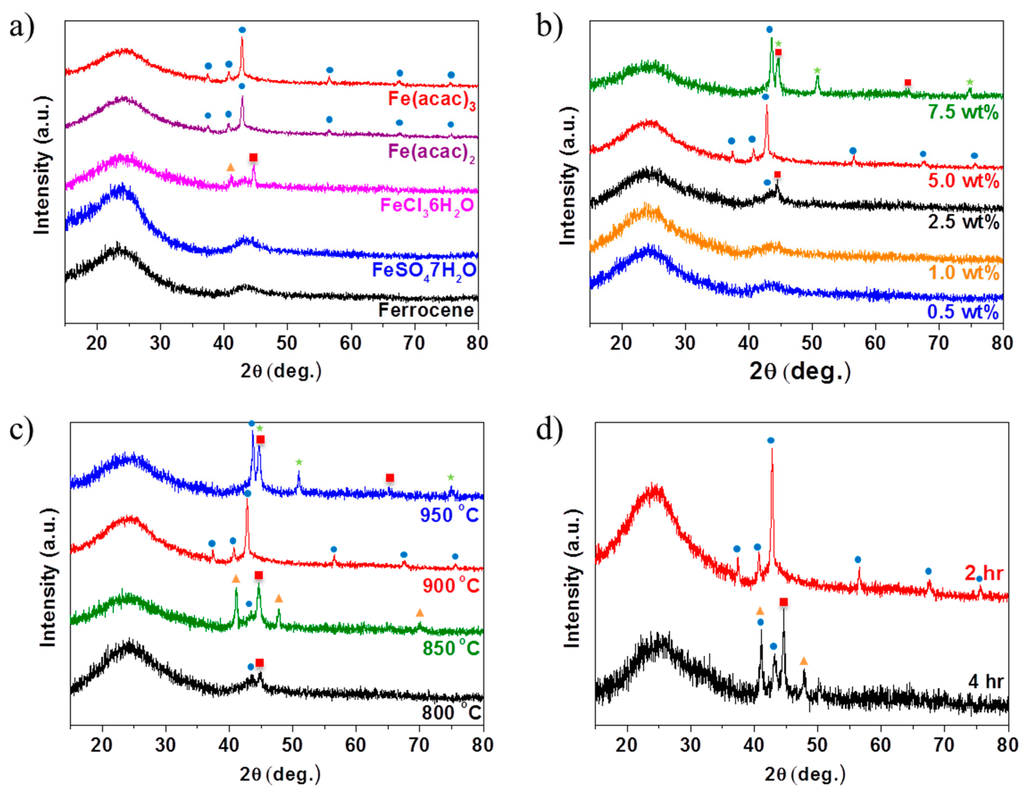 Figure 2.
X-ray diffraction (XRD) spectra of Fe-N-C catalysts prepared by altering synthetic conditions. (
a
) Fe source, (
b
) Fe contents, (
c
) pyrolysis temperature, and (
d
) pyrolysis time. The symbols denote specific Fe species.

denotes metallic Fe (JCPDS # 87-0722),
denotes FeN (JCPDS # 50-1087),

denotes Fe
3
N (JCPDS # 86-0232), and

denotes Fe
4
N (JCPDS # 86-0231).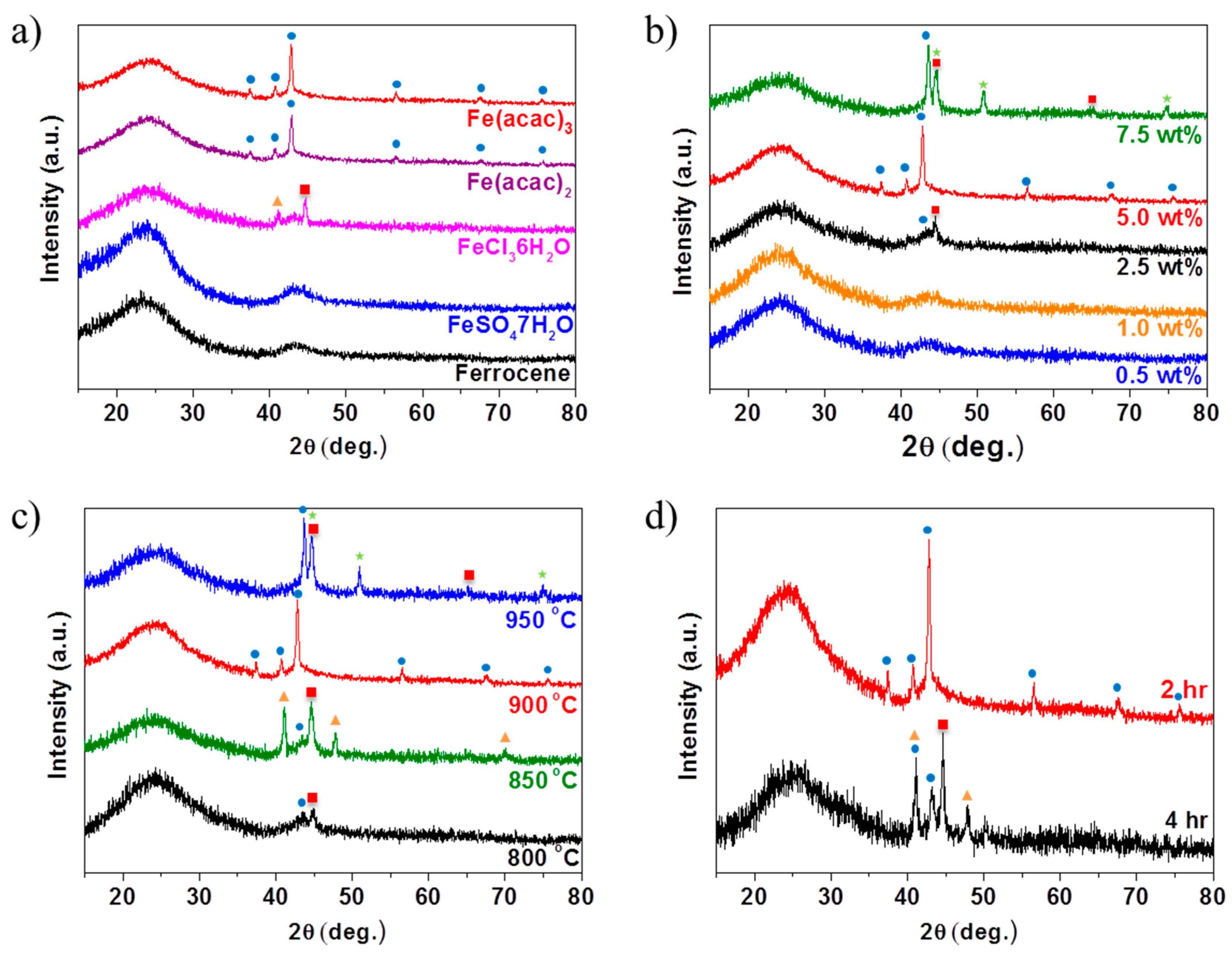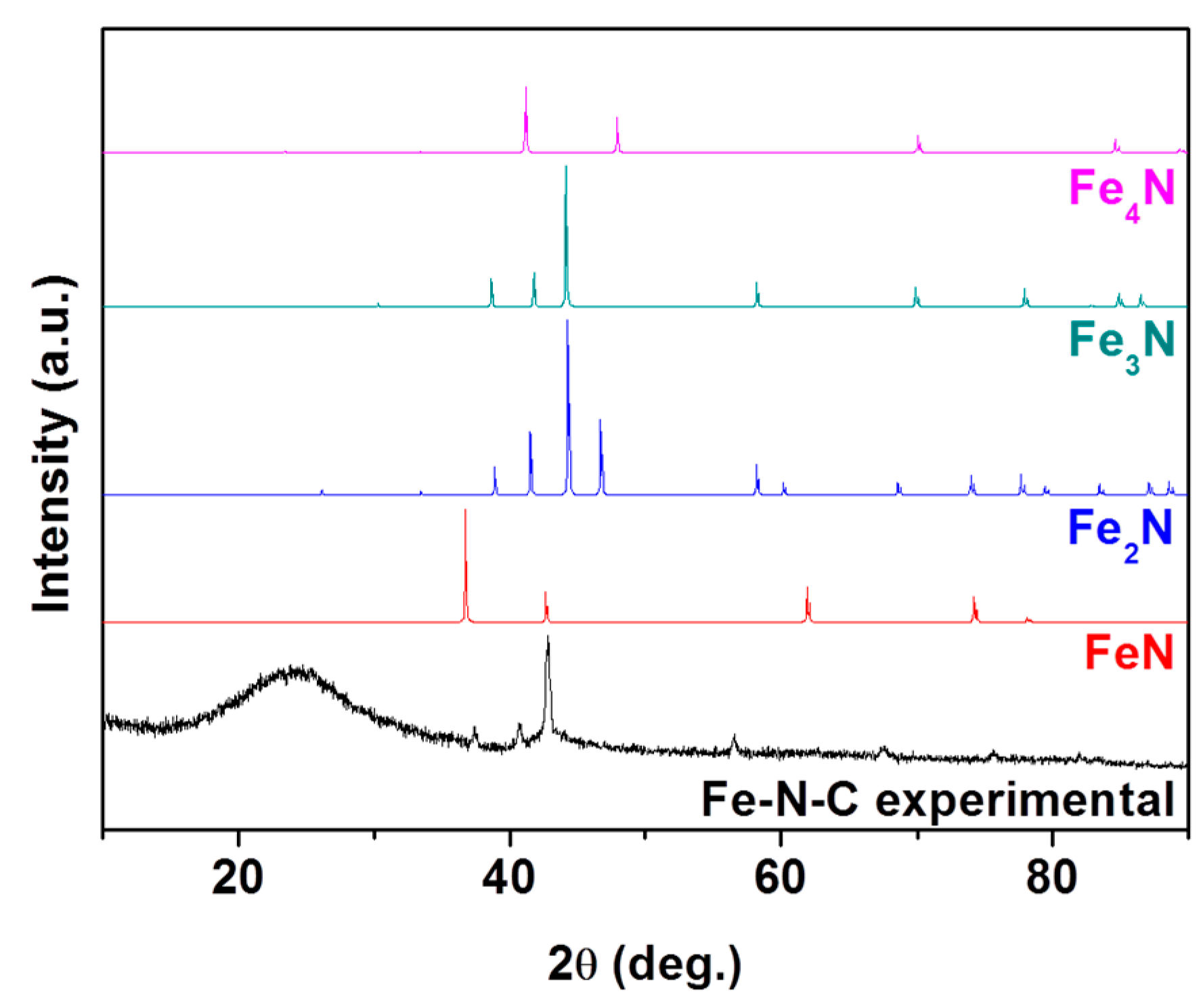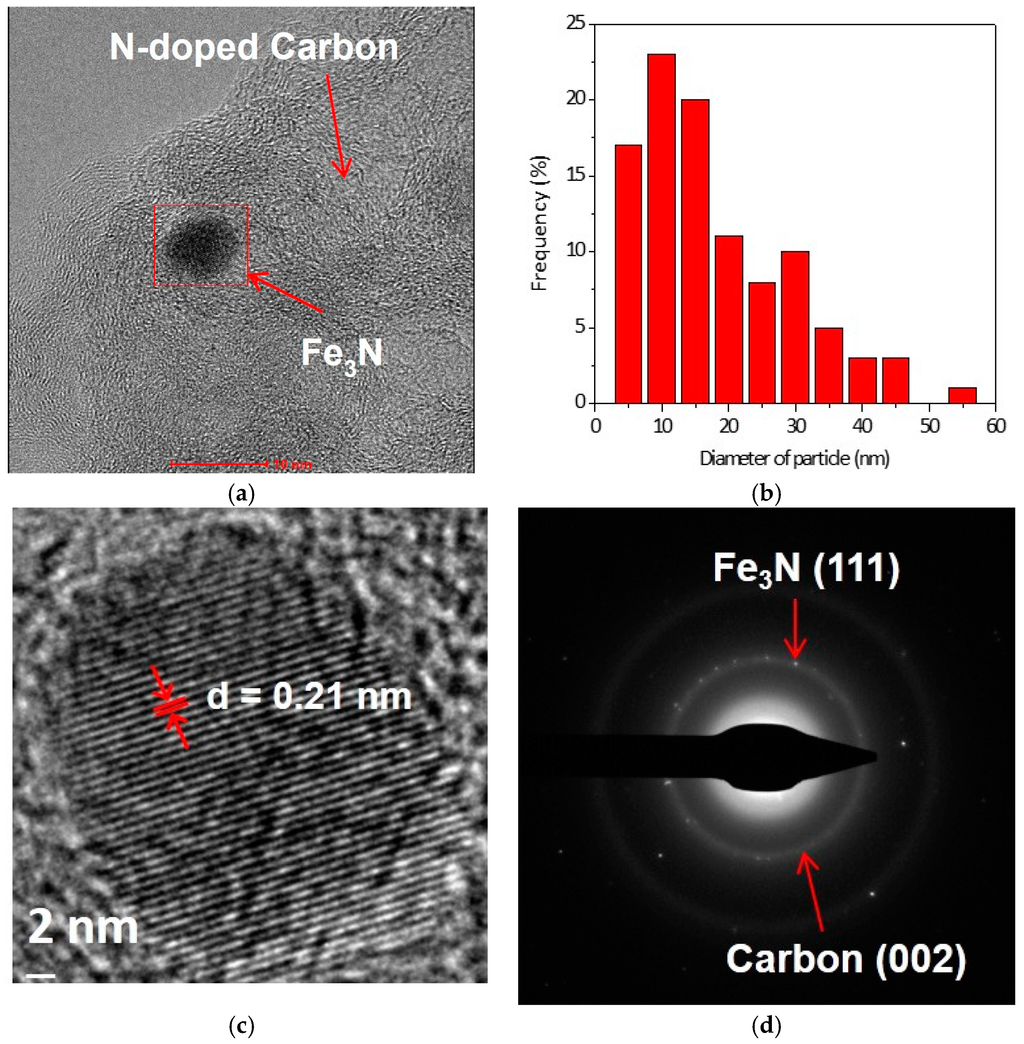 Figure 4. (a) Transmission electron microscope (TEM) image of Fe-N-C catalyst, (b) particle size distribution of Fe3N nanoparticles in Fe-N-C catalyst, (c) high resolution (HR)-TEM image of Fe3N nanoparticle, and (d) selected area electron diffraction (SAED) image of Fe-N-C catalyst.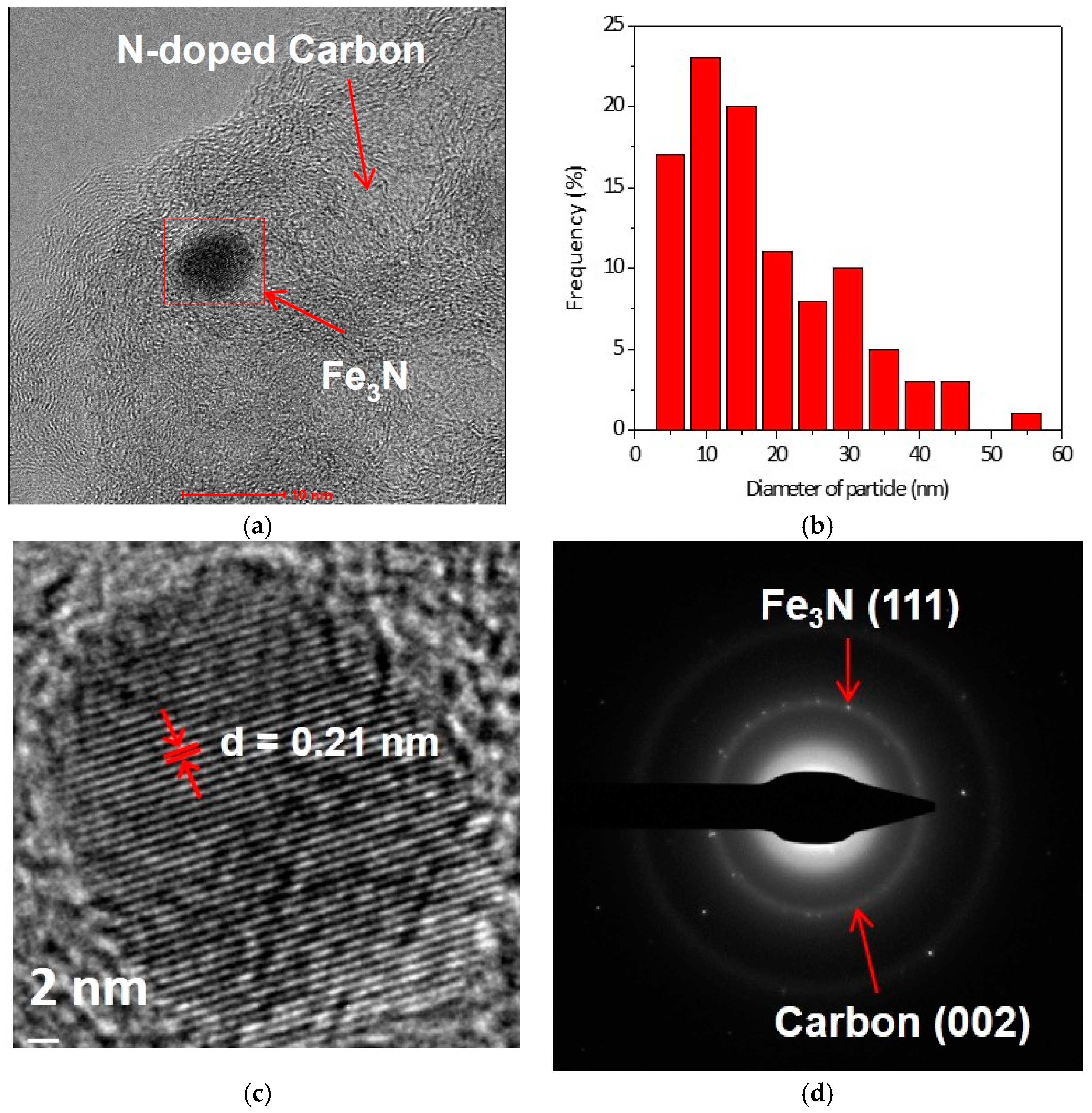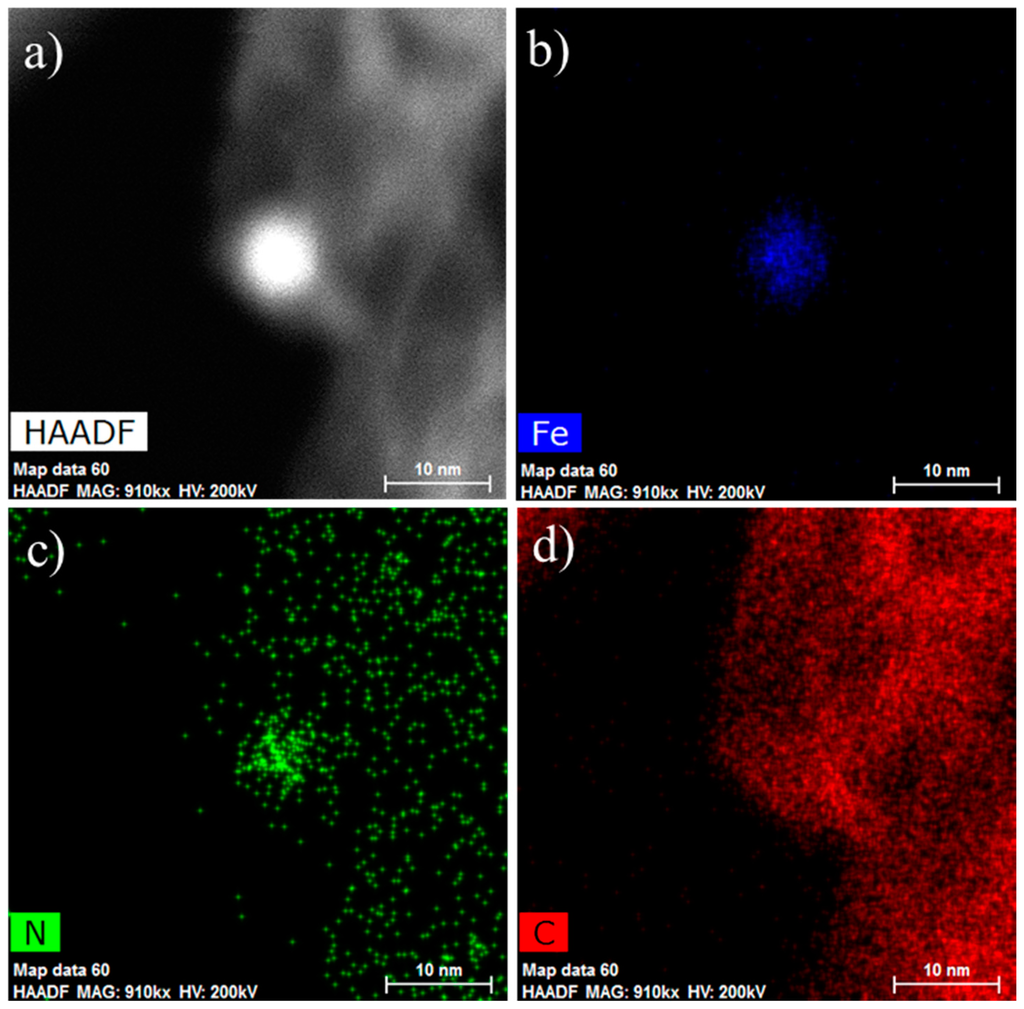 Figure 5. (a) High angle annular dark field-scanning transmission electron microscope (HAADF-STEM) image of Fe-N-C catalyst, electron energy loss spectroscopy (EELS) mapping images of Fe-N-C catalyst (b) Fe, (c) N, and (d) C.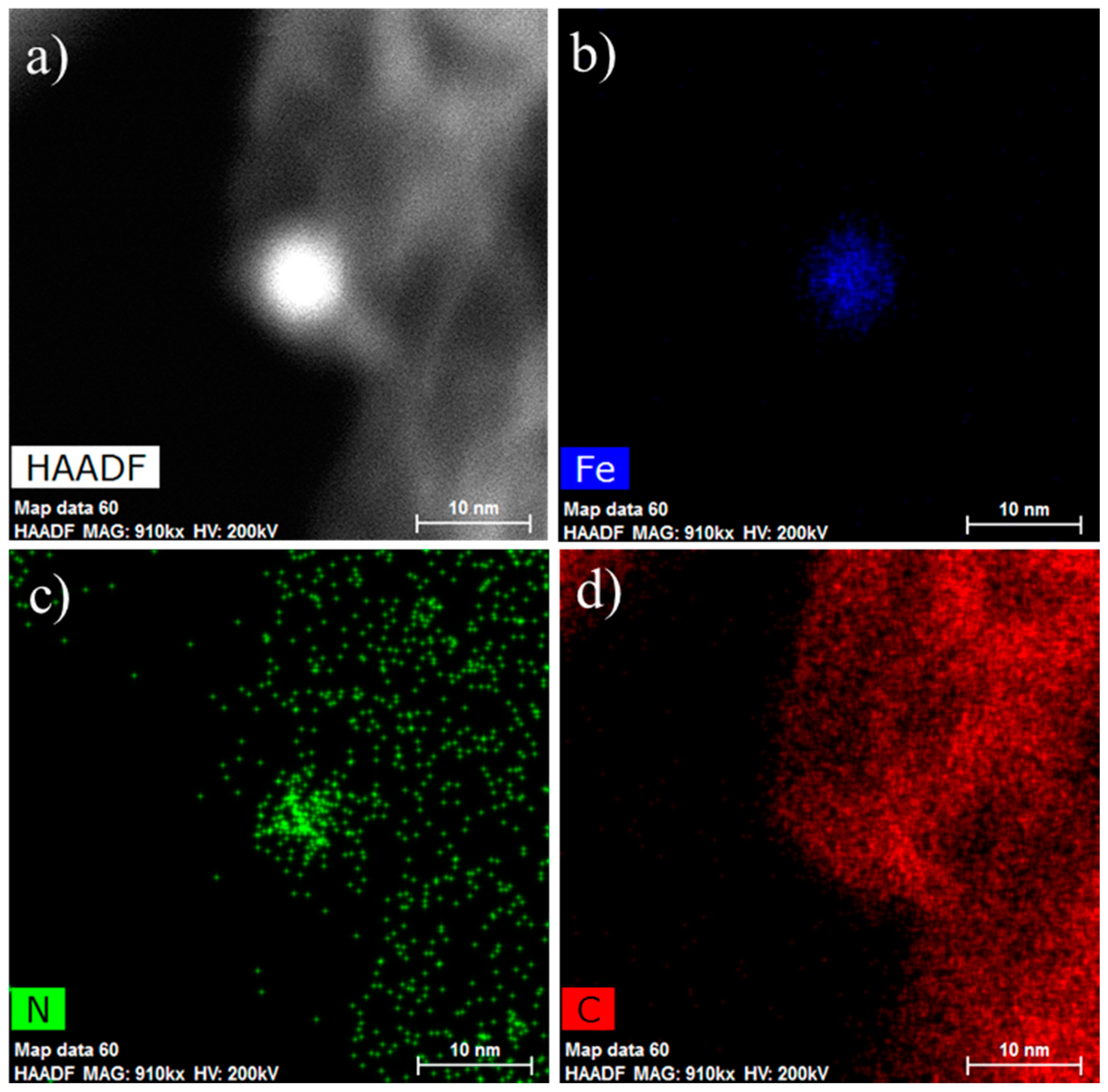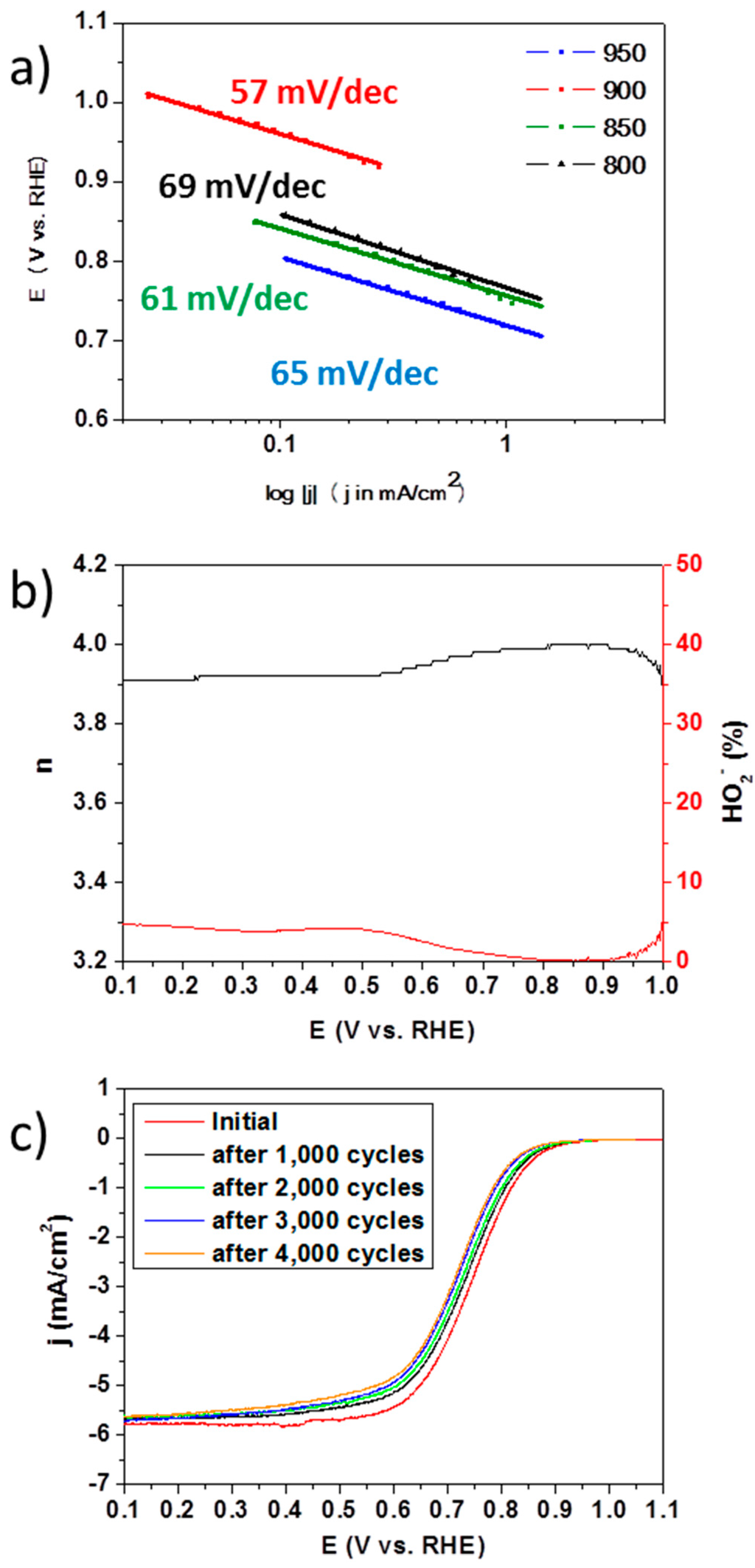 Figure 6. (a) Tafel slopes of the Fe-N-C catalysts prepared by different pyrolysis temperature, (b) number of electron transferred and HO2− yield during the ORR catalyzed by Fe-N-C and (c) accelerated durability testing (ADT) of Fe-N-C; initial, after 1,000, 2,000, 3,000, and 4,000 potential cycles in O2-saturated 0.1 M KOH.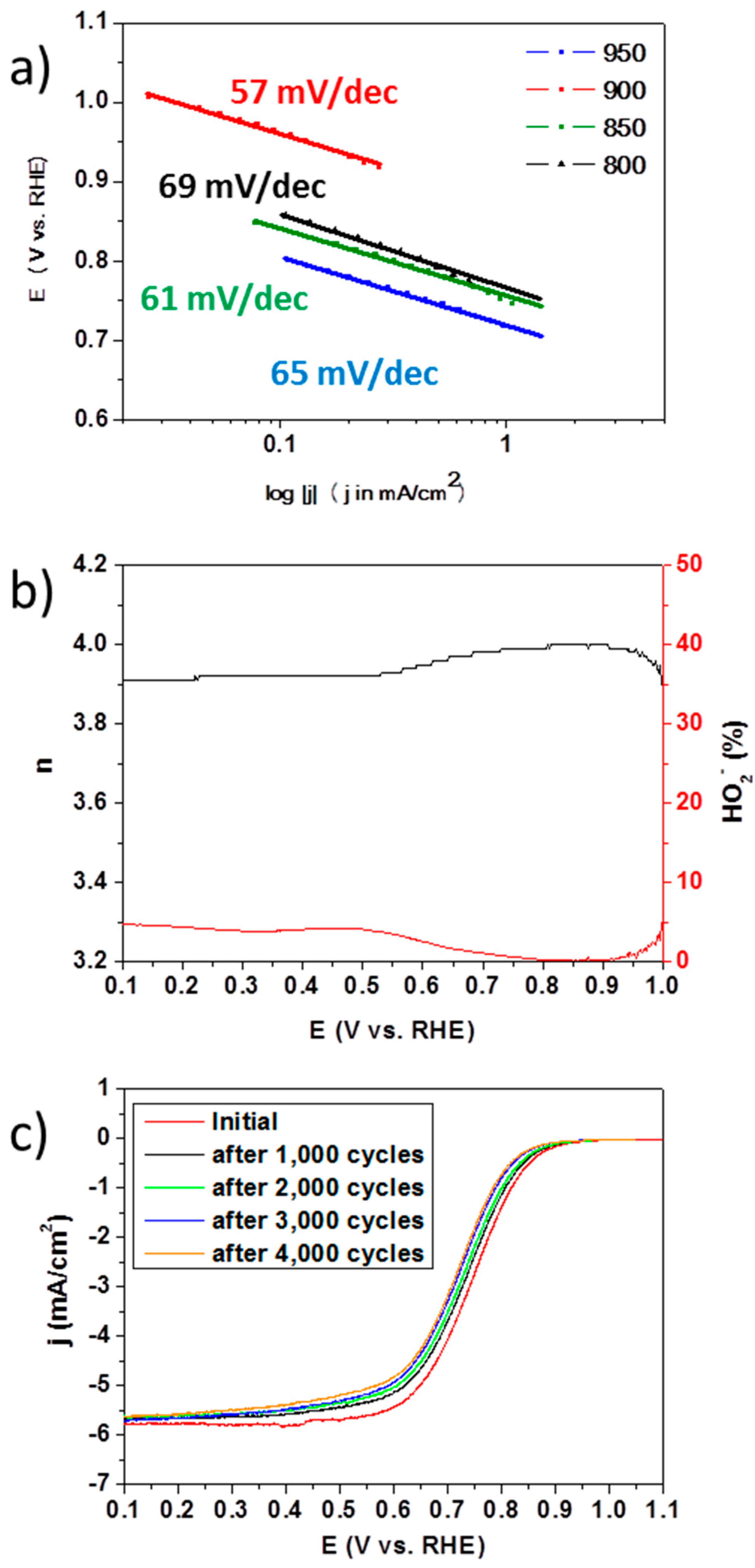 © 2016 by the authors; licensee MDPI, Basel, Switzerland. This article is an open access article distributed under the terms and conditions of the Creative Commons Attribution (CC-BY) license (http://creativecommons.org/licenses/by/4.0/).