Dolomite-Derived Ni-Based Catalysts with Fe Modification for Hydrogen Production via Auto-Thermal Reforming of Acetic Acid
1
Department of Chemical and Pharmaceutical Engineering, Chengdu University of Technology, Chengdu 610059, China
2
Department of Chemical Engineering, Tsinghua University, Beijing 100084, China
3
Richard G. Lugar Center for Renewable Energy, Indiana University-Purdue University, Indianapolis, IN 46224, USA
*
Author to whom correspondence should be addressed.
Academic Editor: Ivan V. Kozhevnikov
Received: 18 May 2016 / Revised: 7 June 2016 / Accepted: 8 June 2016 / Published: 15 June 2016
Abstract
Bio-oil can be obtained via fast pyrolysis of biomass, and typically contains acetic acid (~30 mass %). The acetic acid has often been tested as a model compound for hydrogen production via reforming bio-oil, in which catalysts are a key factor for stable hydrogen production. However, deactivation of catalysts by coking and oxidation hinders the application of the reforming process. Dolomite-derived Ni-based catalysts with Fe additive, MgNi
0.2
Ca
0.8−

x
Fe
x
O
2±δ
(
x
= 0–0.8), were successfully synthesized by the hydrothermal synthesis method, and then tested in auto-thermal reforming (ATR) of acetic acid (AC). The MgNi
0.2
Ca
0.5
Fe
0.3
O
2±δ
catalyst performed a stable reactivity in ATR: the conversion of AC reached 100%, and the H
2
yield remained stable around 2.6 mol-H
2
/mol-AC. The catalysts were characterized by X-ray diffraction (XRD), N
2
physisorption, X-ray photoelectron spectra (XPS), H
2
-temperature-programmed reduction (TPR), inductively coupled plasma- atomic emission spectroscopy (ICP-AES) and Thermogravimetry (TG); the results show that a periclase-like solid solution of Mg(Ni,Fe)O and lime were formed via the precursors of dolomite and hydrotalcite, and then transformed into Fe-rich Ni-Fe alloy with basic support of MgO-CaO after reduction. The stable Ni
0
spices with basic support can explain the stability and resistance to coking during ATR of AC.
View Full-Text
►

▼

Figures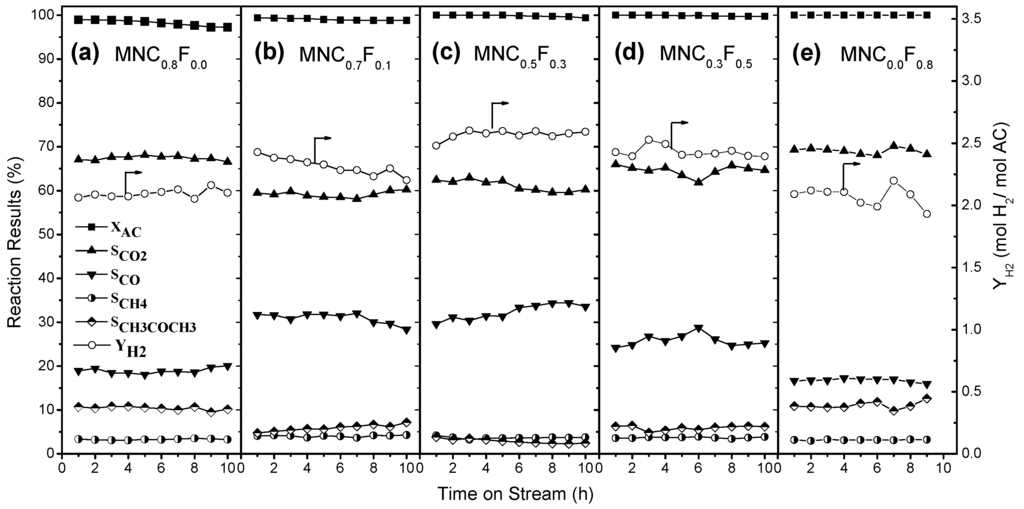 Figure 1
This is an open access article distributed under the
Creative Commons Attribution License
which permits unrestricted use, distribution, and reproduction in any medium, provided the original work is properly cited (CC BY 4.0).

Share & Cite This Article
MDPI and ACS Style
Zhong, X.; Xie, W.; Wang, N.; Duan, Y.; Shang, R.; Huang, L. Dolomite-Derived Ni-Based Catalysts with Fe Modification for Hydrogen Production via Auto-Thermal Reforming of Acetic Acid. Catalysts 2016, 6, 85.
Note that from the first issue of 2016, MDPI journals use article numbers instead of page numbers. See further details here.
Related Articles
Comments
[Return to top]