Open Access This article is
freely available
re-usable
Article
Study on the Relation between the Mn/Al Mixed Oxides Composition and Performance of FCC Sulfur Transfer Agent
1
Key Laboratory for Advanced Technology in Environmental Protection of Jiangsu Province, Yancheng Institute of Technology, Yancheng 224051, China
2
Petro China Company Limited Petrochemical Research Institute, Beijing 100195, China
*
Author to whom correspondence should be addressed.
Academic Editor: Keith Hohn
Received: 28 August 2015 / Accepted: 30 November 2015 / Published: 22 January 2016
Abstract
:
A sulfur transfer agent in catalysts can effectively reduce the emission of SO2 with minimum adverse effects on the catalytic cracking ability of the primary catalyst. In this paper, the composition and performance of sulfur transfer agents with different oxidative active components (such as Cu, Fe, Ni, Co, Ba, Zn and Cr) were prepared by acid peptization technique and characterized by X-ray diffraction (XRD), Fourier transform infrared spectroscopy (FTIR) and N2 adsorption-desorption technique. The relationship between the composition and performance of the new sulfur transfer agents was investigated and the regeneration and recycling of the agents were performed. The results indicates that copper is a very good desulfurization active component. Moreover, the presence of CO has no significant effect on the absorption ability of SO2 by the sulfur transfer agent.
Keywords:
fluid catalytic cracking; sulfur transfer agent; adsorption
2. Results and Discussion
Different metallic oxides, such as cerium, copper, cobalt, vanadium, chrome and iron combining with hydrotalcite precursors by impregnation method or means of coprecipitation will have alkalinity and oxidation-reduction quality, leading to the best way of preparing spinel. By analyzing the report results of different researchers, the author find that none result systematically reports the adsorption capacity of sulfur transfer agent of metallic oxides. In the paper, taking pseudo-boehmite as aluminum source, a series of mixed oxides precursor of M/MgAl type were prepared to apply acid peptization technique, then it was calcined to create sulfur transfer agent of mixed oxides to determine the adsorption capacity and reduction capacity of sulfur transfer agent of oxides and get cheaper oxidized active components.
3. Experimental Section
3.1. Preparation of Sulfur Transfer Agents
According to Jiang's procedure [
6
], firstly, pseudo-boehmites was added to the beaker slowly, and we then poured in proper amount of distilled water, and stirred the solution for 3–5 min. Second, we took hydrochloric acid and added it to stirred seriflux drop by drop. After uniform gel was formed, added it to 65 °C water bath and adjusted pH to appropriate range; took out the gel and added to manganous nitrate, and then stirred the solution evenly. Then took copper nitrate, ferric nitrate, nickel nitrate, cobalt nitrate, barium nitrate, zinc nitrate and chromic nitrate and added to the gel respectively and stirred the solution sufficiently in 2 h. After that, placed it in oven to dry for 8 h in 140 °C, and then to muffle of 700 °C for roasting for 2 h, and then grinded the product and screened the grains by 80–120 meshes, and thereby obtained sulfur transfer agents for reserves. The sulfur transfer agents produced were named respectively APG-1, APG-2, APG-3, APG-4, APG-5, APG-6 and APG-7. As
Table 4
has shown.
Table 4. The different oxidative active components in the different samples.

| Samples | APG-1 | APG-2 | APG-3 | APG-4 | APG-5 | APG-6 | APG-7 |
| --- | --- | --- | --- | --- | --- | --- | --- |
| oxidative active components | Cu | Fe | Ni | Co | Ba | Zn | Cr |
3.2. Analysis and Characterization
X' Pert PRO diffractometer (X'Pert Pro MPD, PANalytical B.V., Almelo, Holland) is used to measure the crystal structure of sample, and scanning electron microscope (QUANTA200, Micromeritics instrument Corp, Atlanta, GA, USA) to analyze the morphology and particle size of the sample. Fourier infrared analyzer (NEXUS, Thermo Nicolet, Waltham, MA, USA) is used to analyze the framework vibration of the sample. DTU-2A TG-DTA (Beijing Yuanbo Technology Co., LTD, Beijing, China) is used to analyze the phase change of sample in the reduction process.
The fixed bed micro-reactor is used to evaluate the performance of sulfur transfer agent.
Figure 9
is the experimental facility of fixed-bed micro-reactor unit. First of all, weigh a certain amount of sample and add it to the reactor, and then increase the temperature to the temperature of oxidized adsorption in the flow of nitrogen; secondly, respectively control the amount of SO
2
and air entering the reactor. Gas entered from the top of the reactor and the flow rate was controlled by mass flowmeter. For oxidative adsorption of SO
2
, a stream (220 mL/min) containing 1900 ppm SO
2
, 19.1% (
v
/
v
) O
2
and 80.4% (
v
/
v
) N
2
was introduced into the catalyst bed at 973 K.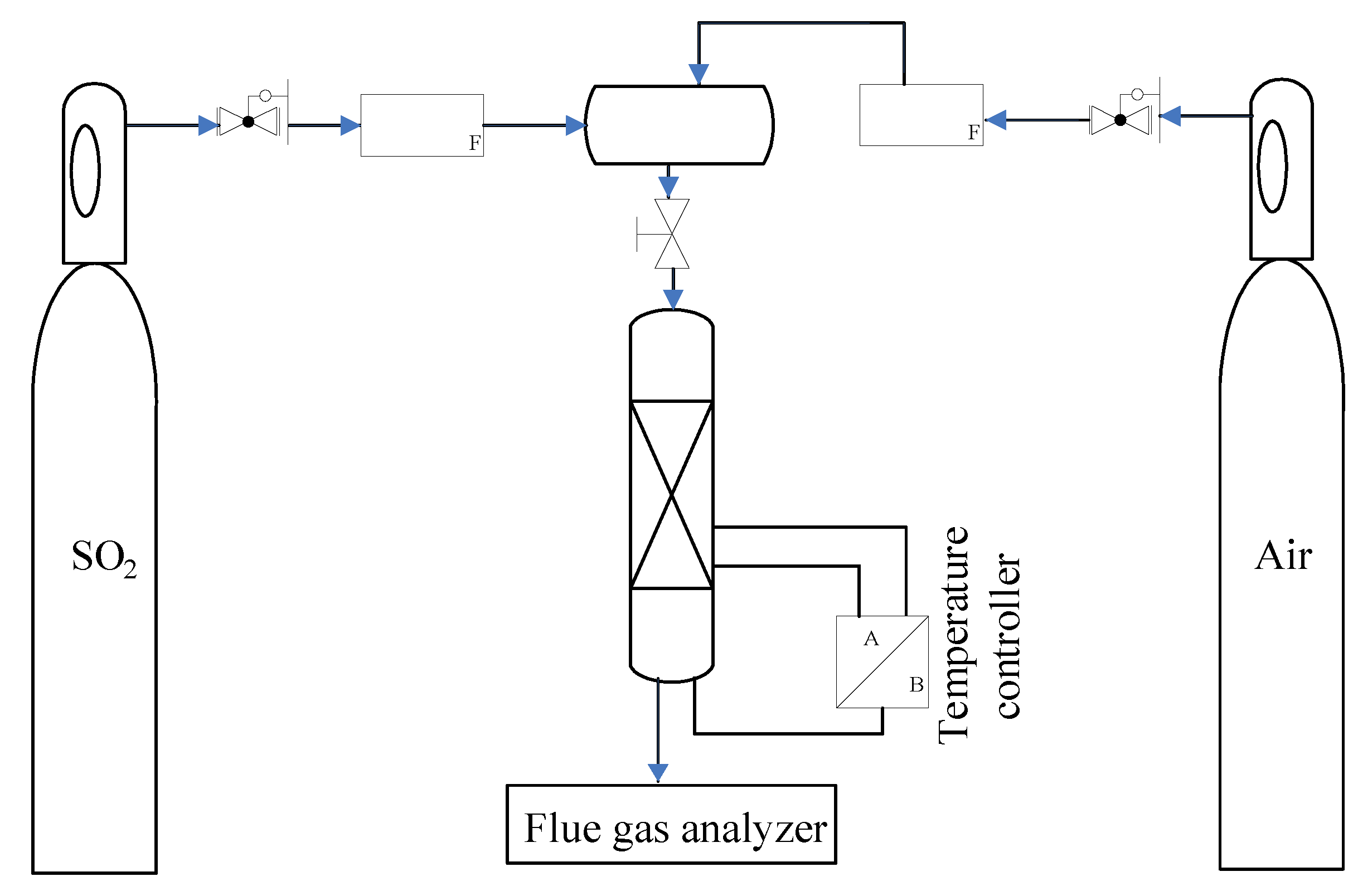 3.3. Data Processing
Activity of the catalyst is estimated using removal efficiency of SO
2
as:
E
= (
C
v0, in
−
C
v, out
)/
C
v0
× 100%
E
is the Removal efficiency (%);
C
v, out
is the Sulfur content in flue gas after adding sulfur transfer agent (ppm);
C
v0, in
is the Sulfur content in flue gas before adding sulfur transfer agent (1900 ppm).
4. Conclusions
In order to solve the problems of expensive oxidative active components and damage to the primary catalyst, sulfur transfer agents with different oxidative active components prepared by acid peptization technique have been prepared to investigate the relationship of its composition and performance as well as explore CO's influence on oxidative adsorption. A comparison of sulfur transfer performance of different metal oxidative active components indicated that all sulfur transfer agents have oxidation desulfurization abilities, and the oxide removal capacity of SO2 followed like this: APG-1 > APG-7 > APG-2 > APG-3 > APG-5 > APG-4 ≈ APG-6. Sulfur transfer agent with different oxidative active components can be restored and regenerated after the deactivation, and the differences on reduction temperatures in maximum reduction rate were different. Temperature in maximum reduction rate was in the 400–630 °C range and the reaction-regeneration performance followed like this: APG-1 > APG-2 > APG-3 ≈ APG-4 > APG-5 ≈ APG-6 > APG-7. In an anti-disturbance performance test of CO, the activity of sulfur transfer agent absorbing SO2 does not change significantly.
Acknowledgments
The project was supported by research fund of the National Natural Science Foundation of China (No. 21306162), and the State Key Laboratory of Heavy Oil Processing (SKLOP201402002).
Author Contributions
R.J. and S.Y. conceived and designed the experiments; Y.Z. performed the experiments; R.J. and T.Z. analyzed the data; S.Y. contributed reagents/materials/analysis tools; R.J. wrote the paper.
Conflicts of Interest
The authors declare no conflict of interest.
© 2016 by the authors; licensee MDPI, Basel, Switzerland. This article is an open access article distributed under the terms and conditions of the Creative Commons by Attribution (CC-BY) license (http://creativecommons.org/licenses/by/4.0/).