Comparison between a Water-Based and a Solvent-Based Impregnation Method towards Dispersed CuO/SBA-15 Catalysts: Texture, Structure and Catalytic Performance in Automotive Exhaust Gas Abatement
1
Laboratory of Adsorption & Catalysis, University of Antwerp, Universiteitsplein 1, 2610 Wilrijk, Belgium
2
Dipartimento di Scienze Chimiche, Università degli Studi di Padova, Via F. Marzolo, 1, 35131 Padova, Italy
3
Chemical Process Engineering Laboratory, Department of Chemical Engineering, National Technical University of Athens, 9 Heroon Polytechniou Str., Zografos Camphs, 15780 Athens, Greece
4
Flemish Institute for Technological Research (VITO N.V.), Boeretang 200, 2400 Mol, Belgium
*
Author to whom correspondence should be addressed.
Academic Editor: Jean-François Lamonier
Received: 6 September 2016 / Revised: 14 October 2016 / Accepted: 14 October 2016 / Published: 21 October 2016
Abstract
Supported copper oxide nanoparticles are a potential candidate for replacing the rare and expensive precious metals within the automotive three-way catalyst. However, a well-designed dispersion method is necessary to allow a stable high loading of active material, compensating its lower intrinsic activity and stability. In this work, a CuO-loaded SBA-15 catalyst has been manufactured by two methods. The ammonia-driven deposition precipitation (ADP) and the molecular designed dispersion (MDD) methods are both considered as efficient deposition methods to provide well-dispersed copper oxide-based catalysts. Their morphology, copper dispersion and the chemical state of copper were characterized and compared. Due to the differences in the synthesis approach, a difference in the obtained copper oxide phases has been observed, leading to a distinct behavior in the catalytic performance. The structure-activity correlation of both catalysts has also been revealed for automotive exhaust gas abatement. Results demonstrate that various copper species can be formed depending on the precursor–support interaction, affecting selectivity and conversion during the catalytic reaction.
View Full-Text
►

▼

Figures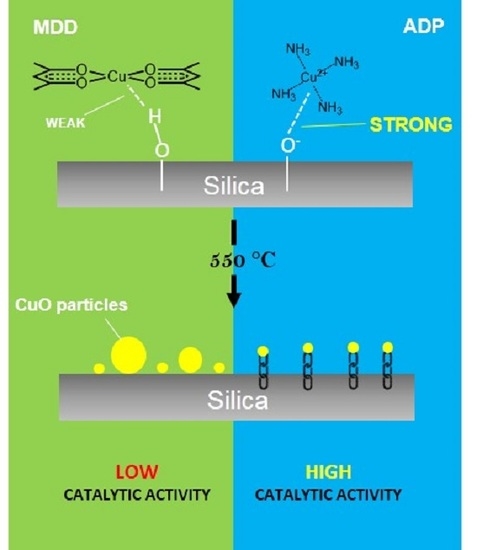 Graphical abstract
This is an open access article distributed under the
Creative Commons Attribution License
which permits unrestricted use, distribution, and reproduction in any medium, provided the original work is properly cited (CC BY 4.0).

Share & Cite This Article
MDPI and ACS Style
Xin, Q.; Glisenti, A.; Philippopoulos, C.; Poulakis, E.; Mertens, M.; Nyalosaso, J.L.; Meynen, V.; Cool, P. Comparison between a Water-Based and a Solvent-Based Impregnation Method towards Dispersed CuO/SBA-15 Catalysts: Texture, Structure and Catalytic Performance in Automotive Exhaust Gas Abatement. Catalysts 2016, 6, 164.
Note that from the first issue of 2016, MDPI journals use article numbers instead of page numbers. See further details here.
Related Articles
Comments
[Return to top]