Pyrazole Supported Zinc(II) Benzoates as Catalysts for the Ring Opening Copolymerization of Cyclohexene Oxide and Carbon Dioxide
1
Department of Chemistry, University of Johannesburg, Auckland Park Kingsway Campus, Auckland Park, Johannesburg 2006, South Africa
2
Department of Chemistry and Biotechnology, Graduate School of Engineering, The University of Tokyo, 7-3-1 Hongo, Bunkyo-ku, Tokyo 113-8656, Japan
*
Authors to whom correspondence should be addressed.
†
Current address: Department of Organic and Polymer Materials Chemistry, Tokyo University of Agriculture and Technology, 2-24-16 Naka-cho, Koganei, Tokyo 184-8588, Japan
Academic Editor: Carl Redshaw
Received: 29 September 2015 / Revised: 8 January 2016 / Accepted: 11 January 2016 / Published: 20 January 2016
Abstract
The bis(pyrazole)zinc(II) benzoate complexes bis(3,5-diphenylpyrazole)zinc(II) benzoate (
1
), bis(3,5-diphenylpyrazole)zinc(II) 3,5-dinitrobenzoate (
2
), bis(3,5-diphenylpyrazole)zinc(II) 4-hydroxybenzoate (
3
), and bis(3,5-di-
tert
-butylpyrazole)zinc(II) 2-chlorobenzoate (
4
) were synthesized from the reaction of 3,5-diphenylpyrazole (
L1
) or 3,5-di-
tert
-butylpyrazole (
L2
), zinc(II) acetate and the appropriate benzene carboxylic acid. The molecular structure of complex
2
confirmed that these zinc(II) benzoate complexes adopt a 4-coordinate tetrahedral geometry. All four complexes were screened as catalysts for the copolymerization of carbon dioxide (CO
2
) and cyclohexene oxide (CHO) and were found to be active for the formation of poly(cyclohexene carbonate) (PCHC) at CO
2
pressures as low as 1.0 MPa under solvent-free conditions and without the use of a co-catalyst. At some reaction condition, most of the catalysts produced PCHC with high carbonate content of up to 98% and a good amount of cyclic cyclohexene carbonate (CCHC). The copolymers produced have low to moderate molecular weights (5200–12300 g/mol) and with polydispersity indices that vary from 1.19 to 2.50. Matrix Assisted Laser Desorption/Ionization-Time of Flight Mass Spectra (MALDI-TOF MS) of these copolymers showed they have benzoate and hydroxyl end groups.
View Full-Text
►

▼

Figures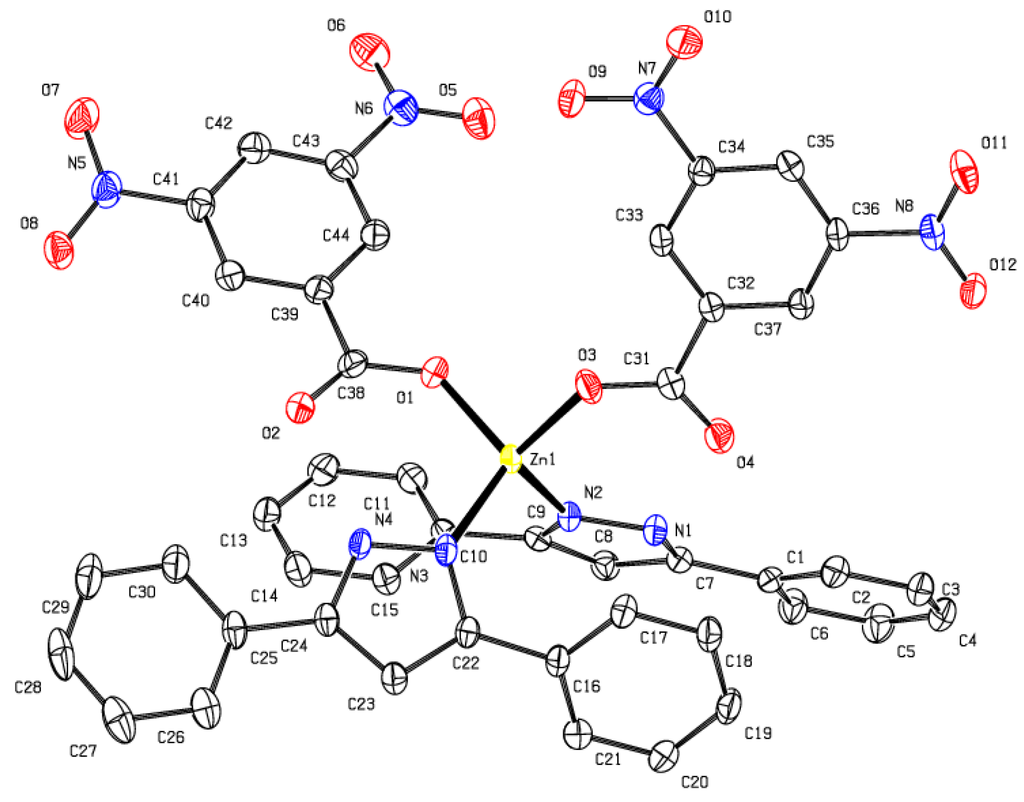 Figure 1
This is an open access article distributed under the
Creative Commons Attribution License
which permits unrestricted use, distribution, and reproduction in any medium, provided the original work is properly cited (CC BY 4.0).

Share & Cite This Article
MDPI and ACS Style
Lephoto, M.L.; Nakano, K.; Appavoo, D.; Owaga, B.O.; Nozaki, K.; Darkwa, J. Pyrazole Supported Zinc(II) Benzoates as Catalysts for the Ring Opening Copolymerization of Cyclohexene Oxide and Carbon Dioxide. Catalysts 2016, 6, 17.
Note that from the first issue of 2016, MDPI journals use article numbers instead of page numbers. See further details here.
Related Articles
Comments
[Return to top]