Photocatalytic Activity of Vis-Responsive Ag-Nanoparticles/TiO2 Composite Thin Films Fabricated by Molecular Precursor Method (MPM)
1
Department of Applied Chemistry and Chemical Engineering, Graduate School, Kogakuin University, 2665-1 Nakano, Hachioji City, Tokyo 192-0015, Japan
2
Coordination Engineering Laboratory, Division of Liberal Arts, Kogakuin University, 2665-1 Nakano, Hachioji City, Tokyo 192-0015, Japan
3
Research Institute of Science and Technology, Kogakuin University, 2665-1 Nakano, Hachioji City, Tokyo 192-0015, Japan
4
Department of Environmental and Energy Chemistry, Kogakuin University, 2665-1 Nakano, Hachioji City, Tokyo 192-0015, Japan
*
Author to whom correspondence should be addressed.
Received: 10 May 2013 / Revised: 24 June 2013 / Accepted: 19 July 2013 / Published: 31 July 2013
Abstract
The Ag-nanoparticles (Ag-NP)/TiO
2
composite thin films with various amounts of Ag (10 mol% ≤
n
≤ 80 mol%) were examined as a potential photocatalyst by decoloration reaction of methylene blue (MB) in an aqueous solution. These composite thin films of ca. 100 nm thickness were fabricated by the MPM at 600 °C in air. The decoloration rates monitored by the absorption intensity of the MB solution indicated that the composite thin films of Ag with an amount less than 40 mol% are not effective under vis-irradiation, though they can work as a photocatalyst under UV-irradiation. Further, the UV-sensitivity of the composite thin films gradually decreased to almost half the level of that of the TiO
2
thin film fabricated under the identical conditions when the Ag amount increased from 10 to 40 mol%. Contrarily, the composite thin films of Ag content larger than 50 mol% showed the vis-responsive activity, whose level was slightly lower than the decreased UV-sensitivity. Diffuse reflectance spectra suggested that the vis-responsive activity of the composite thin films is due to the conductivity, localized surface plasmon resonance and surface plasmon resonance of Ag-NP. It was also elucidated that the vis-responsive level of the composite thin films corresponds to their electrical conductivity that depends on the Ag content.
View Full-Text
►

▼

Figures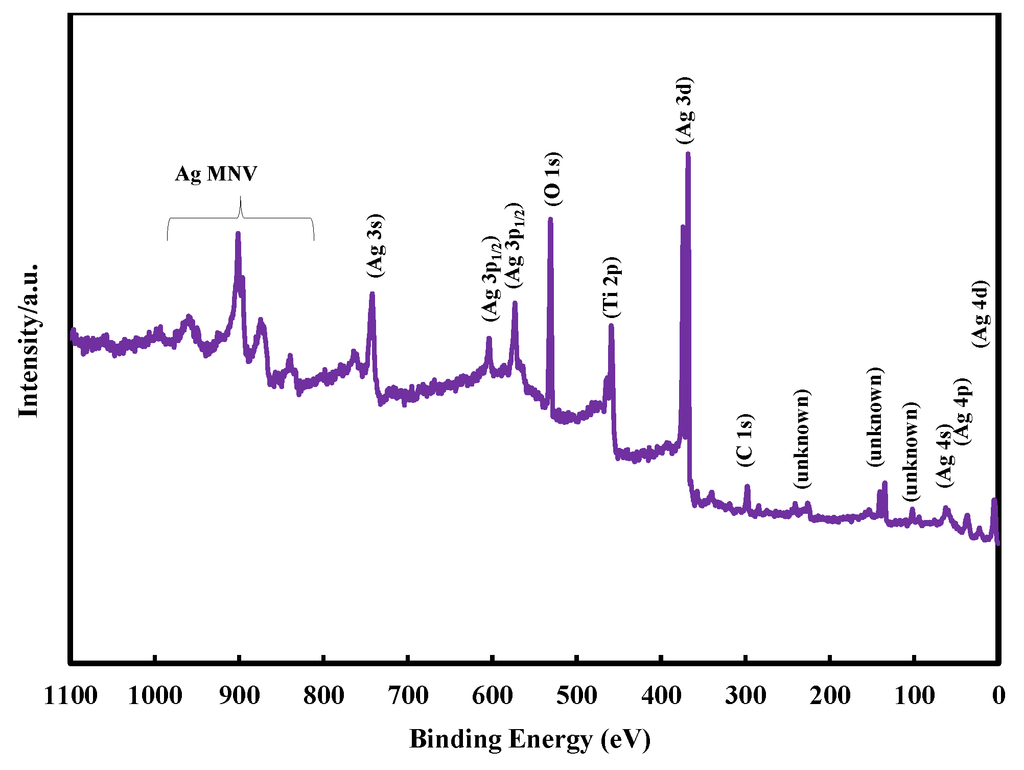 Figure 1

Share & Cite This Article
MDPI and ACS Style
Daniel, L.S.; Nagai, H.; Yoshida, N.; Sato, M. Photocatalytic Activity of Vis-Responsive Ag-Nanoparticles/TiO2 Composite Thin Films Fabricated by Molecular Precursor Method (MPM). Catalysts 2013, 3, 625-645.
Related Articles
Comments
[Return to top]